Goodyear Wrangler All-Terrain Adventure with Kevlar review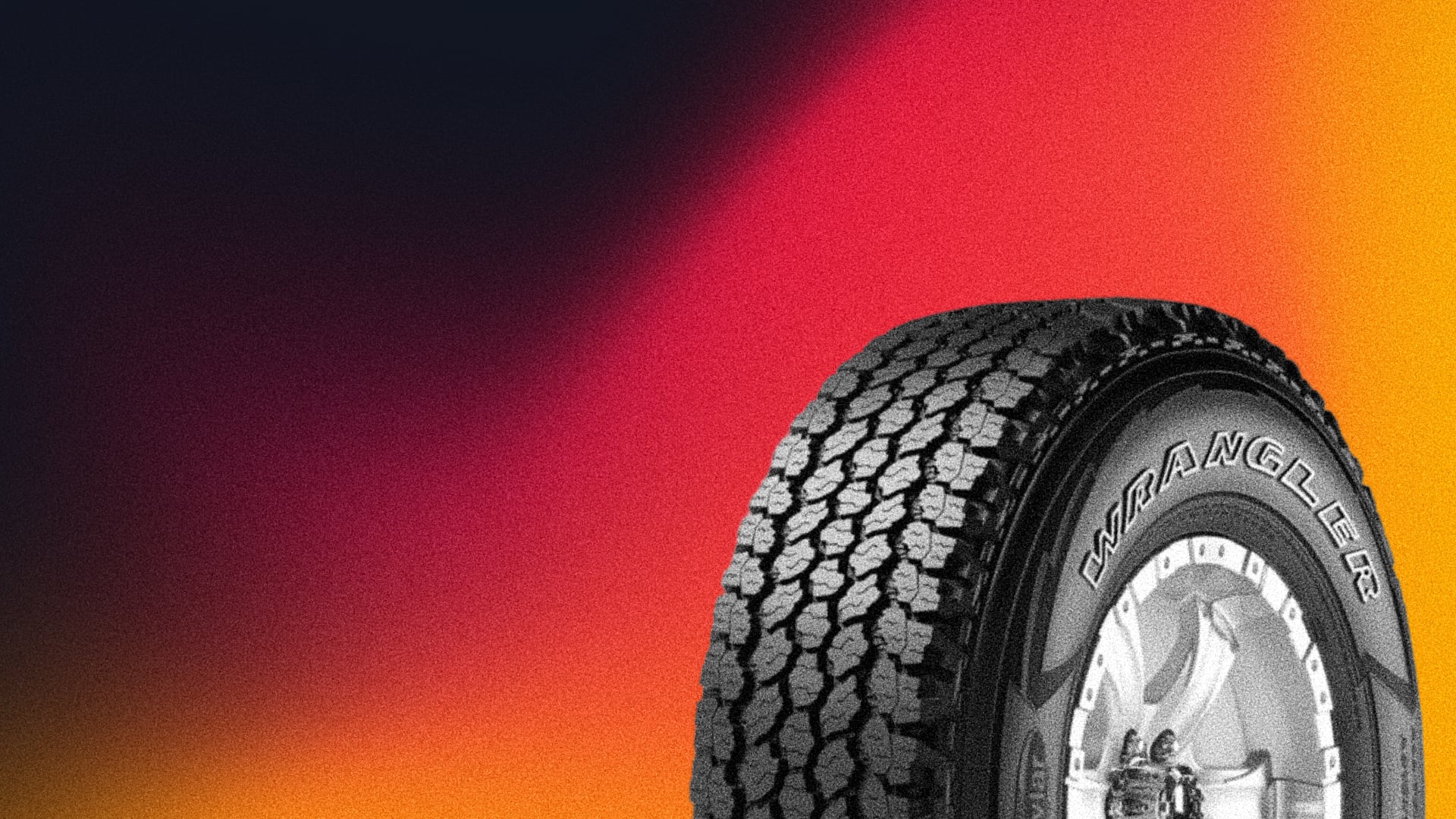 REREV may receive a commission for purchases made through links on our site. Learn more.
Looking for a great off-road tire set, you'll want to find a tire that's extremely puncture-resistant, quiet, and has excellent AT traction so you don't get stuck in the mud. If this combination of features sounds compelling for your needs, get ready for our Goodyear Wrangler All-Terrain Adventure with Kevlar review!
Just by its name, you can tell it's a distinctive AT tire with a double layer of DuPont Kevlar, making it extremely tough even for sharp rocky terrain. If you are looking for the best off-roading value, pay close attention as we elaborate on the key aspects.
Recommended
Goodyear Wrangler All-Terrain Adventure with Kevlar
There simply isn't a tougher or more durable solution for an off-road SUV tire that tackles sharp rocks and challenging terrains as well as Goodyear Wrangler All-Terrain Adventure with a double layer of DuPont Kevlar which drivers nearly the same on the highway and on demanding off-road terrains.
Purchases made through links on our site may earn us a commission.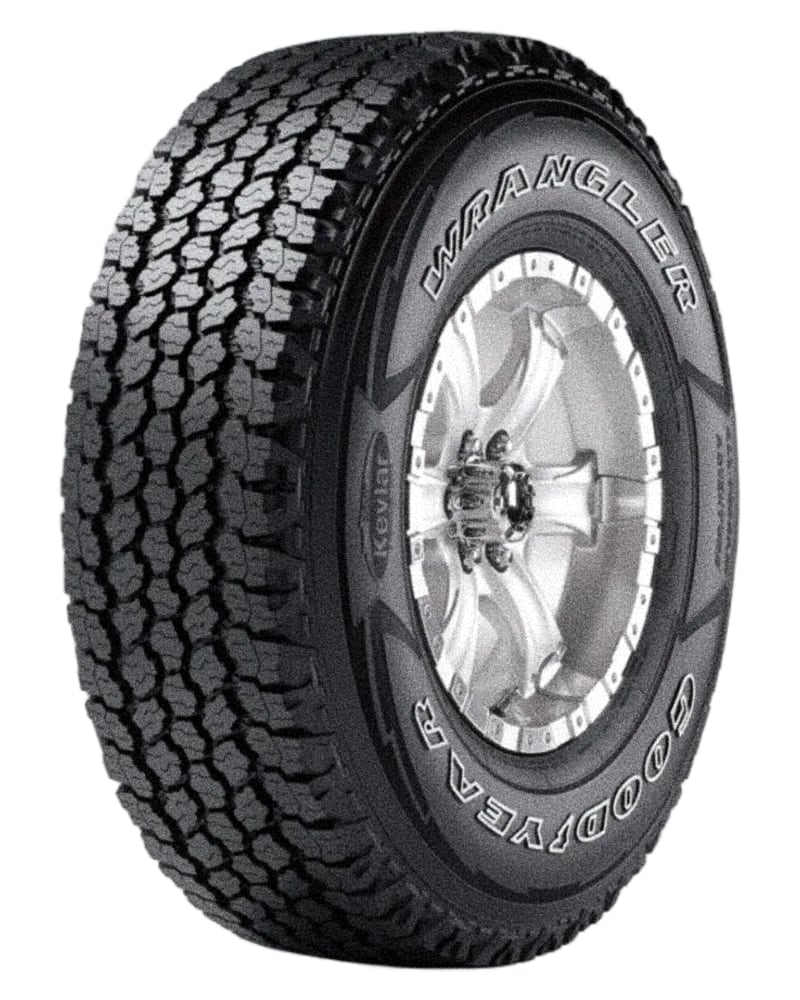 Key features and technologies
First of all, let's explain what the manufacturer had in mind when designing this tire. It's primarily oriented toward consumers that spend a lot of time off-roading, while still using the city roads and highways in everyday driving.
That's why it's made so powerful, yet smooth with cushioning layer in the compound which absorbs road hits. It's aimed at SUVs and light trucks, and these are some of the main features:
Double DuPont Kevlar layer
Durawall technology
Symmetric tread pattern with slightly different tread block sizes
Open shoulder blocks
The flagship feature of this tire is the DuPont Kevlar – a material that's tough as steel and is used in the production of ballistic body armor. You can guess what its purpose is just by knowing that since it's obvious that Goodyear engineers wanted to make the toughest all-terrain tire.
What's more, this tire has a double layer of Kevlar both in the tread zone and on the sidewall, so you won't have to worry that sharp rocks will tear the tire from the side. The Kevlar protection goes in hand with the Durawall technology.
This is the additional compound coating that covers the sidewall of the tires to make them more puncture-resistant. In combination with Kevlar and deep treads, this feature makes the Wrangler All-Terrain Adventure with Kevlar tire as tough as AT tires get.
While we are at the treads, it's also worth mentioning that the design is symmetric, which helps in good fuel economy as they have less rolling resistance. It also improves handling on dry roads, but the trick is – even though the treads are symmetric, they are all slightly different in size.
It makes a great difference for noise isolation since it lowers harmonic vibrations.
Safety features
Although the focus of these tires is greatly oriented toward off-road adventures, it has several safety features to offer. First off, tough and open shoulders increase the steering stability and act as water outlets to prevent hydroplaning.
Shoulder voids help lead the water away on the sides, while the deep tread pattern prevents a film of water from forming inside the center rib of the tire. So, there's no chance of your vehicle losing control on wet roads, which is important as these are still meant to be driven on highways and city roads besides off-roading.
Additional safety for off-road driving is ensured through the Kevlar shield that prevents any punctures. Because of this, you'll never have to worry about having to change a tire in the middle of off-road terrain, due to damage from sharp rocks.
Speed ratings
Having in mind that you'll be using these tires to reach your favorite off-road sites, speed rating marks might be important. They tell you about the maximum optimal speed at which tires can maintain the utmost stability and handling without any vibrations.
It's a good thing that Goodyear Wrangler All-Terrain Adventure with Kevlar tires comes in four different speed ratings – "R", "S", "T", and "H". The "R" speed rating means you can drive up to the speed of 106mph, while the "S" speed rating gives you equal stability at slightly higher speeds up to 112mph. These are mostly marked on 16″ and 17″ tires, while the "T" speed mark means you can drive up to 118mph with these beauties mounted.
Finally, for those of you that will tackle the highways in pursuit of a decent off-road site, you can find 19″ and 20″ tires with an "H" speed rating, so you can drive up to 130mph with these.
Treadwear and durability
During the testing of this tire set, it received a Uniform Tire Quality Grade of 640 A/B. This means that it lasted more than 6 times longer than a regular, test comparison tire. These tires should therefore serve you for at least 60,000 miles, and that's a lot for off-road driving primarily.
As for the durability, there's no discussion here – these are among the most durable tires on the current market. It's highly unlikely that any punctures will happen during their tread life. This fact is supported by the 30% more added steel in the tire construction for sturdy support and stability.
Maintenance indicators
As you can see from the treadwear and durability of these tires, chances are that they will serve you well until the end of the tread life. Still, for those of you that want to check the treadwear every now and then, you can use the wear indicators.
These are embedded deep into the treads and will become visible once you reach the final 2/32 inches of the treads. It's an industry-standard indicator, and there's no need for any indicators in the middle since these tires are made to last.
Traction performance
Now, let's take a look into how all the listed features affect the traction performance of these tires. Since these are rated M/S, you can also drive them in the mud and snow, as well as off the road and on highways. We did all the traction tests so that you don't have to!
Wet traction performance
The wet traction of these tires is excellent, as the wide grooves between the tread blocks improve handling and steering in wet conditions. Also, the open shoulders lead the water away on the sides, meaning that there's literally no chance of hydroplaning.
You'll also notice the small sipes on every tread block. These act as biting edges and increase the ground grip, especially on wet roads. There are two sipes on each tread block and they work amazingly with deep voids between the treads in enhancing wet traction.
Dry traction performance
For a good grip on the hot summer days, you need a pliable compound material with as much rubber surface on the floor as possible. These tires don't have any circumferential grooves, so the tread surface is maximized.
It all results in impressive dry handling you can always lean on while cruising the highway searching for the best off-road site. The braking distance is also quite short, so you won't have to worry about safety.
Snow traction performance
These tires handle snow perfectly due to deep tread voids and biting edges that spread all across the tread surface. The snow simply can't burst into the tires, so you won't have to worry about sliding out of your lane on highways.
It's an M/S-rated tire, so even deeper snow shouldn't be a problem for these all-terrain tires, regardless of the surface. This makes them great for some off-road fun in the winter, and you can test the limits of Wrangler AS Adventure tires without eventually getting stuck in the snow.
Off-road performance
And now for the fun part – let's see how these tires handle off-road terrains as it's what they were made for. Of course, it's not an off-road tire exclusively, but it gets quite close thanks to the Kevlar layers and Durawall protection on the sides.
These tires handle larger and sharp rocks splendidly, and tears are completely out of the picture. With the two features combined into one large protective shield, you can enjoy off-road fun all day long. The only thing you should be careful about is getting stuck in deep mud. Although these are M/S tires, they work better on dry rocky roads and gravel than in the mud.
Noise and driving comfort
With the Wrangler AT Adventure tires mounted, you won't feel a bump on your way home from the off-road playground. It's just that comfortable – and it's honestly what's expected of Goodyear tires as they have set the bar quite high.
Even a difference of 3dB could cause the cabin noises and vibrations to double, so it's important for a tire to have a design that reduces the noises. How is this handled with these tires, you may ask? Well, looking closely at the tire, you'll see that the tread blocks have slightly different widths.
They are still symmetric, but this difference helps absorb the ground vibrations and harmonic sounds.
Competitors and alternatives
Finding a decent alternative to these tires might be a bit challenging, as you need to find a tire with reinforced compound material capable of providing high off-road puncture resistance. That said, here are several worthy competitors:
Michelin LTX A/T2
NItto Terra Grappler
Goodyear Wrangler All-Terrain Adventure with Kevlar price range
Due to their Kevlar layer addition, these tires have a bit higher price, placing them among the most expensive tires in this category. They surely do bring the value that's expected with the price, but you'll have to pay about $170 for a 16″ tire.
As the sizes go up, so do the prices, and you'll have to pay about $280 for a 20″ tire. Still, don't try to get these amazing tires at more convenient prices through rebates and Goodyear discounts.
Warranty
Having in mind the higher price of these tires, it's a good thing that you can count on 30-Day Goodyear Pledge! During this period, you'll have to decide whether you'll like to keep them or exchange them for a different set of Goodyear tires.
Of course, there's also the mileage warranty on 60,000 miles, so you should be on the right track from day 1 with these all-terrain tires.
Our take
Ultimately, it all comes down to the added toughness and great off-road traction when making a final verdict on Goodyear Wrangler All-Terrain Adventure with Kevlar tires. The tough sidewall and Kevlar layers leave you with peace of mind when using these for off-roading.
On the other hand, they provide smooth, pleasant highway driving without any vibrations and noises. So, while the price tag might be a bit higher, it's absolutely worth it with these tires, due to their tread life and durability.
REREV may receive a commission for purchases made through links on our site. Learn more.