Goodyear Viva 3 review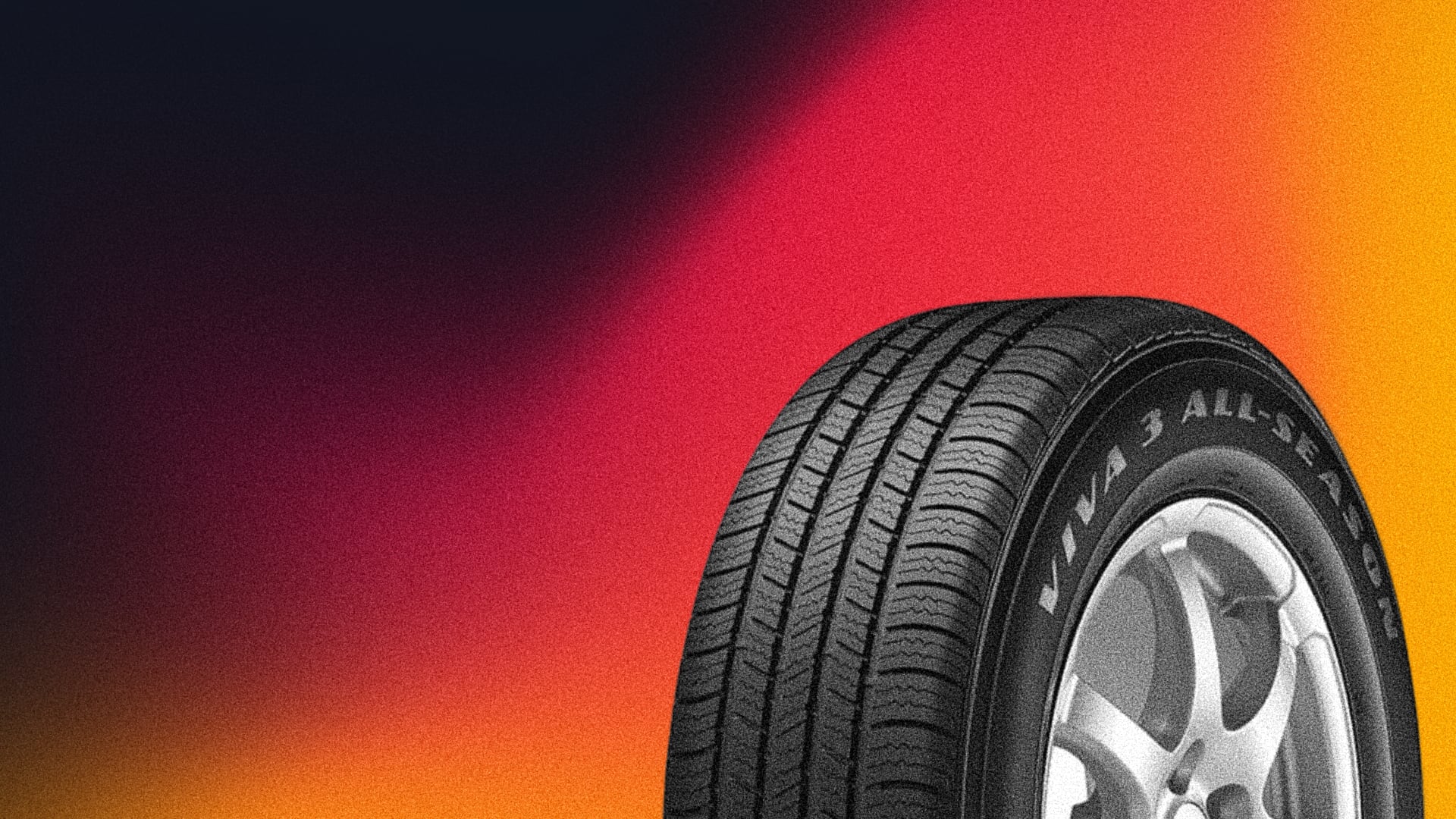 As one of the premium tire manufacturers, Goodyear tends to provide drivers with top-notch tires that last. However, that quality often comes at a higher price, so the company decided to extend the choice to a budget-friendly all-season tire – the Viva 3.
It's mostly suitable for mid-size sedans, coupes, and crossovers and it comes in 34 designs and trims to suit every driver's needs. If you are interested in a Goodyear-quality tire at a fair price, this Goodyear Viva 3 review will guide you through the ups and downs.
Recommended
Goodyear Viva 3
The VIVA 3 all-season tire is one of the least expensive tires of this type that comes with signature features that make Goodyear one of the best brands in the industry. It's the best on-budget option for an all-season tires on the current market.
REREV may receive a commission for purchases made through links on our site. Learn more.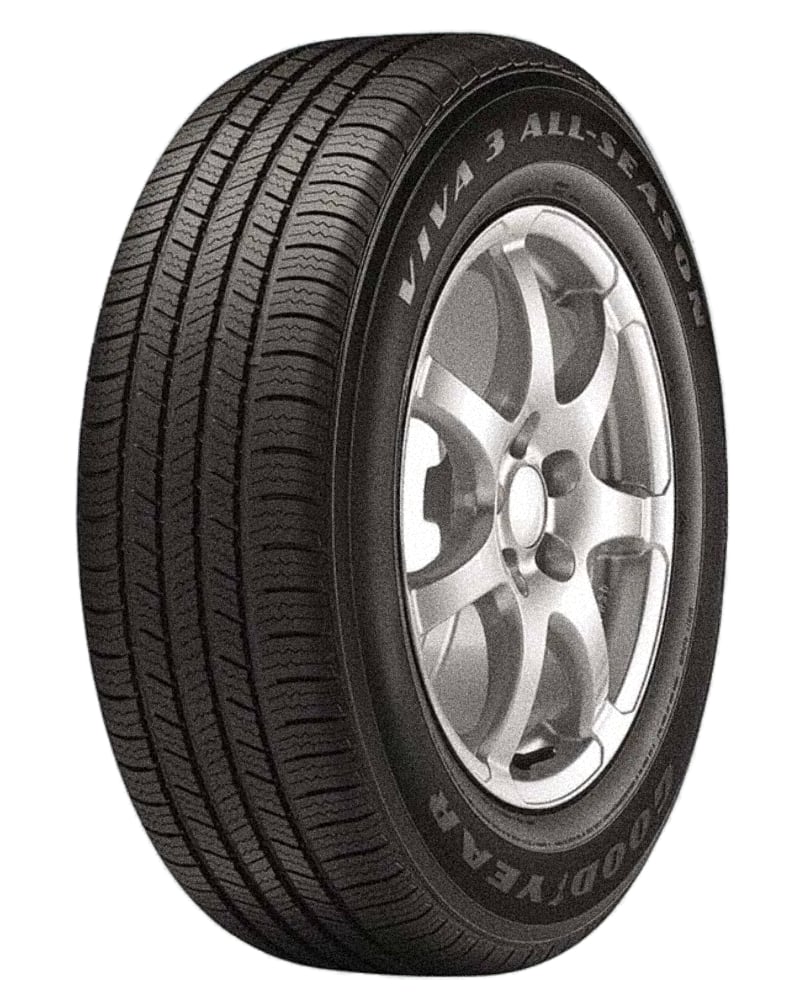 Why you can trust REREV's tire reviews: Our automotive expert researchers analyze tire specs, customer feedbacks and reviews from credible sources. This thorough analysis provides accurate information about tire performance, helping you make the best choice. Find out more about how we evaluate tires.
Key technologies
The Goodyear Viva was designed with standard Goodyear engineering that comes with its premium tires. Some of the main features include zig-zag sipes spread out through the tread blocks, and large shoulder blocks.
Zig-zag siping: Every single tread block of the Viva 3 tire comes with zig-zag sipes that enhance the wet grip and year-round traction of the tire. These sipes also form biting edges necessary for the tire to maintain some grip during the winter months, So, if's usable all season long, even on light snow.
Large shoulder blocks: The Viva 3 isn't exactly a performance tire, but its large tread blocks on the shoulders improve cornering precision and handling. It also helps tire stability, and even these shoulder blocks have sipes all over them for taking turns in light snow.
Safety features
Goodyear never compromises driving safety, even with the tire that's among the cheapest ones from the manufacturer. So, they equipped the Viva 3 tire with deep circumferential grooves that evacuate water from between the tire treads. These grooves help the center rib of the tire stay pliable even on wet roads and heavy rain.
On top of that, they also added lateral notches between the shoulder tread blocks, so the water can escape from the sides as well. It, therefore, makes an extremely reliable tire that doesn't get near the verge of hydroplaning, which is when a vehicle loses grip of the road due to a slippery surface and water.
Speed ratings
Based on what Goodyear says about this tire, it's far from a performance-oriented one. It suits those in need of an affordable set for their daily driver to serve well in terms of traction throughout the year. Still, the "T" speed rating allows you to drive a bit faster on the highway, so it makes a perfect compromise.
This means you can drive up to 118 mph without risking losing the tire's stability and traction properties. There's not much of a choice, but for everyday driving, this speed limit should be just enough.
Treadwear and durability
The Viva 3 tire is equipped with reinforced tread on the center ribs and tough shoulder blocks to make the contact patch of a tire stable and sturdy. So, they are quite durable for the price and should last about 60,000 miles.
For comparison purposes, the US Department of Transportation conducted research that showed the 14,000 miles average that American drivers pass per year. So, Viva 3 should last you at least 4 years and possibly even more depending on your driving style.
Maintenance indicators
Goodyear included an industry-standard maintenance indicator among the tread blocks of this tire. They get visible as the tread aligns with the final 2/32″ of the tread. It's not safe to drive with the tread below this level.
You should also check the tire pressure to make sure it's always at an optimal level. You can see the recommended pressure for your vehicle by looking at the driver's manual. Checking the tread gets useful in case your tires get out of balance or alignment in case you notice excessive wear.
Wet traction performance
For a budget-friendly tire, Viva 3 handles wet roads quite well. It never loses road grip and cornering feels stable and smooth. Things change a bit as you increase speed, but it's still decent enough to keep you in your lane safely when it rains during a highway ride.
The braking distance is also satisfying, adding the feeling of security when driving over slippery roads with Viva 3 tires mounted. It's not the best-wet performer in the game, but the important thing is it doesn't make you feel insecure at any moment.
Dry traction performance
The dry performance of this tire is on a solid level, nothing more and nothing less. Even with all the channels and grooves for wet traction, there's still enough tread patch to firmly grip the road when it's dry. The only problem is a bit of understeer at higher speeds.
Your vehicle will still hold the ground, but the steering response tends to be a bit slower when pushing the tire to its limits. It's not a deal breaker, since Viva 3 isn't a performer tire and it's best suited for highway cruising. So, as long as you don't floor the throttle, everything should be fine when taking a summer ride.
Snow traction performance
Goodyear Viva 3 tire stays usable at cold winter temperatures and light snow. It's not a spectacular performance, but you won't have to worry about sliding while driving over light snow. It's not suitable for deep snow, you'll need to keep your parking spot clean in the winter to avoid being stuck.
Overall, it's the exact performance you'd expect for a regular all-season tire in the wintertime. As soon as you hit highways and public roads, Viva 3 will get you safely rolling without having to worry about grip and control.
Off-road traction performance
This tire isn't the best option for off-road driving due to several reasons. First, the sizes are mostly aimed at passenger vehicles and crossovers, so you won't be able to fit them on a larger SUV. Moreover, the tread patch is too delicate for tackling challenging terrains and rocky surfaces.
It would significantly reduce the lifespan of the tire, while the shoulder tread simply isn't aggressive enough for decent off-road traction.
Noise and comfort
The ride quality with Viva 3 tires mounted is slightly above average. The tire gives you enough stability and noise isolation in the cabin, but some vibrations are possible at a higher speed. For an average highway ride, there shouldn't be any problems with this.
The Viva 3 isn't a touring or luxury tire, but it handles quite well in terms of noise isolation and refinement. It's not like you won't feel a bump or two, especially before you hit city roads and highways, but it's not a noisy driving experience either.
Competitors and alternatives
Even though Goodyear is a premium tire manufacturer, the Viva 3 tire mostly compares with lower-trim tires due to its price range. In this category, it's almost unprecedented, so here are its rivals in a slightly higher price range:
Bridgestone Ecopia
Michelin Defender
Price range
The price level is surely one of the main highlights of this tire. It helps drivers that wish to stay on budget to still find a quality solution with an all-season grip. Tire sizes range from 14″ to 18″ so the price varies according to size and trim.
The starting price is around $55 per tire, and it goes up to $130 for a larger size. Still, it's a convenient price range as you can get the entire set at a fair price.
Warranty
With Viva 3 tires, Goodyear gives you a 60,000-mile limited treadwear warranty. So, if the tires wear off prematurely, you can get a replacement at a lower price, according to the difference in promised mileage and what your tires passed.
So, if the tire reaches the final 2/32″ of tread in 30,000 miles instead of 60,000 miles, your replacement contribution will be half the price.
Our take
The Goodyear Viva 3 is a solid all-season overall, but with the price considered, it's among the best options in its class. It won't deliver sporty performance and steering precision at higher speeds, but it gives you good wet traction and a great warranty deal.
It makes a perfect compromise on well-known Goodyear quality and a tire that will last for years without having to change it during winter or summer months.
Where are Goodyear Viva 3 tires made?
Goodyear Viva 3 tires are made in the US in Goodyear production plants in Fayetteville, North Carolina, and other US-based facilities.
How good are Goodyear Viva 3 tires?
Viva 3 tires aren't the best all-season option out there, but they rate among the best within the price range.
How long do Goodyear Viva 3 tires last?
Goodyear Viva 3 tires last about 60,000 miles, and if they wear off prematurely, you can count on the warranty package to lower the replacement cost.
What are the speed ratings of Viva 3 tires?
Viva 3 tires are u0022Tu0022-rated, which means the speed rating allows you to drive up to 118 mph with total grip and safety.
Where to buy Goodyear Viva 3 tires?
You can mainly find Goodyear Viva 3 tires in Walmart, as it's a version made for the famous retailer brand.
What's the difference between Viva 3 and Reliant?
The difference between Goodyear Viva 3 and Reliant is in tire class, as Reliant is a premium touring version, while the Viva 3 is a starting model from Goodyear's all-season lineup.
What is better – Goodyear Viva 3 vs Michelin Defender?
Michelin Defender is a better tire than Goodyear Viva 3 overall. Still, if you don't need a high-performing tire, Goodyear Viva 3 costs at least $50 less per tire than Michelin's model.
What is better – Goodyear Viva 3 vs Bridgestone Ecopia?
Bridgestone Ecopia offers better-wet handling and high-speed stability than the Goodyear Viva 3 tire.
What is better – Goodyear Viva 3 vs Continental TrueContact?
Continental's tire is more durable and handles better than Goodyear Viva 3, but the starting price for TrueContact tire is up to $60 higher per single tire than Goodyear Viva 3.