Firestone is one of the oldest tire brands in the US and it has always proved to be a tire brand that delivers solid quality at more than reasonable prices. However, what most of you probably don't know is that Firestone used to be a prime supplier of tires for Ford back in the day. It also made some of the best US-made tires back in the day.
It's always interesting to see how companies with great tradition hold their ground over a century after their inception. So join us in our Firestone tires review for the details!
History and overview of Firestone tires
Firestone Tire And Rubber Company was born in 1900 in Akron, Ohio. It immediately became one of the favorite US brands and the confirmation of the company's great business strategies was a partnership with Ford that started in 1906.
Over the years, Firestone had its fair share of ups and downs through the ever-lasting rivalry with Goodyear for the title of the best domestic tire brand. Firestone got acquired by Bridgestone back in 1988 and operates under the Japanese tire brand ever since.
However, that didn't stop the company from producing some of the best tires considering their budget-friendly price. From the day the deal was made, it was obvious that Firestone tires will follow-up the quality of official Bridgestone tires or Michelin at a fairer price. So, the brand maintained its reputation for being a sort of people's go-to manufacturer for quality tires that won't create a big hole in your wallet.
Key takeaways
Our team invested sufficient efforts to bring you the details and technology features that make Firestone tires worth your consideration. Still, if you don't have the time to go through it all, take a look at the short list of key takeaways on Firestone tires:
90-Day Buy & Try Guarantee – One of the best things about these tires is that you truly get to take their reliability for a test drive. You'll have a period of 90 days during which you can test the tires on different road conditions. In case you aren't satisfied with their performance, you can get a replacement for another Firestone tire set.
COCS Tread Design – Firestone's engineers did not want to leave anything to chance when designing the tire treads. Instead, they rely on a series of calculations and simulations from a supercomputer to determine the perfect tread pattern, material, and outline for their products. The Computer Optimized Component System simulates everything from the shape and materials of the tire casing, to the tread pattern and siping. It also runs advanced tests to see how the tires would behave on real roads.
WeatherGrip HP Tread Compound – Especially for all-season tires, even treadwear is crucial so you get the best fuel economy and longer tread life. That's exactly what Firestone engineers have accomplished with the WeatherGrip technology that gives you a splendid wet traction performance without sacrificing the refined driving sensation on dry roads.
Where are Firestone tires made?
Firestone tires are made in different production plants around the world owned by Bridgestone tires. So, you can even expect to find some US-made tires which is a relief, having in mind that the renowned company was born in the US after all.
However, the majority of the tires are produced in Japan, while some are also developed in China. Firestone mostly relies on Bridgestone tire manufacturing facilities that are scattered across the world with over 160 production plants.
Who makes Firestone tires?
Firestone tires are now vastly produced under the Bridgestone tire brand. The two companies also share production and development plants, but Firestone still has some freedom within the brand to conduct its research and participate in tire model development.
So, it's not exactly a bad thing since Bridgestone makes some of the best tires worldwide. When paired with the long-lasting tradition and influence that Firestone has in the market, you get the best possible quality for a tire in an affordable price range.
Are Firestone tires any good?
Now that you know that Firestone tires are manufactured by a larger brand, you might be unsure about their quality. Well, they aren't exactly a match for Bridgestone tires or Michelin and Pirelli for that matter.
However, the quality of the materials and innovative technology used in collaboration with Bridgestone makes these tires one of the best options for a budget purchase. The warranty arguably covers more than you could expect out of an affordable tire brand, so you won't have to worry about poor tire quality or punctures on the road with these.
Best Firestone tires by car type
All-Season
Passenger All-Season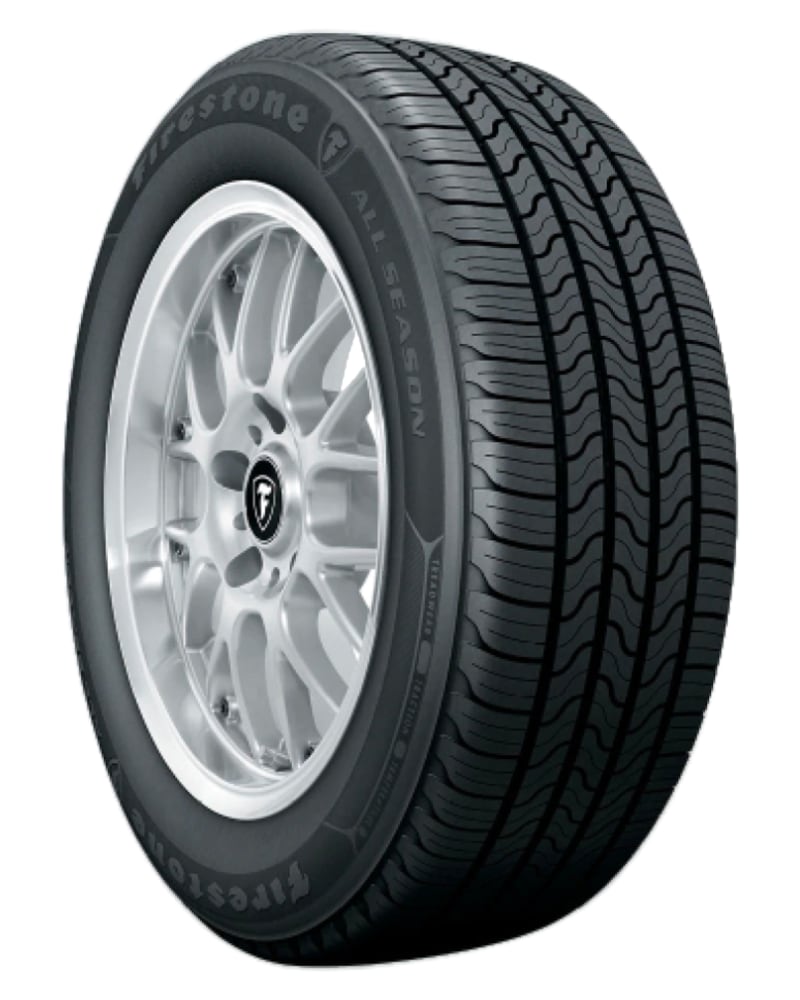 Treadwear
Traction
Temperature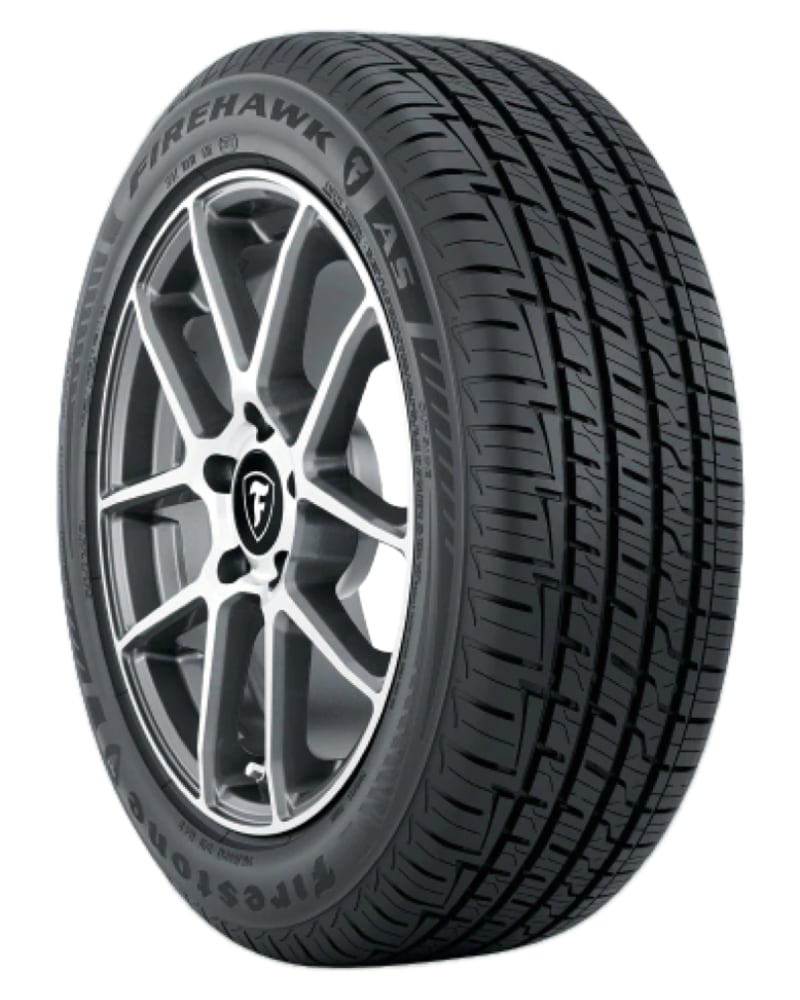 Treadwear
Traction
Temperature
Destination AT2
Truck/SUVTouring All-Season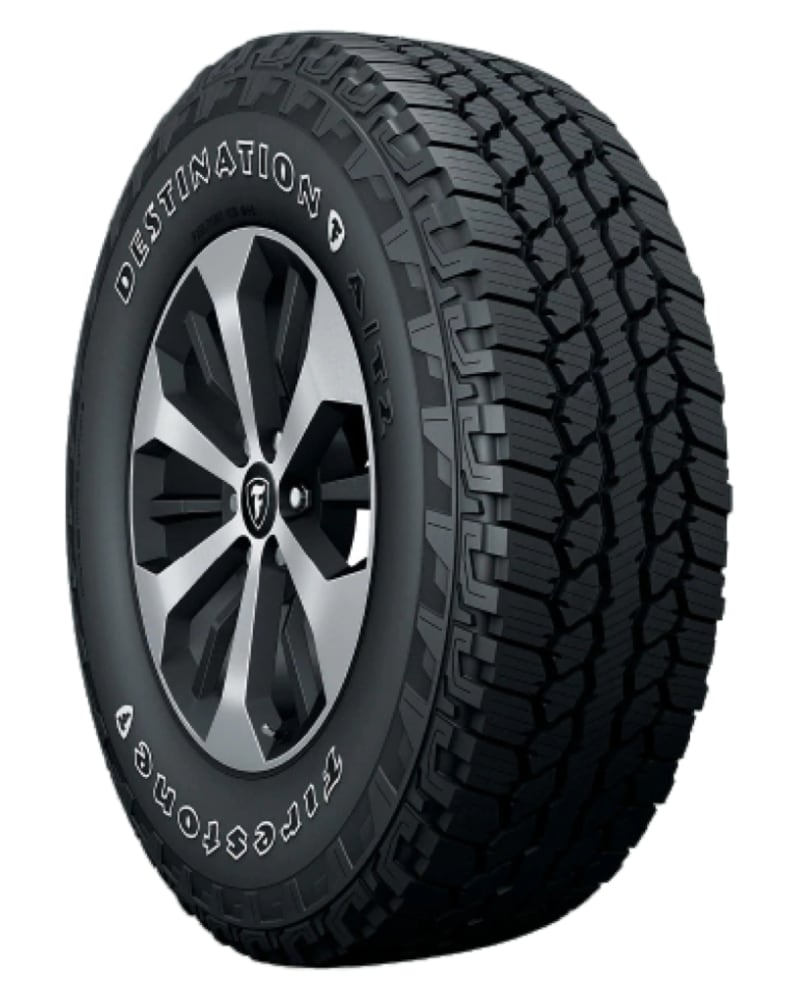 Treadwear
Traction
Temperature
Destination LE2
Truck/SUVTouring All-Season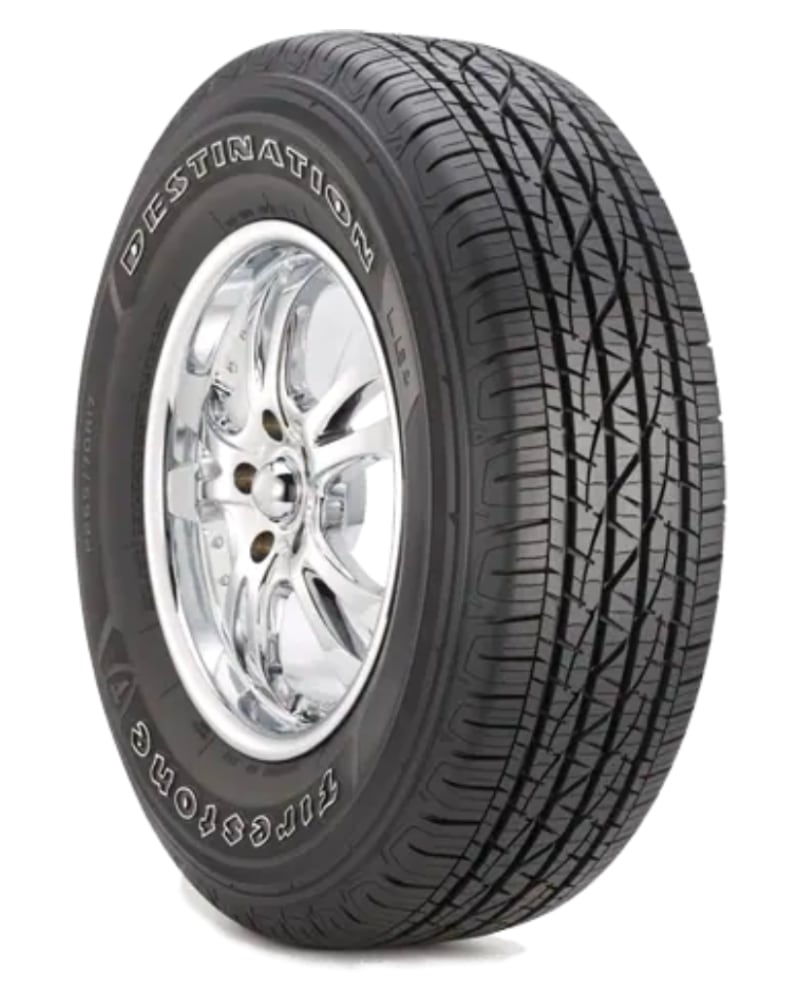 Treadwear
Traction
Temperature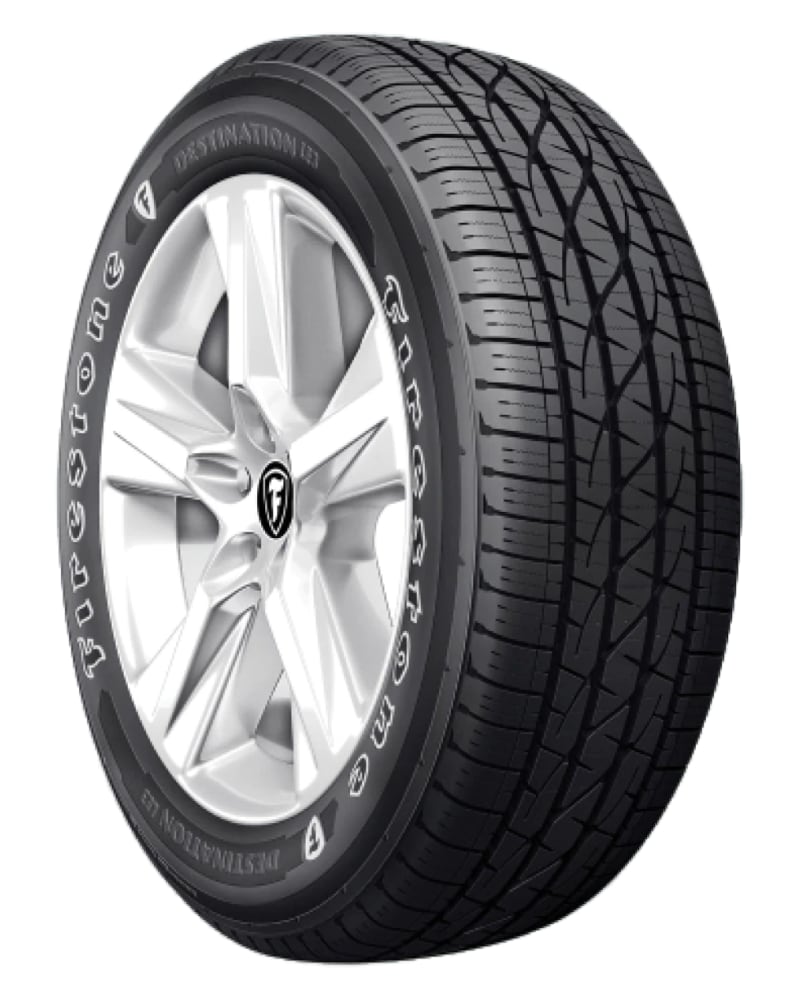 Treadwear
Traction
Temperature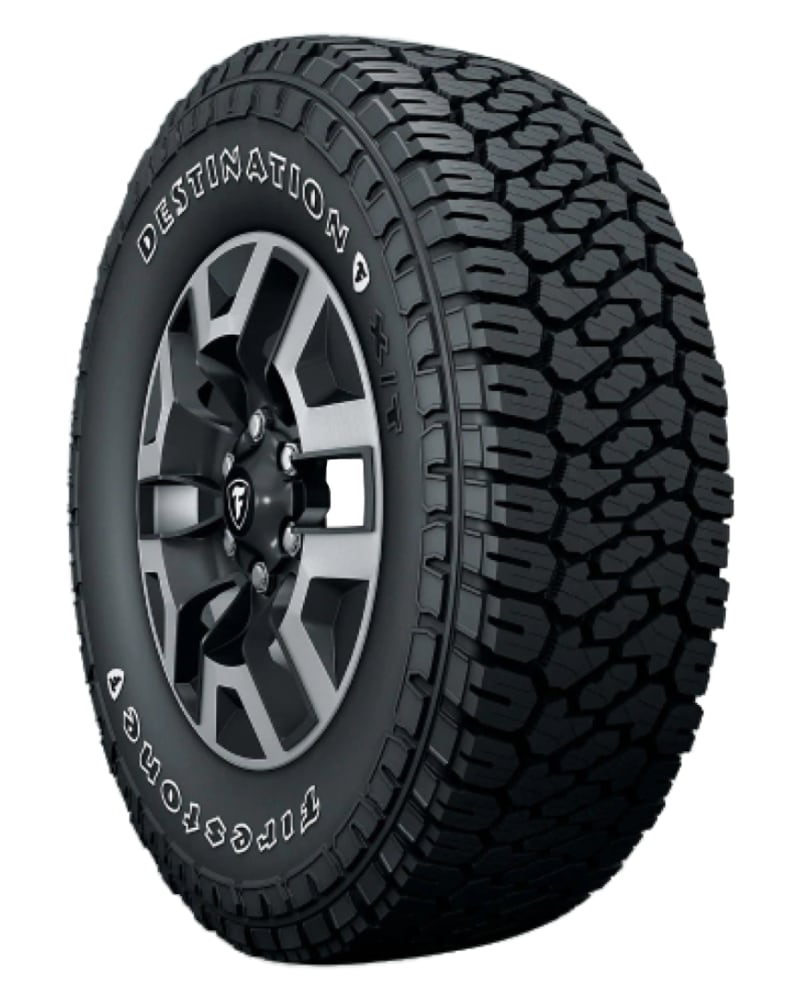 Treadwear
Traction
Temperature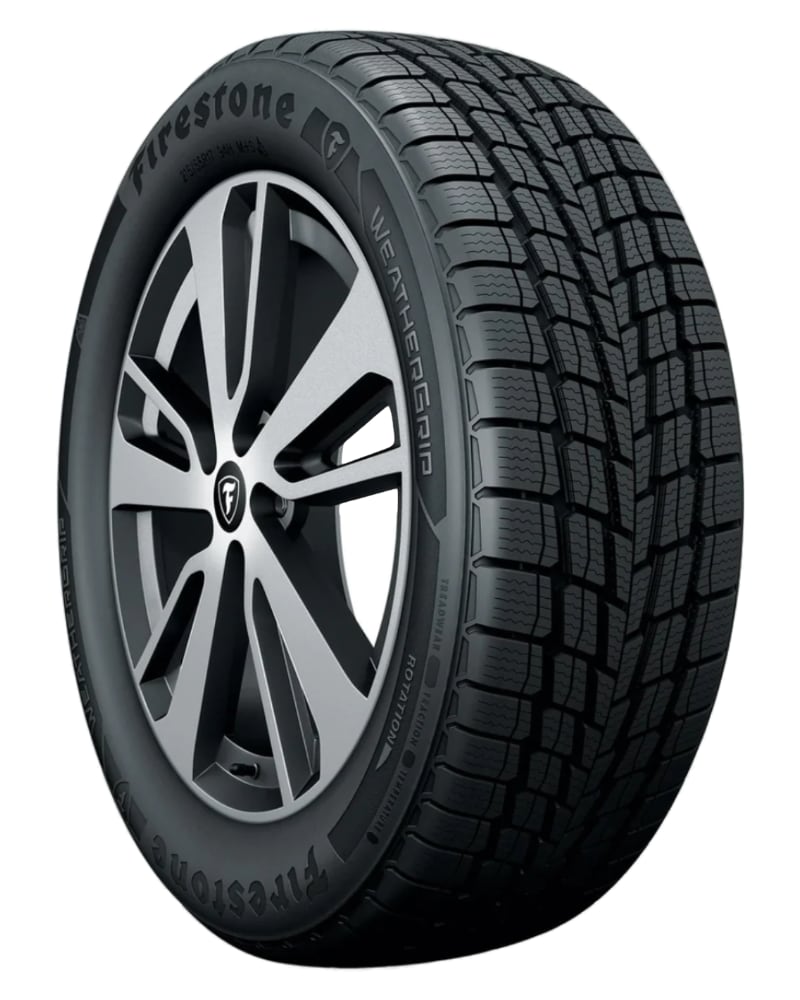 Treadwear
Traction
Temperature
Cost of Firestone tires
If you are to opt-in for Firestone tire models, you can expect to pay from $70 for a single 15″ all-season tire, while the upper limit is around $320 for a 20″ MT tire. However, the regular 16″ and 17″ touring tire trims cost around $200, which is a moderate price range for a luxury touring tire.
Overall, the price range of these tires allows you to equip your vehicle with a brand new all-season tire set for as little as around $400. Still, you should be aware that the price can vary drastically based on the exact tire model and size trim as well as the speed rating and load capacity.
Why choose Firestone tires?
There's a variety of reasons why you should choose Firestone tires over premium tire brands and it's not just the affordable price range. These tires are developed after passing a series of tests and simulations to ensure that they are worthy of being under the Bridgestone brand, and Firestone's tire manufacturing tradition. So, here are some of the main reasons why you should buy Firestone tires:
Road Noise Reduction Technology: One of the main reasons for grabbing a set of Firestone tires is their road noise reduction technology. Most of the Firestone tires feature a 5-Pitch noise lowering design that helps the tire treads absorb road vibrations easily. Along with reinforced casing, Firestone tires are equipped for refined driving, so you can relax and enjoy a conversation with the passengers without any annoying road noises.
Power Water Discharge: A crucial safety feature that each all-season tire should have is a technology that aids in water dispersion to prevent the chance of hydroplaning. Luckily, that problem has been addressed with Firestone tires thanks to the Power V Tread Pattern. It's designed with the brand's Indy racing tire in mind, with V-shaped tread voids that aid in water removal, giving you improved wet traction.
Reinforced Shoulder Blocks: Unlike other tire manufacturers in the affordable price range, Firestone arranged a unique shoulder block support with a continuous nylon wrap that spreads around the shoulder section. Thanks to this innovation you get higher cornering stability, even pressure distribution, and precise handling when making quick turns.
Our take
In the end, Firestone tires make a perfect substitution for tires from top-notch tire brands that cost much more. They can't truly compete with Bridgestone and Michelin tire quality, but you can truly get the most for your buck out of these.
High-end trims for both passenger cars and SUVs will leave no driver unmoved, and you can save up a couple of bucks by using the info from our Firestone tires review to grab these at the most convenient price!
How long do Firestone tires last?
Firestone tires last between 40,000 miles and 70,000 miles depending on the tire type and trim. According to the US Department of Transportation, that should be enough for at least 3 to 4 years, since an average US driver passes around 14,000 miles annually.
What tire sizes does Firestone offer?
Firestone offers tire sizes from 14″ trims to 22″ trims, and that's one of the best things about this manufacturer. Even owners of small passenger cars will get the best for their buck, while you can find a 22″ off-road truck tire just as easily.
What tire brands are comparable with Firestone?
Tire brands comparable with Firestone include Hankook and Goodyear, having in mind the build quality and the price range of these tires.
Is Firestone the best tire brand?
Firestone isn't the best tire brand, but you shouldn't even think about comparing it with Continental, Michelin, or Bridgestone. These tires should represent affordable tires that are capable of delivering considerable performance and tread life for their price range.