Firestone Firehawk A/S review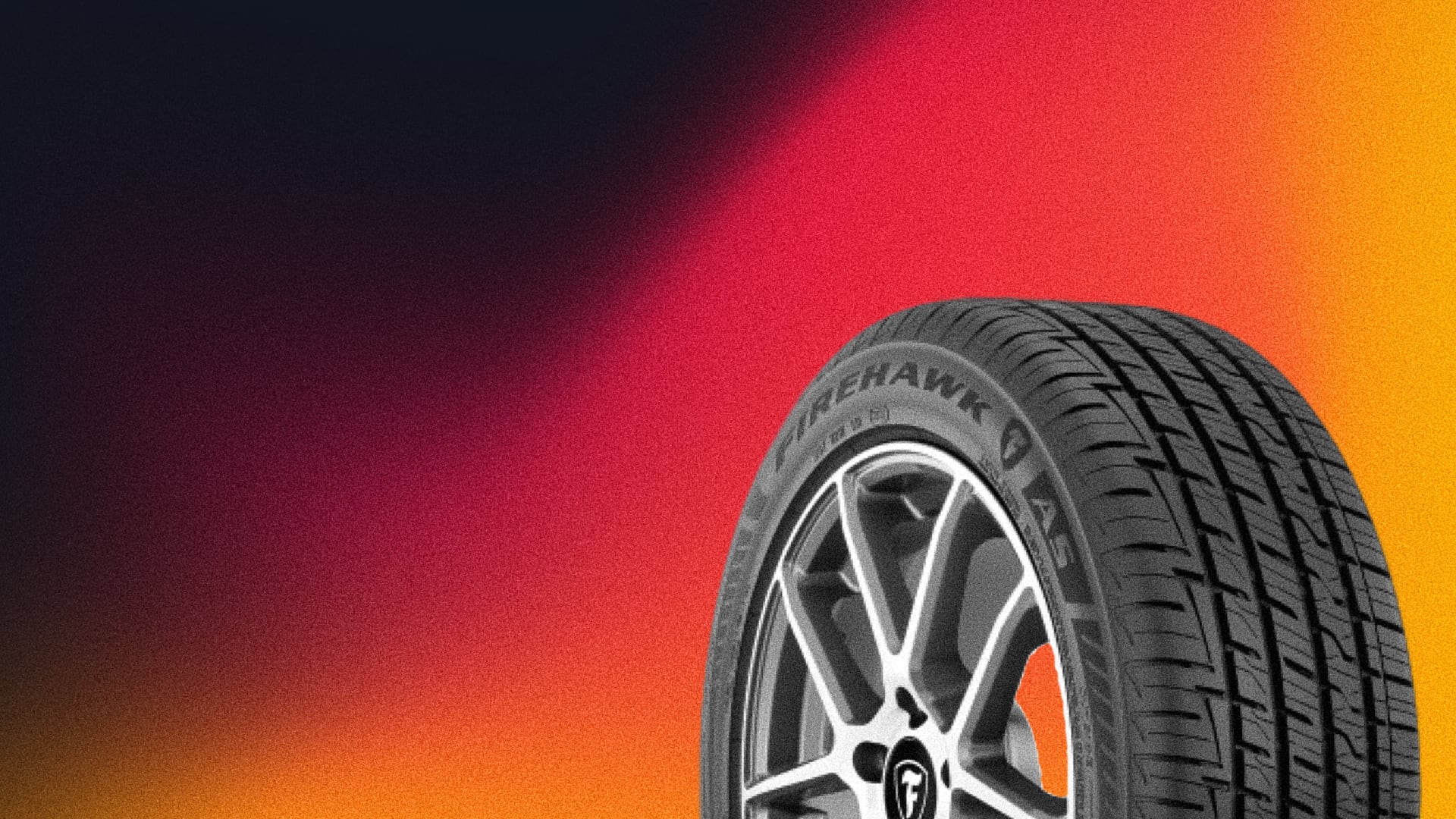 REREV may receive a commission for purchases made through links on our site. Learn more.
Firestone tires just keep getting better and better, and their top-of-the-line sporty all-season tire proves it. The Firehawk A/S offers you great handling and sporty responsiveness combined with a durable tread that lasts.
They are applicable in all weather conditions thanks to innovative tread technologies and grooves. If they already sound tempting, the rest of our Firestone Firehawk A/S review will convince you to give them a chance. Thanks to the assistance of Bridgestone which owns the Firestone brand, these tires give you premium quality for an affordable price.
Recommended
Firestone Firehawk A/S
The Firestone Firehawk A/S is a high-performance tire that allows you to get great steering response on dry and wet without having to break the bank for an expensive tire of a premium brand.
Purchases made through links on our site may earn us a commission.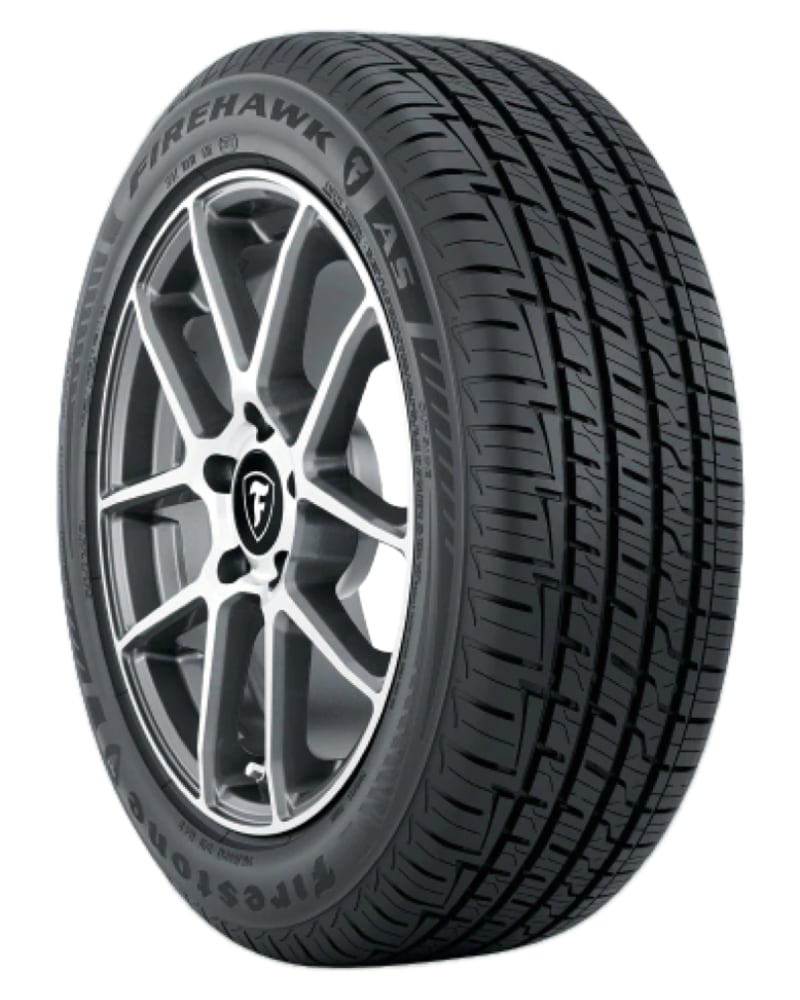 Key technologies
Our team was truly surprised by how well these tires handle, and it's all thanks to the innovative tread features. They include a stunning asymmetric tread design, durable long-link carbon material, and siping that spreads through the tread.
Asymmetric tread pattern: The Firehawk A/S tire model comes with two different tread design faces. The outer side is equipped with large shoulder blocks for better cornering performance and some additional grooves for decent handling in the wet. The other side gives you maximized rubber footprint for better dry handling, so these tires can be used in any sort of weather.
Unique compound material: The tread compound of these tires is made of long-link carbon material coupled with high silica content. Long-link carbon stabilizes and reinforces the rubber to give you better ground support and changing carbon molecules suitable for any temperature. High silica addition makes the tires last longer and performs better on wet roads.
Deep siping: We were surprised to see that this tire has siping that goes all the way down to the bottom of the tread. It provides the tire with higher safety and more biting edges that grip the road, which is especially important in wet driving conditions and snow traction.
Safety features
Firestone experts thought this tire through, as it has plenty of features that keep you safe in all driving conditions. First, there are four deep circumferential grooves to aid in aquaplaning protection. Water slides down these grooves as the tires rotate, leading it away to give you a better-wet road grip.
If it weren't for this feature, you would risk aquaplaning which happens as your tires lose ground contact under a layer of water. Additionally, tires also have deep siping which is especially visible on the outer block toward the shoulder. It helps make the cornering safer, as the sipes work with the grooves to lead the water away.
The center rib is filled with biting edges for sturdy ground contact even when it snows for the benefit of your driving safety.
Speed ratings
Firestone Firehawk A/S is a sporty tire, which means it can handle higher speeds well. Of course, it's not a high-performance tire, but it serves drivers that aim for a bit of a sportier ride well throughout the season.
That's why the tires come in two-speed ratings – "H" and "V". Speed ratings refer to the maximum speed at which the tire was tested without any handling or safety problems. So, choosing a tire with an "H" rating means you can drive up to 130 mph, while the "V"-rated tire lets you speed it up a bit up to 149 mph.
Treadwear and durability
These tires are made to last without having to sacrifice the features enabling sporty driving. So, they should last about 50,000 miles, which is not half bad in this tire category. Tires were also tested for their durability and the results were submitted to the National Highway Traffic Safety Administration (NHTSA).
They earned the 480 AA uniformity grade, which means they lasted nearly 5 times longer than a test all-season tire with the same properties. The "AA" represents a traction grade, which means the tire stops at a much shorter distance than tires rated "A", "B", or "C". According to the US Department of Transportation, an average American drives around 14,000 miles per year.
So, you should be able to use Firehawk A/S tires for at least 3 to 4 seasons without having to change them based on weather conditions.
Maintenance indicators
Knowing the tire tread depth is crucial to figure out whether you can still safely drive or need to change the tire. So, Firestone added factory-set treadwear indicators (TWIs) between the tread blocks, and these become visible as your tire wears down to the final 2/32″ of the tread.
Once they become visible, you should immediately change the tire as it's not safe to keep driving with low tread depth. You should also pay attention to the tire markings regarding age. For instance, a 2022 mark means the tires were produced in the 20th week of 2022.
It's important since tire rubber compounds can degrade over years, so it's not safe to use a tire that was locked away in your garage for years.
Wet traction performance
Firestone Firehawk A/S is more than a decent wet performer, thanks to the shoulder siping and deep grooves across the tire's circumference. However, you shouldn't test their limits by flooring the gas pedal in case of heavy rain.
Their performance attributes are mainly oriented toward dry traction, and wet traction features simply allow you to safely drive on wet pavement. It's not a top-of-the-class performance in wet, but it is above average for the tire in this class and price range.
Dry traction performance
This is the field where Firehawk A/S tires truly excel – they handle the dry roads with superb traction even at higher speeds. The unique carbon and silica compound add up to the tread which efficiently grips the road on a summer day.
Firestone Firehawk A/S tires even compare to some premium tire models in this category, and all that at a better price. They also have maximized rubber footprint on the inner side and a similar design to the center tread block which aids in driving stability.
Outer blocks are also reinforced to give you a solid steering response when taking on the corners, so these tires are perfect for your everyday ride.
Snow traction performance
In terms of snow traction, Firehawk A/S tires perform way better than their predecessor, Firestone Wide Oval A/S. Thanks to the increase of deep siping spread through the tire, the Firehawk A/S has 20% more biting edges than the Wide Oval A/S.
The deep siping that we mentioned before add up to the usability of these tires in cold winter months. Of course, they aren't as good as dedicated winter tires, but they will suffice for driving from point A to point B safely even on a road with a few inches of snow.
Off-road traction performance
Well, it's somewhat expected that these tires don't perform so well on off-road terrains. They are mainly aimed at sporty sedans and coupes, so taking a road detour won't be the best idea. You can sufficiently park your car in a gravel or sand area, but it's not wise to actively drive over rocky surfaces.
Although the tire tread compound is sturdy enough, it's still a bit delicate for demanding off-road terrains, and could easily be damaged or even punctured.
Noise and comfort
There were some complaints before regarding the comfort and noise isolation of previous Firestone all-season models. Luckily, it's all been sorted out with the Firehawk A/S, as it offers a refined drive even at higher speeds.
Variable sipes help the tire grip road in a way that doesn't transfer much road vibrations into the cabin, and the overall comfort gets quite close to a touring tire.
Competitors and alternatives
If you are wondering about the competitors of these tires, you'll have to look at superb sporty all-season tires with the same level of comfort and similar price as Firehawk A/S. So, there are not many options out there, and these are the main rivals:
Bridgestone Potenza REE980 A/S
Goodyear Eagle Sport A/S
These tires will give you a similar level of all-around traction with sporty performance and handling.
Price range
It's not easy to find affordable all-season tires that are capable of delivering decent performance as Firehawk A/S. So, one of their main benefits is an affordable price tag that comes along. The prices differ based on tire size and ratings, so you can expect to pay around $132 for a single 15″ tire.
The largest trim with a "V" speed rating is the 20″ Firehawk A/S tire that could range up to $210.
Warranty
The warranty package gives you a 50,000-mile limited warranty on these tires, as well as a uniformity warranty for the first 1/32″ of tire tread. So, if you find the tire to be defective soon after purchase, Firestone will replace it.
You also get a 30-day "buy and try" guarantee, so you can get a refund or replace tires for another Firestone set if they fail to meet your expectations in this period. Materials and workmanship warranty also gives you a free replacement during the initial 3 years of use.
Our take
We hope that this Firestone Firehawk A/S review helps decide whether these tires make a good bargain or not. They passed every test placed in front of them by our team, and offer a great year-round driving experience.
Finally, you could say that these are a perfect compromise between high-performance tires and refined all-season touring tires for those looking to get something in between.
Where are Firestone Firehawk A/S tires made?
Firestone Firehawk A/S tires are made in the company's production plants in Decatur, Illinois, and Mexico.
How good are Firestone Firehawk A/S tires?
Firestone Firehawk A/S tires offer performance above average for this price tag and their class.
How long do Firehawk A/S tires last?
These tires should last at least around 50,000 miles, and depending on your driving style, you might enjoy driving on them even more until you can see the TWIs.
What is the speed rating on Firehawk A/S tires?
The speed rating on Firehawk A/S tires is u0022Hu0022 and u0022Vu0022, so they are capable of delivering solid performance in the rank of sporty driving.
Where to buy Firestone Firehawk A/S tires?
You can buy Firestone Firehawk A/S tires in retail shops in the US and online shops where you can get rebates and discounts.
What's the difference between Firestone Firehawk A/S and Firestone All-Season?
The difference between Firestone Firehawk A/S and Firestone All-Season tires is that the Firehawk model is the top-of-the-line A/S tire with sporty attributes, while the All-Season tire is an entry-level tire with year-round traction from the manufacturer.
Which is better – Firestone Firehawk A/S vs Michelin Pilot Sport?
Michelin Pilot Sport is a better tire than Firestone Firehawk A/S overall, but the difference in build quality isn't as drastic as the price difference, since a single Michelin tire costs up to $100 more per tire than Firehawk A/S.
Which is better – Firestone Firehawk A/S vs Goodyear Eagle?
The Goodyear Eagle has slightly better cornering stability than Firehawk A/S, but these tires are quite close in all test categories.
Which is better – Firestone Firehawk A/S vs Bridgestone Potenza?
Bridgestone Potenza is a better tire in terms of road comfort and traction than Firehawk A/S, but it also costs considerably more.
REREV may receive a commission for purchases made through links on our site. Learn more.