Firestone All-Season review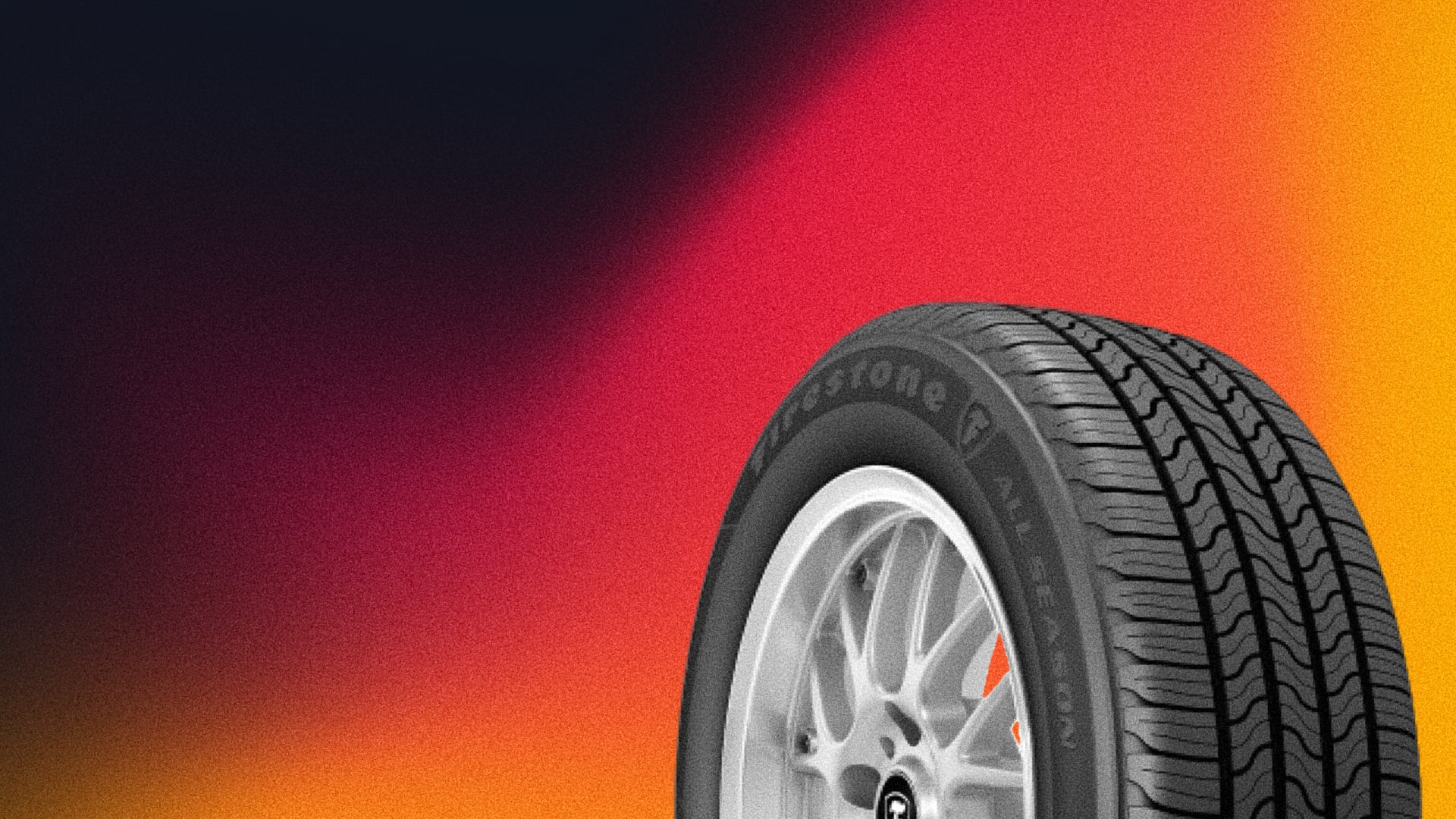 REREV may receive a commission for purchases made through links on our site. Learn more.
Firestone is one of those tire brands that often get overlooked, but their build quality steadily reaches that of a premium brand. So, it's no wonder that their all-season tires are getting better and better. It might sound confusing, but their recent model was named Firestone All-Season, so that's an interesting thing to have in mind.
They also offer some premium all-season tires like the WeatherGrip series, but this Firestone All-Season review will mostly focus on the previously mentioned model. It's a perfect indicator that you can get great year-round traction and a durable tire with all the premium technologies at a fair price.
Recommended
Firestone All-Season
If you don't want to pay top dollar for a set of tires with year-round traction and even exceptional traction in mud and snow, Firestone All-Season makes one of the best bargains on the market.
Purchases made through links on our site may earn us a commission.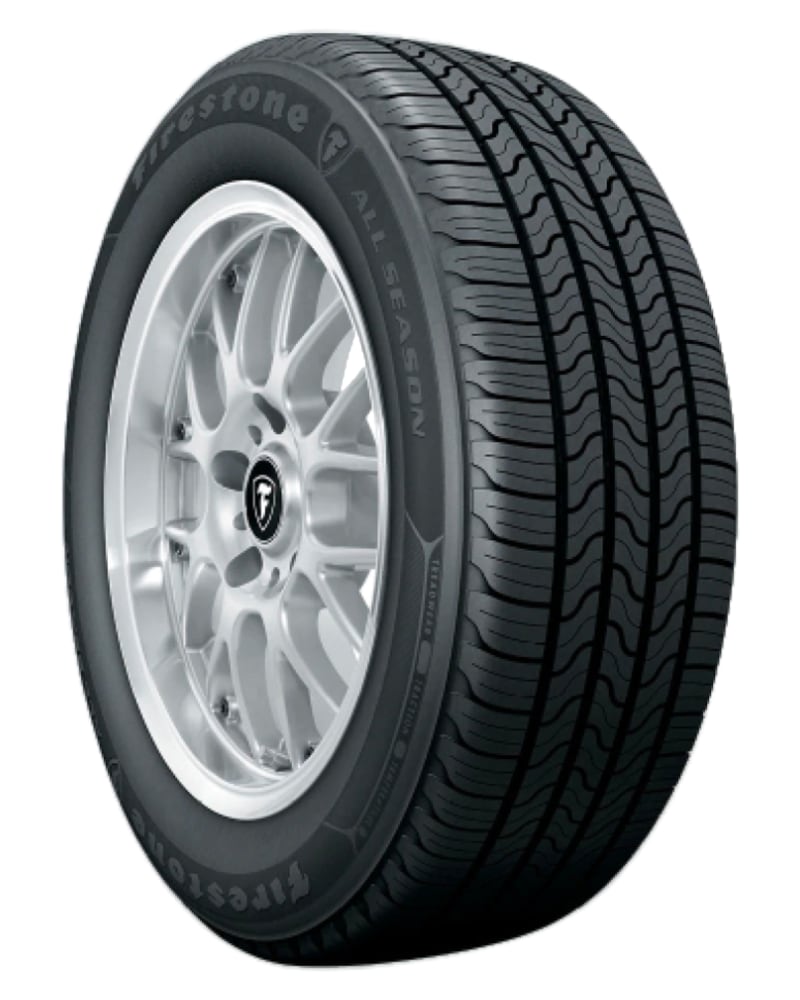 Key Technologies
For an affordable price tag they come with, Firestone All-Season tires are rather rich in innovative technologies. Some of the standout features include the high-silica compound, reinforced casing, and an M+S rating.
High-silica compound: Thanks to the innovative high-silica compound often found in premium tires, the Firestone All-Season tire is capable of delivering improved wet traction. The compound also introduces lower rolling resistance, so you'll get better fuel economy and year-round flexible rotation to increase the tread life with this tire mounted.
Reinforced casing: Firestone All-Season also comes with a reinforced polyester casing and two nylon-wrapped steel belts above to provide additional sturdiness. Thanks to this, the tires come with increased stability when compared to the previous Firestone FR710 model.
M+S rated: The "mud and snow" designation on these Firestone tires means they can be used in winter conditions. All-season tires equipped with this symbol offer better snow traction than year-round tires without it, resulting in a closer performance to winter tires.
Safety features
On top of the impeccable tread design optimized for even wear and improved all-season traction and stability, Firestone All-Season tires also come with many safety features. The main ones include four deep circumferential grooves and symmetrical sipping to add up to better handling in wet and snow.
Most importantly, the shoulder blocks are also equipped with sipping to give you safer handling when taking on the corners. You won't experience a bad steering wheel response or shaking with these tires mounted. High silica compound adds up to wet traction as it stays flexible in the winter, yet tightens up in the summer resulting in great all-season performance.
Speed ratings
A speed rating on your tire dictates the top speed at which you can safely drive with your tire set. You can read the tire number starting with tire width and the final letter of the code reflects the speed rating. For instance, a Firestone All-Season tire with 185/55R16 83T means there's a "T" speed rating designated on a tire.
With a T-rated tire, you can drive up to 118 mph, while Firestone All-Season tires also come with an "H" speed rating capable of withstanding speed up to 130 mph without losing on its safety properties.
Treadwear and durability
Firestone's All-Season tire should last about 65,000 miles as estimated mileage covered by the warranty. Thanks to the high silica compound, this tire has flexible rotation and wears off evenly to give you the most tread life from the tread pattern.
These tires come in the range of 480 to 560 Uniformity Treadwear Quality Grade (UTQG) which refers to government data on tire treadwear. As tested under the surveillance of the National Highway Traffic Safety Administration (NHTSA), these tires last 4.8 to 5.6 times longer than a regular control tire.
Maintenance indicators
Using the maintenance indicators, you can tell if your tires need changing or not. Firestone keeps to the US factory indicator standard which shows your tires are ready for replacement as they reach the final 2/32″ of the tread.
You'll find the indicator inside the groove between tread blocks, and it only becomes visible as the tread levels with it. It's not safe to drive with a tire tread being below the final 2/32″, and it's not legal in the US either. You can also use a penny to test the treadwear by placing it upside-down. If you can see Lincoln's head, it's time to replace the tire.
Another useful indicator is to check the recommended tire pressure. You can check it at any gas station with a tire pressure gauge, and if the pressure is under the recommended level, you need to inflate it and check for damage.
Wet traction performance
Driving on wet roads is much easier with a set of quality all-season tires like the Firestone model for year-round traction. There's virtually no chance of hydroplaning which is a dangerous occurrence when your tires lose a road trip under a layer of water.
Firestone's engineers made sure to include deep grooves across the tire's circumference and deep voids between tread blocks on the center rib. Due to these voids and grooves, water immediately escapes the tire as it rolls, so there's no chance of losing control over your vehicle on wet pavement.
Dry traction performance
It's a fact that these tires perform great on wet roads, so it's even better that they scored slightly higher in the field of dry traction. For a tire to give you a good grip in the summertime, it must have a stiff compound and a maximized rubber surface on the road.
This tire has it all – the high silica compound makes the material sturdy enough for good dry traction, while the rubber surface on the road doesn't fall behind. Even though the tire is filled with circumferential grooves and lateral voids, the center rib still offers maximized rubber footprint on the road.
Snow traction performance
The Firestone All-Season tire offers great performance in the snow. It's not as good as one of WeatherGrip tires, but for its price range, this M+S-rated tire handles impressively. You'll be able to tackle a few inches of snow quite well, and it makes it perfect for driving on highways and city roads in areas that get a bit more snow over the year.
Of course, it's not as useful in deep snow, but it's all perfectly natural for an all-season tire. Overall, its snow traction performance deserves all the praise for a tire in this category and its price range.
Off-road traction performance
This tire scored the lowest in off-road driving conditions, and it's no surprise – it's an all-season tire, not an all-terrain tire. So, you won't exactly get a great experience if you take your car to a road detour. You should be able to park it off the road just fine if it's just sand and gravel on the ground.
However, don't try driving these over rocky surfaces as it might damage the tread pattern and render it useless for all-season traction.
Noise and comfort
So far, you are probably wondering about the segment where these tires lack performance. Well, we aren't saying these are the loudest tires among all seasons out there, but they aren't as refined as some competitors.
It's still worth keeping in mind that for the price, Firestone All-Season tires are impressive in driving characteristics. Still, you'll surely experience a few noises here and there, and the same goes for the upper-class Firestone WeatherGrip tires. They aren't the most refined tires among the bunch, but the noise level is more than acceptable for highway driving.
Competitors and alternatives
There are many all-season tires out there, but rare are those that can combine the qualities of Firestone All-Season tire along with its reasonable price range. So, here's a list of its main rivals:
Both these tires offer year-round performance and similar tread features to the Firestone All-Season model.
Price range
The starting price of Firestone All-Season tires is around $70 for the 15″ trim tire, while the price goes up to around $140 for a single 18″ tire. It's quite a favorable price range for an all-season tire leaning towards a touring tire level with its tread properties.
The price depends on the size and trim of the tire, including things like load capacity and speed rating.
Warranty
Along with a favorable price, there also comes a warranty package with more than a reasonable offer from Firestone. Namely, you get a 65,000-mile limited warranty and a 30-day "buy and try" guarantee which means you can return them to get a refund or swap them with another Firestone set within 30 days.
Also, you get the 5-year workmanship and materials warranty which includes a free tire replacement during the first 3 years of ownership.
Our take
So, there you have it – we've gone through some of the main benefits and slight flaws that come with Firestone All-Season tires. After going through this review, there's no arguing – these tires are among some of the best in the game given their convenient price range and tread compound technologies.
If you are looking for a set of tires to give you year-long traction and great handling at the lowest price level possible, these give you quality without compromise.
Where are Firestone All-Season tires made?
Firestone All-Season tires are made in manufacturer's facilities in the US, including their largest factory in Decatur, Illinois to give you a bit of domestic quality.
How good are Firestone All-Season tires?
Firestone All-Season tires are arguably the best in this category when compared through a price range. There's no other tire that gives you such advanced high silica compound and technologies at that price level.
How long do Firestone All-Season tires last?
Firestone All-Season tires should last at least about 65,000 miles, while drivers have experienced them lasting even longer.
What is the speed rating of Firestone All-Season tires?
The Firestone All-Season tires come in two-speed ratings – a u0022Tu0022 speed rating and an u0022Hu0022 speed rating.
Where to buy Firestone All-Season tires?
You can buy Firestone All-Season tires in Firestone's retail shops or online using rebates and discounts for an even better bargain.
What is the difference between all-season tires vs. summer tires vs. winter tires?
The difference between all-season tires, summer tires, and winter tires is in traction performance. All-season tires like those made by Firestone are a great compromise between the two categories as they handle great both in summer and winter, including on wet roads. Summer tires can't give you good aquaplaning resistance, while winter tires aren't stiff enough to be driven in the summer.
Which is better – Firestone All-Season vs Goodyear Assurance?
Firestone All-Season tires are better in terms of dry traction and snow traction performance, while Goodyear Assurance wins in refined driving and wet traction.
Which is better – Firestone All-Season vs Michelin Defender?
Firestone All-Season tires aren't as good of a choice as Michelin's Defender tires, but Michelin tires are much more expensive than Firestone All-Season tires.
Which is better – Firestone All-Season vs Bridgestone Ecopia?
Bridgestone Ecopia is a better choice in terms of ride comfort and steering response, while Firestone All-Season performs better in snow and slightly better in aquaplaning prevention.
REREV may receive a commission for purchases made through links on our site. Learn more.