Firestone Destination AT2 review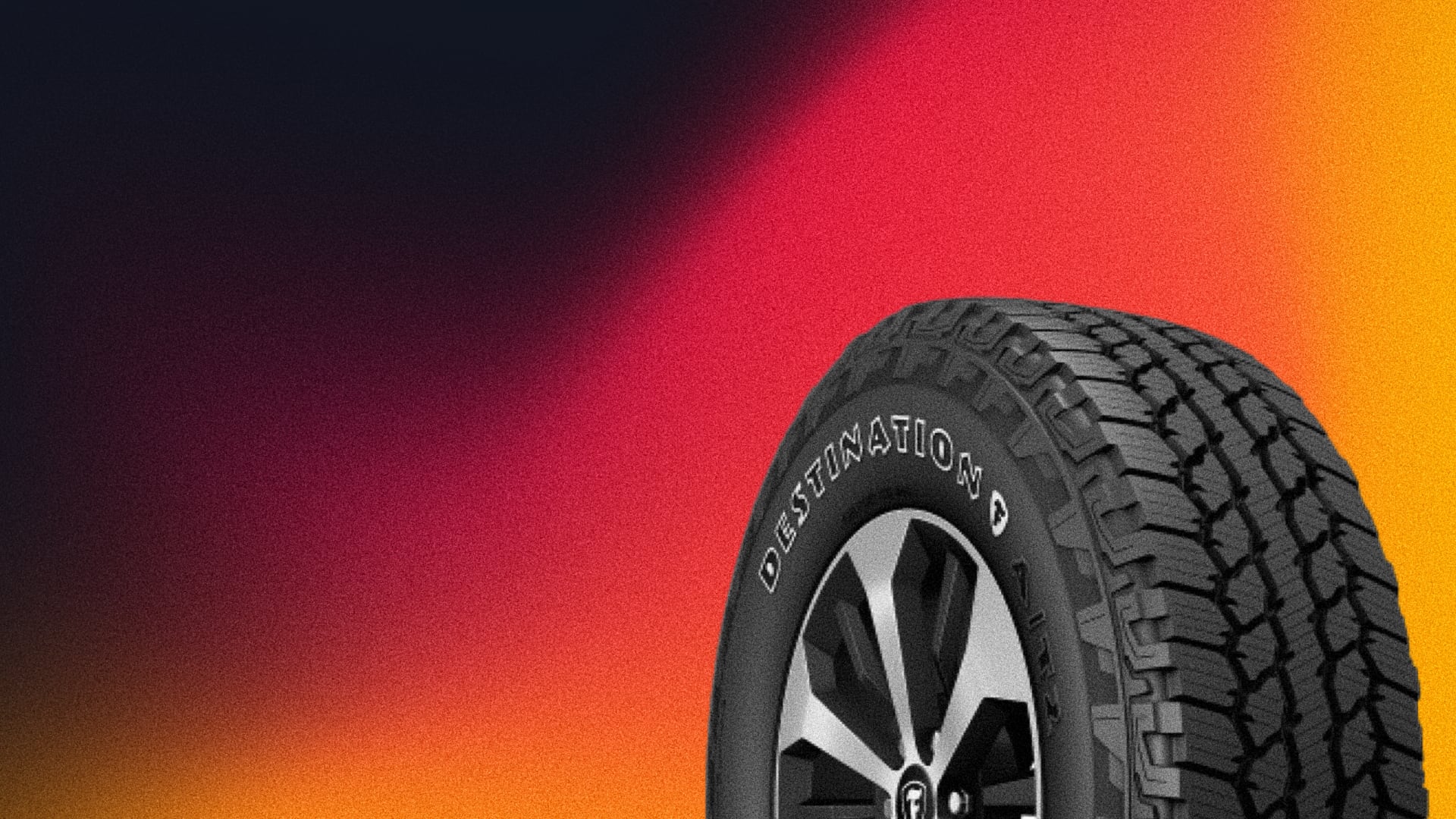 REREV may receive a commission for purchases made through links on our site. Learn more.
If you're in the market for a new set of on-/off-road all-terrain tires for your pickup truck, crossover, Jeep, or full-size SUV, then the Firestone Destination AT2 might just be right for you. First, the Destination AT2 is dependable and will perform well on or off-road, even in adverse weather conditions. Firestone's Destination AT2 also offers light snow traction that was enough to attract the three-peak mountain snowflake (3PMSF) symbol and the severe snow service certification from the tire industry.
The major strength of the Destination AT2 is its durable design. Firestone built these tires with durability and traction in mind. In this Firestone Destination AT2 review, we take a closer look at the tire's features, performance, and overall value to see if it lives up to its reputation and if it's worth your hard-earned money.
Recommended
Firestone Destination AT2
Looking for a high-performance all-season tire while staying on budget, you can't miss out on Firestone Destination AT2 – a tire constructed to be dependable on both dry and wet, as well as easy to maneuver with at a higher speed.
Purchases made through links on our site may earn us a commission.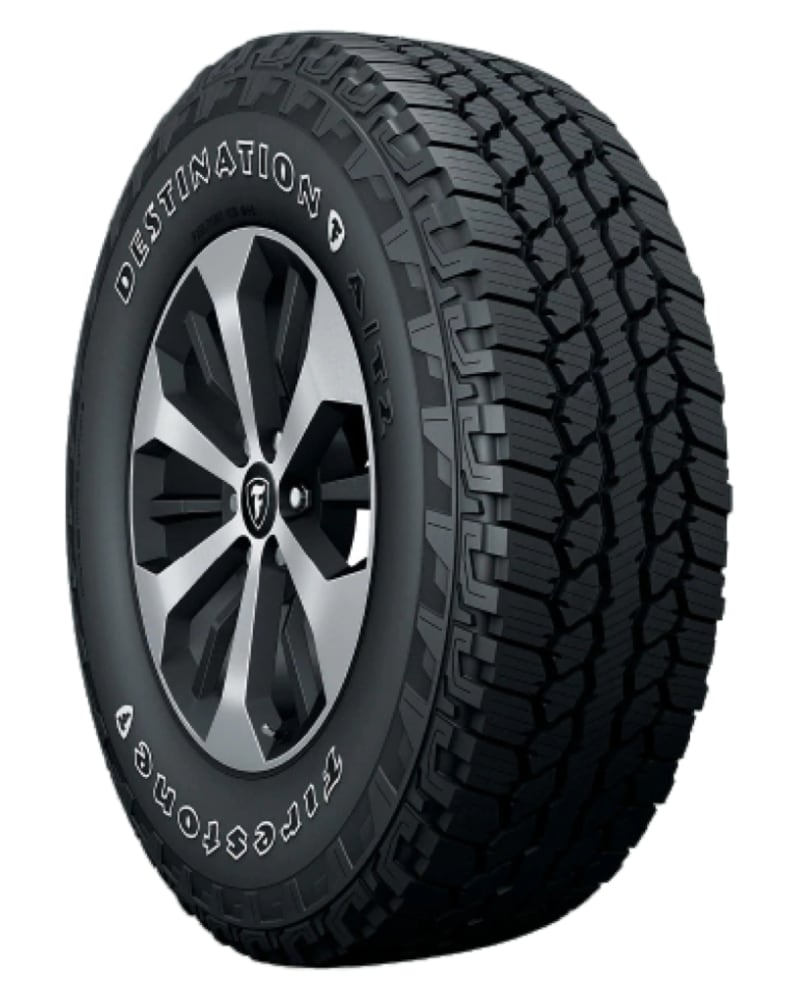 Key technologies
Firestone Destination AT2 tires are designed for drivers who need winter traction. The tires feature a studded pattern and special rubber compound to improve traction and grip in snow and ice. They also have a UV protection layer to keep them looking good even when they're not on the road.
Firestone designed the Destination AT2 as a high-performance tire for sport utility vehicles and crossover SUVs. The AT2s are built on the company's all-terrain tire platform and engineered for various conditions. Drivers of heavy-duty pickup trucks and SUVs will also find these all-terrain, four-season tires attractive as it offers a quiet ride with excellent handling on and off the road. So what makes the Destination AT2 tires stand out?
First, the Destination AT2 tire is a very high-quality tire that features a four-rib design with an all-terrain tread pattern that delivers excellent performance in wet or dry conditions, as well as snow. The tread design of this tire provides the driver with a smoother ride. The tread is designed to have fewer voids, so the tire has a solid center rib that helps it retain contact with the ground.
Also, the Firestone Destination AT2 has been designed with "3D sipe technology." This technology will help ensure that the tire wears evenly, providing more consistent performance over time. In addition, the 3D sipes will also provide better traction on all surfaces, making the tire a good choice for various applications.
Firestone's Hydrogrip Technology package, combined with the see-through void, helps the Destination AT2 perform well in wet weather and resist hydroplaning. Additionally, the Stone Rejecters aid in minimizing the damage that may be caused by stone drilling, while the aggressive shoulder pattern of the tires is designed to enhance the off-roading experience.
Safety features
The Firestone Destination A/T2 is a tire designed for SUV and light truck drivers who want an all-terrain tire that performs well on and off the road. The Destination A/T2 features increased surface void to help improve wet stopping and handling and see-through voids to help improve snow traction.
The shoulder tread on the Firestone Destination AT2 is more aggressive, providing better off-road handling. Additionally, the tire features a tread depth of 12/32 inches and a UTQG of 540AB.
Speed ratings
One thing buyers look out for in a new tire is the speed rating. Almost every passenger tire has a tire speed rating, indicating the designed speed capability. In other terms, a tire's speed rating is the fastest speed that the tire was built to handle.
The Destination AT2 speed rating is H, which means it can handle a maximum speed of 130 mph and be used with large sedans and sports coupes. It is important to note that speed ratings do not mean you should always drive at the highest possible speed, especially in adverse weather conditions.
Treadwear and durability
There are a few key factors to consider when choosing a tire: treadwear and durability, traction, temperature, and handling. Of these, treadwear and durability are the most important qualities as they affect how long the tires will last. Traction is also important as it affects how well the car will grip the road. Temperature and handling are secondary considerations but still important nonetheless.
Compared with the previous generation, the AT2 gets an additional 5,000 miles tread life warranty. Owners can expect to use the tire for up to 55,000 miles. Although there is an improvement over previous models, the Destination AT2 ranks among the lowest tread life warranties in its segment.
Firestone Destination AT2 tires last longer and offer huge durability for mild operations; however, getting maximum wear life from a tire depends on the user and the tire.
Maintenance indicators
The tread life is the most important factor in any tire purchase. A good rule of thumb is that you should replace your tires when they have reached 3/32″ of tread depth. If the tire has less than 3/32″ of tread, it is time to change them with a new set.
The Destination AT2 is a reliable tire with several maintenance indicators to help you track when it's time for a replacement. These indicators are tread wear, inflation pressure, and the built-in tread depth indicator. It is important to keep track of the maintenance indicators to ensure that the tires are in good condition.
Wet Traction performance
The Firestone Destination AT2 is a tire designed to excel on wet and slippery roads. The updated tread pattern provides improved biting edges for shorter braking distances, and the Aquaplaning Resistance is amazing. The tire also has excellent grip and traction in the wet, with its short braking distances.
This tire is a great choice for drivers who live in areas with wet and icy winters. The Destination AT2 tires resist hydroplaning with their perfectly sized grooves and full depth, enhancing their ability to evacuate water. On the other hand, the 3D sipes also help to provide a constant wet grip for long periods.
Dry traction performance
The Firestone Destination A/T2 is a great all-terrain tire that performs well on dry and wet roads. It has superior traction in both conditions, which benefits more powerful vehicles or SUVs. The tire also holds a corner very well until the driver feels like they're driving on an off-road tire.
There are three factors to consider when evaluating dry performance. They include steering response, dry traction, and cornering stability.
Steering response
Firestone's engineers designed the Destination AT2 to stand out with an excellent steering response. The tire's rib-type center acts as a support bar, enabling the tire to rotate both ways seamlessly. As a result, the highway capability is highly increased.
Dry traction
All-terrain tires have better dry traction than all-season tires, largely due to their lug-type tread pattern. The Destination AT2 is no different and uses a hybrid tread pattern. With its inner shoulder section and lug-type shoulders, it has exceptional dry traction. Additionally, the well-siped rubber offers a consistent grip and enhances its grip ability.
Cornering stability
Regarding cornering stability, the Destination AT2 falls into the average category. The tire's fluffy sidewalls make it flex a bit more than other all-terrain models at high speeds.
On the whole, the Destination AT2 posts exceptional dry traction performance with better steering response and traction. However, drivers may experience this floaty feeling during cornering.
Snow traction performance
The Firestone Destination AT2 is a winter-approved all-terrain tire designed for drivers who need a tire that can handle any condition. The tread on the tire is made to provide superior snow traction and wet weather performance. As a result, the Destination AT2 is an ideal choice for drivers who live in areas with harsh winter conditions.
In fact, the Destination AT2 shines in winter and has earned the 3PMFS designation, which means it can weather harsh winter conditions.
Light snow
On light snow, the tires perform in the same way as they would on wet ground. It has an enhanced grip and evacuates melted snow perfectly. Furthermore, the narrow grooves provide consistent traction and help keep the tire clean.
Deep snow
One area where the Destination AT2 tire is limited is deep snow traction. Although the serrated shoulder biters offer some help, it doesn't excel in deep snow.
Ice
On ice, these tires are better than average because of the less void area. However, they aren't winter tires, and the driver's skill is important in this case.
Off-roading traction performance
The Firestone Destination A/T2 is a great choice for off-road driving. It performs well on hard-packed surfaces like dirt roads and can be slightly less responsive in mud or sand than other off-road tires, but it will still perform excellently. The tire is designed for off-roading and will perform better than the previous generation of Firestone's route touring tire lineup. We look at the four categories of off-road performance to see how it performs.
Dirt and gravel
Firestone designed the Destination AT2 for light off-road adventures, which handles well in the dirt. Its self-cleaning ability allows it to evacuate compact dirt easily, and even on wet grass, it provides consistent traction.
On gravel, the AT2 is also efficient. Features like the stone ejectors and serrated shoulders enable it to hold stones when it contacts the ground.
Sand
Generally, all-terrain tires struggle on sand because of their high traction ability. Although the Destination AT2 is all-terrain, it performs better than most in its segment.
Mud
The Firestone Destination AT2 has limited mud traction due to its low tread depth. However, its evacuation and self-cleaning prowess improve its performance on wet surfaces.
Rock
Rock crawling is not the Destination AT2's forte as it has weak sidewalls and is deg=sihnated as a p-metric.
Noise and comfort
The Firestone Destination A/T2 is a well-rounded tire with good comfort and noise levels. The tire doesn't make as much noise as other off-road-oriented tires, but it isn't the quietest option on the market. However, it's worth noting that the trade-off is that you get a very capable tire that can handle various terrain types.
Comfort-wise, the Destination AT2 performs well as it can absorb road bumps very well due to its high sidewalls.
Alternatives
Summer, winter, dry and wet surfaces, the Destination AT2 is a capable tire. It can also perform well off-road, as far as things don't go extreme. However, you might want to consider alternatives such as the Destination XT for better off-road performance. Better performance with the Destination XT also comes with more noise. Other alternative all-terrain tires include the Terra Grappler G2 and the Scorpion All Terrain Plus.
Price range
Firestone lists the Destination AT2 for $300.99 each on its website. However, the tire industry has unique pricing systems, and the prices may differ from dealer to dealer.
Warranty information
Firestone Destination AT2 tires come with a standard warranty of one year. This warranty is voided if physical damages were found due to reckless driving. The tires also come with a 30-day manufacturer defect warranty, but this will be voided if physical damages are found due to nails, tire impacts, or punctures from the installation process.
The tires also come with a 55,000-mile treadwear warranty. This is an increase from the previous generation of the tire and shows that Firestone has designed the tire to be more durable and dependable. The tires also come with a limited warranty by Firestone.
Compatible cars
The Destination AT2 is compatible with many models, including SUVs, crossovers, pickup trucks, and Jeeps. These are some vehicles that are compatible with the tire:
Ford F150
Chevrolet Colorado
Honda Ridgeline
GMC Sierra
Jeep Gladiator
Land Rover Defender
Toyota Tundra
Ram 1500
Nissan Titan
Our take
We have looked at the different features and technologies of the Firestone Destination AT2, as well as its performance on different surfaces and conditions. On the whole, the tire is fuel-efficient and durable. Its well-optimized pattern provides great road manners. Furthermore, it is comfortable and quiet and performs excellently on wet and dry surfaces.
On the flip side, the tire isn't the best in severe off-roading and adventure. It is also not recommended for anything above ¾ ton pickups.
With that in mind, the Destination AT2 is excellent for you if you need a tire that offers excellent on-road performance and can handle light off-road trails without sacrificing comfort and noise. If you fall in this category, the Destination AT2 is a perfect bargain.
REREV may receive a commission for purchases made through links on our site. Learn more.