Firestone Destination LE2 review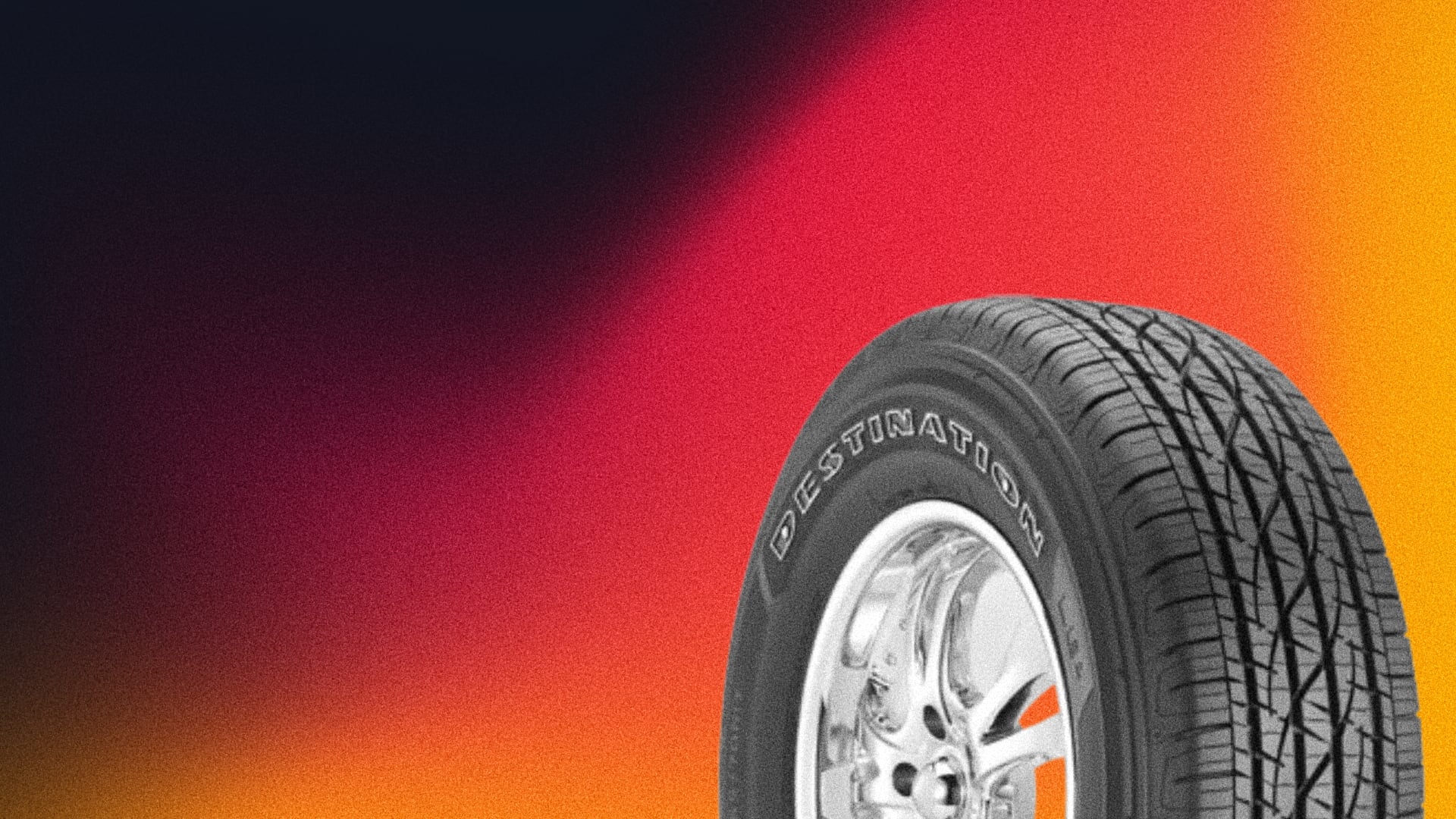 REREV may receive a commission for purchases made through links on our site. Learn more.
Drivers of light trucks, SUVs, vans, and crossovers are in for a treat with Firestone's Destination LE2. The Firestone Destination LE2 review unveils an all-season tire that improves upon the original Destination LE. Firestone's engineers have put their efforts into creating a durable tire set that not only offers a comfortable ride but also excels in most driving conditions, particularly during wet seasons. In this comprehensive review, we delve into the different qualities of the Destination LE2 and evaluate its performance on various surfaces.
Recommended
Firestone Destination LE2
Firestone Destination LE2 is a perfect tire for SUV and light truck owners that live in areas with colder climate and a lot of rain and snow over the year thanks to the boosted wet and snow traction.
Purchases made through links on our site may earn us a commission.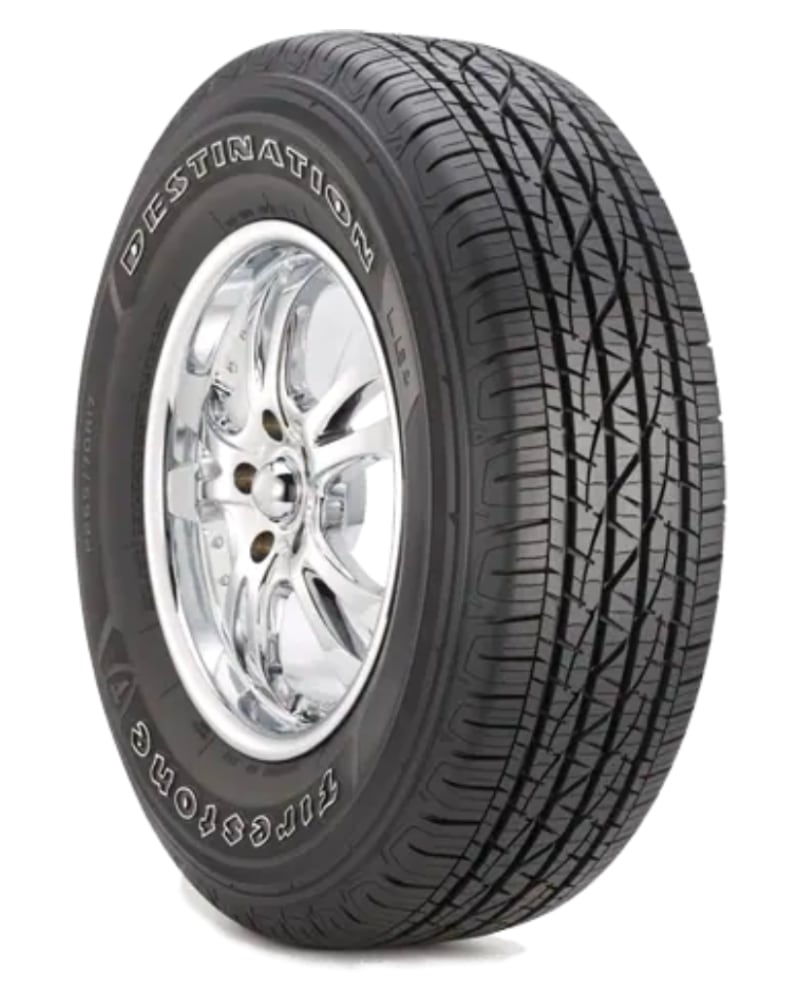 key features and technologies for the Destination LE2
Firestone engineers went hard at work while designing the Destination LE2. The manufacturer used up to 11 unique features to ensure that it serves its purpose. The major features include:
5-degree noise reduction
All-season tread design
Steel belts and polyester body cord
Optimized footprint technology
Spiral wrap
Circumferential tread grooves
Polyester body cord and steel belts
Silica-based fuel-saving tread compound
Zigzag sipes
The 5-degree noise reduction feature directly responds to complaints from users of the previous model – the Destination LE. Firestone utilized a unique approach to the tire's tread pattern by arranging the tread block elements to deliver sound waves that cancel the noise while in motion.
Firestone's all-season tread design features open-slotted shoulders, enhancing performance all year. The circumferential tread grooves are the reason for the great wet traction Destination LE2 offers, as it reduces hydroplaning.
Polyester body cord and steel threads are responsible for the stability and durability of the Destination LE2. The silica-based fuel-saving tread compound reduces fuel consumption and CO2 emission by improving rolling resistance. The zigzag sipes improves traction. In addition, the Firestone Destination LE2 features an optimized footprint technology that evens tread wear and contributes to giving you a noiseless ride.
Safety features
Drivers who have used the Destination LE2 report it as safe for two major reasons: traction and tire technology. The Destination LE2 provides you with plenty of control at the wheel. On the other hand, tire technology does not allow differential tread wear.
This means that sudden holes and depressions cannot sprout from the tire at any time (except by suddenly applied force). Hence, you are relatively free from tire-related road mishaps while using the Destination LE2.
Furthermore, Firestone designed the tire's internal structure with twin steel belts supported with spirally warped nylon. This helps provide your tire with the needed uniformity, strength, and durability to cushion the ride.
Speed ratings
Speed rating markings represent the fastest speeds your tires can handle without losing comfort and stability. The speed rating for the Destination LE2 tire is S.
This means that it can move comfortably and safely at 112 miles per hour. This is within the ranks of the ten fastest tire capabilities. As such, speed is a vital feature of the Destination LE2.
Treadwear and durability
The Destination LE2 comes with a wonderful treadwear package. Firestone designed its interior with nylon. This enables the tire to keep a good shape and wear out evenly.
Overall, the Destination LE2 is quite durable when used right. The tires should always be balanced. Where you drive and what you carry while driving will also affect how long the tires last. When driving at home speeds, some of its traction (especially the dry traction) would be lost at a certain point. In this case, you should expect a little spin here and there.
Maintenance indicators
The Destination LE2 does not come with a maintenance indicator. Instead, Firestone suggests the penny test. Before carrying it out, you need to know the legal limit for tread depth in your location. In most places, the limit is 2/32 inches.
The penny test is pretty simple. It requires you to stick a penny in the tire's tread grooves. If the tire tread touches Abraham Lincoln's upside-down head, the tread depth is at least 2/32 inches. If you doubt using the penny test, you can have Firestone tire and auto professionals inspect your tires for free.
Traction performance
The Firestone Destination LE2 is excellent for wet and dry roads. Cornering is sharp, comfortable, and easygoing. Additionally, driving on meandering roads is not a problem as the tires offer good grip and control. This comfort is due to the circumferential tread grooves, zigzag sipes, and optimized footprint technology, which also absorbs bumps. Here is how it performs on different surfaces.
Dry Traction
The Destination LE2 handles quite alright on dry roads. Though the traction is not as good as it offers on wet roads, the tire can still be driven confidently on dry surfaces. It features botched shoulder blocks with continuous ribs, which give it good dry traction.
However, starting to move quickly from a stop can cause a little spin-off. This is not a cause for concern as many drivers hardly notice it. Additionally, the Destination LE2 features botched shoulder blocks and continuous ribs, which help to enhance dry traction performance.
Wet Traction
Firestone designed the Destination LE2 with zigzag sipes, making it ideal for moving in the rain. How zigzag sipes allow for a wider sipe area on the tire. This, in turn, allows for better contact with the wet road. The wide circumferential grooves in the tires channel water away from the tread boosting the grip and stability of the Destination LE2.
You don't have to worry about braking and cornering, even while driving at high speeds in the rain, as the Destination LE2 is superb for slick and wet areas.
Off-road traction
While the Destination LE2 is perfect for wet roads and okay for dry roads, it has reduced off-road traction. This means that you should not consider taking it to the beach or any sandy place. You should also avoid mud if you don't want to get stuck.
Snow traction
Destination LE2 performs reasonably on light snow. The zigzag sipes help keep its performance in a good light by providing good traction. However, it is not ideal for heavy snow conditions. This is because it does not have enough traction for driving in the snow and ice.
Very heavy snow reduces the effectiveness of the tires. In a worst-case scenario, the tire can lose traction completely. This is because the tire can harden due to the cold, and the tread is not soft enough.
Noise and comfort
In certain conditions, the Destination LE2 has been reported to be noisy. The road noise is much reduced compared with its predecessor – the Destination LE. Firestone developed a 5-degree noise reduction technology to tackle this issue. As a result, the tires aren't as noisy as previous models.
Nevertheless, the Destination LE2 would not be ideal for long distances if a bit of hum disturbs you. Asides from this, the comfort it provides is great. This is because of its flexible sidewalls and the polyester cord in its body. Where the Destinationation LE2 lacks quietness, it more than makes up for it with its comfy ride.
Competition and alternatives
Within this price range, it isn't easy to get a superior alternative to the Destination LE2. There are other all-season tires out there, but they come with heftier price tags. The main competitors of the Firestone Destination LE2 include:
Michelin Defender
Bridgestone Dueller H/T
Price range
Tire prices largely depend on factors such as size, speed rating, and load rating. You can pick the Destination LE2 for $175.33 at Walmart. While this might lean towards expensive, it is a very good price for the quality.
Fuel economy
Some other all-terrain tire brands have tread blocks that allow them to be sturdy on terrains of any kind. The setback with these tires is that they reduce fuel efficiency. The Firestone Destination LE2 does not have this problem. The tire is lightweight, and silica is used in the treas component. This helps save fuel and still provides ample comfort on bumpy roads.
Warranty
Firestone is giving a guarantee on uniformity for the first 1/32 inch of wear. The tread warranty on the Destination LE2 sits at five years/60,000 miles, whichever comes first. There is a materials and workmanship warranty for the first five years and free replacements within the first three years of purchase.
Should your tires get any form of malfunction, you can get a replacement within this 3-year warranty. After the third year, a prorated amount is charged. The materials and workmanship warranty lasts for five years after purchase. So, any issues arising with your tire can get attention without a fee within this period.
What is even more interesting is that Firestone offers a 30-day buy and try period. This allows you to test the tires for yourself to see if you like them. In a case where you change your mind about the tires within 30 days, you can return the set and get a refund.
Our take
Despite the reduced traction on deep snow and ice, the Destination LE2 is great for drivers who wish to get the best out of their trucks. The reduced noise and fuel-saving technology make it quite appealing. You get much more for less and the impressive warranty packages. If you own a light truck and wish to save money on your tire purchase, think about Firestone's Destination LE2.
REREV may receive a commission for purchases made through links on our site. Learn more.