Firestone Weathergrip review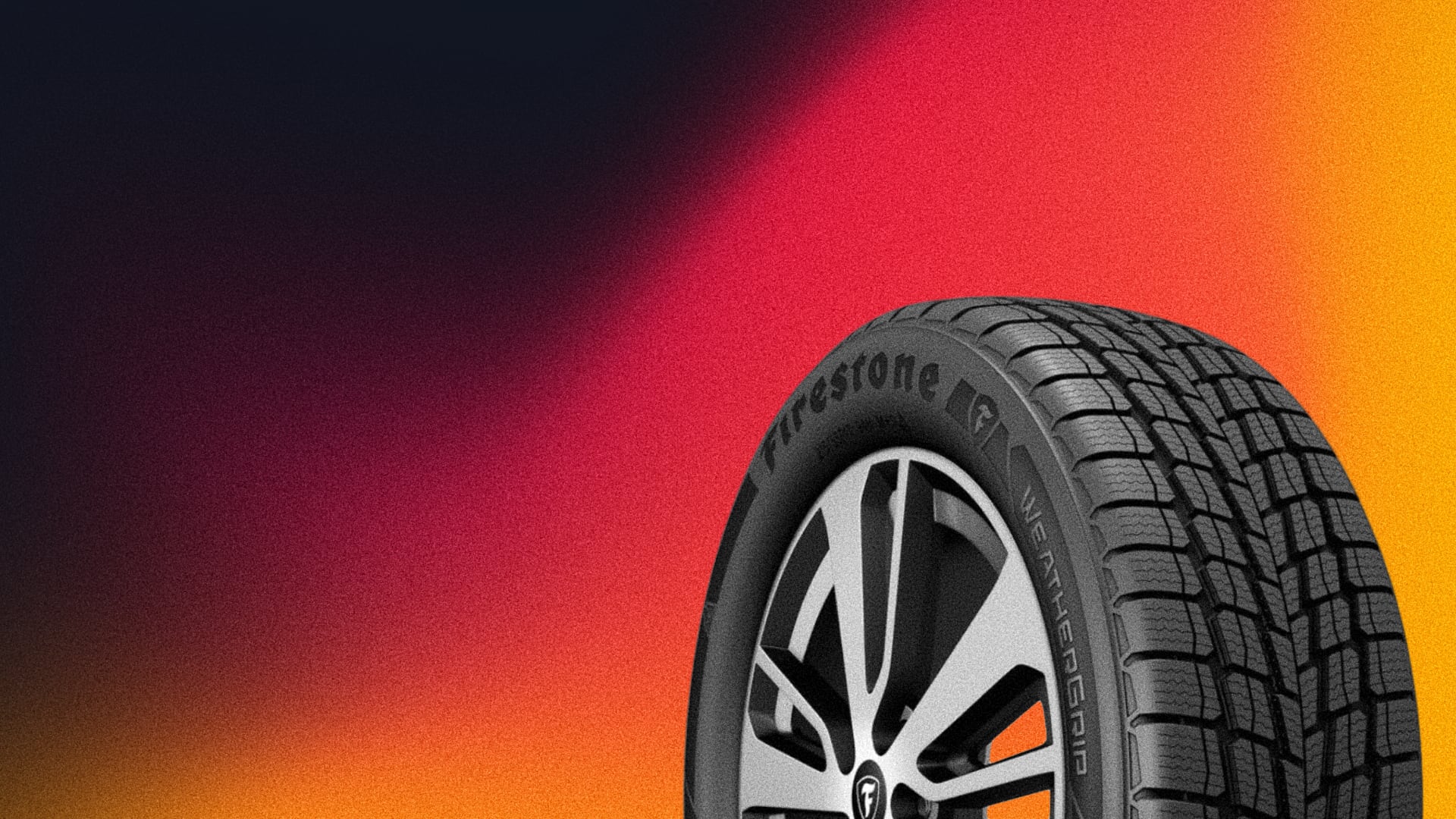 REREV may receive a commission for purchases made through links on our site. Learn more.
The Firestone WeatherGrip tire is derived when one combines the all-around performance and comfort of an all-season tire with the enhanced snow and ice traction of winter tires. In this comprehensive Firestone WeatherGrip review, we'll explore the impressive features and capabilities of this all-weather touring tire.
What is the Firestone WeatherGrip? The Firestone WeatherGrip is an all-weather touring tire with all-season capabilities. Although the Firestone WeatherGrip is not a winter tire, it delivers excellent performance in winter.
What vehicles are compatible with the Firestone WeathrGrip? The Firestone WeatherGrip is suited for drivers of coupes, family sedans, crossovers, and station wagons. It delivers excellent grip on light snow and wet roads, comfort, and superb steering and cornering.
Recommended
Firestone Weathergrip
The Firestone Weathergrip is something that's closest to a dedicated winter tire among all-season ones, thanks to the exceptional grip on ice and snowy roads, along with the refined ride of a genuine touring tire.
Purchases made through links on our site may earn us a commission.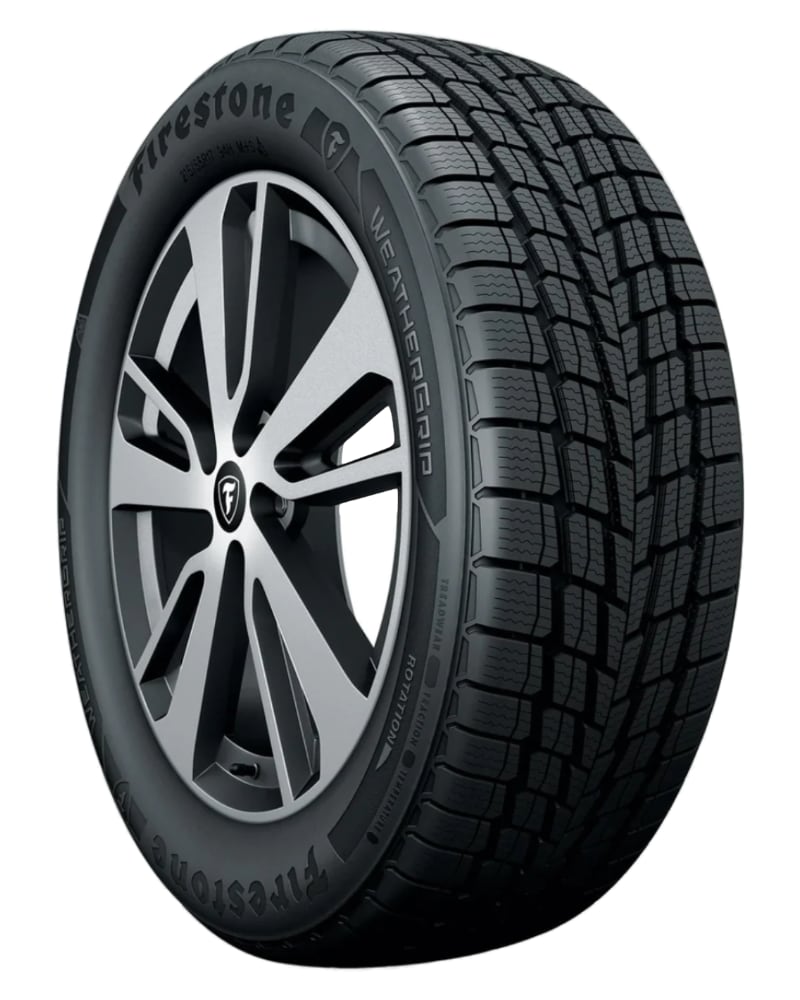 Firestone WeatherGrip key features and technologies
In order to deliver a tire that meets drivers' requirements, Firestone employed innovative features and technologies that make the WeatherGrip stand out from regular all-season tires. It incorporated the use of compounds that ensure solid traction in all road conditions. Highlighting some of the major features and technologies of the Firestone WeatherGrip, we have its;
Unique Tread Design: The well-defined tread design is the first thing noticeable about the WeatherGrip. It makes it easy to be mistaken for a winter tire. However, the Firestone WeatherGrip has an adequate winter performance.
Three-peak mountain snowflake (3PMSF) symbol: The WeatherGrip bears the 3PMSF rating. The symbol signifies that the tire performs better than other all-season tires in the snow. The zig-zag tire pattern aids traction and grip on snowy surfaces. Although the Firestone WeatherGrip performs brilliantly on snowy terrain, it is not a winter tire and is unsuitable for deep snow.
Hydro-Grip Technology: Firestone incorporates the Hydro-Grip Technology into the design of the Firestone WeatherGrip. The technology improves the tire's hydroplaning resistance by utilizing a circular footprint that pierces through water and deep grooves that expel water from beneath the tires. Also, the shoulder slots provide extra grip on the road and improve braking and cornering on wet roads, even at high speeds.
Traction Claw Technology: The Traction Claw Technology on the centre and shoulder ribs improves snow performance by digging into light snow and gaining traction to propel the vehicle forward.
Also, the Traction Tech Package further enhances the tire's performance on slippery roads with additional edges created by high-density zig-zag sipes and interlocking grooves that maintain firm contact with the road surface.
Firestone WeatherGrip safety features
The Firestone WeatherGrip is an excellent all-season tire designed to be versatile. It features a V-shaped directional tread that improves snow grip with several biting edges to promote traction.
It has sipes on every tread portion, providing excellent hydroplaning resistance and traction on icy terrain. All year long, the Firestone WeatherGrip will provide the level of safety needed.
Firestone WeatherGrip speed rating?
The Firestone WeatherGrip tire comes in H, T, and V speed ratings. These ratings imply that it can function optimally at 130, 118, and 149 mph speeds, respectively. These speeds are among the fastest on the tire speed rating chart. It is important to note that driving over the speed rating of a tire compromises its performance ability.
Firestone WeatherGrip treadwear and durability
The Firestone WeatherGrip has a sturdy internal design with a single-ply polyester casing tread compound reinforced with two steel belts and nylon.
The Firestone WeatherGrip wears evenly on all four wheels. On the other hand, the awesome 65,000 miles-limited treadwear guarantee is no joke. Drivers can enjoy an excellent performance from the Firestone WeatherGrip for up to 5 years. Also, the Firestone WeatherGrip has a 640 A/A uniform tire quality grading (UTQG). Compared with the base government-mandated UTQG of 100, the Firestone WeatherGrip wears more than six times slower.
Firestone WeatherGrip maintenance indicators
Firestone used industry-standard tread wear indicators (TWI) for the WeatherGrip. These indicators are required by law since they show when the tires need replacement.
The Tread Wear Indicators are thin rubber bars recessed into the tire grooves but protrude 2/32 inches from the surface. As a result, they will be flat with the surface when the tread depth reaches 2/32-inch. When this happens, the tire loses its traction and wet roads and is at risk of hydroplaning.
Firestone WeatherGrip traction performance
The Firestone WeatherGrip offers drivers control of the road, whether it is sunny, rainy, or snowing. Its well-defined tread pattern and efficient tread compounds promote traction on dry, wet, and snowy roads.
Dry traction
On dry roads, the Firestone WeatherGrip provides excellent traction. It boasts exceptional directional stability and good turning and braking performance. These all-season tires hug the road, providing a safe and stable ride even on the most winding roads.
Wet traction
Firestone used their Hydro-Grip Technology Package, which has a contoured footprint that cuts through standing water, full-depth grooves, and open shoulder holes for water evacuation. As a result, the hydroplaning resistance is exceptional, even when driving over heavy puddles.
Snow traction
With great ice traction for an all-weather tire, these tires will get drivers through the snowiest months of the year. These tires have a good grip in mild snow, especially at low and medium rolling speeds.
Compared to most all-season and all-weather tires, the Firestone WeatherGrip delivers great braking distance in snow and ice.
Of course, these tires will not perform better in thick snow or snow-covered roads than a specialized winter tire, but they will outperform most all-weather tires and provide a pleasant ride.
The Three Peak Mountain Snowflake sign shows that this tire can handle light snow, damp weather, moderate to heavy snow, and wet surfaces throughout the year.
Firestone WeatherGrip noise and comfort
The Firestone WeatherGrip is not entirely quiet on the road. It has deep treads with interlocking grooves and intermediate ribs, making it a bit noisier on the road. However, it offers high-level comfort that is lacking in some other tires in its class.
Firestone WeatherGrip competitors and alternatives
The Firestone WeatherGrip is an excellent all-season tire with a superb performance in different weather conditions. However, close competitors like the Goodyear WeatherReady and the Michelin CrossClimate offer similar features to the Firestone WeatherGrip. They possess excellent traction on different road conditions and perform superbly on light snow. The Firestone does not offer any less. It also has a very attractive price compared to some class tires.
Firestone WeatherGrip price range
The Firestone WeatherGrip ranges from $117 to $225 per tire, depending on the tire size. Of course, some merchants will sell these tires at a discount or a greater price than this, but the Firestone WeatherGrip is generally a mid-priced tire.
The warranty that comes with the Firestone WeatherGrip compliments the price. Also, Bridgestone even offers a 90-day buy-and-try guarantee. The fact that these are all-season tires adds to the attraction of this price.
Firestone WeatherGrip warranty
Firestone offers a wide range of customer warranties for the WeatherGrip to ensure that drivers are satisfied with the tires they acquire. The tire has a tread life warranty of five years or 65,000 miles and a uniformity warranty covering the first 2/32 inches of wear.
In addition, the Firestone WeatherGrip tire comes with a five-year craftsmanship warranty and a materials warranty. Customers will also be eligible for a free replacement, but only for the first three years, after which it gets prorated until the remaining depth is 2/32 inches.
One of the best features of this tire is that it comes with a special warranty from the manufacturer that allows drivers to buy the tires and try them for up to 90 days. If they dislike the tires, they can return them and get their money back.
Car models compatible with Firestone WeatherGrip
It is thrilling to know that different car models fit the Firestone WeatherGrip.
Bear in mind that this is not an exhaustive list of vehicles that are compatible with this tire. Rather, it focuses on the most used vehicles by the majority of people.
Peugeot – 208, 207, 308, 301
Kia – K4, Carens, K5 Niro, Rondo, Optima, Soul, Stinger
Opel – Astra, Ampera, Signum, Insignia, Zafira, Vectra
Honda – Accord Euro,
Dodge – Avenger, Dart Monaco, Challenger, Stratus, Neon
Ford – Contour, C-Max, Fusion, Focus C-Max Galaxy Grand C-Max Mondeo Tourneo Conn, Escort Focus
BMW – 6 Series, 3 Series, 2 Series, 1 Series, Z4, M1
Acura – CSX, CL, ILX, RSX, Legend, Vigor, TL
Our take
Drivers can use our Firestone Weathergrip review to get comprehensive knowledge about the quality of the tire before they buy it. We think Firestone WeatherGrip tires are a terrific choice for drivers who drive a lot in the winter and need moderate to light snow traction.
These tires provide excellent grip and handling in both wet and dry conditions for the price. The 90-day buy-and-try package is a great opportunity to get a feel for these tires before committing. Appreciating the Firestone WeatherGrip tires' blend of safety, usefulness, and the price is simple.
The Firestone WeatherGrip offers an optimal comfort and bearable road noise. Also, it is an excellent tire for drivers on a tight budget who require reliable all-season tires but cannot afford to purchase separate winter and summer tires.
REREV may receive a commission for purchases made through links on our site. Learn more.