Falken Wildpeak M/T review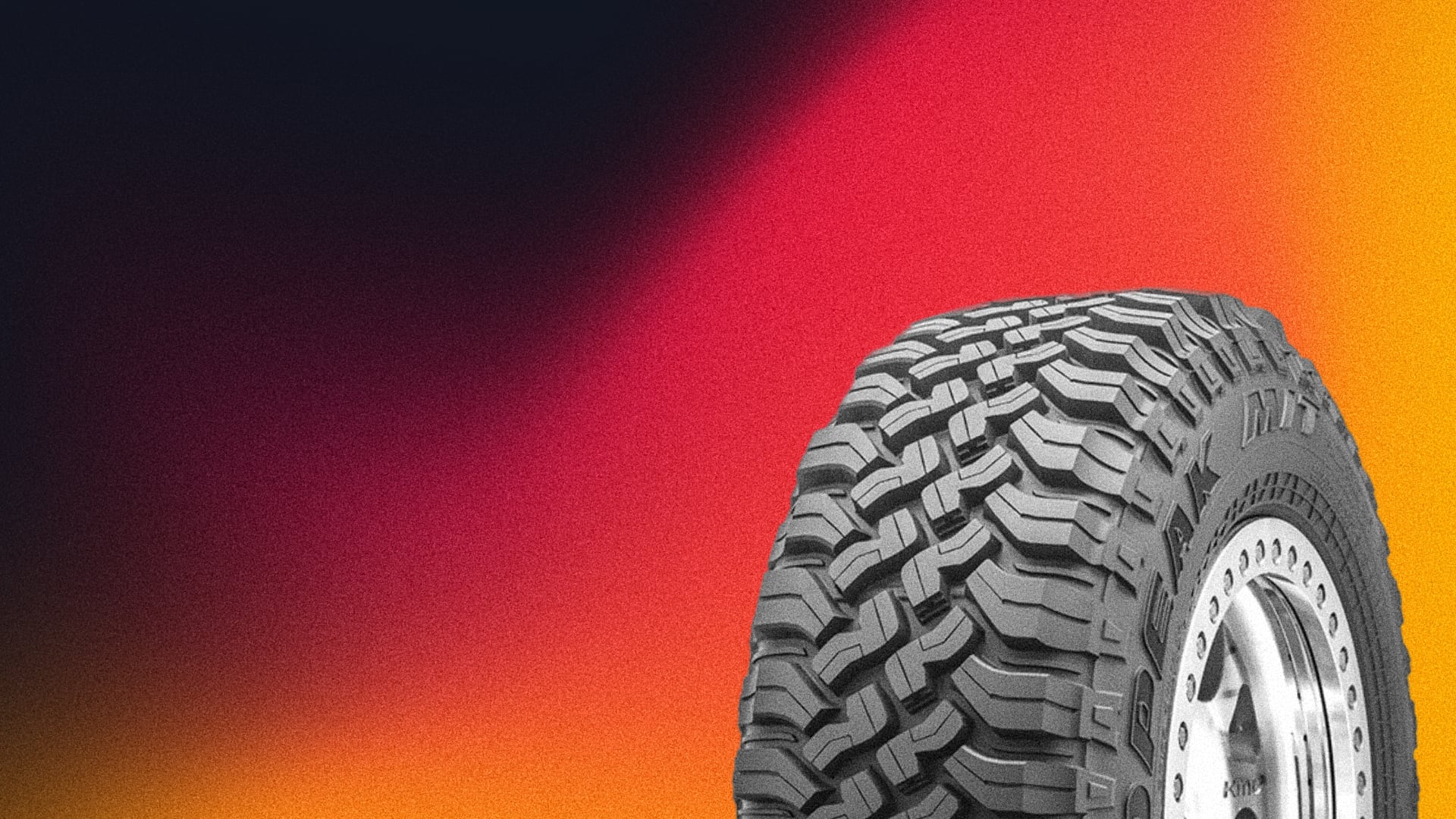 REREV may receive a commission for purchases made through links on our site. Learn more.
There's one common problem that all the SUV and truck drivers looking for the best mud-terrain tires face – cost-per-mile ratio. If you want a good tire, chances are you'll need to pay quite a lot for a decent M/T set. There's also the problem of using such a tire as an everyday tire, and Falken offers a solution for both problems in one tire.
This Falken Wildpeak M/T review will show you exactly why this tire deserves all of your attention. If you own an SUV or light truck with a tendency to occasionally leave city roads for some off-road action, this tire makes the best compromise out there.
Recommended
Falken Wildpeak M/T
The all-season usable Falken Wildpeak M/T is the best tire from the mid-price range that gives you an equal off-road and highway performance, along with a driving comfort of a premium all-terrain tire.
Purchases made through links on our site may earn us a commission.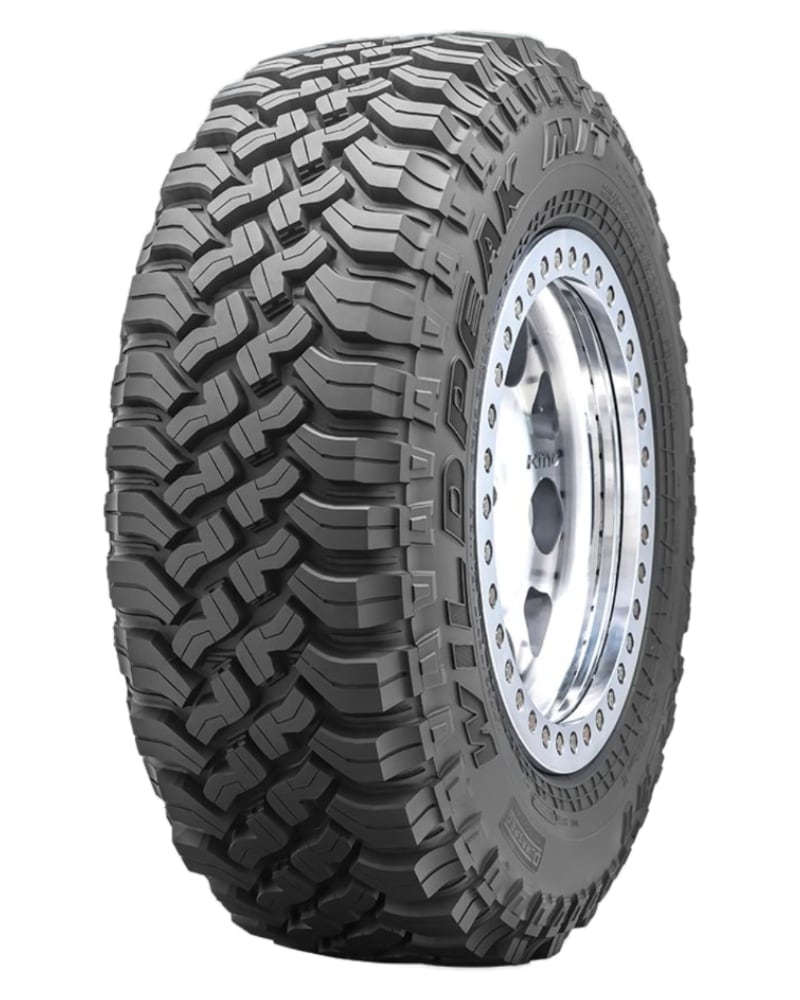 Key technologies
Falken tries to challenge premium tire manufacturers by offering quality close to a premium range, only at a better price. However, that's not all that stands out with their tires like the Wildpeak M/T, and some of the leftover key features include a reinforced DuraSpec sidewall construction and large rigid tread blocks for both off-road and on-road stability.
DuraSpec sidewall construction: The DuraSpec sidewall construction is Falken's proprietary technology designed to give you an additional layer of sidewall support. There are two high turn-ups in the sidewall that aid in its density and sturdiness, so not even sharp rocks can hurt or puncture the sidewall.
Rigid tread blocks: Thanks to the three-pitch tread pattern with large and rigid tread blocks, Wildpeak M/T tires are especially effective on inaccessible terrains. This tread design is aggressive enough to tackle all sorts of rocky terrains, while still being usable on regular roads without much noise going on.
Safety features
As mentioned, you can use Falken Wildpeak M/T tires on highways and public roads, as well as for off-road driving. Either way, you'll stay safe due to the tread pattern and the reinforced 3-ply inner construction that results in higher driving stability.
Wildpeak M/T tires are also equipped with deep grooves between the rigid center blocks and grooves between the shoulder blocks. They serve to eliminate water and prevent your car from hydroplaning. So, you won't have to worry about losing control and ground grip under a layer of water, or sliding out of the lane.
Speed ratings
For off-road and mud-terrain tires, speed index isn't the most important thing. However, since you can drive with Wildpeak M/T tires as your everyday SUV tires, it's at least important that you can drive at optimal highway speeds.
Falken made sure to help with that as well by giving all their tires a "Q" speed rating. It means you can drive with a Wildpeak M/T set mounted up to 100 mph. That's quite decent for a dedicated off-road tire, and the tread design combined with construction stability helps you achieve 100 mph without bothersome noises or road vibrations.
Treadwear and durability
Due to the optimized tread pattern for driving on public roads and highways other than just on off-road terrains, these tires last surprisingly long. You'll pass the 15,000-mile mark without much visible deterioration, and the tires can still be going up to 40,000 miles or even more.
Due to the DuraSpec sidewall construction, you won't have to worry about sidewall damage anytime soon after buying them. On top of that, there's the tread block pattern with moving blocks that act nearly as stone ejectors, so these are among the most durable M/T tires out there.
Maintenance indicators
You'll have to pay attention to several maintenance indicators with Falken Wildpeak M/T tires even though they tend to last a long time. First, you should check the tire pressure as recommended by the owner's manual for your car.
While having 2/32″ of tread left is the limit for passenger car tires, mud terrain tires require more tread depth. So, you should make sure there's at least 4/32″ of tread left on your Falken Wildpeak M/T tires for optimal off-road driving performance. You can check the tread by using a tire tread depth gauge and sticking it between the tread blocks for an accurate reading.
Wet traction performance
As mentioned, Falken Wildpeak M/T tires can easily be used on the road and still provide a safe ride even on a wet road. Deep shoulder grooves and grooves between the center tread blocks add up to fast and easy water evacuation.
On top of that, deep siping is present on each tread block, so that makes it even more of a bargain for off-road and on-road compromise. There's no reason to be afraid of losing control with these tires on wet roads, and even wet braking is impressive for this tire category. Still, you should drive carefully as these tires shouldn't be driven hard on wet roads as they generally don't take much speed as the rating says.
Dry traction performance
Driving on highways and public roads in the summer between your favorite off-road sites will be an easy task for Falken Wildpeak M/T tires. They generally handle well and each tread block is designed to hit the road at a precise angle, which adds up to the rubber footprint and better grip on dry roads.
Of course, you shouldn't expect to have a blast out of the high-performing ability of these tires on the road. They are, after all, off-road tires, and the fact that they drive so well on the road just adds up to the overall impression.
Snow traction performance
When it comes to driving with these tires over snowy roads, they handle them quite well. Snow performance isn't as good as off-road performance, but it's still enough to get you home safely during a highway drive in the winter. They are M+S rated, which means they have been tested for deep mud and snow.
Moreover, it's even possible to leave the road when it snows and still gets some decent performance out of these. Of course, there's a limit and you might get stuck if you overdo it, but deep siping and biting edges on these tires make them applicable even in the winter.
Off-road traction performance
As a cherry on top, Falken Wildpeak M/T handles off-road terrains splendidly. The tread is aggressive enough to give you precise steering even over large rocks, while the reinforced sidewall makes the off-road performance even better.
You won't have to bother checking the tires every time you take a detour off the road – they will handle the harshest terrains possible. In the mud, deep channels serve your traction and give you a stable grip even as you go deeper. You'll be able to climb out of any hole and tackle the sharpest of rocky surfaces with these impressive tires.
Noise and comfort
Regularly, mud-terrain tires aren't the most convenient option in terms of noise and driving comfort. That's why, when it comes to the matter of all-terrains vs mud-terrains, the choice is mostly down to all-terrain tires. Still, Falken made sure to make the Wildpeak M/T tire worthy of your attention with a comfy and silent feeling.
Thanks to the 3-pitch tread pattern, the noise is reduced to a minimum. Each block edge hits the contact patch at a precisely calculated angle, so this reduces the sound of tread slapping as you drive. Overall, these tires make a pleasant surprise among mud-terrain tires, as one of the quietest options in the class.
Competitors and alternatives
The competition among mud-terrain tires is quite crowded, but Falken targets a specific type of driver with Wildpeak M/T. In terms of a refined ride, great off-road capability, and solid on-road performance, these are the main rivals to Wildpeak M/T tire:
Toyo Open Country M/T
Cooper STT Pro
Price range
Price-wise, Falken Wildpeak M/T stands for an affordable mud-terrain tire, even though its price isn't exactly low. Still, it's not on the most expensive end either, and you can get a single 15″ tire for around $165.
As the size and trims go up, so does the price, so it's possible to find a single 20″ tire for around $360. Still, it's a considerably affordable price having in mind the competition and the expected durability of this tire.
Warranty
There's no limited treadwear warranty for this tire, but that's not anything strange considering the tire category. Most off-road terrain and mud-terrain tires come without the treadwear warranty, and the same goes for Falken Wildpeak M/T.
However, there's a 5-year guarantee on this tire, so you won't have to worry about not getting your investment back by buying these.
Our take
In the sea of mud-terrain tires that our team saw over the years, Falken Wildpeak M/T is one of the very best for daily driving. They come with impressive noise isolation and driving comfort for the category, and the DuraSpec technology makes them a worthy option for tackling harsh off-road terrains without having to worry.
Ultimately, they make an option you won't regret choosing, even when considering them among premium tire brands and their respective mud-terrain tires.
Where are Falken Wildpeak M/T tires made?
Falken Wildpeak M/T tires are made in Falken's production plant in Thailand.
How good are Falken Wildpeak M/T tires?
Falken Wildpeak M/T tires are among the highest-quality options in the mud-terrain category, both due to their top-notch technology features and reinforced sidewall.
How long do Falken Wildpeak M/T tires last?
Falken Wildpeak M/T tires don't have a limited treadwear warranty, but they are said to last about 40,000 miles by multiple drivers.
What is the speed rating of Wildpeak M/T tires?
The Wildpeak M/T tires come with a u0022Qu0022 speed rating, which means you can drive with them mounted up to the speed of 100 mph.
Where to buy Falken Wildpeak M/T tires?
You can buy Falken Wildpeak M/T tires in US-based tire shops offering Falken products, or online tire shops.
What is the difference between Falken Wildpeak M/T and AT3W tires?
The AT3W is a tire rated for severe winter conditions with the Three Peak Mountain Snowflake symbol (3PMS), and it delivers a more rugged ride than the M/T which is even suitable for on-road driving.
Which is better – Falken Wildpeak M/T vs Toyo Open Country M/T?
While both these tires are mud-terrain tires, Falken Wildpeak M/T outperforms Toyo Open Country M/T in icy terrains and inaccessible off-road terrains, as well as in noise isolation.
Which is better – Falken Wildpeak M/T vs Cooper STT Pro?
Falken Wildpeak M/T handles much better over rocks and on the road, while the Cooper STT Pro handles much better in deep snow and mud.
REREV may receive a commission for purchases made through links on our site. Learn more.