Kumho Solus TA71 review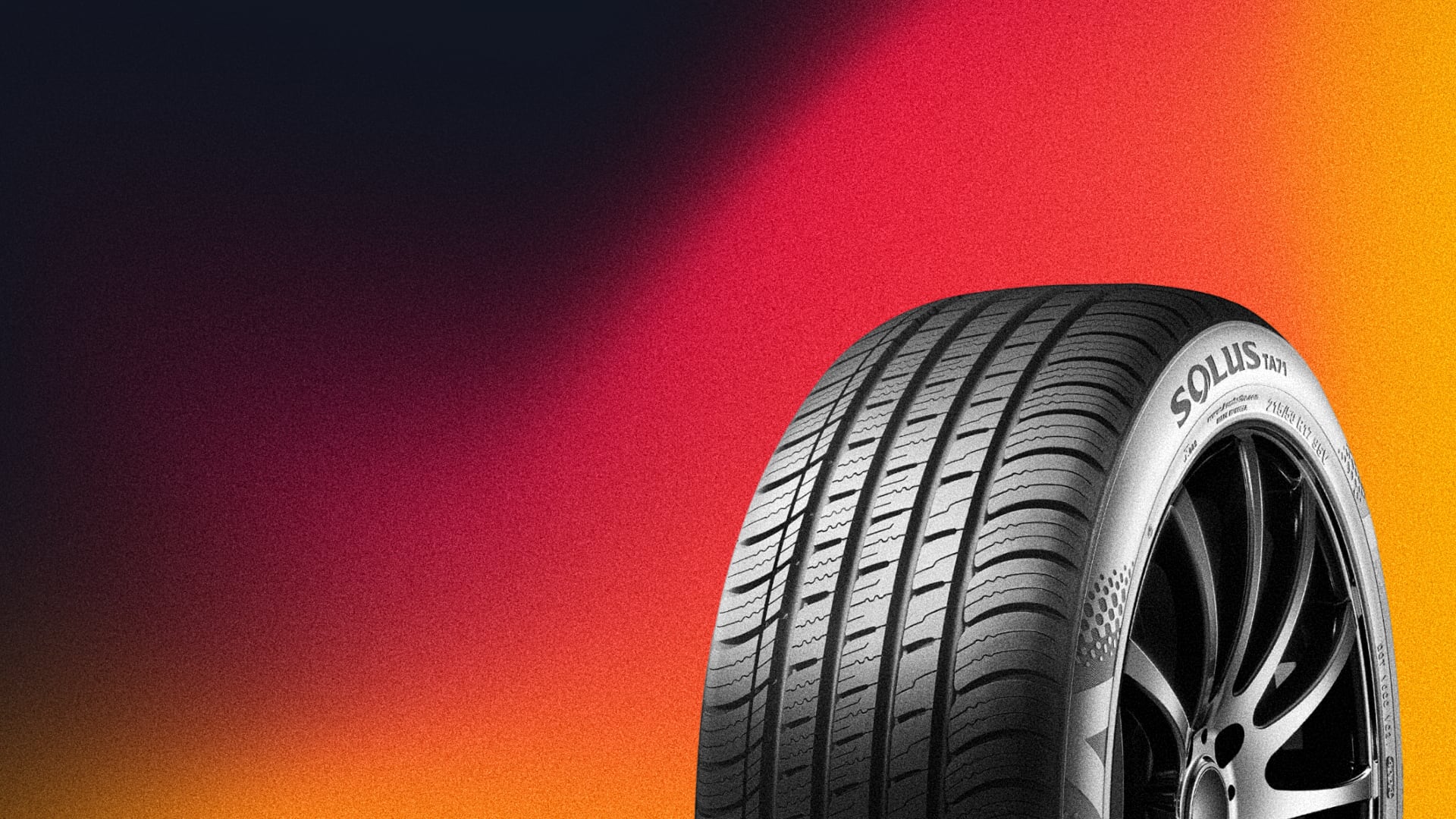 Kumho Solus TA71 is an all-season tire developed for sporty coupes, luxury performance sedans, and those who love to drive them. The tire delivers all-weather traction, even in light snow, and is designed to combine responsive handling with quiet and comfort.
The Solus TA71 features a broader contact patch, giving more grip and traction and better steering response.
Additionally, Kumho equipped the Solus TA71 with four wide grooves to ensure that water is channeled away quickly and efficiently, resulting in a reduced hydroplane risk.
That's not all. Read through the entire article to discover the pros and cons of the Kumho Solus TA71 tire.
Recommended
Kumho Solus TA71
Like the other tires from the Solus lineup by Kumho, the TA71 handles perfectly even at higher speeds on wet, dry and snowy roads, while managing to last at least a bit longer than the closest competition.
REREV may receive a commission for purchases made through links on our site. Learn more.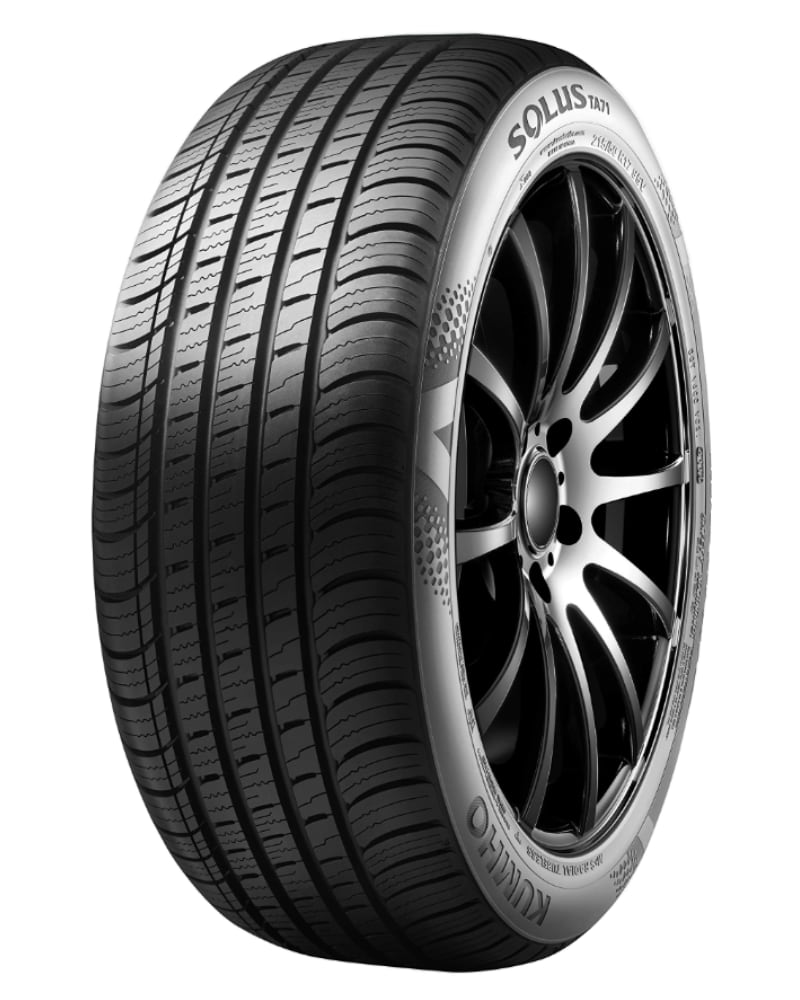 Why you can trust REREV's tire reviews: Our automotive expert researchers analyze tire specs, customer feedbacks and reviews from credible sources. This thorough analysis provides accurate information about tire performance, helping you make the best choice. Find out more about how we evaluate tires.
Key technologies
Kumho implements top-notch technologies to deliver optimal performance to its customers. These technologies work together to increase the durability of the Solus TA71. We highlight these key features below.
Advanced nano-silica compound: Solus TA71 tires feature Kumho's advanced nano silica compound, engineered to disperse heat for extended tread life and traction in cold temperatures.This compound is molded into an asymmetric tread design to create a contact area that promotes grip and steering response in any weather.Four wide grooves evacuate water to promote wet traction and resist hydroplaning, while precisely angled snow sipes create tiny gripping edges that are fine-tuned for traction on cold, slick surfaces.
Kumho's ESCOT casing technology: The ESCOT technology optimizes sidewall cord tension distribution to promote steering response and tread life. The tire's internal structure features twin steel belts with spirally wrapped nylon to enhance high-speed stability. Also, its jointless bead bundles help isolate bumps and vibration for a smoother, quieter ride.
3D sipe technology: Kumho utilizes angled sipes, which mesh together with a cross-hatch design, providing additional support and maintaining high block stiffness when under pressure. The 3D sipe technology offers better grip in snow and ice with improved block stiffness and increased biting edges.
Safety features
The Kumhos asymmetric tread design features tiny gripping edges on the angled snow sipes, boosting the all-season road gripping ability. The tire finds excellent grip on snow and ice-covered roads and ensures a safer driving experience.
Also, it has four wide circumferential grooves that effectively resist hydroplaning by eliminating water from beneath the tire footprint. Overall, the Kumho Solus TA71 is an entirely safe tire; most drivers will never notice the disadvantages.
Speed ratings
The Kumho Solus TA71 is made for a speed rating of either V or W, depending on the chosen tire. This means drivers could project a maximum speed of 149 or 168 mph, respectively.
Treadwear and durability
Kumho built the Solus TA71 to last for an extended period. You can enjoy the TA71 tire for up to 60,000 miles, and many drivers confirm that the tire wears excellently and still enjoy it years later. When you factor in the average 14,263 driven yearly in the U.S., you can expect these tires to last a little more than four years.
Maintenance indicators
Kumho utilized the industry-standard TWIs (tread wear indicators), which sit sunken in the tire grooves, and you can quickly notice them since they bulge out 2/32-inch from the bottom.
Generally, tires find it challenging to provide usable traction when they wear to the same level as the indicator, making them unsafe in the rain.
Therefore, we recommend you replace the tires once the tread wear indicator flushes with the tire surface.
Traction performance
Traction is one of the most crucial features drivers look out for when replacing tires. This feature determines a tire's overall safety when used in wet, dry, snow, and off-road conditions. Below, we look at the Solus TA71's performance in these conditions;
Dry traction
The Solus TA71 provides a safe cornering grip and reasonably good acceleration and braking. It incorporates an asymmetric tread pattern with a large contact patch to improve grip and traction. However, push it harder, and the tire shows its limitations quickly.
Notably, the tire doesn't have a high cornering, especially on the front axle, so you'll constantly encounter understeer. It is considered acceptable for safety but not exceptional for an enthusiast driver.
Wet traction
Kumho significantly enhanced wet traction in the Solus TA71 by integrating four broad circumferential grooves and sipes across the tread blocks. Besides, the advanced nano-silica tread compound sticks to the road better, especially on damp surfaces.
The Solus TA71 has an excellent, indicating that the tires will not slip during hard acceleration. Furthermore, the tire offers a shorter stopping time than the average member of its category, which is the most critical safety metric in rainy conditions.
However, the tire has poor corner handling in rainy conditions. Although it doesn't surprise you with a sudden loss of traction, its overall grip is somewhat lower than what you'd get on its rivals.
Snow traction
The Solus TA71 tread pattern indicates that Kumho attempted to deliver optimal snow performance. The tire features precisely angled zig-zag sipes on its inner tread, which provide the required biting edges for improved snow traction.
The TA71 has a longer stopping distance than most competitors, even the equally-priced ones. High-speed cornering is an issue, as the Solus TA71 doesn't feel settled. Hence, you'll need to make corrections or significantly lower the speed.
Lastly, the tire has low ice traction, and we wouldn't recommend it for drivers who often encounter snow-covered roads.
Off-road traction
The Solus TA71 isn't a tire for off-road conditions because it lacks the necessary compound to handle off-road situations. It could handle a short drive on a dirt road, but anything more than that may risk damaging it.
Noise
The TA71 features jointless bead bundles, which isolate the more minor road imperfections, allowing quality rides with noise isolation. Although the tire has excellent noise reduction quality, there is some tread growl, mostly on rough patches, that you might notice.
More importantly, this growl is never loud enough to cover the engine noise, thus making it primarily noise-free.
Comfort
The Kumho Solus gives supple rides with little vibrations entering the cabin. The tire suppresses secondary motion, so driving on broken roads feels smooth. The steering is linear, and the tire communicates well with the driver.
The Solus TA71 does feel balanced through the corners, but it quickly loses grip, which makes the handling much more nervous. So, the Solus TA71 is fun to drive, but only at medium speeds, like street driving.
In those conditions, the tire is quite responsive, providing the driver with a good experience. Nonetheless, enthusiastic driving doesn't suit this tire.
Competitors and alternatives
Other tires offer similar benefits as the Kumho Solus TA71 tires. Good competitors and alternatives to the Kumho Solus TA71 are the Goodyear Assurance and Yokohama Avid, which offers all-season traction, and quiet, comfortable rides.
Price range
Kumho Solus TA71 tires come in sizes ranging from 15-19 inches. They sell for about $88 to $236, thus putting them in a middle price range. Thankfully, there are rebates and discounts combined with reasonable pricing.
Warranty
The Kumho Solus TA71 is a performance and high-performance, all-season tire manufactured for passenger vehicles and SUVs. Kumho offers a 60,000-mile treadwear warranty with this model, and they also provide a first 2/32 inch of wear warranty on the tire's uniformity.
Additionally, Kumon offers a 6-year free replacement workmanship and material warranty on the first 2/32" of wear, and then a prorated amount is given for the final 2/32" remaining depth.
Our take
The Kumho Solus TA71 is a tire with some noticeable disadvantages. However, if you don't encounter harsh wintry conditions, you can bear with most of them.
The slightly lower cornering grip will only bother enthusiast drivers, with most never noticing it on public roads.
Therefore, we recommend checking the Solus TA71 when you shop for grand-touring all-season tires, but only if you know its limitations.
Where are Kumho Solus TA71 tires made?
Kumho Tires runs three manufacturing facilities in South Korea: the Pyeongtaek Plant, the Gokseong Plant, and the Gwangju Plant.
How good are Kumho Solus TA71 tires?
The Solus TA71 offers quiet and comfortable rides, with good control over hydroplaning. It also provides slow and even wear, allowing you to take your mind off tire replacement for up to four years.
How long do Kumho Solus TA71 tires last?
The Kumho Solus TA71 has a treadwear warranty of 60,000 miles. Since the average person in the U.S drives about 14,263 miles yearly, you could expect your newly purchased Solus TA71 tires to last up to four years.
What is the speed rating of Kumho Solus TA71 tires?
The Kumho Solus TA71 has a speed rating of either V or W, depending on the chosen tire. This means drivers could project a maximum speed of 149 or 168mph, respectively.
Where to buy Kumho Solus TA71 tires?
You can purchase the Kumho Solus TA71 from a reputable online store. However, if you don't feel comfortable making online purchases, you could walk into your preferred nearby local store for your purchase. However, remember to ask your dealer about the product warranty and other terms.
What is the difference?: Kumho Solus TA71 vs TA31
The Kumho Solus TA71 is designed for more comfort and road silence. On the contrary, the Solus TA31 is a performance all-season tire that prioritizes wet and dry traction to refinement.
Which is better?: Kumho Solus vs Yokohama Avid
The Yokohama Avid outperforms the Kumho Solus in every aspect, including dry traction, corner stability, steering response, and aquaplaning.
Which is better?: Kumho Solus vs Goodyear Assurance
The Kumho Solus works better than the Goodyear Assurance in aspects like steering response, aquaplaning, wet traction, overall comfort, etc. Conversely, Goodyear Assurance finds strength in light and heavy snow, ice, and dry traction.