Nexen Roadian GTX review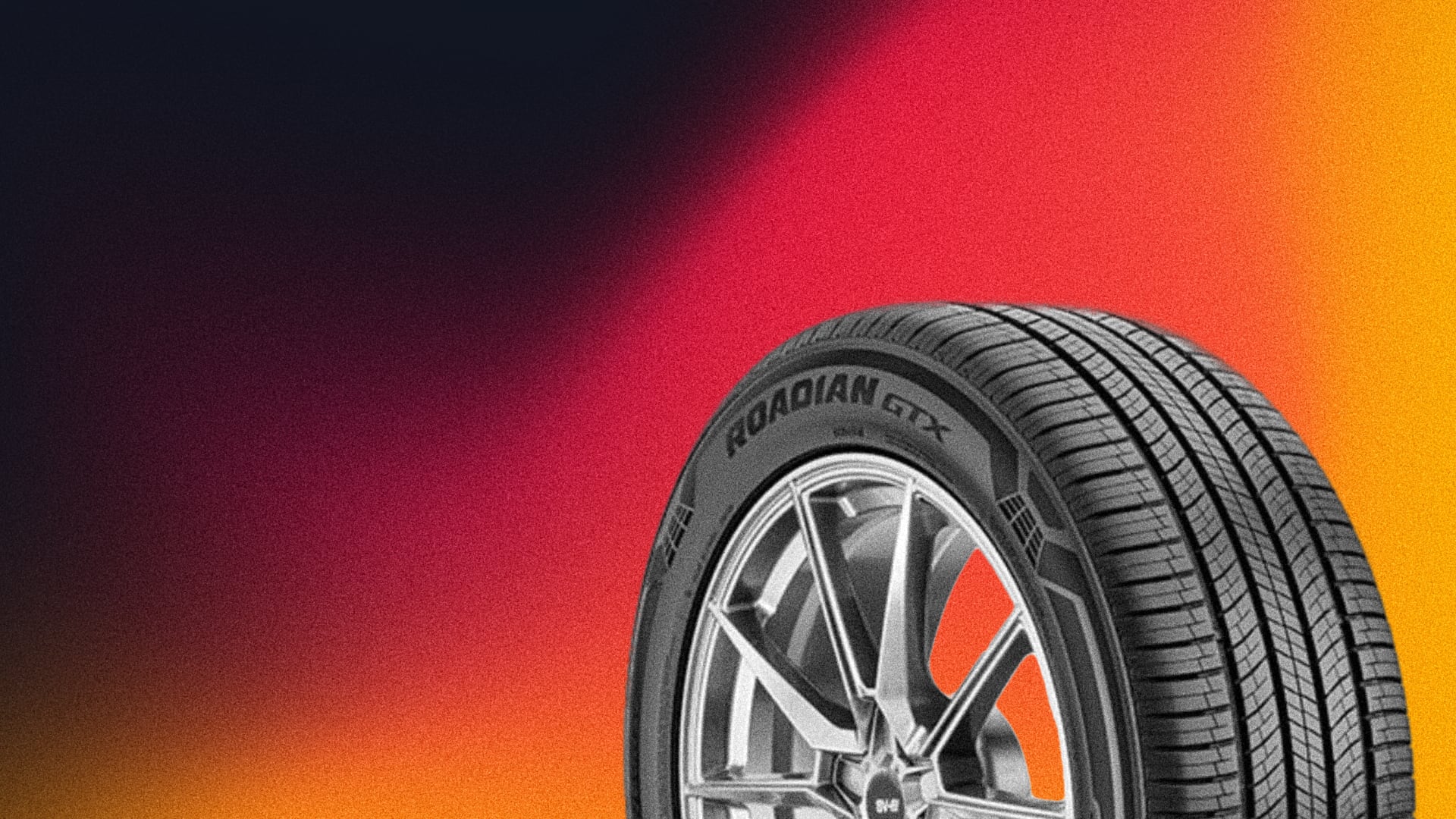 Crossovers and SUVs are gaining high market popularity, and their market sector is increasing daily. Most drivers count on their dependability and versatility, from daily trips to the store to off-road trips.
Drivers look for tires with long tread life, all-season traction, the best mileage, and, most importantly, comfortable rides. The Nexen Roadian GTX tire meets and exceeds these needs.
The Roadian GTX utilizes zigzagged grooves to distribute pressure evenly in its contact patch, thus improving handling response during urgent maneuvers. There's more. This review provides detailed information about the Nexen Roadian GTX and answers related questions.
Recommended
Nexen Roadian GTX
The all-in one SUV and light truck tire, Nexen Roadian GTX unites all the important properties of a proper SUV tire, from off-road traction, to the firm grip in the snow and mud, along with the highest estimated mileage in the category.
REREV may receive a commission for purchases made through links on our site. Learn more.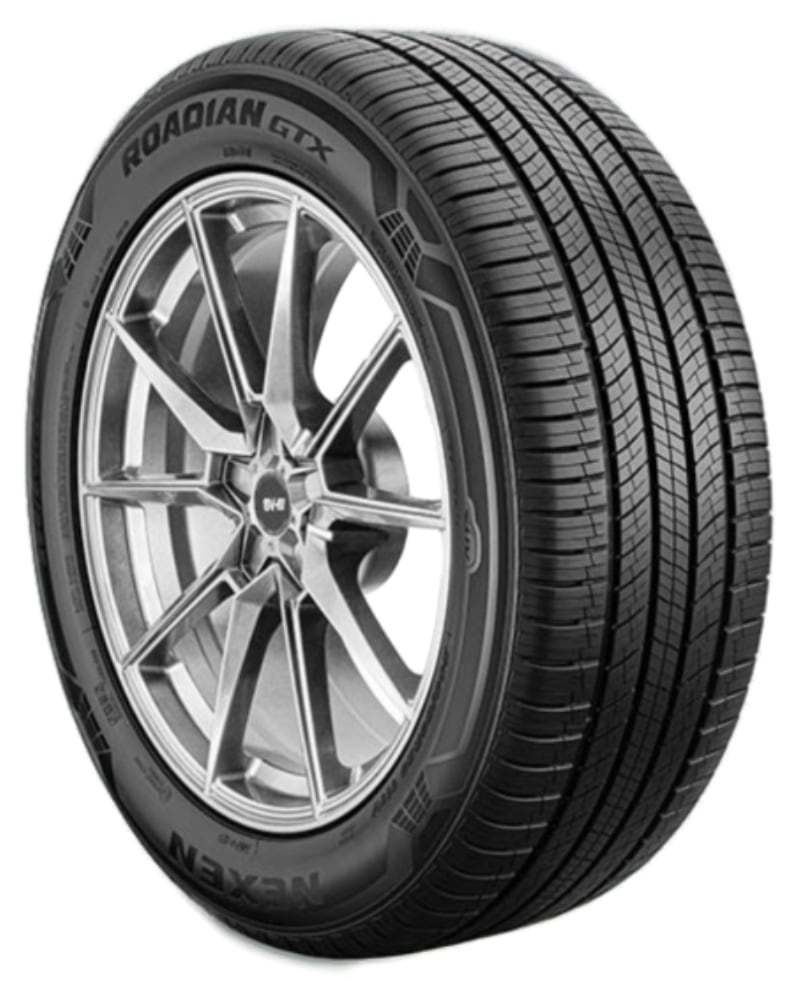 Why you can trust REREV's tire reviews: Our automotive expert researchers analyze tire specs, customer feedbacks and reviews from credible sources. This thorough analysis provides accurate information about tire performance, helping you make the best choice. Find out more about how we evaluate tires.
Key technologies
Nexen utilizes exceptional features in manufacturing the Roadian GTX to give it the all-season feel drivers need. These features optimize the performance of the tire while satisfying drivers. Some of these significant features include:
Broad tread pattern with zigzag grooves: The Roadian GTX came with larger tread patterns and zigzagged grooves that serve even pressure distribution in its contact patch. This provides drivers with improved steering response when faced with an emergency maneuver. Also, the longitudinal sipes that run through each tread block increase the vehicle's stability at high speed.
Optimized tilt angle of grooves and sipes: Optimizing the Nexen Roadian GTXs' tilt angle of grooves and sipes gives its tread blocks the required sturdiness. This serves to minimize uneven wear in the tire. Additionally, its elaborate pattern of grooves and lamellas decreases the braking distance on dry pavements and snow while guaranteeing a smooth ride in all seasons.
Multiphase polymer: As a final touch, Nexen utilizes multiphase polymer in the rubber compound to improve the braking performance of the Roadian GTX in diverse climatic conditions.
Safety features
The Roadian GTX has a proper tread depth which helps to channel out water from the tire. This helps prevent the risk of hydroplaning, which often results in deadly crashes.
Speed ratings
Tires come with speed ratings which indicate the maximum speed you can put on them. These speed ratings suggest max speed a particular tire can travel while maintaining optimal performance.
The Nexen Roadian comes with speed ratings of T, H, V, and W. So, depending on your tire of choice, you can look at a max speed of 118, 130, 149, or 168 mph, respectively. You can find your tire's speed rating on its sidewall, and the speed rating is the last character. For example, H is the speed rating for this Nexen Roadian tire: 255/55R20 107H.
It is important to note that a tire's speed rating doesn't dictate the top speed your vehicle can travel. For instance, the 2022 BMW Alpina XB7 has a top speed of 180 mph. Fitting Y-rated (186mph) tires won't affect the vehicle's top speed.
Treadwear and durability
Treadwear and durability are critical variables when drivers talk about tire replacement; these factors give a general idea of how long a tire could last. No one wants to replace tires every six months, and Nexen had considered this while making the Roadian GTX.
The Roadian GTX can last for an extended period while still delivering excellent performance. You can expect to enjoy the GTX for up to 70,000 miles. Many drivers talk about how the GTX wears excellently and how well it performs even in its last days.
This longer tread life results from the special polymer, which reduces the tire's deformation when faced with various road conditions. Also, Nexen uses technical carbon and a long molecular chain to increase the tire's resistance to wear.
The US Department of Transportation's statistics show that the average person covers about 14,263 miles annually, and this value comes to roughly 1,200 miles monthly or about 39 miles daily. This means, on average, you should expect your Roadian GTX to last more than four years.
Maintenance indicators
Many tires come with a Tread Wear Indicator (TWI), which looks like a triangle at the sidewall of the tires. The tread wear indicator gives drivers an idea about the tire's tread life and suggests when replacement is due. It would help to replace your tires immediately when the treads level out with the tread wear indicator.
If you use a tire below the treadwear index, your vehicle is more prone to skidding, and the braking distance becomes longer. Additionally, the tires easily rupture when pierced by foreign objects, which exposes the tire to hydroplaning, which could lead to difficult handling and braking.
The Roadian GTX has a tread wear indicator on its sidewall as its maintenance indicator. You should pay attention to this indicator and replace your tires once it indicates.
Traction performance
Traction is crucial when selecting tires. This is because it measures the resistance and grips your tires can provide when you drive them on various surfaces, and it plays a vital role in the stopping distance whenever you apply your brakes.
The road and weather conditions you drive have a significant role when you shop for tires. In some areas, a tire with excellent dry and wet traction will be suitable for daily driving. However, you might need to install tires specifically designed for rain and snow in other areas.
Dry traction
The Nexen Roadian GTX offers excellent performance when traveling under dry conditions. The Rodian GTX does not lose traction when driving through flat paved highways or rough terrain with unstable surfaces.
This exceptional performance is courtesy of the tire's quality grip spikes that Nexen utilizes in this all-season product. These spikes have symmetrical arrangements and correct stiffness, allowing the tire to exert maximum grip when in contact with dry pavements.
Wet traction
Driving in wet conditions can be challenging for novice and veteran drivers alike. This is because of the various threats wet pavements pose to the driver. A notable issue is when a car slides uncontrollably, resulting in deadly crashes in most situations. This is known as hydroplaning; therefore, selecting tires with at least average wet traction is essential for your safety.
Nexen uses grooves with proper depth to channel water from the tire's surface. However, you might want to be careful when dealing with slippery roads, as the car will skid a bit before stopping completely.
Snow traction
The Roadian GTX performs well on snow. However, this tire model isn't the best bet for heavy snow. Suppose you live in an area with heavy snow. In that case, you might need to purchase tires specifically designed for that climate condition.
For light snow, the Roadians quality grip and spikes, along with its grooves, work together to prevent snow from sticking to the tires. This provides confidence to drivers who only deal with light snow conditions.
Off-road traction
The Nexen Roadian GTX performs excellently in off-road conditions. Its tilted grooves and sipes allow the tire to remain sturdy when exposed to off-road tours. Driving challenges like bouncing and shaking significantly reduce owing to its stability. Additionally, its elaborate groove pattern allows it to maintain a lower braking distance.
Noise and comfort
The Nexen Roadian GTX is not just for optimal performance in different terrains; this tire also provides the most comfortable rides you need. Its stable nature adequately limits driving challenges, such as high bounces or shaking when it faces bumps and potholes on the road.
Competitors and alternatives
The Nexen Roadian GTX is an excellent choice for drivers who seek a good blend of on and off-road experiences. Notwithstanding, a few tires offer optimum performance as the Roadian GTX. Some alternatives you can go for include; BF Goodyear Wrangler and Michelin Defender. They provide great technologies and remarkable performance across various terrains.
Price range
The Roadian GTX comes in 34 sizes ranging from 17-22 inches, with a price range of $137.98 to $709. However, this price range varies depending on your location. Also, there are rebates and discounts with reasonable pricing.
Warranty
All Roadian GTX tires come with the Nexen total coverage warranty. Nexen replaces defective tires concerning workmanship and materials within the first year or the first 2/32″ treadwear (whatever comes first). Nexen will replace faulty tires on a prorated basis after the first year or 2/32-inch treadwear period.
Additionally, the Nexen Roadian GTX comes with a 45-day or 500-mile money-back trial period and promises a refund if you are unsatisfied with the purchase. Also, Nexen offers 36-months road assistance for their products.
Lastly, a notable feature Nexen offers is a road hazard warranty, which lasts for the first 2/32″ treadwear or two years.
Our take
The Nexen Roadian GRX is an excellent choice for drivers who seek affordable and reliable tires in various seasons and terrains. It provides remarkable traction and handling without sacrificing the quietness of your ride.
Its long tread life makes it a popular choice among drivers across different experience levels. If you are looking for an outstandingly performing yet affordable tire, the Roadian GTX would be a great choice.
Where are Nexen Roadian GTX tires made?
The Nexen Roadian GTX tires are manufactured in Yangsan, South Gyeongsang Province, and Seoul, South Korea. They were recognized in 1956 as the first Korean tire company.
How long do Nexen Roadian GTX tires last?
The Roadian GTX can operate for at least 70,000 miles, allowing you to enjoy the product for an extended period.
What is the speed rating of Nexen Roadian GTX tires?
The Roadian GTX has speed ratings of  T, H,  V, and W. Depending on the tire you purchase, you can expect a maximum speed of 118, 130, 149, or 168 mph, respectively.
Where to buy Nexen Roadian GTX tires?
You can purchase the Nexen Roadian tire from various online stores. Conversely, you can drop by your favorite automotive dealer for your purchase.
Nexen Roadian GTX vs HTX — what is the difference?
The Roadian GTX has a tread life of 70,000 miles. In contrast, the Roadian HTX has a lesser but impressive 65,000 miles tread life.
Nexen Roadian GTX vs Michelin Defender — which is better?
The Roadian GTX and Michelin defender are both great all-season tires. Michelin defender offers better options for light trucks in general performance; however, you should consider the Roadian GTX when seeking off-road adventures.
Nexen Roadian GTX vs Goodyear Wrangler — which is better?
The Nexen Roadian GTX  and the Goodyear Wrangler are one of the best options in the budget range and have multi-terrain functionality. However, drivers prefer the Roadian GTX over the Goodyer Wrangler as it provides better traction on every surface.