How fast does an airbag deploy? — explained
Discover the speed at which airbags deploy in critical moments.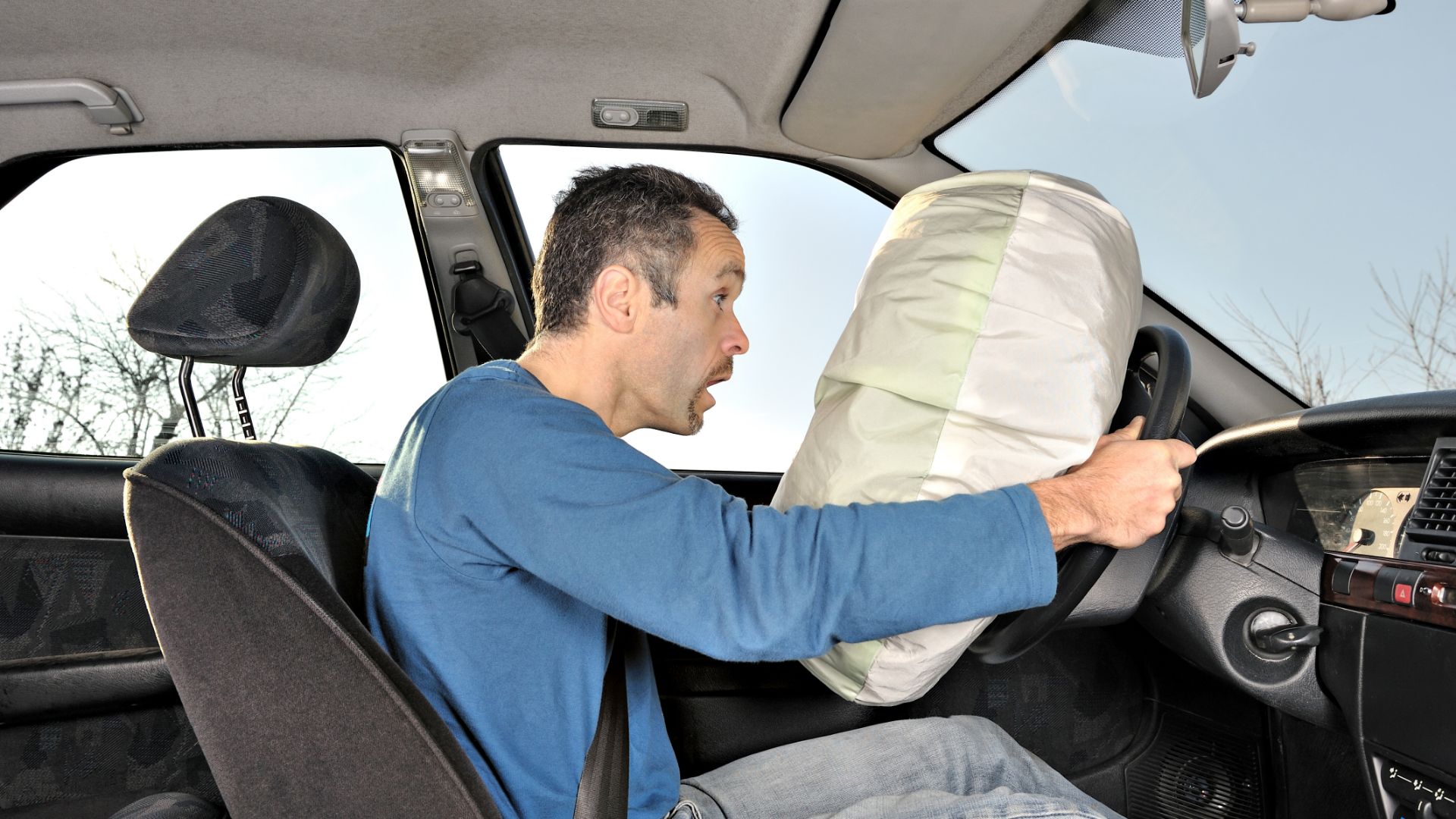 Ever since 1998, vehicle safety systems like airbags are obligatory for all passenger cars in the US. These days, it's not even a matter of debate whether your car has airbags or not. Still, in an unfortunate case of a collision, you might wonder – how fast does an airbag deploy?
An airbag deploys in 20 to 100 milliseconds, or roughly in around 0.1 seconds as soon as the collision is detected. So, it all happens so fast that you can't even blink between the moment of impact and the moment when the airbag deploys. While this is relieving information for your driving safety, there's a variety of other variables to consider, as you'll see through this guide.
About airbag systems
Airbags were first developed back in the 1950s and started their journey as crucial parts of vehicle safety systems in the 1960s. Still, years passed until the usage of airbags was proclaimed obligatory for passenger vehicles.
You probably can't even imagine driving a car without airbags now, when cars are generally getting more and more advanced. With that in mind, how much did airbags change over time as a key component of the vehicle's safety system?
Well, it's a good thing that you can nowadays find airbag systems with up to 10 airbags in a car. Back in the day when airbags were first utilized, you could mostly find vehicles with a single airbag on the driver's side.
It's safe to say that modern cars are equipped with airbag systems that minimize the chance of critical injuries at a higher speed. Even so, drivers are wondering about the time needed for an airbag to deploy, as well as the driving speed of airbag activation.
After all, car insurance companies often proclaim cars with deployed airbags totaled, but it also depends on the value of the car. The good news is – you don't have to worry about your airbags not activating at low speed since it's not crucial for the car to be going at a high speed for deployment.
How do airbags work?
Airbags are a part of a larger safety system that detects collisions and impacts and activates them. There's an airbag sensor that measures deceleration which occurs once your vehicle hits another vehicle or an obstacle.
Once the sensor is triggered by the deceleration, the airbag circuit activates the airbag itself. There's a form of an explosive that makes the housing explode and the pressure fills the nylon bag. It therefore expands and grows with high pressure, but there's a safety mechanism to prevent airbag-imposed injuries.
Once the driver hits the airbag, gas within the bag escapes through the holes around it, and it slowly deflates. So, in an unfortunate case of an accident, you likely won't end up with injuries caused by hitting a hard obstacle, even though an airbag fills up with gas so quickly.
Airbag activation timing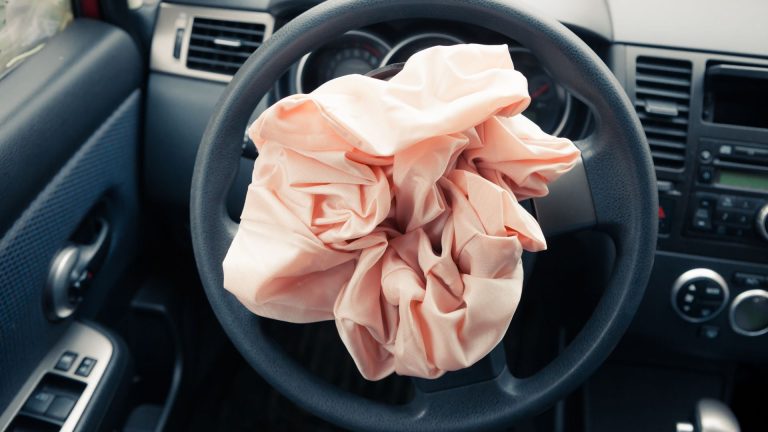 Airbag deployment speed also depends on the type of airbag, but it's between 20 and 100 milliseconds regardless of the type. Driver's side and passenger's side airbags deploy first, and the driver's side airbag is mostly located within the steering wheel.
However, these need precise inflation time since it could hurt the driver in case of hitting an airbag before it completely inflates. Since most crashes at a high speed occur within 100 to 200 milliseconds, airbags are designed to deploy even faster.
So, as soon as the sensor recognizes deceleration and the force of the impact, frontal airbags deploy. Side airbags also deploy extremely fast, since there's less space between the driver and passengers when compared to frontal airbags. Side airbags usually activate within 30 to 40 milliseconds, while the driver's frontal airbag activates within 30 milliseconds.
Even so, airbags don't deploy in every situation, especially during low-speed collisions where they could do more harm than good. The ECU uses information from the sensors and the entire airbag system to decide whether to inflate the bags or not.
It all happens in less than a blink of an eye, so you'll never have to worry about airbag deployment being late if your airbag system is working properly.
The speed limit for airbag activation
Your driving speed also dictates the airbag activation, since the computer will sometimes determine it's unnecessary to deploy the airbag. The seat belt sensor also participates, since low-speed crashes might only require the driver to wear a seatbelt for sufficient protection.
On the other hand, your driving speed needs to be at least in the range of 12 to 18 miles an hour for airbags to deploy. High-speed crashes instantly trigger the airbags, regardless of the crash severity. As mentioned, low-speed crashes might not initiate airbag deployment in case the driver and passengers are wearing a seatbelt.
It could just make things worse since a seatbelt might be deemed as enough of a safety measure in this case.
Factors that affect airbag deployment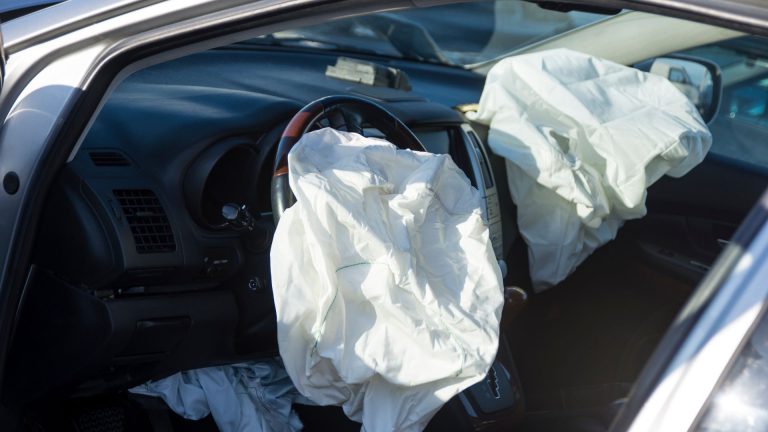 The entire supplemental restraint system (SRS) of your car is operated by a control module. This control module is often referred to as the airbag control module, and it submits information to the engine control unit of your car.
Ultimately, the control module determines whether your airbags will deploy in case of a crash or not. So, if you've ever seen an SRS light glowing up on the dashboard, you should immediately work to solve the issue. If there's a malfunction in the SRS or airbag system, your airbags might not deploy in case of a crash.
Besides the airbag control module, there are several other parts of the system that affect airbag deployment. Here's a list of all the participating parts that affect your airbags to inflate and protect you in case of an accident:
Airbag control module
Passenger seat occupancy sensor
Airbag sensors
Clockspring
Deceleration sensor
If there's a malfunctioning sensor or a problem with the airbag control module, your airbags might not deploy. So, if you are wondering why is the airbag light on, you may have to check up on the control module and sensors. Also, if you've bought a used car with previously deployed airbags, the system might not work properly, hence the SRS light glowing up.
Make sure to always have an operational airbag safety system and fix the sensors or malfunctioning system parts that are behind the SRS light.
Our take
So, if you've been wondering "how fast does an airbag deploy", now you have a clearer picture after reading this guide. If the driving speed is high enough, you can rest assured that your airbags will deploy on time and save you from critical injuries caused by the collision.
However, for the airbag system to work as it should, you'll have to pay attention to details and keep the system operative. If any of the airbag sensors or deceleration sensors fail, the SRS light will appear on your dash and it's a warning sign to service the airbag system for proper deployment.
At what speed does an airbag deploy?
The minimum driving speed for airbags to deploy is between 12 mph and 18 mph, while airbags can deploy as fast as within 20 milliseconds.
How fast do airbags deploy in seconds?
Airbags deploy as fast as within 0.05 to 0.1 seconds depending on the airbag type.
Is a car totaled if side airbags deploy?
Your car might be totaled if side airbags deploy, but it all depends on crash severity and the damage compared to the current value of the car.