Do new brakes squeak?
Understand why new brakes might produce an annoying squeaking sound.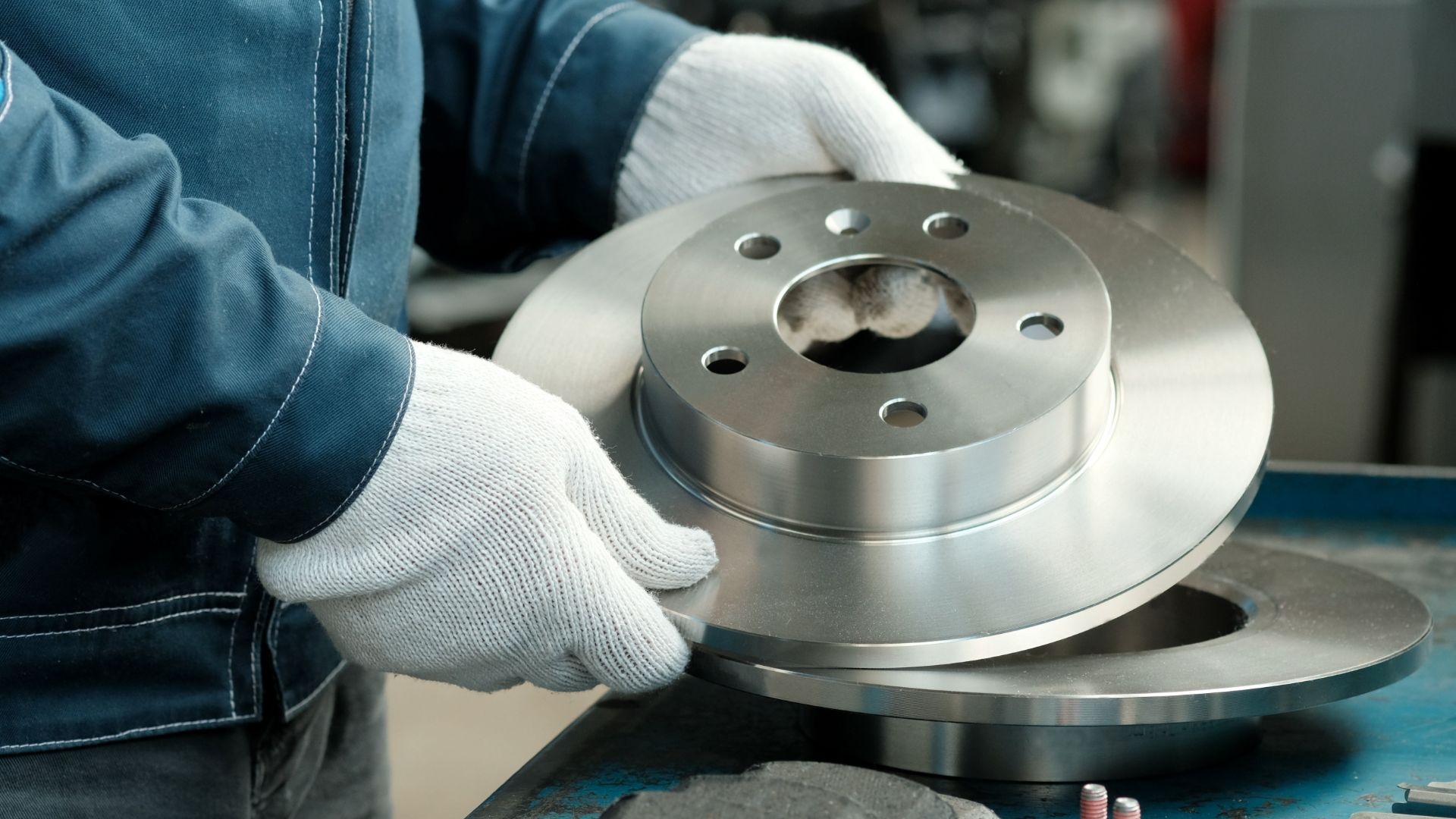 The braking system of your comes with a lot of moving parts like brake pads and rotors that need to be replaced as they wear off. Naturally, these parts will produce braking noises as they get old, but one question keeps confusing the drivers – do new brakes squeak?
New brakes squeak until the new brake pads or rotors bed in, or if you've bought a cheap brake pad replacement. Still, there are other reasons why your new set of brakes might produce braking noise, so this guide will help you figure it all out!
Adjusting new brakes to eliminate the noise
If you aren't a dedicated car enthusiast, chances are that you never heard of the brakes "bedding-in" process. It's simply a process of adjusting the new brake pads and the rotors to one another, allowing the pads to pressure the rotors fully when stopping.
If the brakes aren't adjusted, even new ones can produce those bothersome squeaking noises. So, if you hear a noise when braking at low speed, it could be even due to new brakes. Well, how do you adjust the new brakes so that they don't produce any braking noise?
You can use a controlled environment like an empty parking lot to bed in your new brakes and prevent the noise. To accomplish this, you'll need to have the brakes generate heat, bed in, and cool down to create an even surface for the pads to lean on the discs.
First, try to slowly build up your speed and brake normally a few times. Then, if the conditions allow it, try speeding up to about 50 mph and brake suddenly. Repeat the process several times and then leave your car on for at least half an hour for the brakes to cool down.
You can drive regularly at this point and gently brake to let the pads and the rotors cool down from the friction. At this point, the two components should be properly aligned and that's why you won't hear any braking noises.
Reasons behind squeaking noise from new brakes
While it's perfectly normal for new brakes to squeak until you adjust them properly, sometimes the noise will just continue. It's unfortunate, but here are several reasons that might cause your new brakes to squeak:
Poor-quality replacement pads
Rusty brake discs
Unlubricated brakes
Residue between the pads and the rotor
Sometimes, your brakes may squeak if you've just replaced them and left the car parked for a few days. You need to drive the car with new brakes due to the abrasive material from the new pads and to let the pads and rotors adjust.
Also, if you leave your car parked in mud or sand, dust particles can get between the rotors and pads. This can also cause a squeaking noise, so it's another thing to inspect in case such noise occurs.
Cheap replacement pads are a no-go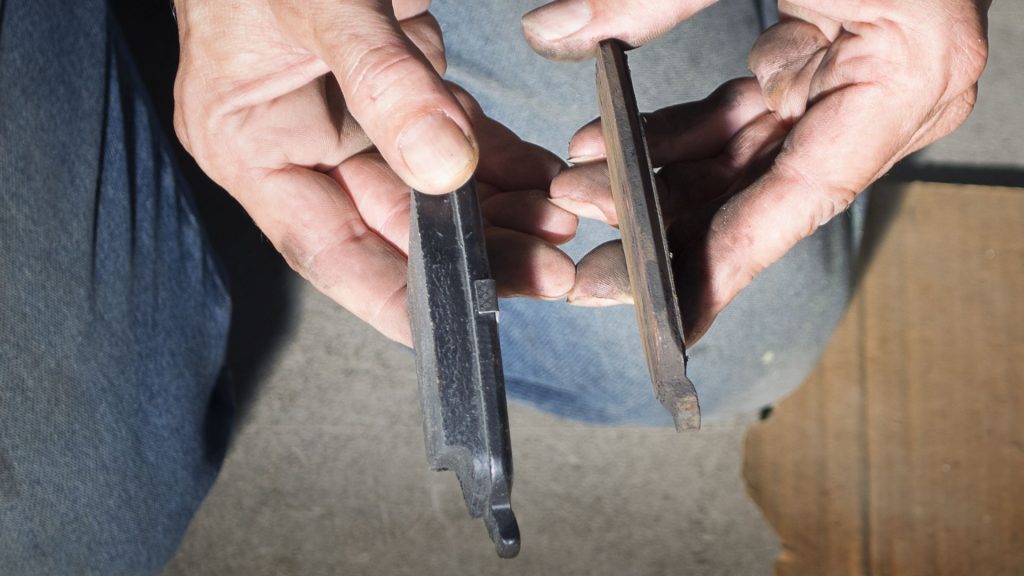 If you pick cheap and poor-quality replacement brake pads, you won't be doing yourself a favor. It might seem like you'll save some cash at first, but mounting cheap brake pads will only result in a squeaking noise when braking.
Most modern vehicles come with high-end ceramic brake pads mounted as part of the original equipment, and it's for a good reason. These brake pads last longer, produce less "brake dust", and go well with the brake discs as a factory setting.
So, you should check if you bought ceramic brake pads as a replacement, and not just some cheap semi-metallic pads. These will not only wear off quickly, but they will also produce that squeak as you brake and could even damage the rotor causing even more expensive repairs.
Rusty brake discs can squeak even if the pads are new
It's perfectly normal if you just replace worn-off brake pads since brake discs are designed to last a bit longer. However, make sure to approach a trustworthy mechanic when doing the job of replacing your pads, since it's important to check the rotors as well.
If there's even a tiny bit of rust on the disc, new pads simply won't lean on them evenly while braking. That would trigger a squeaking noise, so it's an easy fix to simply pay attention to the discs. If there's a bit of rust on them, your mechanic can easily apply the brush and clean the rust.
Also, a thin layer of rust could form on your discs if you replace the pads and leave the car parked for too long afterward. This will also trigger a squeaking noise, but it can be solved by just driving the car. As you frequently step on the brake, the friction will remove that thin layer of rust and the noise will go away as well.
Brake lubrication is also important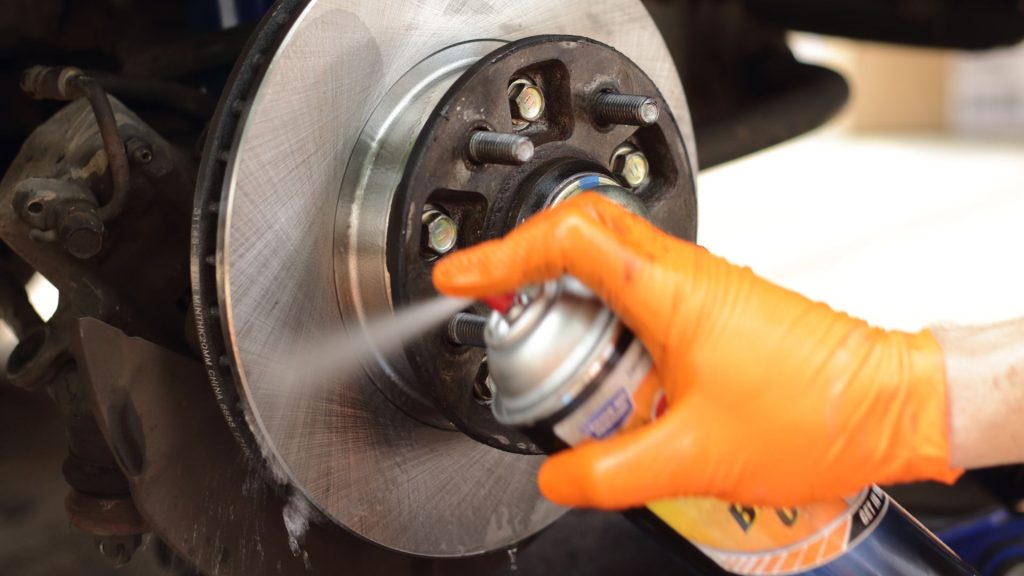 Let's face it – the braking system is quite complex and there's a variety of reasons behind an odd noise when braking. If you experience a creaking noise when braking, it could be due to unlubricated guide pins. These pins are part of the calipers and they serve an important role in pushing the pads against the rotors at a specific angle.
Caliper pistons also need to be properly lubricated to prevent damage and creaking or squeaking noises caused by friction. You can apply a bit of brake lubricant or grease on the pins and pistons to ensure that they don't wear off due to friction and heat. This should eliminate the noises you might be hearing when applying the brake.
Debris between the pads and discs can be a deal-breaker
Not only is debris caught up between the discs and pads annoying due to the noise, but it's also potentially dangerous. As you drive, if a small pebble or debris gets stuck between the pad and the rotor, the brake pad won't be able to pressure the rotor evenly.
It causes a squeaking noise and the braking performance will be lowered, which could be dangerous. So, it couldn't hurt to inspect the braking system for dirt or debris between these two important components.
Our take
Hopefully, this guide helped you figure out an answer to an old question that puzzled drivers – do new brakes squeak? The best thing you can do to prevent this bothersome noise when replacing brake pads is to buy ceramic pads and inspect the brake discs.
If there's rust or residue on the discs, you shouldn't have your mechanic just replace the pads before cleaning the discs. This way you'll eliminate the odd noises and increase your driving safety when mounting new brakes.
How long will the new brakes squeak?
The squeak shouldn't last long when you mount new brakes on the car if you bed in the brakes and the period of adjustments goes by.
Is it normal for brakes to make noise after replacing?
Yes, it's normal for brakes to make noise after replacing as the brakes need to bed in and the abrasive layer of the brake pads will wear off once the pads adjust to the rotors.
Why do my breaks squeak if they are new?
Your brakes might squeak if they are new in case you bought cheap replacement brake pads that aren't ceramic, or if your discs are rusty.
Will new brake pads stop squeaking?
New brake pads will stop squeaking once the pads and the rotors bed in, and it could take a couple of days for the noise to go away.