Are drilled and slotted rotors better? — explained
Find out if drilled and slotted rotors are truly superior.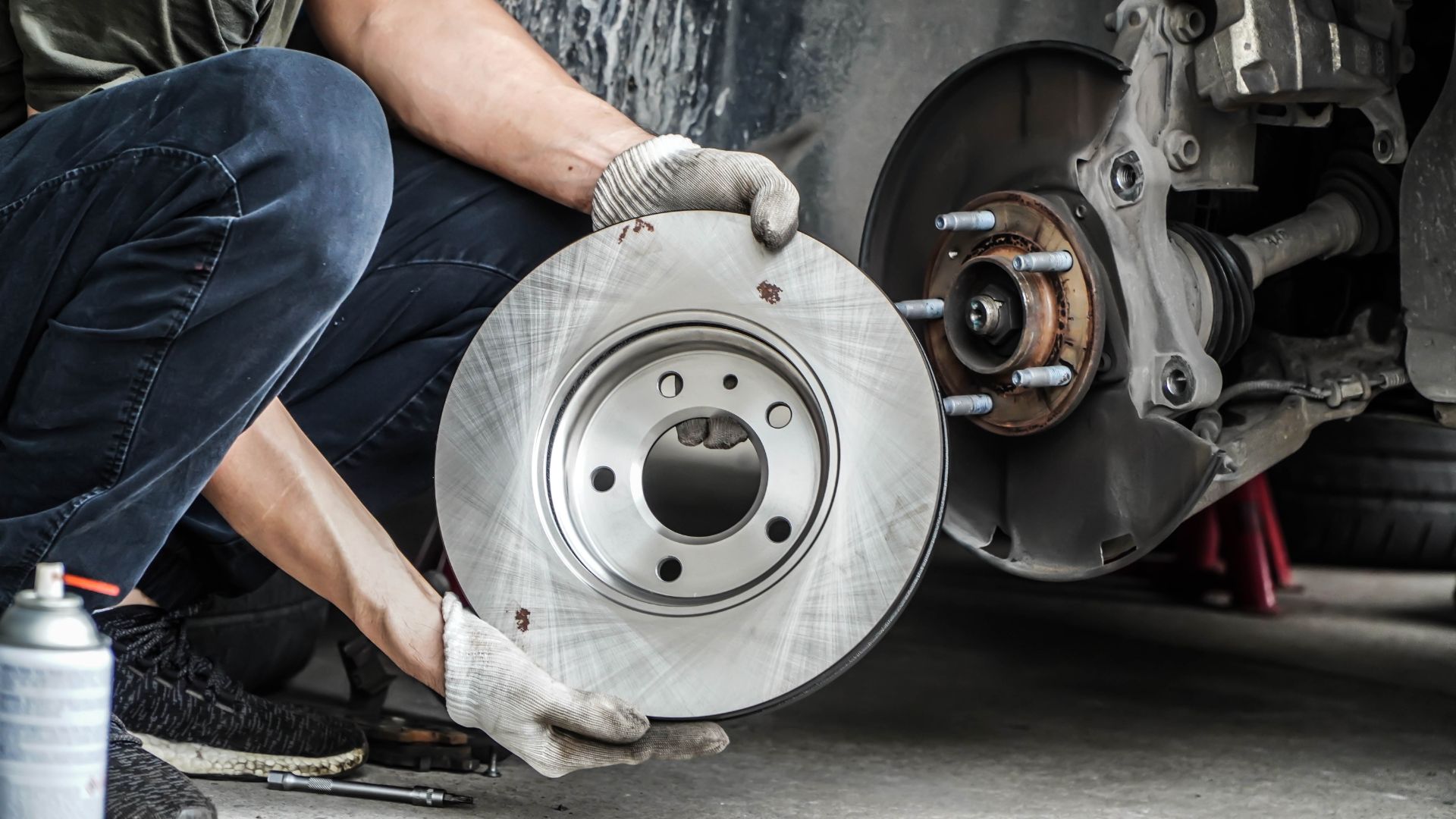 Rotors are an essential part of the vehicle, and they work closely with brake pads to ensure a safe stop every time you hit the brakes. There are four different types of rotors, with the drilled and slotted brake rotors being more commonly used. Common might not necessarily mean the best, but are drilled and slotted rotors better?
While some believe drilled and slotted rotors are overrated, most drivers prefer them because of the better braking power. This article expounds on the benefits drilled and slotted rotors have over other kinds of rotors.
How do rotors work?
Brake rotors are iron discs connected to a tire's hub and are part of the disc brake assembly. Though the front concept is older, you can use them on both the front and rear wheels.
When you step on your brake pedal, your car's brake pads compress the rotor. The resulting friction from this compression produces heat and stops your vehicle.
The iron discs are connected by ribs which come in many different designs. The purpose of the ribs is to dissipate the heat created by the braking motion. The ribs must perform their job correctly, as the heat produced can become a problem if it's not removed or cooled in some way.
Rotor types and their benefits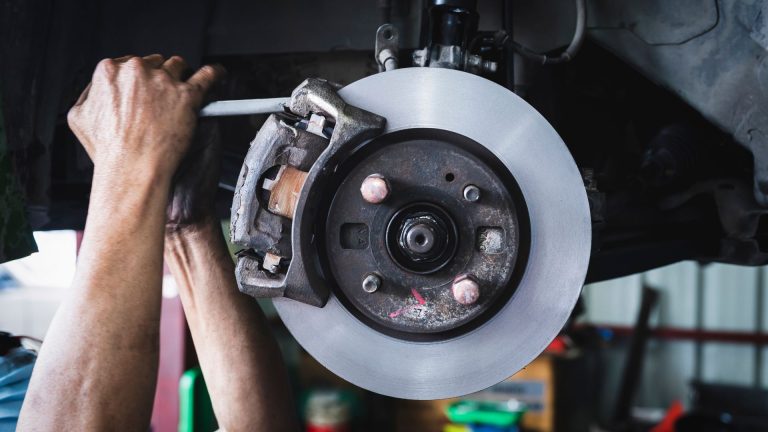 There are many different types of brake rotors which primarily fall into four categories, each with its faults and benefits. Knowing the different types and their usefulness is essential to you as a driver, so you get something that is best suited for your vehicle and lasts long.
Blank and smooth rotors
These rotors are a common type for most passenger vehicles, and they are simple and affordable.
When purchasing blank and smooth rotors, it is best to go for the original equipment manufacturer (OEM) parts because they have longer lives due to their thicker internal fins. Aftermarket blank and smooth rotors have less thickness in their internal fins, making them less reliable with a shorter lifespan. Nonetheless, overall, blank and smooth rotors do not perform or last as best as the other rotor types.
Drilled rotors
Drilled rotors are characterized by holes drilled in spiraling patterns across their surface. The holes promote heat dissemination, allowing dust and water to escape without damaging the braking system.
The drilled rotors' design suits it best in wet climates as they work best in damp and chilly weather. They perform poorly under high heat conditions, which is why they are not generally used for racing vehicles, no matter the weather.
Slotted rotors
Instead of holes, slotted rotors have unique slots about the exterior rotor surface. These slots draw in extra air onto the brake pads and rotor surfaces. The amount of debris that comes with this type is minimal, and the cooling is better and faster.
Slotted rotors are best for heavy SUVs, trucks, and vehicles frequently used for towing loads. They give a superior stopping power but wear down quickly when compared to the others.
Drilled and slotted rotors
Drilled and slotted rotors combine the features of two rotors to give a better performance with their advantages combined in one.
As a result of their combined strengths, drilled and slotted rotors are highly reliable and used mainly by high-performance vehicles like sports cars. They offer excellent heat dissipation and faster cooling, allowing the vehicle a much better brake performance, especially when speeding.
Are drilled and slotted rotors the best?
The design of drilled and slotted rotors offers two substantial advantages over the standard rotor. The first advantage is their ability to cool the brakes more, thus prolonging their lifespan. The second is their ability to dissipate heat faster, causing them to give a much better braking performance than the other rotors.
Furthermore, the slots on the rotor increase its strength and give better control in demanding braking situations by reducing the stress on the rotor material. They enhance brake grip, which provides the extra brake control it is often associated with.
Most drivers prefer drilled and slotted rotors because of the better braking. It is even listed as an upgrade for most high-performance vehicles; even motorcycles use them.
Do drilled and slotted rotors warp easily?
Brake rotors do not warp, although the popular belief carries that it does. Also, the uneven wear that they suffer, asides from being the by-product of extended use, is usually amplified due to wrong arrangements in their structure that generally occur during replacements.
Are drilled and slotted rotors suitable for trucks?
Vehicles that carry heavy loads, like trucks and tow vehicles, also use drilled and slotted rotors to get excellent braking performance. Drilled and slotted rotors deliver the necessary power to bring such vehicles to a clean stop, displaying its superiority as it does not only work best for street cars and high-performance SUVs.
Are drilled and slotted rotors better than solid rotors?
Solid rotors are best known for their larger surface, stopping power, and durability. They are often used on vehicles that do not undergo high levels of heat stress. Using them above their capacity can shorten their lifespan by a considerable percentage.
Drilled and slotted rotors, however, allow you to maximize your car's braking performance. They are more durable and long-suffering and perform great, regardless of the vehicle, it is used for.
Does drilled and slotted create more brake dust?
The grinding of the brake rotor by the brake pads creates brake dust. The brake dust you would have depends mainly on the material your rotors are made from. Semi-metallic rotor plates give off more dust, with ceramic plates giving less.
The design of the drilled and slotted rotor does not allow brake dust to build up, much like other types. Its slotted part helps expel the dust in significant amounts so that you do not have too much buildup in your vehicle.
How much are drilled and slotted rotors?
Due to their superior braking powers, the drilled and slotted rotors are more expensive than standard rotors. Their reliability and endurance make them a good investment. Their price hovers around $50 to $200 per rotor.
Before upgrading your car's rotors with drilled and slotted rotors, research which ones are best for your vehicle. Also, talk to your mechanic to get your money's worth of rotors and avoid getting substandard products for the price of the original.
How much does it cost to replace brake rotors?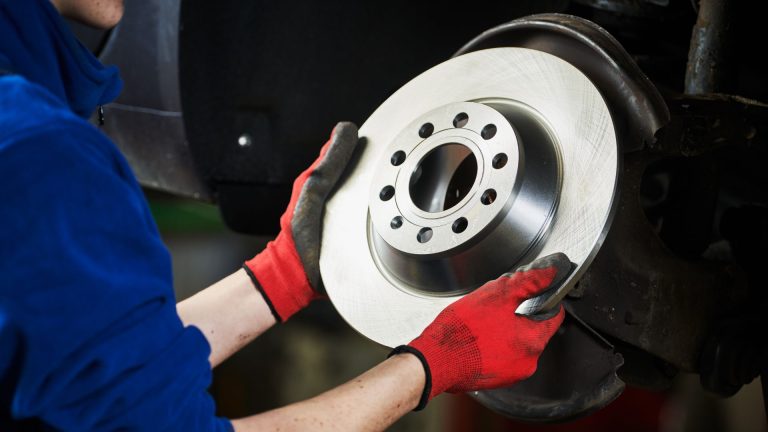 It is necessary to replace brake rotors before wear makes them useless in your vehicle to prevent accidents due to brake malfunction. That's why most drivers wonder – how long do brake rotors last? Brake rotors typically last between 30,000 to 70,000 miles of usage. You must pay attention to your brake rotors when performing routine maintenance checks, as they are a necessary component of the braking system.
Rotor replacement varies on the vehicle and type of rotor involved. Replacing your old rotors with new ones can cost you up to $500, with half of the money going into labor costs if you get a professional mechanic to handle the replacement.
Can I replace brake rotors myself?
If you pay great attention to instructions and carry them out, you can replace your rotors and save money. The procedure is straightforward. It also depends on whether you got rotor resurfacing explained since it can sometimes save you the struggle of replacing rotors if they aren't completely worn out.
You will first need to ensure you have safety gear on your person before removing the wheel, bolts, and caliper to reach the old pads and rotor, which you can do too. You then clean the mounting surface and the new rotor before mounting it and putting every other thing in place.
It takes a professional thirty minutes to an hour to replace the rotors. If you are a beginner to the procedure, you should take time and ensure you get everything right, as any mistake can prove fatal. For your safety, it is best to get a professional to change your brake rotors for you.
Our take
Having the right rotor in your vehicle will improve the quality of your ride and increase its safety. Drills and slotted rotors have proven themselves to be the best there are, with their superior braking power and durability. It gives excellent performance in any vehicle it uses, leaving drivers satisfied all the time.
Drilled and slotted rotors are a worthy investment. Though they are more expensive than the others, they give good value for the money along with a longer service life.
Do drilled and slotted rotors really make a difference?
Drilled and slotted rotors improve brake performance in most conditions, making them suited for most vehicles and climates. They also last longer than some other rotor types.
Do drilled and slotted rotors really help?
Drilled and slotted rotors may seem expensive initially, but considering their durability is a worthy investment. They improve braking, too, enabling drivers to exercise better control over their vehicles.
Do drilled and slotted rotors last longer?
Drilled and slotted rotors dissipate heat fast, hence increasing their life span. Compared with the standard rotor, they are more durable and better.
Why are drilled and slotted rotors better?
Drilled and slotted rotors are better because they increase contact friction for an incredible brake performance while efficiently removing brake dust and moisture while braking. They also cool faster.