If you are looking for a US-based tire brand with vast experience in the industry and convenient pricing, Mastercraft could be the one. While it's often in the shadow of Goodyear and Cooper tires as the brand that holds it, this tire company shouldn't be underestimated.
It's one of the oldest US tire manufacturers with over a century of a great tradition. So, if you are looking to learn more about it, our Mastercraft tires review will aid in the mission. We'll go over some crucial aspects of their tires, and their overall cost, and answer all the relevant questions you might wish to ask!
History and overview of Mastercraft tires
Mastercraft started its journey as a new US tire brand in 1909 formerly known as the Falls Rubber Co. They initially focused on rubber products, but have swiftly switched to the production of commercial car tires. Cooper tires acquired the brand in 1930, and Mastercraft continued its quest toward tire production excellence under its wing.
The brand focuses on producing tires to suit the need of everyday people with long tread life, better handling, and solid performance. It was only in 1995 that the Mastercraft tire series expanded on all the various tire categories they offer today.
Cooper Tire brand aids in production and quality control, and in 2007, the brand revised its collection of all-season tires. So far, they've opened production facilities all over the world, with the main production focus being in the US, Mexico, and China.
Mastercraft also took their tires to the next level with aesthetics. You can always recognize the tires by signature white labels that are written on the sidewall. In the 21st century, Mastercraft has become the brand for quality tires in the US and beyond, built with eco-friendly materials and offered at an affordable price.
Key takeaways
We'll get to the comprehensive guide on Mastercraft tires shortly, but first, here's a little something for those of you in a rush. If you wish a quick answer to sort out your dilemmas on these, Mastercraft tires are quite good. Here are a few quick pointers to show you just how good they are:
More affordable than competitors – Mastercraft tires give you great value for your money as the prices are often more than reasonable. But do not be tempted to doubt the quality of the tires because of the prices – you can get higher quality with these than with tires that cost slightly more. All Mastercraft tires share the production facilities and equipment with Cooper tires. So, they give you premium quality at a more affordable price.
Great warranty deals – Tires made by this brand all come with impressive warranty packages. Not only do you get the mileage warranty and materials warranty, but also a 45-day free trial! If you aren't satisfied with your Mastercraft tires after the trial period, simply say the word and you'll get a replacement. You can always choose another tire set in Mastercraft's lineup even 45 days after the purchase.
Innovative tire tread technology – You can always count on American engineering to bring the latest innovations with each Mastercraft tire. Their tires often come with a molded wide footprint to distribute the pressure evenly and ensure even wear. They also use a combination of variable tread pitch and asymmetric design. The variable pitch helps reduce road vibrations and noise, while you get two different sides with asymmetric treads. One side is designed for wet cornering and hydroplaning resistance, while the other gives you superb dry traction.
Where are Mastercraft tires made?
Mastercraft tires are primarily made in the US, while a portion of their production is channeled through worldwide production facilities. Although the brand owns tire plants in China, Mexico, England, and Serbia, all the factories within and outside the US comply with Mastercraft's production routine.
Although you get the best taste of the tire's quality with domestically produced tires as a US driver, every Mastercraft product should meet the requirements.
Who makes Mastercraft tires?
Cooper Tire & Rubber Company makes all the Mastercraft tires in their production plants. Mastercraft tires are made completely by Cooper's guidelines, and they also share the production equipment. So, you can get a Cooper Tire quality at better prices with these.
Mastercraft engineers still make considerable innovations and help make production more effective. It's good to know that you will get all the matching quality ratings with these tires just like Cooper tires.
Are Mastercraft tires good?
Mastercraft tires are more than just good – for an average American driver, they offer premium quality. Their performance is quite good as well, as the brand focuses more on producing long-lasting tires.
They invest significant research into new tread compounds and patterns to optimize rolling resistance and fuel consumption.
Best Mastercraft tires by car type
Avenger Touring LSR
Passenger All-Season Touring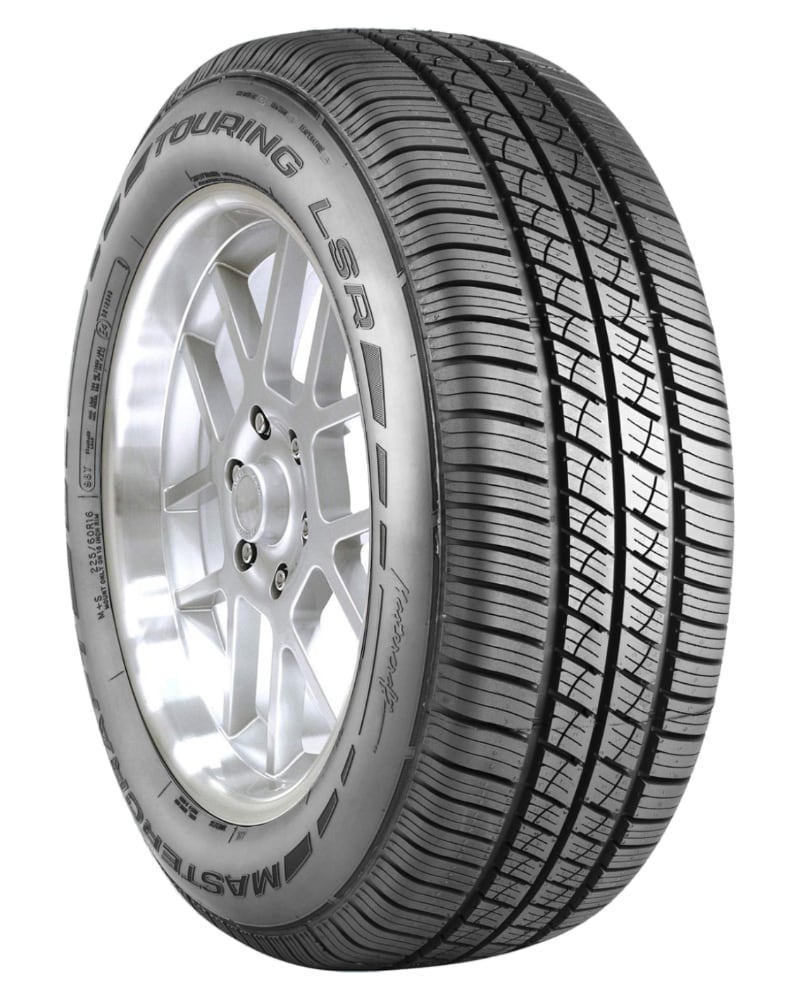 Treadwear
Traction
Temperature
Courser AXT2
Light Truck/SUV All-Terrain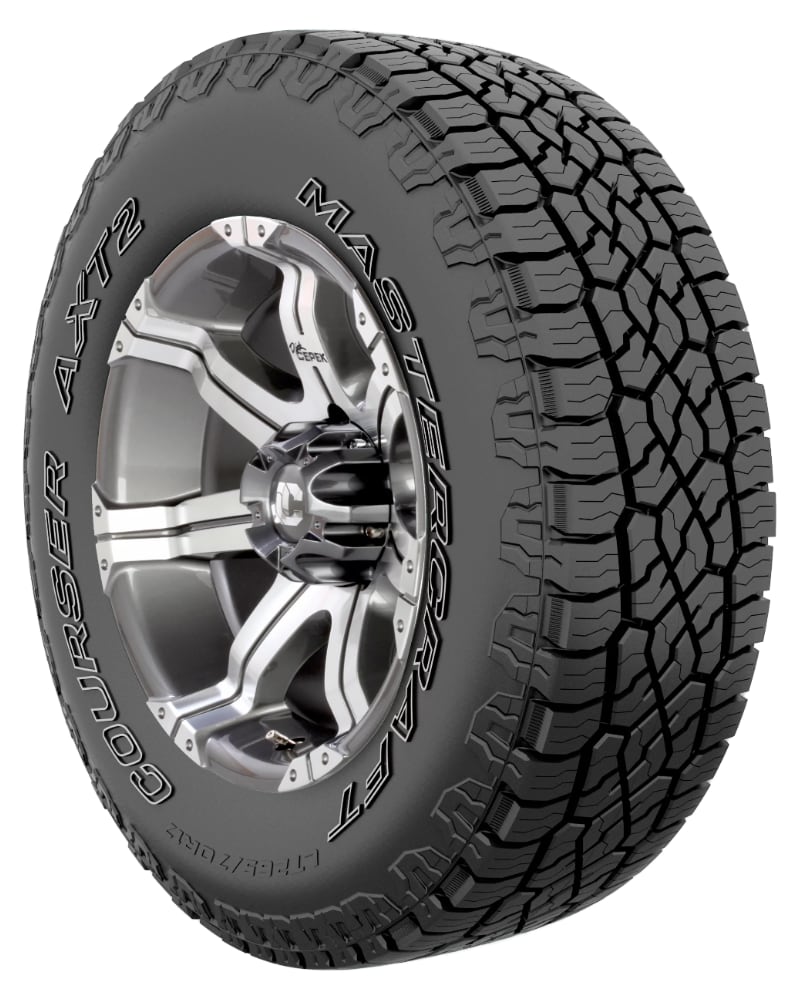 Treadwear
Traction
Temperature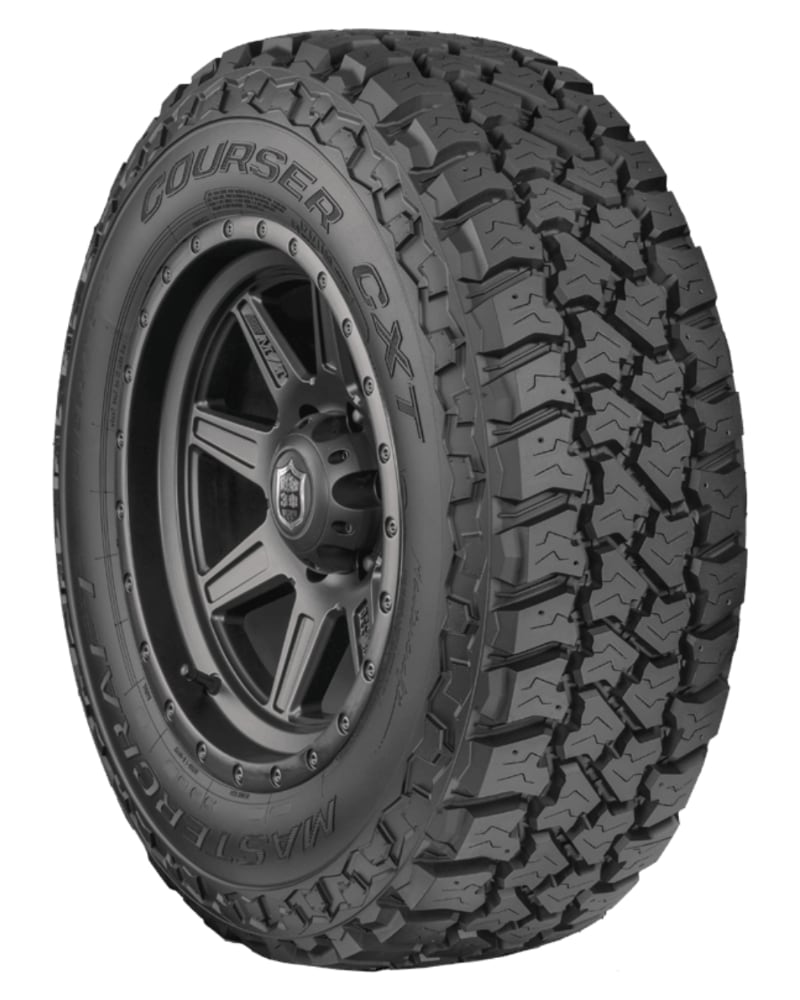 Treadwear
Traction
Temperature
Courser MXT
Light Truck/SUV Off-Road Mud Terrain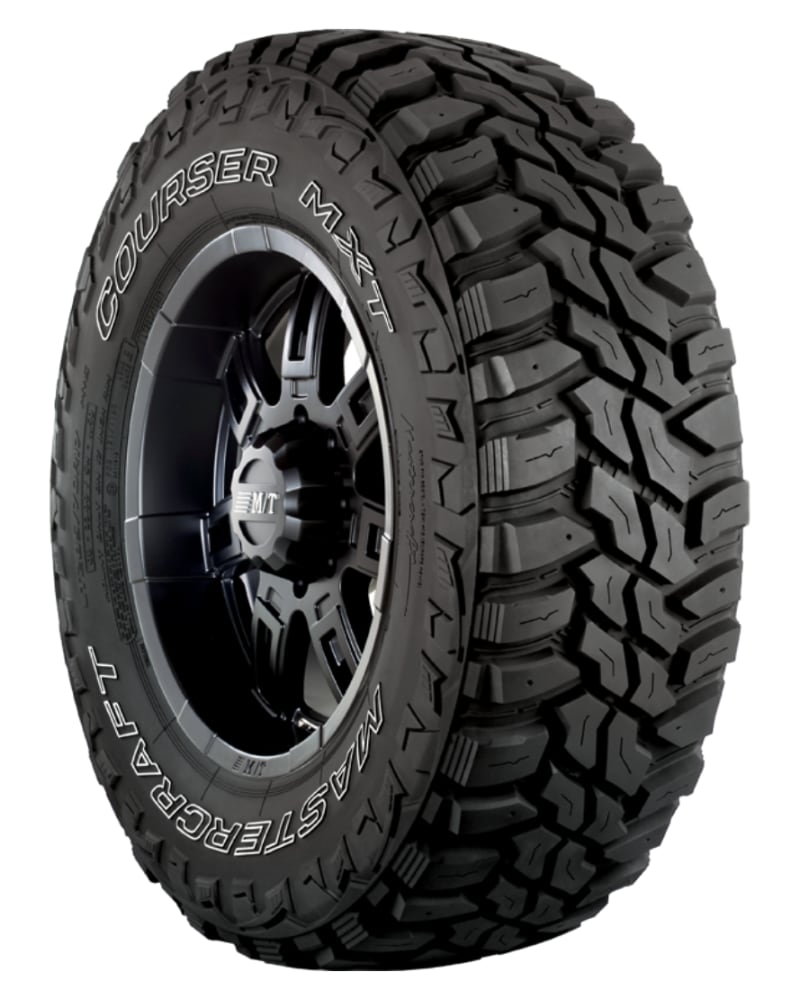 Treadwear
Traction
Temperature
LSR Grand Touring
HIgh-Performance All-Season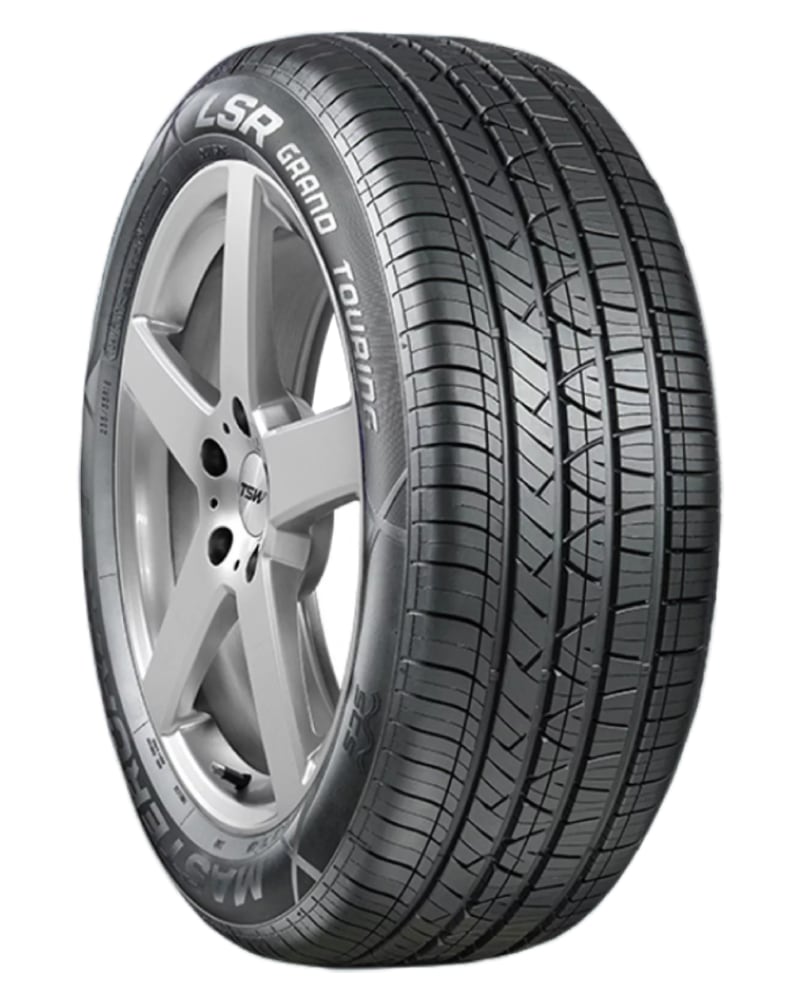 Treadwear
Traction
Temperature
Stratus AS
Passenger All-Season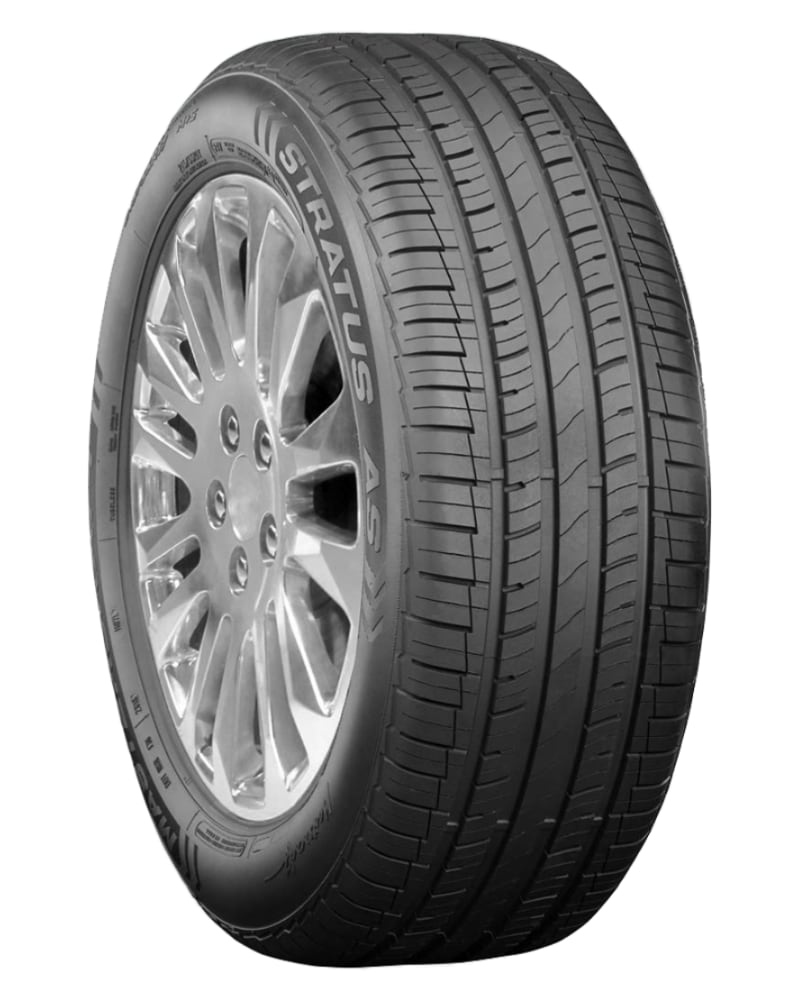 Treadwear
Traction
Temperature
Cost of Mastercraft tires
Mastercraft tires come at an affordable price for an average driver, and they bring exceptional build quality for that price. Their tire prices range from $65 to $320, based on the tire type and trim. It's great that you can find a passenger all-season tire like Stratus AS at just $85 in standard-size trims.
On the other hand, their performance-oriented touring tires like the LSR Grand Touring start at $90 and goes up to $220 in larger trims. Mastercraft's SUV tires are the most expensive of this brand, and a perfect example is Courser MXT. You can expect to pay as low as $300 for a single 22″ tire.
Why choose Mastercraft tires?
There are plenty of reasons to pick Mastercraft tires as a mid-tier affordable tire set. It's not only about the convenient price tag and quality you get with it. Other features also make Mastercraft tires a great choice, and here are some:
Longer Tread Life: Another great quality of Mastercraft tires is the extended tread life when compared to other tires in this tier. So, even the W-rated performance tires will give you at least 50,000 miles, which is impressive. For comparison purposes, other high-performance tires often last around 40,000 miles. Also, their grand touring all-season tires can last up to 80,000 miles, so you get the most bang for your buck durability-wise.
Better Driving Experience: Mastercraft tires also give you a better driving experience. It offers quiet driving made possible with its variable pitch technology. The variations in tread layout reduce driving noises and vibrations, so you'll have a more pleasant ride. This feature often comes with premium tire manufacturers, so it's yet another aspect that reflects Mastercraft's dedication.
Tread Compound Research: Mastercraft's engineers produce the tread compound for their tires with adjustments on a molecular level. They also adjust void-to-rubber ratios, so that your car gets the best grip on both wet and dry roads. Mastercraft tires are known for their all-around performance, so you'll get the best of both worlds in terms of traction.
Our take
In our opinion, Mastercraft makes the best mid-tier US brand that even gives you more of a premium taste than more expensive competitors. This review explains some of the important reasons you should check out Mastercraft's tires. They will fit your driving needs perfectly.
We are confident that you can't make a mistake by going with Mastercraft tires, as these are made to last and deliver top performance!
How long do Mastercraft tires last?
Mastercraft tires are known to last from 50,000 miles up to 85,000 miles. They arguably deliver the longest-lasting tread life in the category, especially for all-season touring tires.
What tire sizes does Mastercraft offer?
Mastercraft offers tire sizes ranging from 14″ for passenger models like the Avenger G/T, up to 22″ for the all-terrain SUV and light truck tires.
What brands are comparable with Mastercraft?
Tire brands like Hankook, Toyo Tire, Kumho, and Nexen are comparable with Mastercraft tires. Still, these give you one of the best blends of price and quality out there.
Are Mastercraft tires the best tires?
Mastercraft tires aren't the best tires out there, but they give you impressive value considering their tier and affordable price range.