Mastercraft Courser MXT review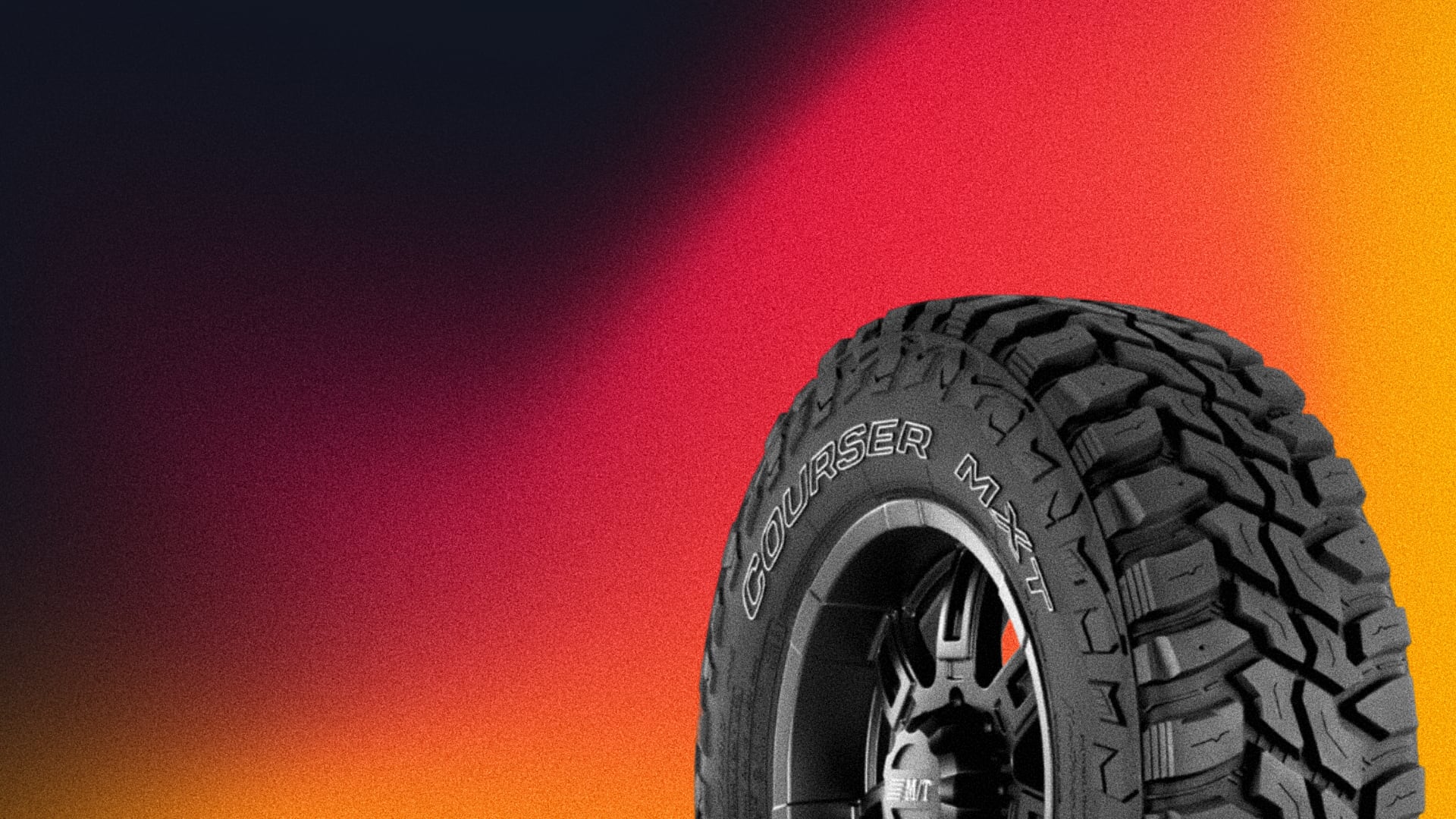 Mud terrain tires are quite specific, and it gets more and more difficult to find a decent set for a convenient price. That's why our team grasped the chance to explore everything about one particular tire that falls in the budget-friendly category, yet it's still more than capable of bringing exceptional off-road grip to the table.
If you are looking for this profile of a tire, you're at the right place as we'll give you all the details you need in our Mastercraft Courser MXT review! We decided to put the different tire properties to the test, so you won't have to bother testing it yourself.
Recommended
Mastercraft Courser MXT
For owners of off-road capable SUVs and light trucks, the Mastercraft Courser MXT is one of the most rugged and robust options. It enables exceptional off-road performance along with decent treadlife and dry traction for the category, and even good grip in light snow.
REREV may receive a commission for purchases made through links on our site. Learn more.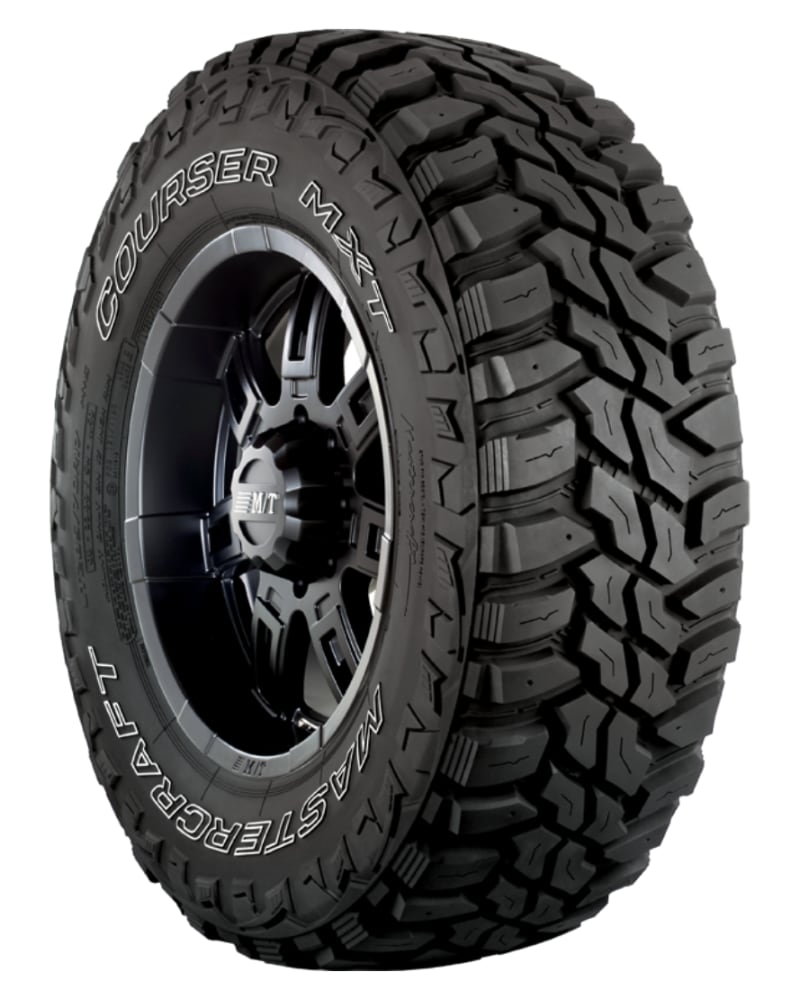 Why you can trust REREV's tire reviews: Our automotive expert researchers analyze tire specs, customer feedbacks and reviews from credible sources. This thorough analysis provides accurate information about tire performance, helping you make the best choice. Find out more about how we evaluate tires.
Key features and technologies
The tread design on these tires is just what you expect it to be on a dedicated off-road tire. You'll see the aggressive tread blocks with loads of biting edges, deep grooves for water dispensing, and a wide shoulder footprint for higher off-road stability.
But, that's just what you see at the first glance, as you'll also find the following features on these tires:
Open shoulder blocks
Sidewall grooves
Deep sipes that extend to the bottom of the treads
Tough tear-resistant compound
Let's start with the open shoulder blocks that give you impressive water relief and additional biting edges on the sides of the tire. These shoulder blocks have deep voids between them that aid in wet traction with their water dispensing properties.
Because of this, the water simply slides down the tire and exits on the sides. It also gives you additional biting edges for traction both on the road and off-road, along with sidewall grooves that give you better off-road handling.
Sidewall grooves and tread blocks are common for off-road tires, so these are great for giving you that additional traction on the side. Mastercraft engineers didn't only think about off-road traction, though. You can count on deep sipes on the tread to keep giving you wet traction and winter traction as they extend deep into the tread blocks.
So, even as the treads wear off, you'll still have these sipes on each block for additional grip and stability. Finally, with an abrasion-resistant tough tread compound, these tires simply bite on challenging terrains, so you won't have to worry about any punctures or rips.
Safety features
The manufacturer wanted to make sure that you feel safe with these tires mounted, so they included a few extra safety features. One of the greatest enemies of extreme mud terrain tires is wet traction on the road.
You'll have to reach your off-road destination by driving on highways and town roads, and although these are great for mud, wet roads might cause a bit of a traction issue. Still, Mastercraft solved it with one large and deep groove that extends over the entire center rib.
It reduces the chance of hydroplaning, so your vehicle won't lose the road grip on a rainy day. Also, open shoulders help in leading the water away from the tire. As for safety on challenging terrains, it's enough to state that the Courser MXT tire has a reinforced compound for higher stability.
Speed ratings
Achieving top speeds on the highway isn't the primary concern of Mastercraft engineers with these tires. So, they only made the tire with a single-speed rating on all trims. Regardless of the tire size or loading capacity, you'll find the "Q" speed rating on each tire.
It means that you can safely drive up to 100mph, so it gives you considerable agility on the highway, but nothing to brag about. That's still more than enough for this type of tire since you'll only need to step on it until you reach your off-roading site.
Treadwear and durability
You'll surely be interested in how long these tires could last, and drivers that used them have stated that you can get as much as 40,000 miles out of them! Still, it's not certain as it all depends on your style of driving and the type of off-road terrain that you drive over.
Like many other tires in this category, these don't come with a mileage warranty, but the mileage should get you rolling for at least 2 or 3 seasons on challenging mud terrains.
Maintenance indicators
Just like regular tires, these mud-terrain tires also come with an industry-standard wear indicator. You can find it between the tread blocks, and once your tread aligns with the marking, you should know that you are entering the final 2/32″ of the tread.
So, it might be wise to replace the tires with a new set at this point, having in mind that it isn't safe to drive below this tread limit. You could lose a lot on off-road traction, and even risk being stuck in the mud, even though these are mud-terrain tires.
Mastercraft Courser MXT traction performance
Tires that perform great in the mud and off-road usually come with lower traction on the highway and public roads. So, our team put these to the test, since you'll have to use them on the road to reach your destination:
Wet traction performance
Looking at how these tires perform on the wet, you'll have a decent grip over wet surfaces. It's not something that could endanger you on the highway, but slight sliding is possible at speeds above what the speed rating allows.
However, considering the perspective that these tires aren't made for driving in wet conditions in the first place, they do an impressive job. You might only need to loosen up the gas paddle during heavy rains, but you shouldn't experience any issues that could cause sliding or tire squealing.
You can always count on deep sipes and tread grooves to lead the water away, so Courser MXT tires should get the job done while driving on a highway on rainy days.
Dry traction performance
Most extreme mud-terrain tires come with an aggressive tread design that just doesn't bite on flat surfaces so well. However, the Mastercraft Courser MXT does impressively well for its category on dry roads.
It's due to the uniform center rib that has the middle tread blocks quite close to each other. Because of it, you'll have a maximized portion of the compound on the road, giving you precise handling and decent grip for a mud-terrain tire.
The driving comfort on dry roads is also worth the praise, as you won't be hearing much noise in the cabin.
Snow traction performance
When it comes to snow traction performance, these tires won't excel, but they don't disappoint either. The snow performance is decent thanks to the aggressive biting edges and deep sipes that give you solid traction on the snow throughout the tread life.
So, the chances that you'll get stuck in the snow are low, but you still shouldn't risk it by getting into deep snow off the road.
Off-road traction performance
The Courser MXT tire excels in off-road terrains and it's no wonder – it's equipped with some heavy artillery among off-roading features. From the sidewall that has its grooves to the wide and open shoulder blocks that evacuate the mud, everything is there to give you an impressive all-terrain experience.
Aggressive edges and tough tread compound truly make all the difference, as you won't be able to damage the treads even on the sharpest of rocky surfaces. The bottom line is – if you want the highest off-road potential with a set of affordable tires, Courser MTX makes an obvious choice.
Noise and comfort
We also tested the noise that reaches the driver's cabin, as well as the overall driving comfort that Courser MTX tires provide. The conclusion is – these are among the quietest tires in this category.
From variable deep sipes to chamfered edges that reduce noise and vibrations, there are plenty of features that ensure you get a nice and quiet experience. You can therefore enjoy a pleasant conversation with passengers on the road until you reach your favorite off-road destination!
Competitors and alternatives
When it comes to competition, you'll rarely find a tire at this price range that gives you a refined and quiet drive on the road, along with the off-road qualities that Mastercraft Courser MXT has to offer.
However, few competitors can rival this tire:
Cooper Evolution MT
Nitto Trail Grappler
Mastercraft Courser MXT price range
These tires are rather convenient in terms of price, as you'll rarely find a set of extreme mud-terrain tires in this price range. Of course, it also depends on your exact tire size, since you'll be looking at around $150 for a single 15″ tire.
On the other hand, you'll have to pay around $300 for a single 20″ tire, in case your vehicle fits larger trims. Either way, you should still check out the rebates and discounts before buying them, to get an even better price!
Warranty details
Although there's no mileage warranty with these tires, Mastercraft offers a 45-day test drive warranty with these tires, along with a free replacement during the first year or the first 2/32″ of tread in case your tires get damaged on the road.
However, these are sturdy enough to prevent any tears and tread punctures from happening, so you won't have to worry about such scenarios.
Compatible vehicles
These tires are mainly compatible with SUVs and light trucks that are capable of some serious off-road potential, so here's a list of the best fits for the Mastercraft Courser MXT:
Jeep Wrangler
Jeep Grand Cherokee
Chevrolet Silverado
Ford F-150
Ford Ranger
GMS Sierra
Toyota Hilux
Toyota 4Runner
Nissan Pathfinder
Dodge Ram
Our take
For its price range, off-road capacity, and quiet ride that it provides, you'll hardly ever find a better mud terrain tire than Mastercraft Courser MXT. It's got everything it takes to get your SUV or light truck out of the mud or any off-road obstacle.
Also, you'll get a set of tires that can be used on the road, so it makes a perfect combination. If you are still wondering about the quality of this tire, it arguably gives you the best price-to-quality ratio on the market, making it worthy of your consideration.