Mastercraft Courser AXT2 review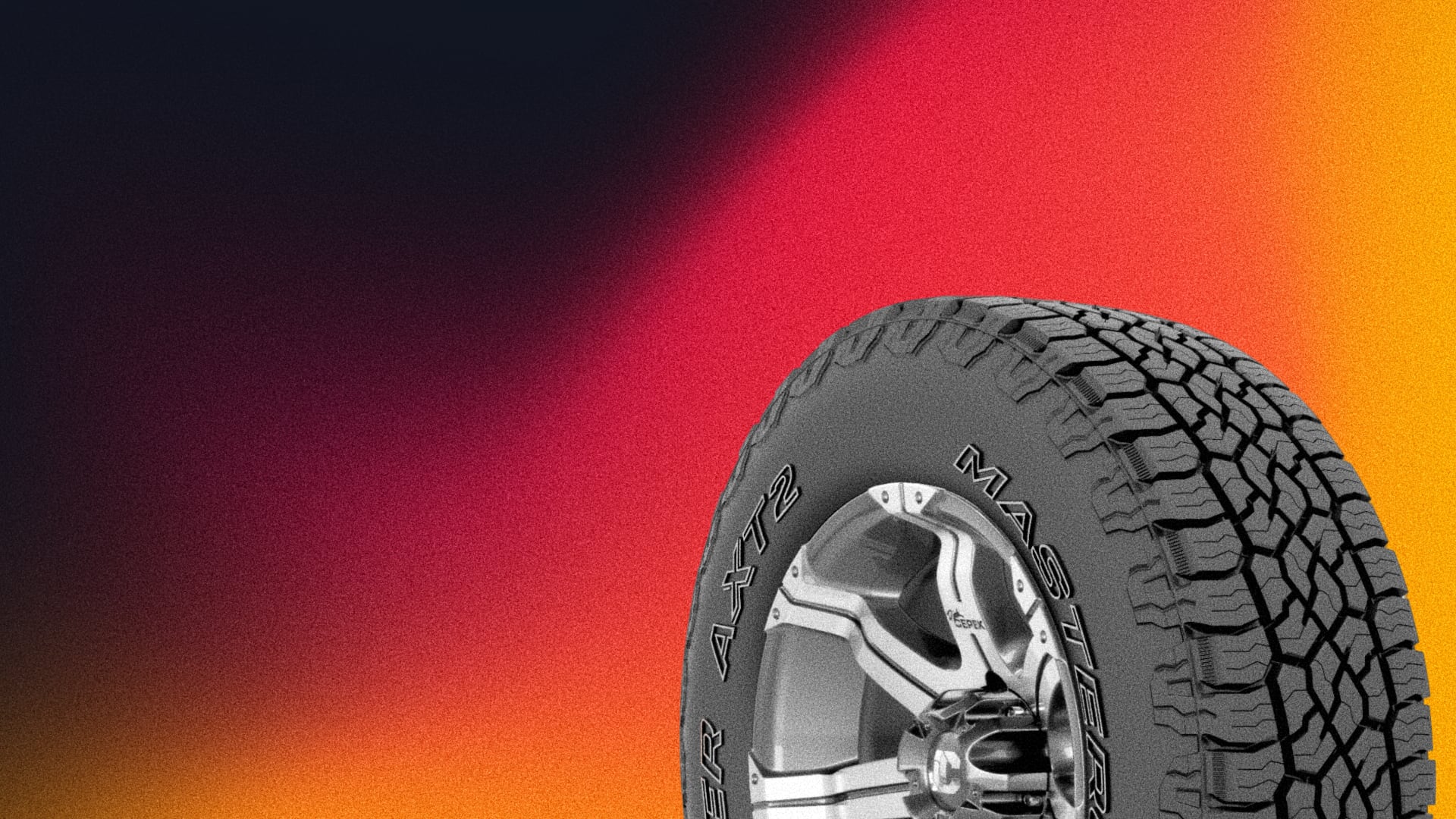 Making the right compromise with tires can be crucial to get high versatility in use and a few extra miles out of the tread. With vehicles capable of off-road driving, you might want to pair the performance on challenging terrains with the one on the road to get the best of both worlds.
Luckily, you can do this without paying top dollar with the latest all-terrain tire from Mastercraft. We'll tell you everything you need to know about the performance and features of these tires in this Mastercraft Courser AXT2 review!
Recommended
Mastercraft Courser AXT2
Mastercraft Courser AXT2 is a tire designed to last a while longer without sacrificing the traction performance in dry and wet as the tire gets worn-off.
REREV may receive a commission for purchases made through links on our site. Learn more.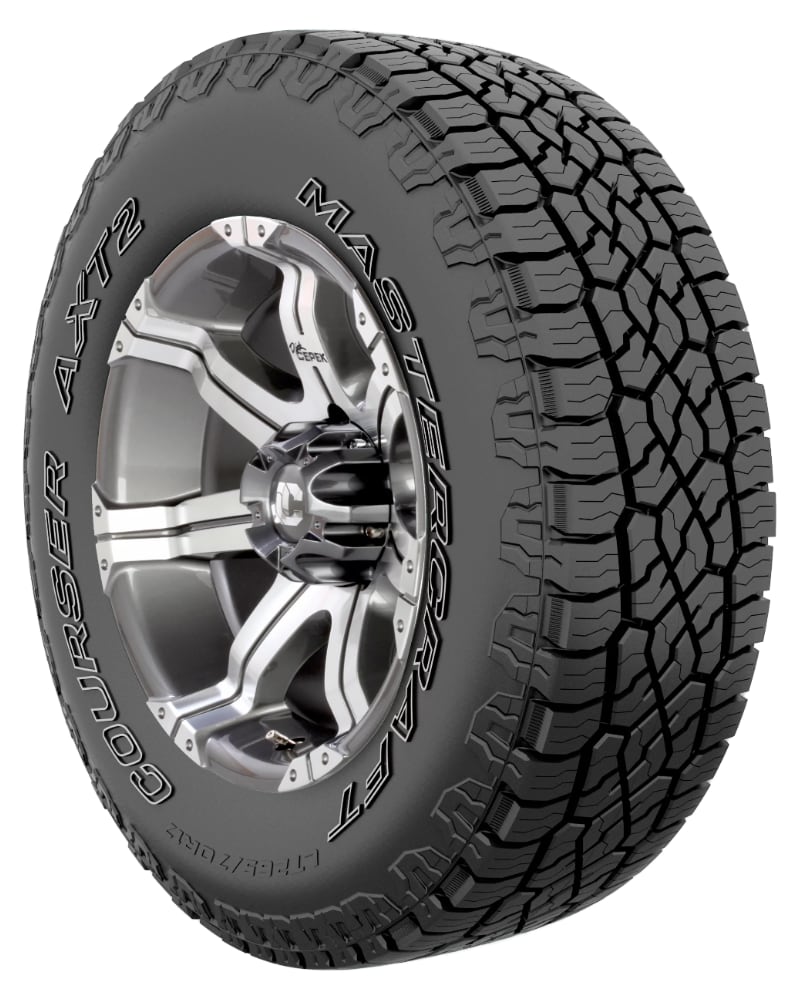 Why you can trust REREV's tire reviews: Our automotive expert researchers analyze tire specs, customer feedbacks and reviews from credible sources. This thorough analysis provides accurate information about tire performance, helping you make the best choice. Find out more about how we evaluate tires.
Key features and technologies
First, you should know that Mastercraft is a US company operating under the Cooper tire brand. That instantly gives you an idea of the overall tire quality, but the truth is – Mastercraft tires tend to provide you with the sturdiness and performance close to Cooper tires, at a fairer price!.
So, let's first take a closer look at the main Mastercraft Courser AXT2 tire features and technologies used in production:
Aggressive tread pattern for better off-road performance
Deep tread grooves and sipes
Variable pitch technology
Sidewall sipes for all-around traction
What we like about these tires is their aggressive tread pattern that almost resembles one of the extreme off-road tires. Of course, as we said – there's a certain compromise that Mastercraft had to make with these tires to make them good both on and off the road.
The thing is, extreme off-road tires lack the all-season traction that these tires bring to the table. Still, these are not made for extremely challenging off-road terrains, as their tread compound is made to be flexible enough for winter traction.
Deep tread grooves and sipes that extend to the bottom of the tread blocks also confirm the statement – these are here for better traction on the wet when compared to dedicated off-road tires. You'll also get a considerably pleasant driving experience since the variable treads reduce the road vibrations.
Still, these are made for a decent off-road performance, after all, so you can count on the sidewall sipes to give you that extra bit of traction in demanding terrains, and in the snow.
Safety features
Making the tread pattern of all-terrain tires too aggressive may be good for off-roading, but it can reduce the wet traction and Mastercraft knows this. After all, the biggest risk concerned with driving safety is hydroplaning.
It's when your tires lose ground grip on wet roads and put you at risk of sliding. Luckily, Courser AXT2 tires are equipped with deep grooves and sipes that lead the water away from the tire. The siping extends to the bottom of the tread blocks, so you'll get proper traction to prevent hydroplaning even as the treads wear off.
Speed ratings
The speed rating mark might not be the most important aspect of the all-terrain tire, but it's still relevant as you'll be hitting the highways and public roads with these. It states the maximum speed limit that a tire can handle, and Mastercraft made sure to make it suitable for everyday driving.
So, you can count on a generous choice of three different speed rating marks, depending on the Courser AXT2 tire size – "R", "S", and "T".
With a set of Courser AXT2 tires that come with an "R" speed rating, you can drive up to a maximum speed of 106mph. On the other hand, the "S" speed rating allows slightly higher speeds up to 112mph, while the "T" speed rating allows the top speed of 118mph.
Treadwear and durability
It doesn't necessarily mean that all-terrain tires can't give you decent tread life, especially since Courser AXT2 tires can serve you well in all weather conditions. So, Mastercraft managed to give you a few extra miles with these, so you can get at least 55,000 miles.
In other words, you can expect at least 3 or 4 years from these tires, unless you push your luck on sharp rocky terrains and damage the treads before. If you are among average US drivers, you probably pass between 14,000 and 15,000 miles per year, so Courser AXT2 tires should last for quite some time.
Maintenance indicators
Sure, you can lean on the average tread life of these tires, but it's better to check the tread wear now and then. Mastercraft even made it easier for you by including a small maintenance indicator between the treads.
You won't be able to see it on new tires, but as the tread blocks wear off, the mark might become aligned with the treads. At this point, you should be alarmed that just the final 2/32 inches of tread remain, and it's not safe to drive on demanding terrains below this tread limit.
Mastercraft Courser AXT2 traction performance
Well, the entire verdict on these tires fits into a simple traction test, since you need these to perform at least decent on dry and wet roads, while the off-road traction needs to be above that level. We made sure to give you comprehensive test results, so you can be the judge and decide if Courser AXT2 meets your expectations.
Wet traction performance
These tires might not be as good as some all-season touring tires in terms of wet grip, but they bring the much-needed safety and stability. There are plenty of biting edges and deep grooves between the tread blocks that relieve the tire of any excess water.
Moreover, wet traction is also improved by the sipes that spread deep into the tread blocks to give you decent traction on rainy days even as the treads wear off. We were also surprised by the short braking distances, and even wet cornering, thanks to the sidewall biting edges that allow you to tackle every turn securely.
Dry traction performance
To get a better understanding of dry road traction, you first need to know about the aspects that affect the tire's road grip. In dry conditions, it's the maximized rubber surface on the road that gives you decent handling and precise steering.
Luckily, the center rib of Mastercraft Courser AXT2 tires is uniform and almost seems like a single wide block of the tread. Because of this, you can drive up to the speed limit of the tires without any traction problems.
Cornering is also decent enough, as these are among the better-ranking tires in terms of traction in this category.
Snow traction performance
Well, you can't get it all with one set of tires, and the same goes for Mastercraft Courser AXT2. They are far from bad in terms of snow traction, but they don't excel either. You can use them for light snow, but if you live in an area that gets extreme winter weather every year, you might want to consider winter tires.
With these, you can easily get stuck in deep snow, so you shouldn't even try risking it by tackling demanding off-road terrains in the winter.
Off-road traction performance
If there's one area where these tires excel, it's surely the off-road traction. With a tough tread compound reinforced with inner steel belts, you can drive on any surface from sand to gravel and even slightly rocky terrains.
These tires still aren't made for extreme off-road terrains, so you shouldn't try to climb over sharp rocks to prevent damaging the tread. With the aggressive tread design and sipes on the sidewall, you'll get complete traction even on hardly accessible terrains.
Noise and comfort
With variable pitch treads, these tires tend to produce less road noise that the driver can hear in the cabin. Still, they are not made to be as refined as a touring tire. The driving comfort is decent, but there are some slight road vibrations as you approach the speed limit on the highway.
Overall, these fit into a moderate range in this category, concerning noise isolation and driving comfort.
Competitors and alternatives
Having in mind the benefits you get with Mastercraft Courser AXT2 tires, you'll hardly ever find a better all-terrain tire in its price range. However, some competitors pose as worthy rivals to this tire:
Cooper AT3
Falken WIldpeak AT3W
Mastercraft Courser AXT2 price range
To get a grasp of the overall price range that these tires fit in, you'll have to consider one thing – different sizes come with a different prices. So, you can expect to pay about $130 for a single 15 ″tire, which is the smallest Courser AXT2 tire trim.
However, a single 20″ tire might cost you up to $270, so you should consider this when making the final decision. Don't let the price stop you from getting these great AT tires, though – you can always count on rebates and discounts to grab them at a better price!
Warranty details
Mastercraft included a considerable warranty package with these tires, and you can first count on the 55,000 miles tread wear warranty. If that's not enough to persuade you into buying these, you can also get a workmanship and materials warranty that gives you a free replacement during the first year of using the tire, or the first 2/32″ of the tread.
Overall, you can rest assured that Mastercraft got you covered in case of any damage or punctures during the warranty period.
Compatible vehicles
You might guess that these tries go well with SUVs and light trucks, having in mind their off-road performance orientation. Still, our team wanted to make sure that you are aware of the main compatible vehicles for these tires:
BMW X5
Chevrolet Silverado
Chevrolet Tahoe
Jeep Wrangler
Jeep Grand Cherokee
GMC Sierra
Ford F-150
Ford Bronco
Ford Ranger
Mitsubishi L200
Mitsubishi Pajero
Toyota 4Runner
Toyota Hilux
Our take
In the end, it's obvious that Mastercraft did it again – they've created a tire worth your consideration for all-terrain performance, and they made it quite affordable. You can have more than a decent set of tires that will get your vehicle rolling in the wilderness, without compromising too much on the highway performance.
So, if you are wondering whether you should consider this tire for your SUV or light truck, you should certainly follow our lead and give these a chance.