Mastercraft Courser CXT review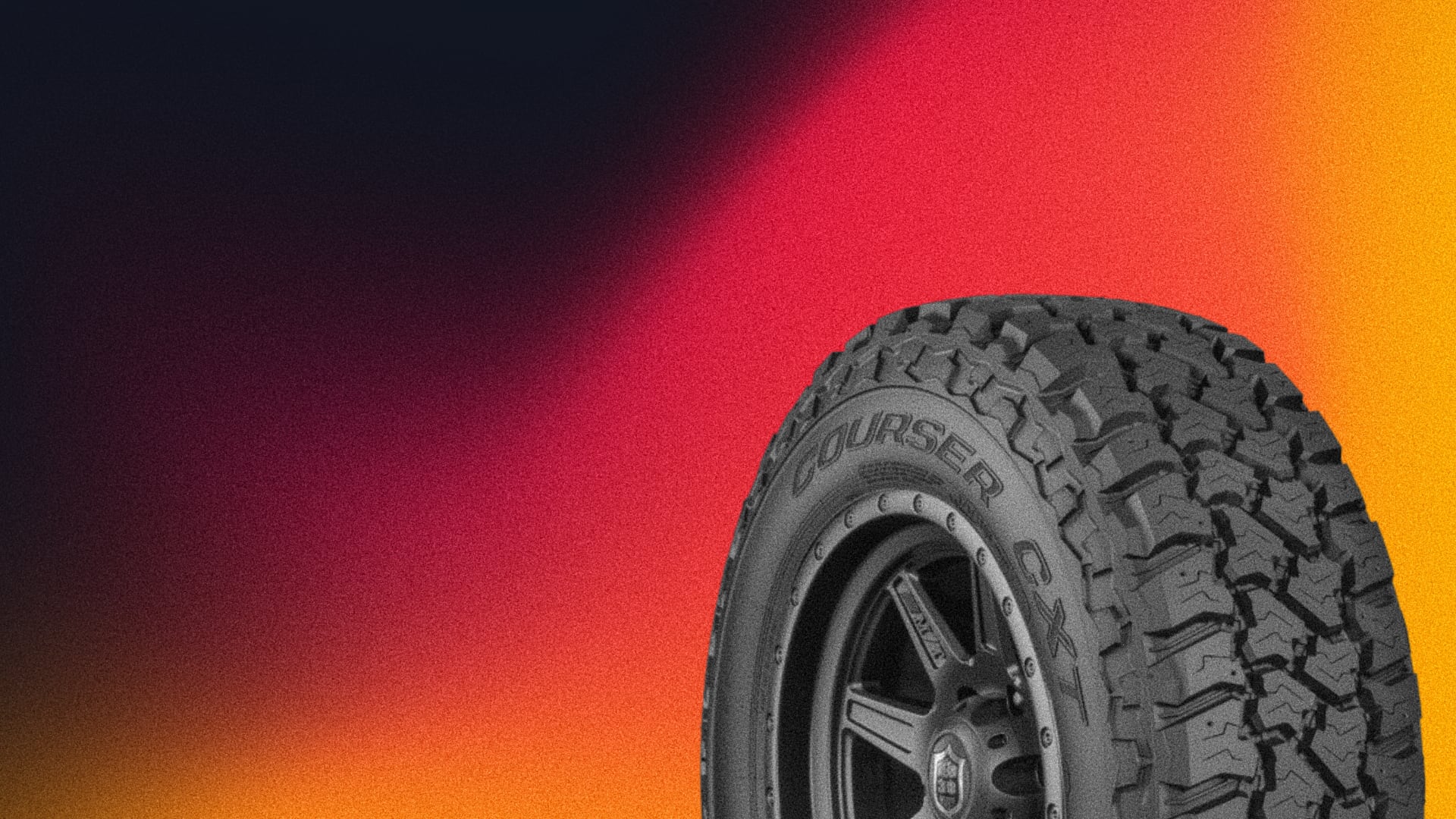 The Mastercraft Courser CXT is an aggressive-looking tire that looks great on trucks due to its large shoulder scallops. These scallops provide additional traction on muddy terrains and display remarkable traction on wet and dry surfaces. You might be thinking, is the Mastercraft Courser CXT compatible with my vehicle? The tire is perfect for all light-duty trucks, commercial vans, and SUVs.
The Mastercraft Courser CXT is made with a silica-enhanced tread compound for additional strength and durability. It is an ideal choice for drivers living in rural areas and drivers who work at construction sites and need reliable tires for everyday use. It is a unique tire that delivers excellent traction on and off-road and offers durability in all aspects.
Recommended
Mastercraft Courser CXT
The Courser CXT is one of the best tires from Mastercraft that are equipped for heavy-duty off-road driving. It simply demolishes rocks and sharp surfaces, while staying pliable enough on the road as well.
Check Price
Purchases made through links on our site may earn us a commission.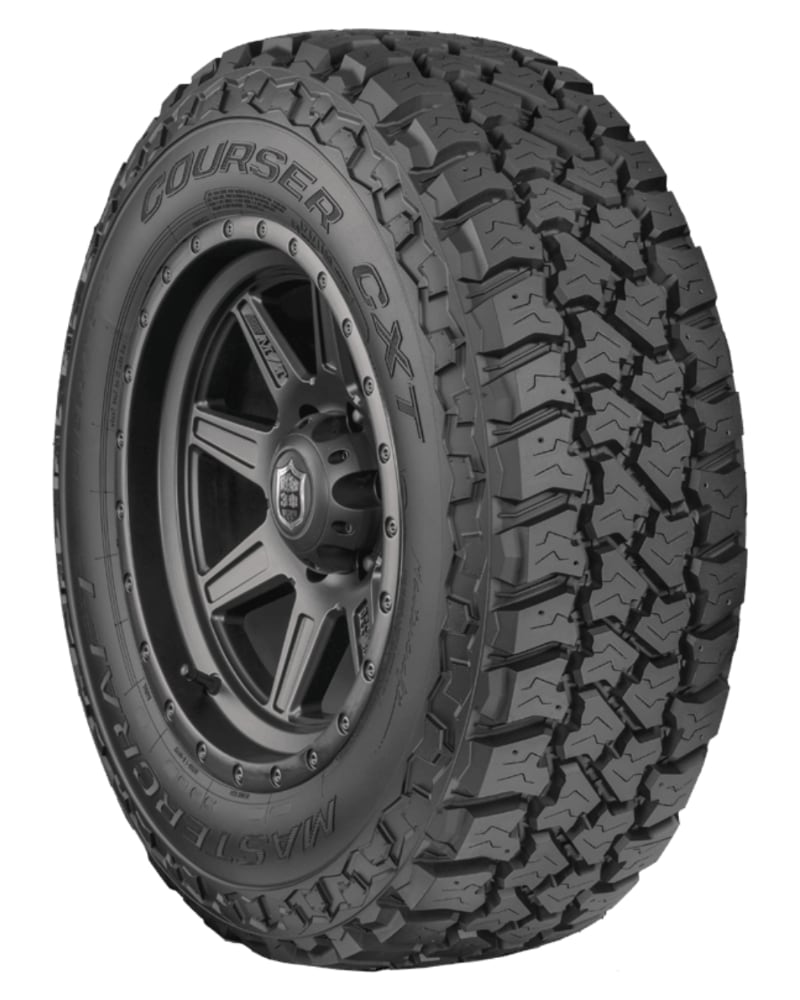 Key technologies
The Mastercraft Courser CXT is equipped with technologies that improve tread wear and deliver the needed traction for multiple weather conditions. Some of the technologies employed by Mastercraft in the design of the Courser CXT include;
Larger shoulder scallops
The scallops enhance the overall appearance of your vehicle and, more essentially, provide efficiency. With the Mastercraft large scallops, additional traction capacity gets added to the tire to function well in muddy terrain fully. This feature is incredibly reliable, especially during off-road adventures.
Raised rubber feature
This feature on the improved sidewall design increases off-road traction. With the raised rubber, it keeps the sidewall from corrosion, scrapping, and other possible mishaps on the road. This Mastercraft Courser CXT characteristic makes it more durable than other tires in its category.
Full-depth sipes
The full-depth sipes are a bonus feature of the Mastercraft Courser CXT. This feature makes the tire get rid of water particles with its wide-open grooves and large tread blocks. It also gives excellent traction on wet roads, providing a great road experience during rainy seasons.
Unique silica tread compound and Duo-Tech2 construction
These technologies enable the Mastercraft Courser CXT to withstand weary terrain without any risk of damage. They also incorporate large tread blocks that get coupled with sturdy side traction blocks to boost the tire's resistance to cuts and bruises and also for added strength and durability.
Safety features
A driver's priority is safety, and hence vehicle parts should be given dedicated attention and detail to ensure they do not cause malfunction. The wide open grooves and tread block design provide the Mastercraft with Courser CXT with more support and stability while conquering any terrain. The raised rubber feature also keeps the tire sidewall from experiencing corrosion, scraping, and other possible injuries on the road.
Speed rating
Some drivers love to cruise around at high speeds for the feeling of adrenaline rushing through their bodies. However, it is essential to note that all tires have speed ratings. This means a tire ceases to function as it was designed once you exceed its speed ratings correctly.
It is essential to know your tire's speed rating before stepping on the gas. The Mastercraft Courser CXT has Q-rated tires that reach a maximum speed of 100 mph.
Treadwear and durability
The Mastercraft Courser CXT has a larger surface area which is a great benefit to balance the weight of the vehicle, making it long-lasting. The equal distribution of the vehicle's weight reflects more on the longevity and tread life of the tire.
Essential factor drivers put into consideration when purchasing tires for their cars is their ability to wear slowly and last longer. The Mastercraft Courser CXT offers up to 60,000 miles. However, this doesn't limit the tire's capability as it can provide more mile coverage.
Maintenance indicators
Many tires are equipped with maintenance indicators by their manufacturers. These maintenance indicators relay the state of the tires to the drivers, indicating when the tires need to get repaired or replaced. The Mastercraft Courser CXT does not seem to have a maintenance indicator, but it is advisable to inspect your tires occasionally to avoid mishaps.
Typically, when the tires exceed the first 2/32 inches of tread depth, they lose traction efficiency in wet conditions and gradually become unsafe for road use. Checking your tires regularly is a great way to ensure they do not develop faults.
Traction performance
The Mastercraft Courser CXT is an excellent off-road tire that boasts superb traction on wet, dry, and snowy roads, making it a suitable operation for drivers in areas that experience the entire year's seasons. You will discover how the Mastercraft Courser CXT fares on dry, wet snow and off-road.
Dry traction
The Courser CXT is a well-mannered tire in dry conditions. It rarely slips under hard acceleration and will have no problems moving into corners at slightly higher speeds. Its sidewalls prevent the common puncture issue and enable drivers to ride safely.
Wet traction
The Mastercraft Courser CXT provides a significant amount of traction and grip on wet roads. Its well-defined grooves give impressive traction on wet roads and high hydroplaning resistance. This makes the tire remain stable at higher speeds.
Snow traction
The Mastercraft Courser CXT has an aggressive tread pattern and several void spaces that makes it churn up and toss snow easily. However, its tread compound is not designed for colder temperatures. It may freeze up and provide little grip on frozen roads over prolonged use.
Off-road traction
In off-roading scenarios, the Mastercraft Courser CXT is capable of tackling the toughest of terrains. Its large shoulder scallops allow it to claw through rough off-road terrains by digging deep into the soil and providing a seamless ride.
Noise and Comfort
The Mastercraft Courser CXT is a fine-tuned all-terrain tire that delivers maximum comfort levels. It smoothes out some road vibrations and imperfections while providing a satisfactory experience.
In the noise department, most off-road tires are not known to be particularly quiet on the highway, but the Mastercraft Courser CXT makes an exception. Its noise levels are surprisingly low and can be compared with some premium tire models in its category.
Competitors and alternatives
The Mastercraft Courser CXT is an excellent choice for drivers searching for a mix of on and off-road adventures. However, a few other tires offer superior reliability and performance.
For another option, drivers can go for the BF Goodrich All Terrain T/A KO2 or the Falken Wildpeak AT3W. These tires provide a wide range of innovative technologies and impressive performance on all terrains. However, the Mastercraft Courser CXT does not fall short of what is offered by its competitors, as it is still an excellent choice.
Price range
The Courser CXT isn't precisely a budget-friendly tire. It has a starting price of around $184, but it offers a great deal of value. It may be a bit expensive, but you may find special offers like discounts or coupons that can help knock off a few dollars from its price.
Warranty
For customer satisfaction and convenience, Mastercraft offers many warranties for its tires, and the Mastercraft Courser CXT is inclusive. The primary security provided for the Mastercraft Courser CXT is the standard limited warranty.
The standard limited warranty coverage applies to the original purchaser of a replacement Mastercraft tire. If the tire becomes serviceable due to an eligible adjustable condition during the first 2/32 inches of tread wear, it will be replaced with an equivalent new Mastercraft tire free of charge, including mounting and balancing.
Our take
The Mastercraft Courser CXT continues in a line of great quality tires as it has excellent performance on and off-road. It takes on sand, dirt, and mud very well while delivering exceptional traction and grip in all road conditions. It offers a convenient and exciting ride and has an impressive overall performance.
Where are the Mastercraft Courser CXT tires made?
The Mastercraft Courser CXT tires are made in the Mastercraft production facility in Ohio, USA.
How good are the Mastercraft Courser CXT tires?
The Courser CXT tire is an excellent all-touring tire that delivers reliable road performance and displays remarkable traction on dry, wet, and snowy surfaces.
How long do Mastercraft Courser CXT tires last?
Mastercraft Courser CXT tires can last up to 60,000 miles.
What is the speed rating of the Mastercraft Courser CXT tires?
The Mastercraft Courser CXT has Q-rated tires. These tires can go up to 99mph.
Where do you buy Mastercraft Courser tires?
You can buy Mastercraft Courser tires at most tire retailers, online automotive stores, and the company's website.
What is the difference?: Mastercraft Courser CXT vs. MXT
The Mastercraft Courser CXT is a hybrid all-terrain tire with additional off-road capabilities. At the same time, the Courser MXT is an off-road mud-terrain tire perfect for drivers seeking aggressive off-road traction and excellent handling.
Which is better?: Mastercraft Courser CXT vs. Coopers St Maxx
The Courser CXT has deeper scallops and an extra silica compound that the Cooper ST Maxx does not possess.
Which is better?: Mastercraft Courser CXT vs. BFG KO2
The BFG KO2 has a self-clearing tread that guarantees a smooth ride on snow-covered roads, but the Mastercraft Courser CXT is not a suitable tire for intense snowy conditions.
Which is better?: Mastercraft Courser CXT vs. Falken Wildpeak AT3W
The Falken Wildpeak AT3W offers a longer tread life than the Courser CXT. However, the Mastercraft Courser CXT offers more innovative technologies.