Pontiac Vibe years to avoid — most common problems
Find out about the crucial Pontiac Vibe years to avoid for a hassle-free car buying experience.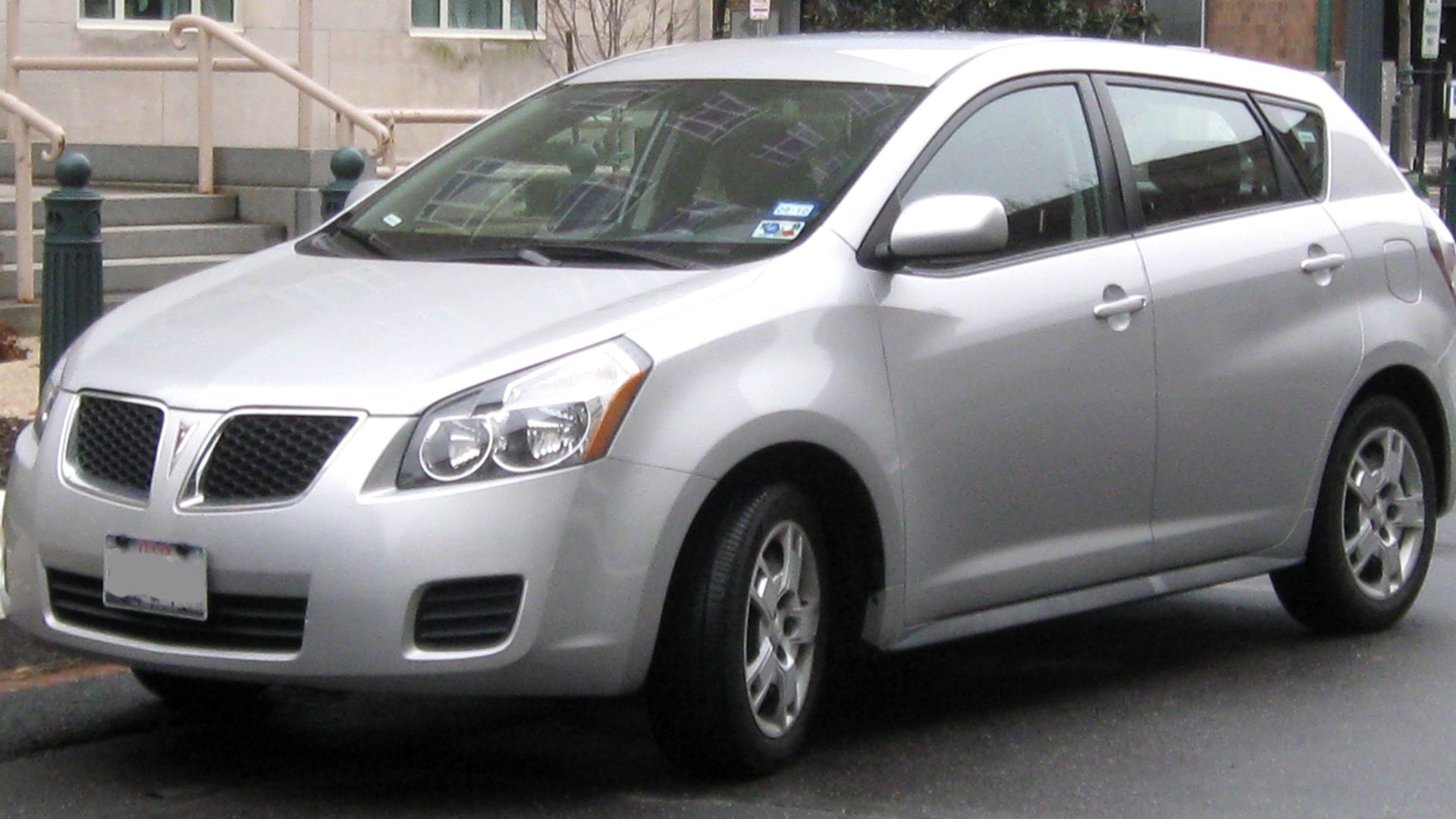 The Pontiac Vibe is one of those cars that you might have not even heard of before exploring the used car market and now seem like a good option. It's affordable, decent-looking, and most importantly – has enough space for the entire family in a compact car body style.
However, given its short production span, you may think that there are some Pontiac Vibe years to avoid, and that's why our team wanted to clear things up for you. While the Vibe isn't the most reliable car on the used market, it's not the most problematic one either. So, we'll tell you exactly which years to avoid, and which models you should consider due to their higher reliability.
Most common Pontiac Vibe problems
If you are considering Pontiac Vibe for your next car, you'll be pleased to hear that there weren't many problems associated with this model. Still, it had a relatively short life span and that's why every issue deserves looking at, regardless of how insignificant it may appear.
While we are at it, there are some pretty "harmless" issues you might run into in a used Vibe, including malfunctioning dashboard gauges and warning lights. Besides these electrical issues, there's also the matter of airbags which were quite troublesome during the whole Pontiac Vibe production.
Even so, it's hard to notice this kind of problem if the SRS light can't appear on the dashboard due to faulty indicators, right? That's why the first problem may not be so small after all, and moving on we have the matter of the 1.8-liter inline-four-cylinder engine issues, and these even resulted in a recall.
Finally, there's a problem with the accelerator pedal, or the factory set floor mat that could block it and leave the pedal stuck in position, to be exact. As you can imagine, this leads to a lot of stress during high-speed driving on the highway, so it can be considered a problem.
Electrical dashboard problems
While the issue of malfunctioning dashboard gauges and indicator lights may not seem as vital as engine problems, it's still worth considering. At least you should check the Vibe model you are considering buying since the lack of indicator lights could lead to other serious problems.
It's also associated with other problems that the car has in certain model years since drivers would be unable to see the check engine or SRS light. Drivers have mostly complained about Pontiac Vibe's fuel level and speed gauge being inoperable, while the instrument cluster also frequently failed due to poor electrical connections.
Airbag issues
Unfortunately, Pontiac Vibe had airbag issues in every model year from 2002 to 2010, and we mean every year. This led to over 5 recalls to fix the airbag problems, with the last one being as recent as 2020. There were also different sorts of airbag problems at hand. First, there's a matter of inadvertent deployment of the airbags and the possibility of electrical shorts that could lead to the driver's airbag not being deployed.
Also, Pontiac issued an official recall for both first-generation and second-generation vibe vehicles concerning the faulty airbag inflator modules. In certain events, these modules could lead to explosions that would rupture the airbag construction and result in harmful metal fragments being released.
The accelerator pedal gets stuck
This problem is mostly caused by a factory-set floor mat in the car that blocked the accelerator pedal and left it stuck in the open position. In this case, it's quite difficult to relieve the pedal and loosen the pressure, so it could lead to uncontrollably high driving speeds.
There was an official recall in 2010 set to deal with the problem, so it's a much more serious issue than it seems.
Engine issues
Finally, we have to discuss the matter of the problematic 1.8-liter four-cylinder 1ZZ-FE engine regarding the cooling and engine block cracks. Depending on the severity of the issue, this often led to the check engine lamp being illuminated on the dashboard in case everything worked fine with the indicators.
Sometimes, this problem even led to the engine stalling in the middle of a drive, or the car cranking issues. If not treated right, this problem caused the engine to completely seize, so Pontiac issued an official recall in 2010 to deal with the units equipped with the 1ZZ-FE engine and replace the faulty components.
Which Pontiac Vibe years to avoid?
Given all the mentioned problems of the Vibe as a model, some model years should be avoided. Still, some problems have caught up with the entire production line and the airbag issue is the most notably expressed one. In this case, it's better to simply examine the specific unit and check if it has been recalled and the airbag issue fixed.
Here's how it all looks when it comes to precise production years worth avoiding in both Pontiac Vibe generations:
First-generation Pontiac Vibe (2003-2004 model years)
The first generation of the Vibe debuted in 2003 and that was by far the worst production year based on driver complaints. Things got a bit better for the 2004 model year, but it's still a model you'd want to avoid and settle for newer models.
The worst problems that drivers of the 2003′ Vibe have experienced include bearing noise, the problem with the 1.8-liter engine stalling, and airbag problems. Also, the matter of instrument clusters not working is the most present in this model year.
Second-generation Pontiac Vibe (2009 model years)
The 2009 model is yet another bad production year for Pontiac Vibe, and along with the 2003 one, it's the worst based on the number of driver complaints. While the 2009 model didn't have as many issues with the instrument cluster, airbag issues continued for this production year.
Luckily, the 1.8-liter engine got replaced with a more reliable option with teh same displacement, and there was a reliable 2.4-liter engine as well. Other problems of this production year Vibe include some reported transmission issues and even complete faults that required a rebuild to fix.
Best Pontiac Vibe years
If you thought for a second that we are going to leave you hanging by simply going over bad production years alone, don't worry – we'll also recommend the best ones. According to the driver complaints, 2008 is the golden production year that received by far the least complaints, making it a safe option.
Besides 2008, there are a few other model years that don't require as much servicing attention as 2003 and 2009, so let's take a look:
2004 Pontiac Vibe
2005 Pontiac Vibe
2006 Pontiac Vibe
2007 Pontiac Vibe
2008 Pontiac Vibe
2010 Pontiac Vibe
Coming right after the 2008 model year in terms of reliability, we have the 2010 Pontiac Vibe. It's the final production year of the car and driver reports have pointed towards much fewer airbag issues. Also, the engine troubles were long gone by the time this model arrived on the scene, so it's a great option for those looking for a reliable VIbe model.
Finally, we can recommend the 2007 model as well, since it's the best Pontiac Vibe model year after 2008 and 2010.
Is the Pontiac Vibe worth buying?
The ultimate verdict of our team is that Pontiac Vibe is worth buying both due to its convenient current market price and the reliability scores. While there may be a few problems associated with this model, it's a relatively reliable car as long as you avoid the troublesome 1.8-liter 1ZZ-FE engine.
Going for the 2007, 2008, or 2010 Pontiac Vibe should set you on the right track as a buyer, and we hope that like drivers filing their reports to NHTSA, you'll too be satisfied with these model years.
Is A Pontiac Vibe A Good car?
Yes, Pontiac Vibe is a good car with just a few reliability issues over 8 production years.
What are the problems of Pontiac Vibe?
The main problems of the Pontiac Vibe are airbag problems along with the 1ZZ-FE engine.
How long can a Pontiac Vibe last?
A Pontiac Vibe can last anywhere from 150,000 miles to 200,000 miles with proper maintenance.