Low beam vs. high beam — what's the difference?
Understand the differences between low beam and high beam headlights.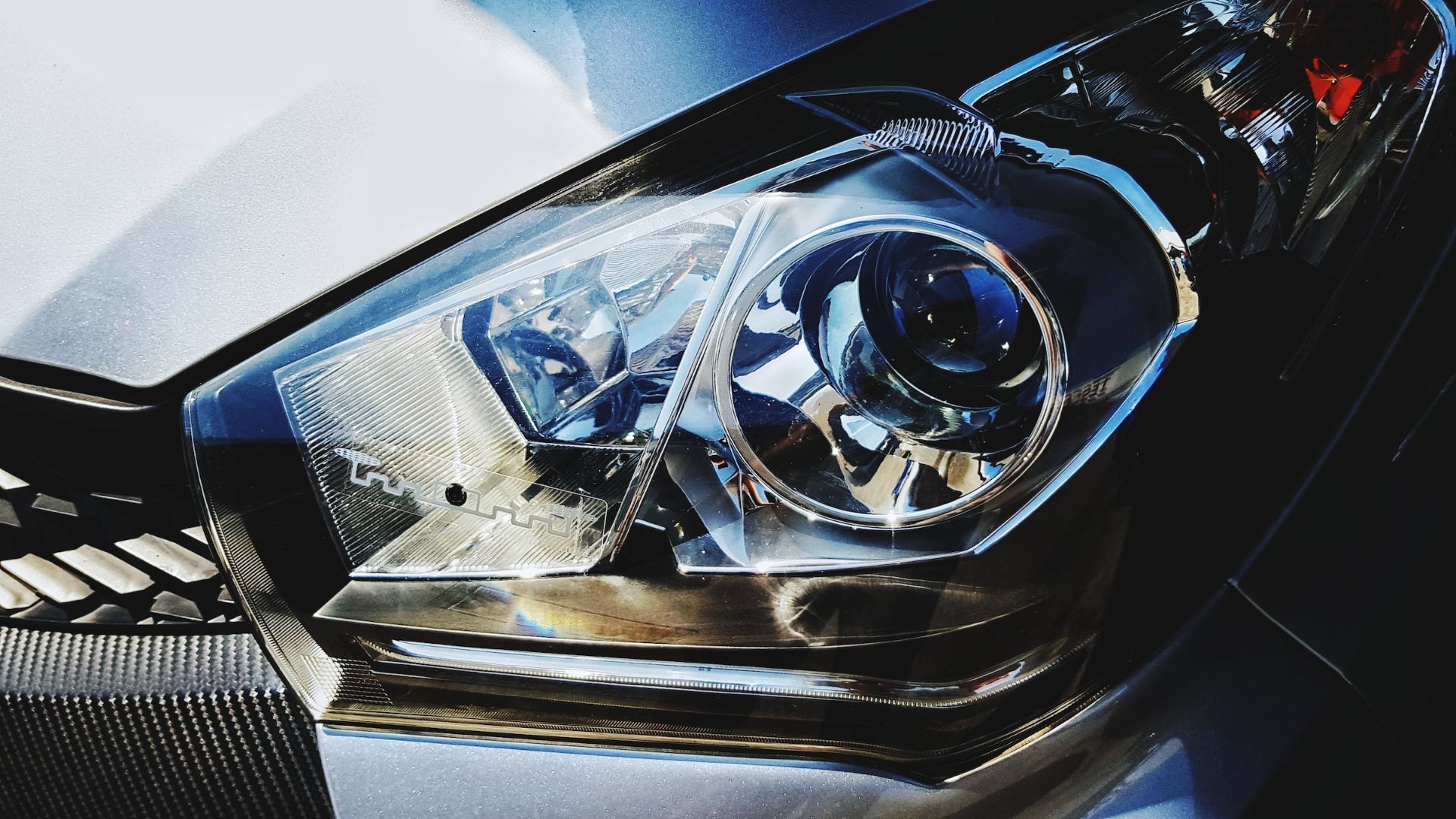 Many people have been concerned about driving in the dark since driving became a concept. Apart from the nighttime, weather conditions can also make the sky and the street dark, even during the daytime. That's where headlights come in.
The primary function of headlights is to illuminate the highways or paths so you can see the road ahead, and other pedestrians and drivers can see you. Headlights are also needed by drivers in remote areas where there is an absence of streetlights.
When purchasing a new headlight, whether looking for an upgraded, brighter alternative or replacing your stock halogen, it is crucial to know the various beams, their purposes, and how they are used. In this article, we will give insights into the concept of beams, and which is best between low beam vs. high beam.
What is low beam?
There are two modes your headlights have; low beam and high beam. One of the most common inquiries of drivers is – how many lumens are car headlights? The low beam mode produces a less intense light that offers a nighttime view of about 250 to 350 feet. The high beams are typically activated by pulling a lever, and they project light about 300 to 500 feet.
Low beams are a significant light source and are the most essential and frequently used beam in cars. They are the typical lights emitted by your headlights when driving in a dark setting like an indoor parking lot or when driving at night. Low beams have a short-range focus and are often referred to as 'dipped beams.'
They are typically angled towards the ground to illuminate the way and to prevent blinding other drivers. Low beams make it possible for other drivers to see you when driving. Customarily, drivers have to turn on their low beams manually. However, recent car models automatically detect low-light surroundings such as nighttime and when entering a dark parking lot.
Features of low beam headlights
They emit a low, dipped beam at a downward angle to the road
They are used as regularly running lights. Low beams get switched on while driving on main city roads and busy highways.
They have a shorter range focus and are appropriate for illuminating the road closer to the car.
They have a max output of 1380 lumens.
They light up between 1590 – 200 feet in front of the vehicle.
Low beam headlights can run on 6V or 12 V using between 45 – 55 Watts.
What is high beam?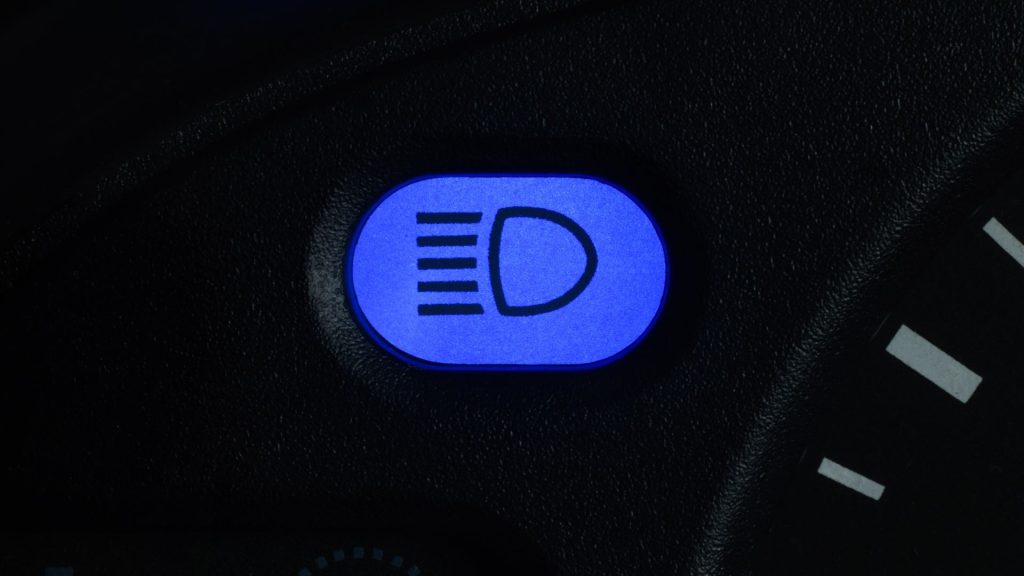 High-beam headlights are usually activated in little or no-light environments like small pathways without street lights. High beams are mostly known as full beams. They can't turn on automatically; unlike low beams, they have to be manually switched on by the driver and should be used for short periods.
High beams project light at a long-range focus. The light beam gets angled upwards to illuminate a surface area above and beyond the light for the low beam.
Driving with your high beam can be pretty dangerous as they can blind oncoming drivers. It is illegal to keep them on for an extended period.
Features of high beam headlights
They emit a high beam straight ahead on the road.
A high beam is not used at all times but can be used mainly on dark remote roads and open freeways.
High-beam lights are very bright and intense and have a more extended range.
The high beam outputs a maximum of 1410 lumens.
A high beam lights up to 250 – 350 feet ahead of the car.
High beam headlights run on 12V and use a 55 Watts bulb with a higher limit of 65 Watt.
The dual-beam headlight system
All vehicles come with a high and low beam; however, some cars need two separate bulbs for each beam. This is known as a single beam system. In contrast, others require one bulb for both beams. This is known as a dual-beam system.
Dual-beam bulbs are slightly more costly than single-beam bulbs, and they draw more power. Drivers with a dual-beam headlight system must purchase a set of bulbs to replace or upgrade the low and high beams.
Headlight function between low and high beam
Most drivers should know the difference between the low and high beam function since it is necessary before getting a driver's license. The significant difference between both beams is that low beams are used for regular nighttime driving, while high beams are used on minor roads or remote areas with little or no light.
High beams get inclined upwards for more light and should be used for short periods to avoid blinding other drivers, while low beams are angled towards the ground and should always be kept in low light settings.
Can low and high beams be in the same bulb?
Most vehicles use two bulbs on each side, making up four bulbs for the front headlight. Newer car models typically use a single bulb. A single bulb offers both low and high beams ( a dual function) by using a double filament lamp. It also has a bit to do with types of headlights, since modern cars with LED lights don't require independent high-beam bulbs like cars with halogen lights.
When the low beam gets turned on, the filament at the top switches on and gets angled upwards towards the reflector or projector and then inclined downward onto the road. When the high beam gets switched on, both filaments switch on and reflect light in a straight outward position in a conical shape.
When can high and low beam headlights be used?
High beams are best used on dark remote roads or wide open highways where no cars are around. High beams provide maximum visibility but can blind oncoming drivers in front of you through their rearview mirrors. A few times, a high beam can communicate with other drivers, such as flashing twice to indicate a driver is passing.
Low beams are used for everyday nighttime driving. When visibility is down due to snow, rain, dust, or fog, you can turn on your fog light, but if you do not have those, you can stick to the low beam headlight. Low beams are unfavorable for low-visibility conditions as they can reflect light into your eyes, but they are still better than high beams.
It isn't ideal to use high beams in low visibility conditions because the straight light will shine on and reflect from all the particles of dust, rain, snow, or fog in the air and can form an opaque wall in front of your direction. If this happens, you won't see anything, nor will the drivers around you.
How to change from low beam to high beam?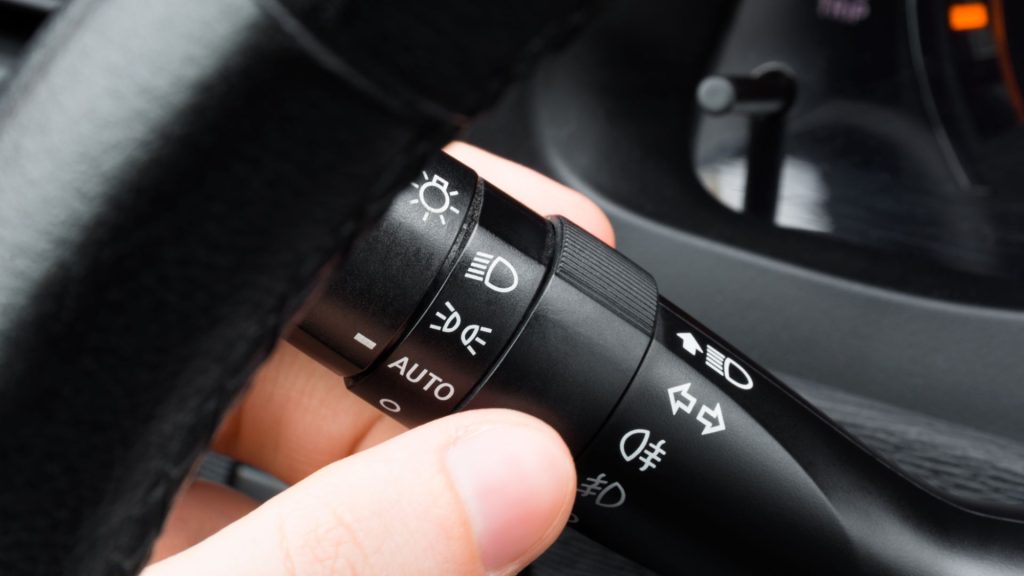 Several models of cars have different methods of switching from a low mean to a high beam and the reverse. In most cases, the component is built into the lever close to the steering wheel, where the headlights get switched on and off.
A small button can activate high beams on the left side of the driver's floor. To move from a low to a high beam, turn on the headlights and push the lever with your hand or activate the floor button with your foot. If you want to change, repeat this process.
For car models with lever-activated high beams, you can press the lever in one direction to flicker the high beam once, and pressing it in an alternate order turns them on permanently.
Do high beams offer increased visibility?
High beams increase your visibility from 350 to 400 feet or the distance of an average city block. The increased visibility improves the safety of others when you are driving on dark highways or streets, especially if bikes, animals, or pedestrians are present. It is crucial not entirely to rely on high beams and constantly adjust your driving speed according to the road conditions.
Our take
It is essential to know the difference between low and high beam lights. Knowing the basic mechanisms of your headlight can prevent dangerous situations from occurring.
The low beam provides an adequate illumination cast straight ahead to maximize seeing directions. In contrast, the high beams are suitable when driving in dark remote areas and are not ideal in low visibility conditions.
Is high beam and low beam the same bulb?
High beams and low beams in some vehicles are two different bulbs. They are contained in the same headlight housing, but one bulb is for the low beam, and the other is for the high beam. In other vehicles, they are held in one bulb but with two different filaments.
Are low beams regular headlights?
Low beams are used for regular nighttime driving. They are normal light emitted by your car headlights. It is used when driving in a dark setting like an indoor parking lot and everyday driving.
When should you not use high beams?
It would help if you did not use high beam headlights in low visibility conditions like rain, snow, fog, or dust. Driving with a high beam in these conditions can worsen your vision as bright light will reflect you.
Can you put high beam bulbs in low beams?
You should never install high beam bulbs in low beam sockets. This can lead to a dangerous situation, especially for other drivers around your vehicle. Do not use this method to improve visibility at nighttime.
Do the low and high beams use the same bulb size in single beam systems?
The single beam headlight system uses two bulbs for the low and high beams. In some cars, the size of the bulb for each of the low and high beams remains the same, while some vehicles use entirely different sizes.