LED vs halogen headlights — difference explained
Compare LED and halogen headlights for safer driving.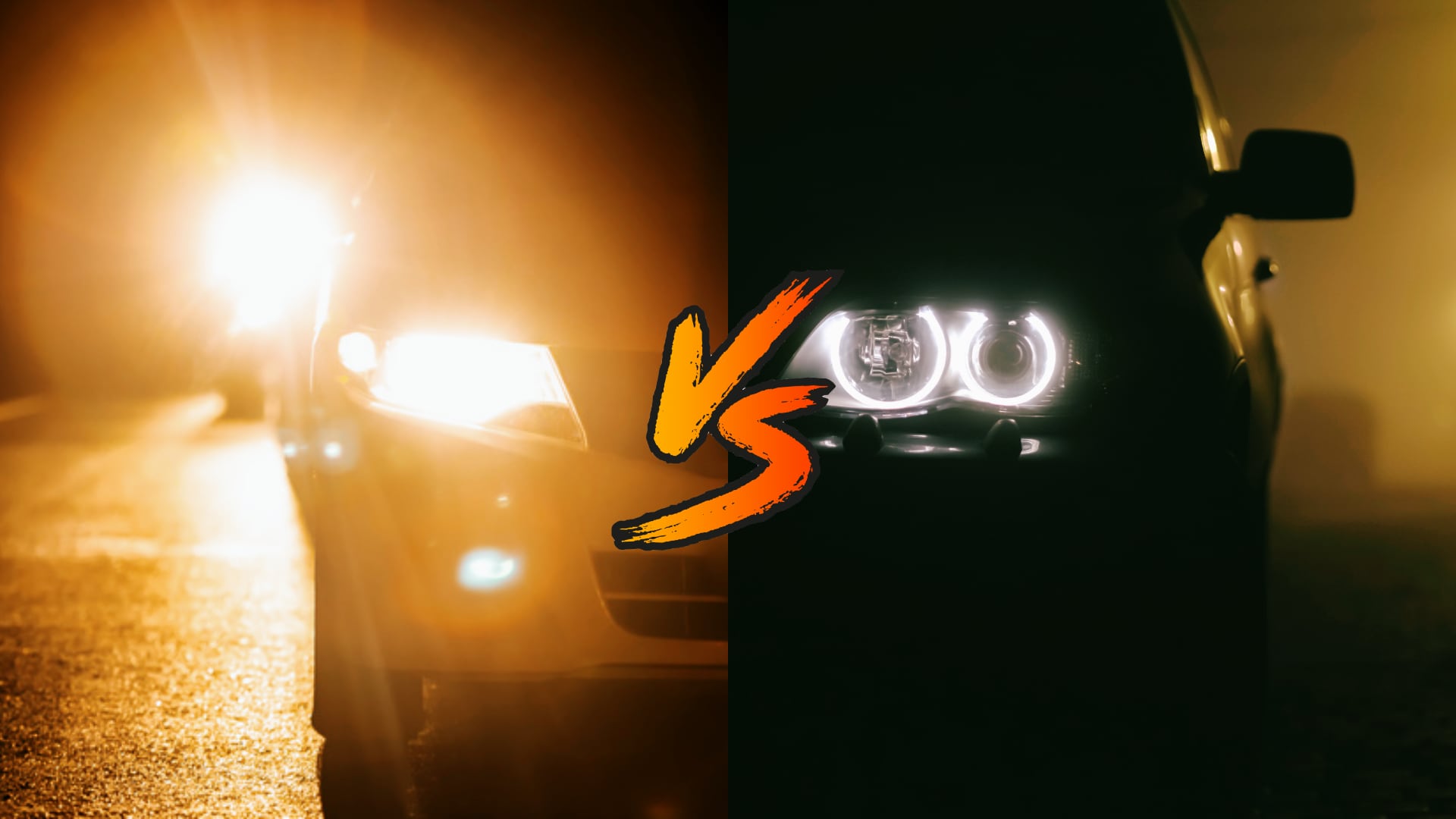 Manufacturers first used halogen headlights as their standard headlights for automobiles. However, modern research applications brought LED lights to the surface, making them a substitute for the traditional halogen headlight. Some of these attributes are: they are brighter, whiter, and have a more extended range.
The LED headlights consist of a tungsten filament inside a bulb. When heated via electricity passing through the filament, the bulb emits light. Their application was based on its brighter and longer shine compared to regular incandescent bulbs.
This article compares the two headlight types, showing their strengths and weaknesses, to see which is best and why.
How do LED headlights work?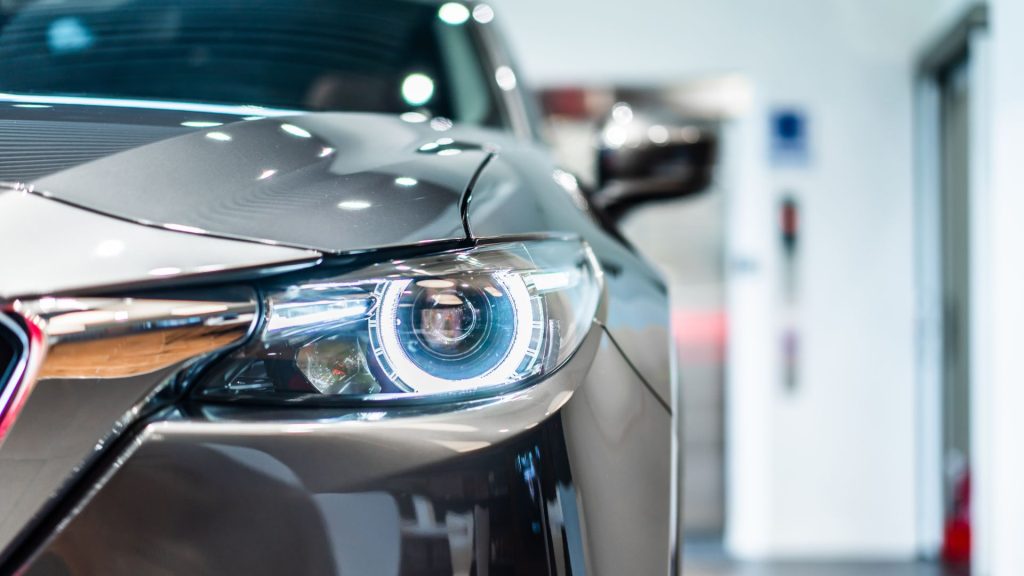 The active ingredient in LED headlights is a semiconductor. Electricity passes through it to produce light with a broader beam pattern and 90% more efficiency than other light sources for headlights.
LED headlights have a white color, easily distinguishable from halogen headlights. They last longer and generate less heat. Asides from saving energy, they are also cheap to produce. Its cost-effectiveness and ability to work in small spaces make it a widely accepted light source for automobiles.
How do halogen headlights work?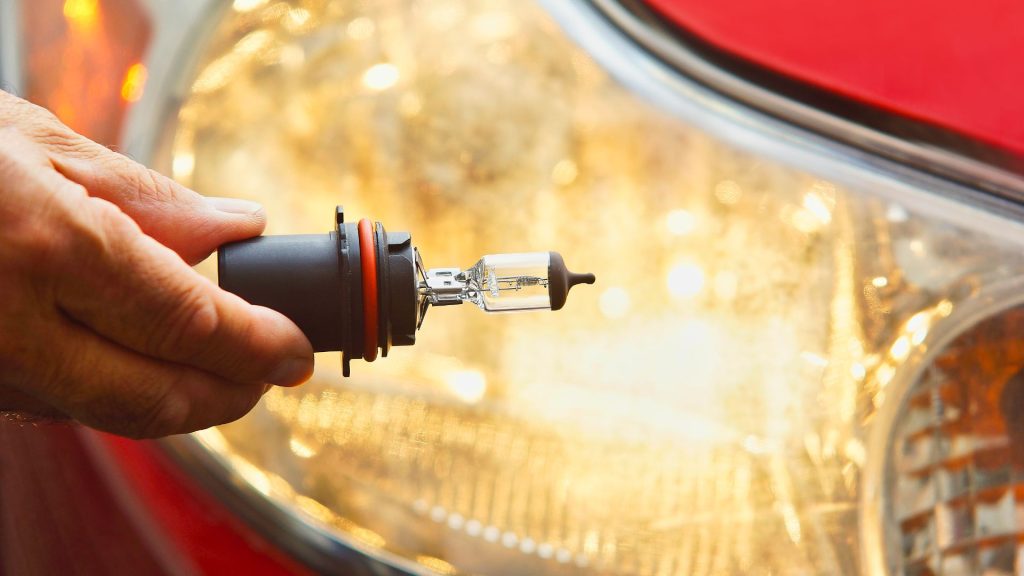 Among the different types of headlights, halogen lights are the most common for older vehicles and even some modern ones. The halogen headlight contains halogen gas surrounding a thin tungsten filament inside a filament capsule made of glass resistant to extreme temperatures. When electricity passes through the tungsten filament in the glass capsule, the tungsten heats up and starts glowing when it reaches a temperature of two thousand five hundred degree celsius. The glow is an incandescent process, and the halogen used can be iodine or bromine.
More than 80% of vehicles plying the road today use the halogen headlight. Manufacturers had adopted it over the other source of light available in the late nineteenth century. They were a small, cheap alternative, brighter and more efficient than the other options.
Which is better halogen or LED headlights?
LED headlights are better than halogen headlights. They have been in operation on commercial vehicles as early as 2007. 2021 saw a 60% increase in the use of LED headlights on production vehicles as more manufacturers saw the technology as a better alternative to the traditional halogen headlight.
Let's look at what makes the LED headlight stand a better option:
Efficiency
LED headlights are more efficient than halogen headlights because they remove the need for reflectors and diffusers for trapping and channeling light. They emit light in a specific direction, increasing their efficiency for dark paths. They also drain less power from the car's battery, making it a plus for battery health. When it comes to the output, it's worth knowing the answer to the question of how many lumens are car headlights to see the difference between halogen and LED bulbs.
Design
Manufacturers can arrange LED lights in many different ways, and their versatility enables producers to manipulate them to fit several design patterns, which is handy for luxury vehicles. Drivers who like such flashy looks and appearances would prefer LED headlights.
Also, after-market adjustments and customizing are quickly made with LED lights since they can be crammed anywhere. On the other hand, Halogen lights are more rigid in structure since the glass filament encases the halogen gas. Also, the tungsten filament cannot be easily modified to fit most design shapes manufacturers want to apply to a vehicle.
Durability
LED headlights last longer than halogen headlights and other light sources because they emit less heat. Also, the semiconductor which electricity passes through to produce the light of an LED headlight lasts longer than a tungsten filament.
The LED headlight lasts an average of 40,000 hours, while the halogen headlight may last close to 2,500 hours. The vast difference in longevity is one of the main factors that make the LED headlight a desirable vehicle component.
Color
The halogen headlight gives off a slightly yellow-orange color, while LED headlights radiate a color close to pure white. The color is excellent for the night as it illuminates everything. Also, it allows you to see objects several meters away, even in a weakened state, unlike the halogen headlight, which can limit visibility, especially for a lone car on a silent highway.
Disadvantages of LED headlight
It is not ideal for the winter
Since LED lights do not waste electricity, they do not generate much heat either. On the other hand, halogen headlights use a lot of electricity, causing them to create a lot of heat.
The heat comes handy during winter as it is hot enough to melt snow. LED lights cannot melt snow, making it inconvenient for the winter. They can freeze from the severe cold or produce foggy light due to the build-up of snow on them.
Different quality
As more manufacturers come to terms with LED light, they produce their own, adding to the many others already available. As a result, the LED headlights available on the market have different qualities that can affect brightness, efficiency, and lifespan.
You may be unfortunate to purchase one of low quality, getting what you did not want. Therefore, when buying LED headlights, please pay attention to the brand producing them, so you do not get a cheap knock-off that gives less than what is promised.
Complex production
Most manufacturers did not use LED until much later because of its intricate design. LEDs do not emit heat but produce a small amount of heat at the emitter. Components seated about the emitter are prone to suffer damage from the heat.
Therefore, manufacturers must add an extra cooling component to protect these vulnerable parts next to the emitter. To reduce the emitter's impact on the assembly parts close to it, manufacturers must devise means to place quickly melted materials away from the emitter. The extra component increases the production cost of the LED headlight, making it more expensive for end users to get it independently.
Safety
The halogen headlight's somewhat dull and dispersed nature makes it safe to drive with at night. The LED's bright and piercing lights can be pretty blinding, especially for other drivers in the opposite direction.
Aside from being a potential hazard for other drivers, its direct nature tends to make drivers unaware of the surrounding environment of the road they ply at night. You cannot see adequately outside the direction the LED headlights point. The LED compensates for this by being so bright that a driver far away is alerted of the oncoming vehicle a few yards before they intersect.
Is it worth upgrading my halogen headlight to LED?
Upgrading your halogen headlight to LED headlights would depend on your personal preferences. An upgrade will be a great choice if you intend to save money over time on headlight replacements.
Also, if you want to customize your headlights to a flashy shape, the LED headlight would be your best option, as it would fit almost any shape and design you can conceive for headlights. They are a flashy accessory if you do not drive around lonely stretches of the road often at night and during the winter.
However, if you have a history of an eye ailment or a failing eye, it is best to avoid LED headlights and stick to halogen lights. Halogen lights will allow you to see as much as you need without much intensity, whereas LED lights (especially when new) will shine so bright that they may hurt your eyes a bit.
Is there a better light source for headlights than LED?
Asides from halogen and LED headlights, there is another in circulation – Xenon headlights.
Xenon headlights work better than halogen headlights while addressing a few problems LED headlights have. They work better in the winter as they emit more heat while providing good visibility.
The whitish-bluish lights xenon headlights emit brighter light than the LED. They also come in different shades of yellow and blue, with some car manufacturers going as far as to provide leveling systems to adjust the beams for better visibility.
Both Xenon and LED headlights are favored in the luxury automobile market for their brightness and easy incorporation into different design shapes for headlights.
However, Xenon is not necessarily a better headlight for safety reasons. Since the primary purpose of headlights is not to bother with looks, their safety is the priority when picking one. LED headlights are safer than Xenon headlights, as only a few drivers understand and know how to tone Xenon headlights for safe use.
Our take
Modifications to the LED headlight system may see it take over the Halogen headlight completely in future productions. Not only are they brighter and more intense than the Halogen headlight, but they also last longer. Though they tend to freeze quickly in the winter, it is nothing a little cooking spray or WD-40 can't fix.
Can you just put LED bulbs in halogen headlights?
You can put LED bulbs in halogen headlights. You need to know your headlight bulb type to purchase the fitting LED headlight conversion kit for swapping headlights. Furthermore, you can follow the instructions on the kit to do it yourself, or have an auto technician do it for you.
What are the disadvantages of LED headlights?
LED headlights quickly freeze in the winter. It is easy to buy a substandard one in the market as many producers have different ways of producing it and cutting costs. Also, they cost more than halogen headlights.
Which is better a LED bulb or a halogen bulb?
LED bulbs are better and give increased visibility and last longer than the halogen bulb.