How often to replace the air filter in a car
Gain insight into the must-follow guide for keeping your car's air filter in top shape for peak performance.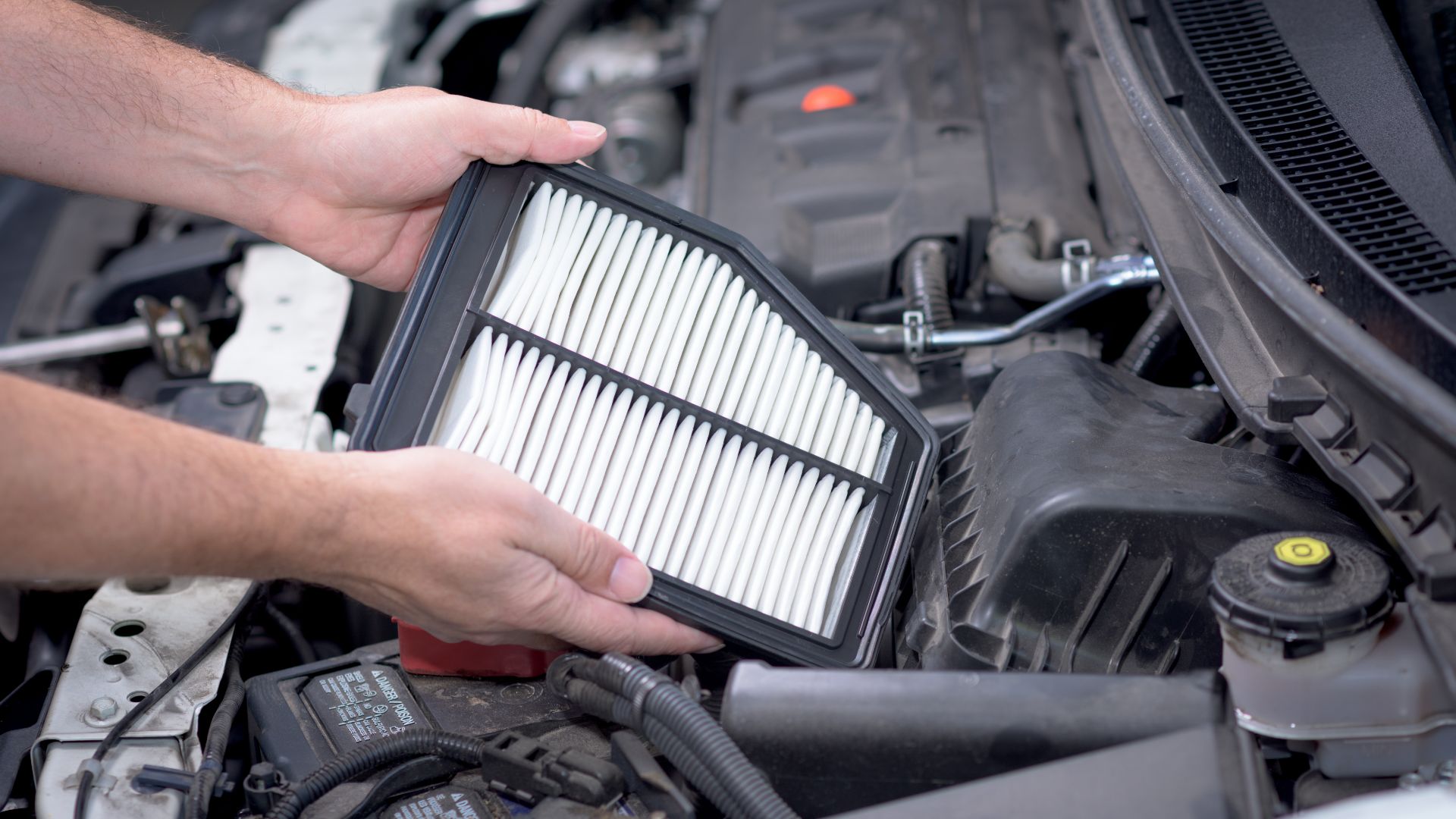 Ensuring the right mix of air and fuel gives your car all the ingredients for proper combustion. However, if your air filter is damaged, dust particles could get through it, so how often to replace the air filter in a car?
You should replace the air filter in your car every 12,000 to 15,000 miles, depending on your engine and the user's manual specifications. Even the tiniest particles of air allergens like dust and dirt could permanently damage your engine's pistons and cylinders. So, this guide will help you prevent that as we dig deeper into the question and inspect the signs telling you the air filter should be replaced.
What does an air filter do?
Every car comes with two air filters, but what drivers usually mean by "air filter" is the engine's filter. However, it's also important to note that the cabin air filter ensures you have clean and breathable air as you drive.
Both these filters serve a significant role in your health and the health of your engine, so let's start with the engine's filter. The engine's air filter prevents any air residues from entering the combustion chambers, and it keeps your engine functional both mechanically and performance-wise.
If it weren't for this filter, it would be impossible to achieve the clean mixture of air and fuel that your engine needs for good combustion. Let's say you were driving an SUV on your favorite off-road trail, where sand gets blown in the air by your tires. If your air filter is damaged, those small sand particles could get into the engine and affect the combustion.
Important components of the engine could be damaged every time you step on the gas, so you must replace the air filter on time. As for the cabin's air filter, it's there to provide breathable air in the cabin. This is especially important for polluted areas where the filter keeps the air coming from your A/C unit fresh and filtered.
Consequences of driving with a damaged air filter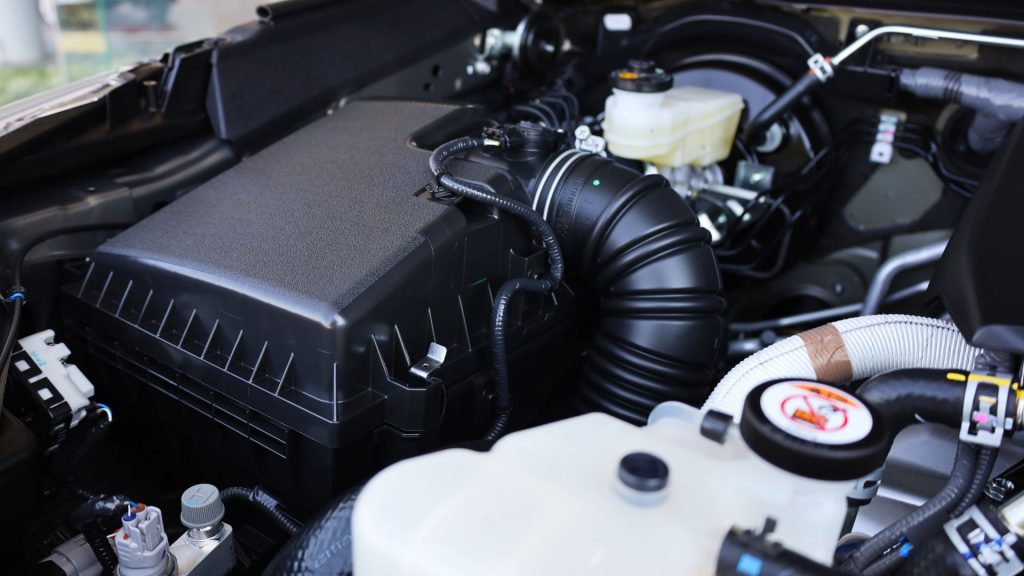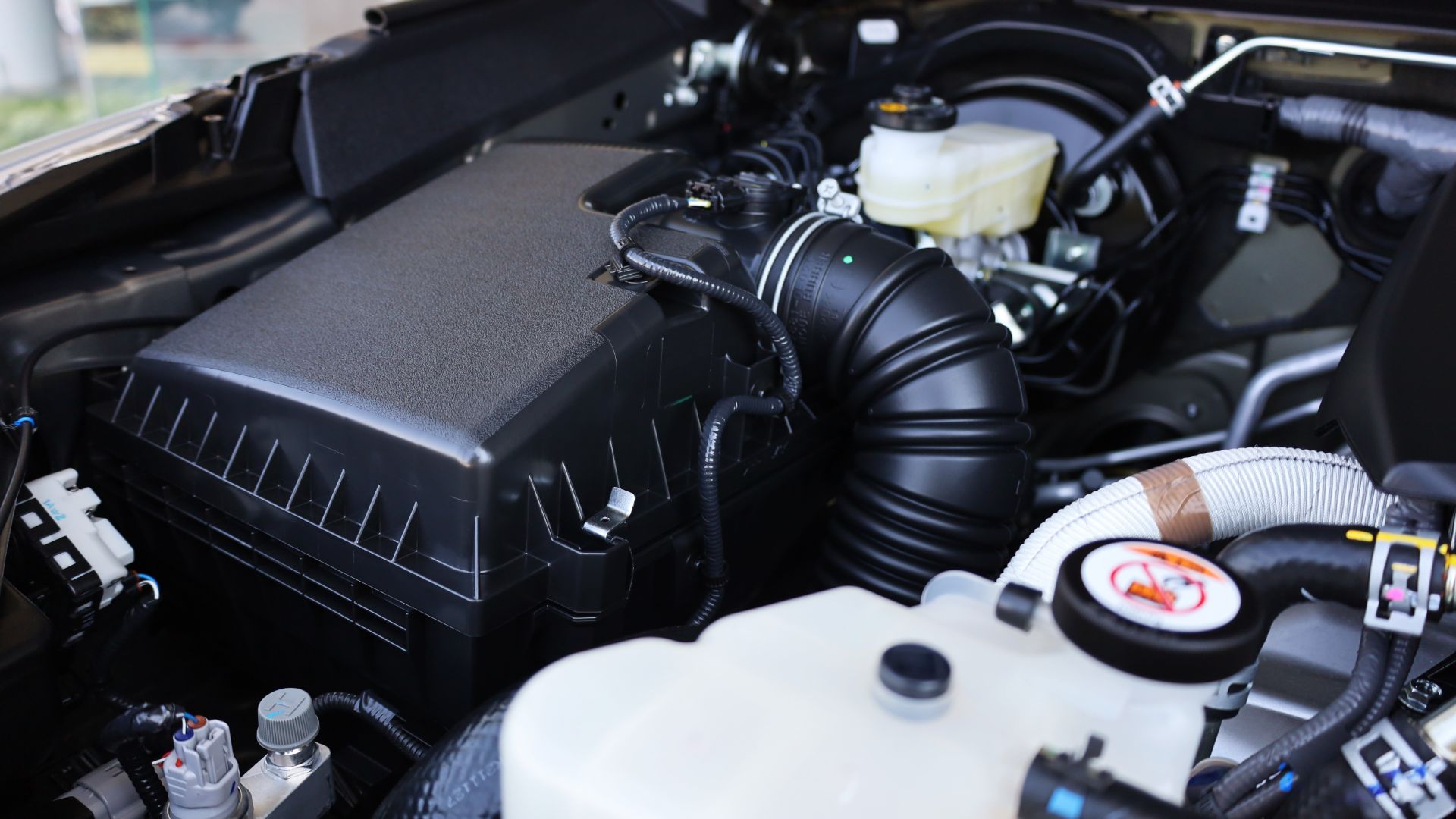 So, we already concluded that a damaged air filter can impact your engine's performance, but to what extent? Well, it's as important as changing brake pads or any other vital component of your car. It can slowly lead to an engine failure, so here are some of the main consequences:
Poor engine performance
Low gas mileage
Engine noises
Problems with the ignition
The first thing you might notice is poor acceleration when compared to what you are used to getting from your engine. If your car has issues accelerating in the revs per minute (RPM) range where its torque should be the highest, it can easily be due to a clogged air filter.
You might also notice that the engine's combustion struggles lead to strange noises appearing under the hood. So, don't risk a minute longer if you face these issues, and get your air filter inspected as soon as possible. Some other complications also include poor gas mileage and even engine "hiccups" as you are trying to start your car.
How often should auto air filters be changed?
Auto air filters should be changed within 12,000 miles or 15,000 miles for most makes and models. The best way to check the mileage limit where you should get your air filter inspected is to take a look at your driver's manual.
It's the safest bet since different models have different engine constructions, so you can never know when is the best time to inspect the filter. Still, the figures vary and your air filter might even last up to 30,000 miles depending on the model.
It also has to do with the type of roads you tend to drive on. If you prefer off-roading over dusty roads, you might need to replace the air filter even before 12,000 miles.
How do you know if your car needs a new air filter?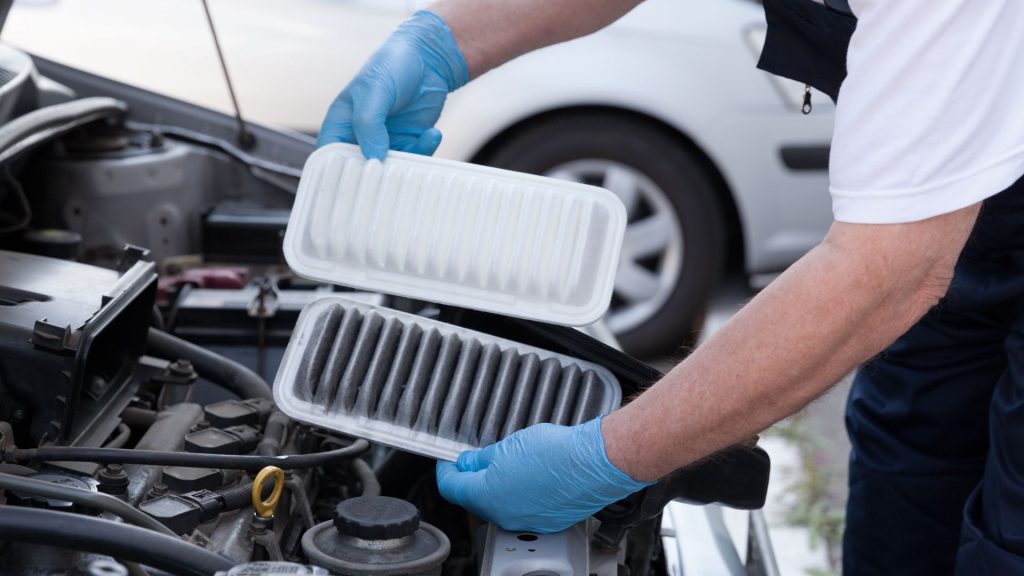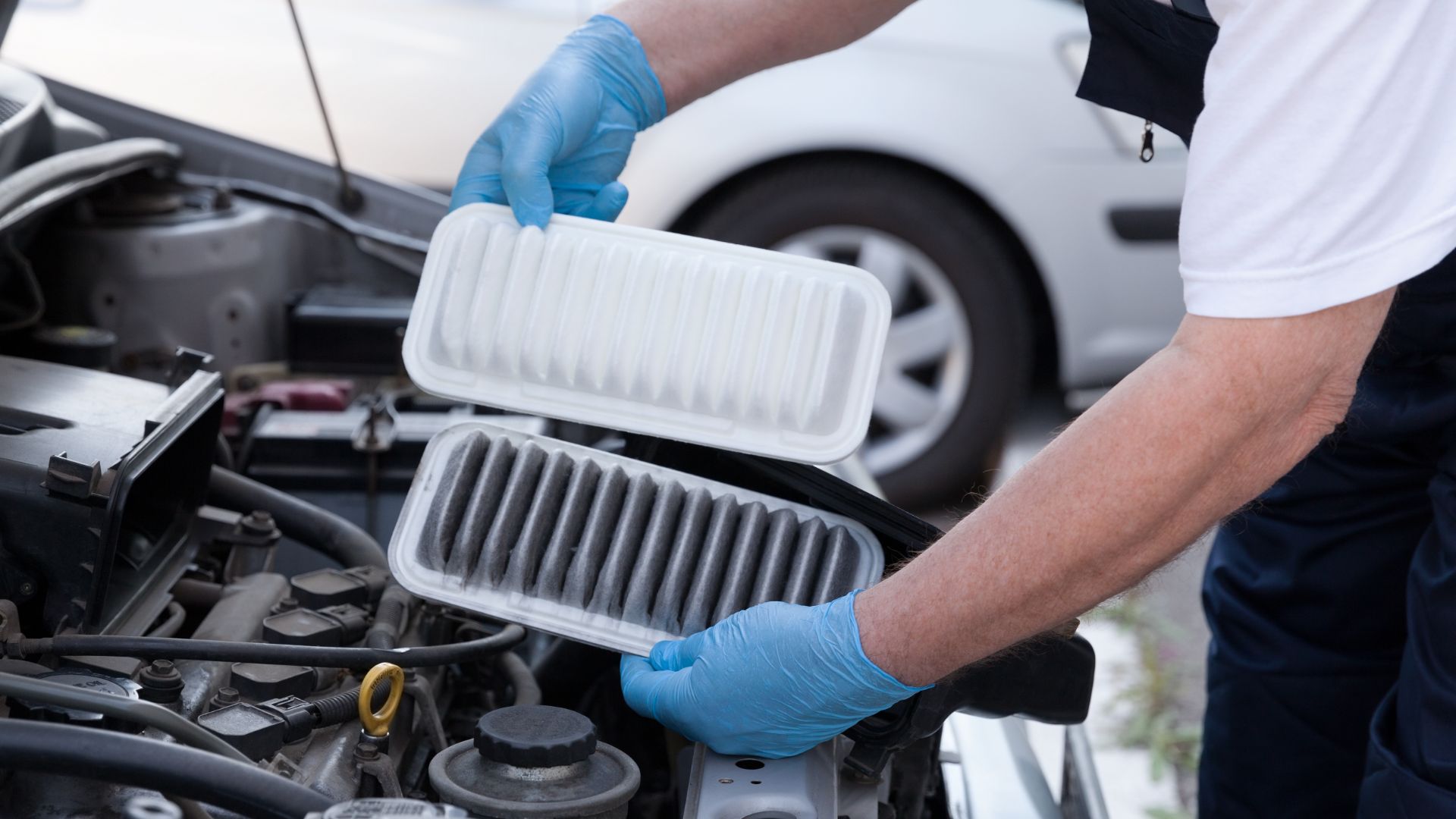 You can know that your car needs a new air filter by the lack of engine power, black gas coming through the exhaust or gas-like smell in the cabin. Especially when you start the engine, you might feel that gas smell as a sign of a damaged air filter.
If you also face problems accelerating, it could be either due to the bad air filter, or a fuel pump issue. Still, the fuel pump issue occurs more frequently after getting gas as you might face difficulties starting the engine. In the case of a bad air filter, it's more likely that you'll face acceleration issues while driving.
What happens if you don't replace air filter in car?
If you don't replace the air filter in a car, you'll have poor fuel economy, and damaged pistons and cylinders. While the gas mileage issue perhaps won't cost you too much, it's expensive to fix your engine components if they get damaged due to improper combustion.
On top of that, you might have trouble even starting your engine. Particles that pass the damaged air filter could get into combustion chambers and cause further damage to your engine components. That's why it's crucial to swap your old filter for a new one in the period designated by the manufacturer.
Does a new air filter improve car performance?
Yes, a new air filter improves the car's performance, but it rather just brings the original performance of the engine back. However, it's a great change if you've dealt with a damaged filter for some time, and have experienced all those engine misfires.
It brings back the acceleration to normal. and improves your fuel economy, so the overall performance of the car gets better.
Checking your air filter yourself
It's quite safe to check your engine's air filter for yourself and see if it's clogged or damaged. Of course, it's best to leave it to a professional if you don't have the experience, but you can just rely on the user's manual.
It will tell you where your air filter is located, while it's in the air box connected to your engine for most models. Simply unscrew the cover and take a close look at your filter. A new air filter should be completely white, while a used one can be yellowish. However, if you notice black residue or too much dust that covers the top layer of the filter, you should consider replacing it immediately.
Signs of a bad cabin air filter
As we mentioned, there's another air filter in your car and it's the cabin air filter. It should be replaced between 15,000 miles and 45,000 miles, depending on the exact model. This one is also crucial but not for your vehicle's well-being. The cabin's air filter ensures the flow of healthy air through the A/C vents.
So, if you notice a reduced airflow when you turn on the climate control or more accumulating dust in your car's interior, it's time to inspect this filter. You can just use your hand to inspect the A/C vents and if there's accumulated dust on them.
On the other hand, a clear sign that your cabin's air filter needs to be replaced is a bad odor coming from the vents as you use the A/C.
Our take
Hopefully, this guide gives you a detailed answer on the matter of "how often to replace the air filter in a car". Both air filters serve crucial roles in your car's performance and health, so it's not something that should be taken lightly.
Make sure that you check the engine's air filter yourself in case of any misfires, and pay attention to the signs by your A/C vents to make sure the cabin filter is functional.