Nexen Roadian AT Pro RA8 review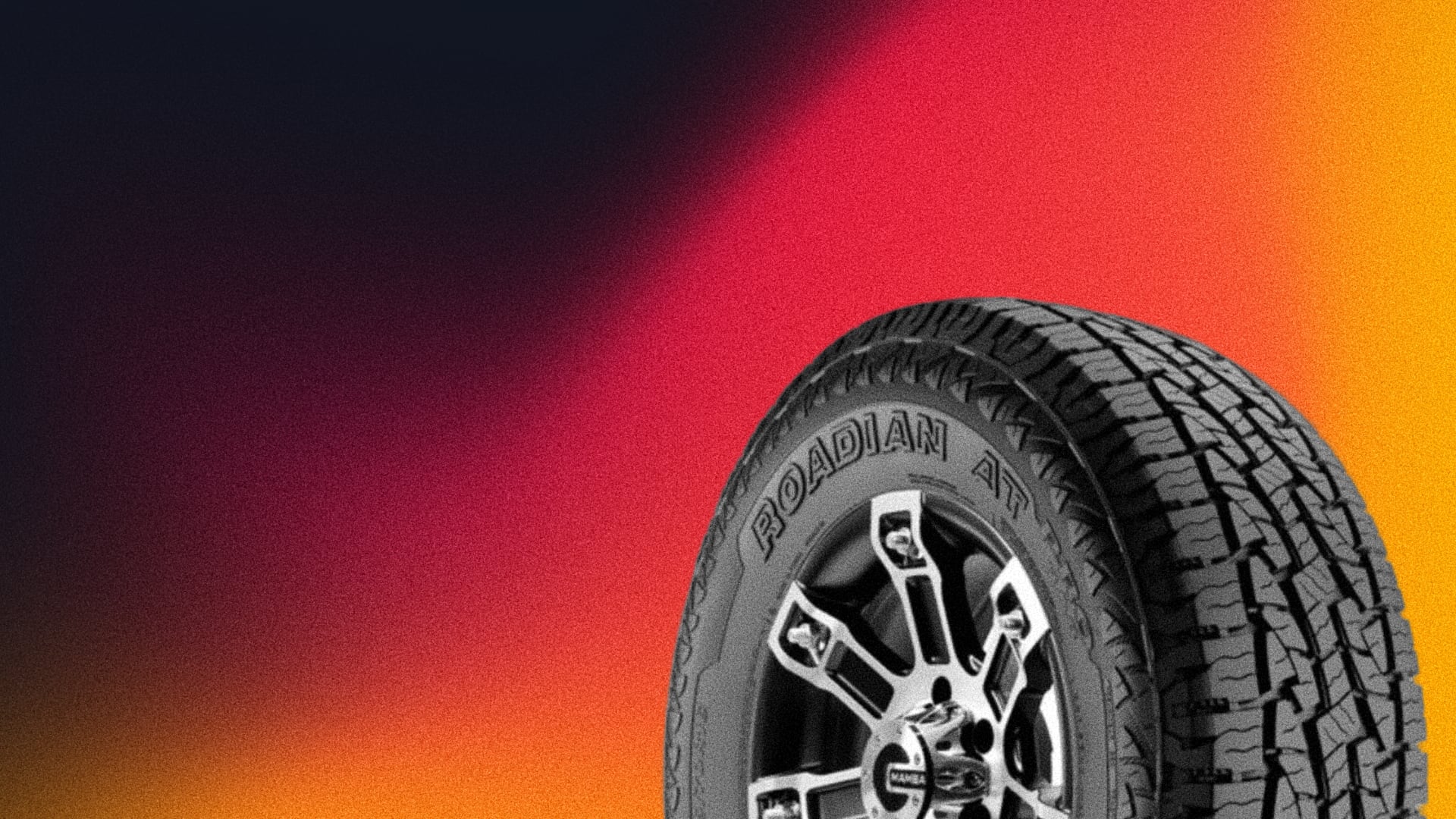 Picking the right set of off-road tires can be challenging, as not all the tires have both great off-road traction, and decent on-road performance. So, looking for a tire that can withstand some serious off-road terrains without punctures while also serving your daily purposes gets tough.
In our Nexen Roadian AT Pro RA8 review, we'll try to give you all the details on Nexen's latest tire for challenging terrains. With the Nexen Roadian MTX tire being suitable for extreme off-roading, we have high hopes that these will deliver similar performance along with daily driving capabilities, so let's see how they rate!
Recommended
Nexen Roadian AT Pro RA8
As a premium all-season tire for SUVs and light trucks, Nexen Roadian AT Pro RA8 offers one of the best everyday driving and off-road performance combination we've seen. It's suitable for driving on both dry and wet roads, and the off-road performance comes right after dedicated off-road tires.
REREV may receive a commission for purchases made through links on our site. Learn more.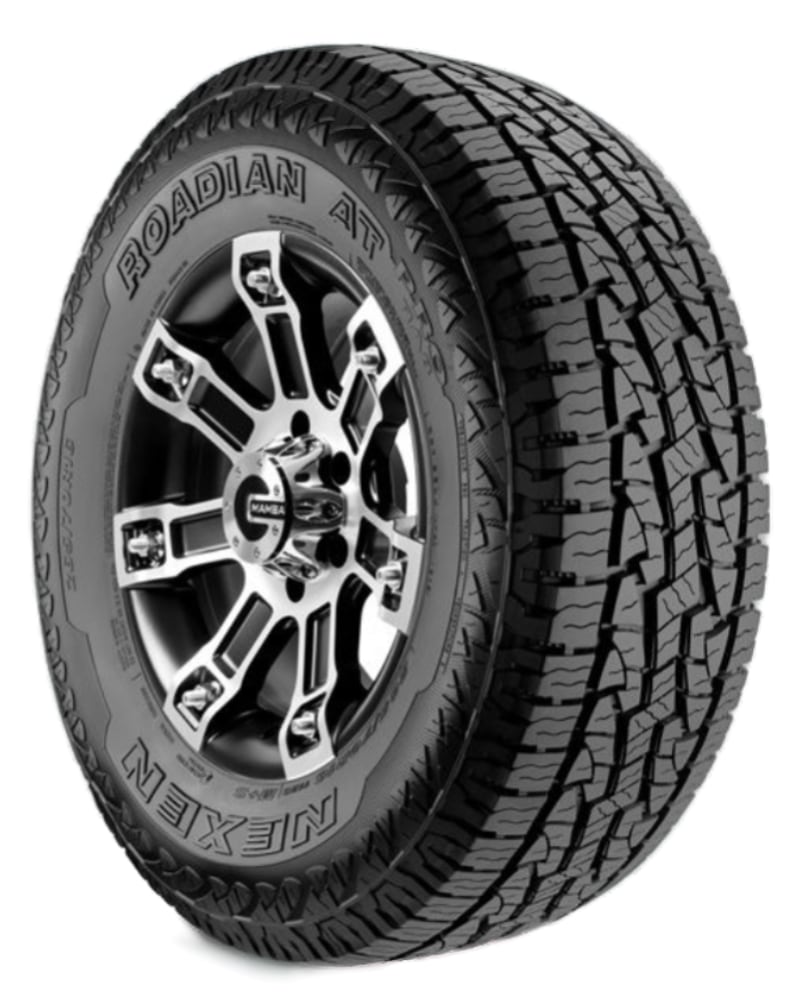 Why you can trust REREV's tire reviews: Our automotive expert researchers analyze tire specs, customer feedbacks and reviews from credible sources. This thorough analysis provides accurate information about tire performance, helping you make the best choice. Find out more about how we evaluate tires.
Key features and technologies
The Roadian AT Pro RA8 has a unique tread design that shatters small rocks and gravel, giving you the maximum off-road grip. That's not all that Nexen engineers had in mind for this tire, so let's take a closer look at the main features:
Dual tread blocks
Micro-groove tread
Reinforced biting edges
Wide shoulder blocks
Dual tread blocks make one of the main highlights of these tires, as they simply crack all the smaller rocks and serve as a protection shield from sharp rocks and debris. They will keep your tread pattern optimized for biting into demanding terrains.
The micro-groove tread technology is yet another innovation from Nexen, and it improves traction while driving on the road. The micro-grooves aid your grip in wet conditions, so you can use these tires on your daily SUV ride, and get the freedom that comes with off-road tires!
Reinforced biting edges include a staggered center rib which only has small and narrow voids between tread blocks. It guarantees maximum traction in all conditions, and the pressure is mainly on the center rib.
Finally, wide shoulder blocks are there to ensure stable handling in any terrain, whether it's public roads or off-road terrain. Wide shoulders make the steering much easier with complete ground grip.
Safety features
In terms of safety, Nexen engineers managed to fit impressive off-road traction and stability with safety features that prevent hydroplaning. It's when your tires lose ground grip under a layer of water between the rubber and the road.
So, how did Nexen handle it? It's simple – there are two zig-zag grooves between the dual tread blocks in the center zone and one deep circumferential groove on each side of the tire.
As a result, water simply slides through the tire and is immediately led away, so you don't have to worry about sliding in case of heavy rain.
Speed ratings
Maybe speed isn't the main point of focus with these tires, but Nexen made sure to give you a diverse choice. These off-road beauties come in 4 different speed ratings, so it's all up to your preference and needs.
Choosing a set of Roadian AT Pro RA8 tires with an "R" speed rating will give you a pleasant and quiet ride up to 106mph. You can find most of the tire sizes with the "S" speed rating, which gives you a slightly higher speed limit of 112mph.
When it comes to the "T" speed rating, you can drive at speeds of 118mph or slightly more, while the "H" speed rating leans towards performance SUVs driving at 130mph. Still, regardless of the speed mark, every single Roadian AT Pro RA8 tire should give you decent on-road performance until you reach your favorite spot for off-roading.
Treadwear and durability
The predicted tread life of these tires is under the great influence of the carrying metrics. Roadian AT Pro RA8 tires with a "P" metric for passenger driving should give you at least 50,000 miles.
As for the "LT" metric, it's a tire you should pick for heavier loads if you happen to haul any in your truck, and for a bit more extreme off-roading. These tires come with a predicted tread life of 40,000 miles, which is still good for this type of tire.
According to the research conducted by the Federal Highway Administration, SUV drivers pass annual mileage closest to the average of 14,000 miles. So, you'll get at least 3 years out of these, even if you use them on your daily SUV ride.
Maintenance indicators
Wear indicators are there to tell you that the treadwear has reached its final 2/32 inches. It's an industry standard, and Nexen didn't bother placing any wear indicators in between. However, since Roadian AT Pro RA8 tire is made for off-roading SUVs, you should be even more careful.
It's not advisable to drive on these once they reach the last 2/32 treadwear mark, as you need their deep double treads for decent off-road traction. Make sure to replace them in a timely fashion, so you get the most out of their treads while on challenging terrains.
Traction performance
Since these tires aren't extreme off-road tires, but rather a blend of all-terrain tires suitable for driving on public roads as well, overall traction performance is crucial. Let's take a look at how these rate in terms of traction in different driving conditions:
Wet traction performance
Well, it's not that much of a surprise that Roadian AT Pro RA8 tire tackles wet roads with immense biting power. After all, we mentioned their deep zig-zag grooves and wide water channels near the shoulders that dispense the water.
It provides a better wet traction performance, no sliding, and even decent cornering grip due to wide shoulders with horizontal sipes. The sipes help in leading the water away into the channels and out of the tire for impressive wet road performance.
Dry traction performance
By looking at these tires, you might notice the open shoulders that come with deep voids between each tread block. It's not just because of removing the water from the tire – it's also for reduced tire compound heating.
As you drive, air passes through these voids and cools the tire material down, so there's no chance of excessive wear which results in lower grip on the summer days. So, the dry road traction is also at a more than acceptable level, braking distances are short, and the best thing is – you can confidently take on the turns!
Wide shoulder blocks offer precise handling and responsive steering which proved to be quite important when making the turns.
Snow traction performance
Our team wasn't just amazed by how well Roadian AT Pro RA8 tires handled dry and wet roads, but also by its snow traction. These tires are simply amazing on snow, even in extreme conditions, and the 3-Peak Mountain Snowflake symbol confirms it.
This mark speaks for itself, as it's the industry standard for a tire capable of tackling even the harshest of winter conditions. Deep treads and optimized biting edges add up to snow traction, so you can even get your SUV or truck off-roading in the winter!
Off-road traction performance
Now, for the fun part and a true test of these tires, it's time to see how they handle off-road terrains. Nexen rated these 9 out of 10 for off-roading, since their signature Roadian MTX tires earn their flagship off-road tire spot.
However, these were pretty close to the MTX performance in terms of traction in terrains that are inaccessible to SUVs with regular tires. The reinforced tread blocks and biting edges simply crush any small obstacles as the tires advance over them.
Sand and mud also don't pose a threat to these, while you might only struggle a bit on extremely large rocks. However, these are not made for extreme conditions either, so their performance on off-road terrains generally deserves all the praise.
Noise and comfort
While on public roads and highways, you might be impressed with the quiet and refined driving sensation. They isolate the noise quite well, so you'll rarely hear anything in the cabin.
Driving comfort is further boosted by the wide shoulders that also take some pressure away from the center rib for even distribution. In the end, it's not something you would expect from an all-terrain tire made primarily with off-road performance in mind.
Competitors and alternatives
Now that you know more about the Roadian AT Pro RA8 features, it's time to compare it with some other AT tires. You won't find a worthy competitor that easily, as there are just a few tires that deliver the same level of off-road traction and everyday use comfort:
Hankook Dynapro AT2
Falken Wildpeak AT3W
Nexen Roadian AT Pro RA8 price range
Roadian AT Pro RA8 tires is mainly more affordable than their competitors. It also depends on the tire size, since you can find a single 15″ tire for around $120. However, going with a LT 22″ tire could push around $320 from your pocket.
Luckily, you can follow the price range and use rebates and discounts to grab these off-road beauties at a better price.
Warranty
Although these tires are quite sturdy and powerful-looking, it's a good thing to have a proper warranty policy at hand. Nexen has one of the best warranty deals in the industry, offering you a 50,000-mile warranty for "P" metric tires, and a 40,000 miles warranty on "LT" metric tires.
Besides that, you also get 36-month road assistance and a road hazard warranty for the first 3/32″ of tread, in case of a puncture while you are driving on the road. It's all a part of Nexen's total coverage warranty, and you even get a free trial period for the first 45 days!
Vehicles that make a perfect fit with Roadian AT Pro RA8
We've mentioned that these tires work best with mid-size and larger SUVs or trucks, so here's a list of some of the vehicles that would make a great fit with these tires:
Jeep Wrangler
Land Rover Defender
Land Rover Discovery
Toyota Land Cruiser
Toyota 4Runner
Toyota Tacoma
Ford Bronco
Nissan Xterra
Mitsubishi Pajero
Subaru Forester
Ford F-150
Chevrolet Colorado
Chevrolet Silverado
Our take
Overall, Nexen Roadian AT Pro RA8 tire is one of the best all-terrain tires capable of some serious off-road driving. On top of that, noise isolation and all-weather traction are at the top of the class. The 3PMS symbol confirms you can take these tires for a ride even in extreme winter conditions.
The price range is fairly lower than that of the main competitors, and if you use rebates and discounts to get them even more conveniently, it goes without saying that these are your top pick.