Nexen N5000 Platinum review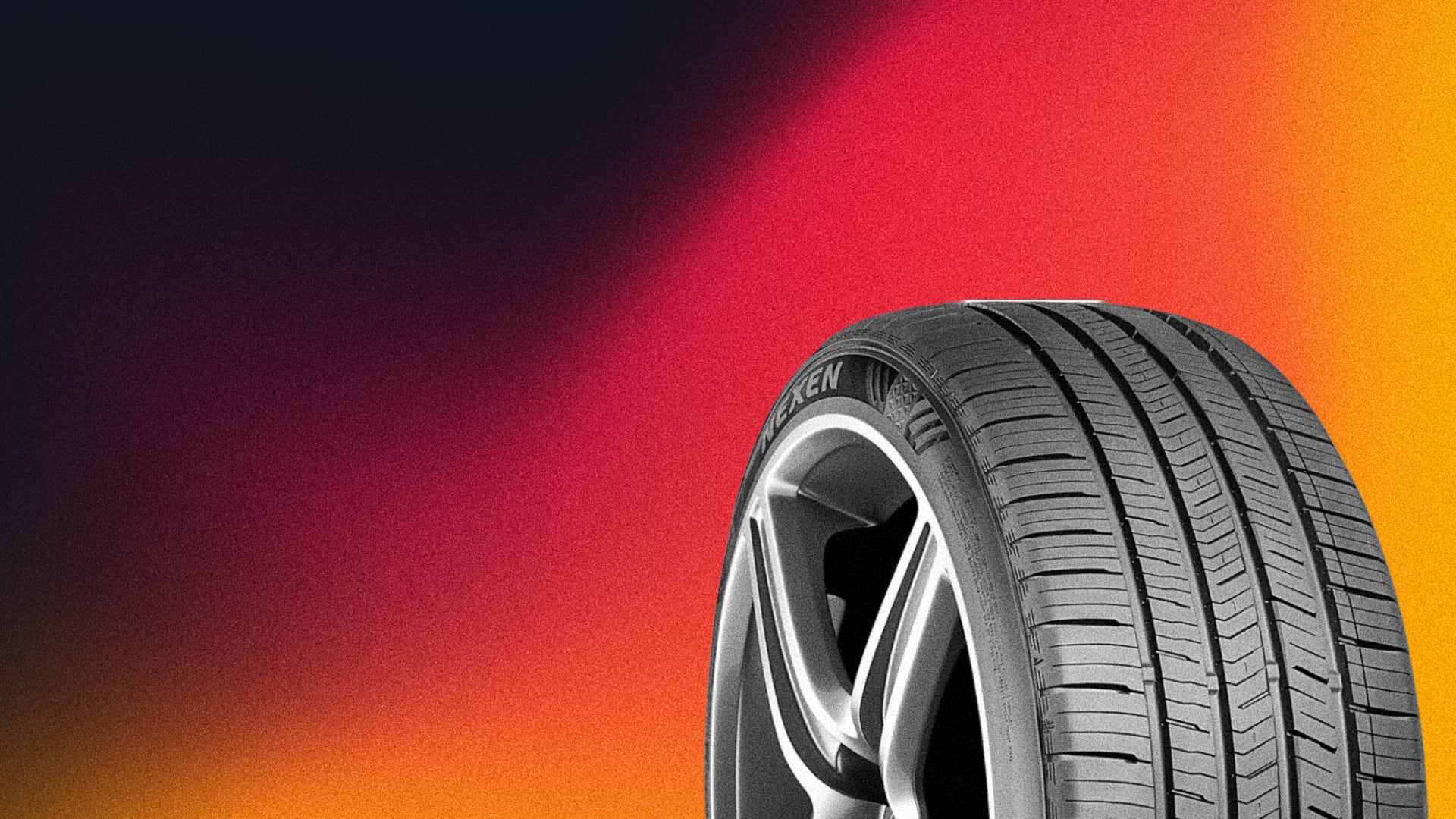 If you are unfamiliar with the Nexen tire brand, it's enough to say that they are among the few tire brands in the US that never had a recall. Hearing this, our team just had to dig deeper to bring you the double-checked info on their tire quality.
We went far to test their flagship all-weather tire and give you all the details in this Nexen N5000 Platinum review! This tire is supposed to be a successor to an already successful Nexen N5000 tire, so let's see what the "Platinum" designation brings to the table.
Recommended
Nexen N5000 Platinum
The Nexen N5000 Platinum is a tire that tackles the premium brand rivals and their grand touring tires successfully and brings the all-weather traction to the table at a more than convenient price.
REREV may receive a commission for purchases made through links on our site. Learn more.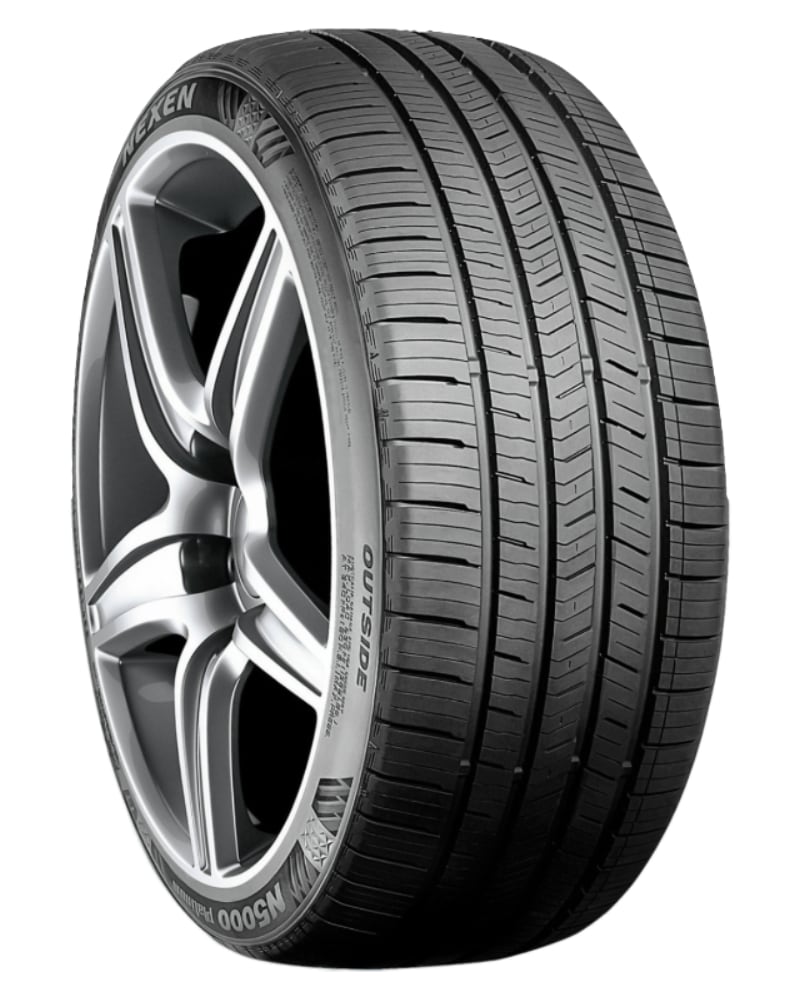 Why you can trust REREV's tire reviews: Our automotive expert researchers analyze tire specs, customer feedbacks and reviews from credible sources. This thorough analysis provides accurate information about tire performance, helping you make the best choice. Find out more about how we evaluate tires.
Key features and technologies
We were genuinely surprised by the quality that Nexen N5000 Platinum tires offer, at least based on the first glance at the features and the tread. You can see that they are made to last by the tread shape, and here are some of the main traits of N5000 Platinum:
Plenty of siping for more biting edges
Large sipe on the outer tread block
Continuous center rib
Different profiles of the inner and outer tread block
Looking at the features, Nexen truly managed to make a grand touring all-weather tire that delivers stability, long-lasting, and performance. Starting from the siping, you'll see how each tread block has at least two sipes, while the inner tread block even has one continuous sipe that spreads across the pitch like a circumferential groove.
Now, the outer tread block doesn't have this sipe, and it's all to provide great wet traction, while its absence on the outer tread block maximizes the rubber on the road for great cornering in the summer.
It's a clever move indeed, and yet another great idea is the continuous center rib. You'll notice how it doesn't have any voids besides the treads, making it seem like one giant tread block. Because of this, you'll get even wear, and that gives you a few extra miles with these tires.
The Nexen N5000 Platinum tire is also asymmetric, meaning that there are two different tread sides. Each side is marked on the tire, so make sure that you have them mounted properly. The outer side is designed for precise handling, cornering, and performance, while the inner tread with its grooves and sipes improves wet traction.
Safety features
Having made these all-weather tires, Nexen was well aware of the potential risks of sliding on wet roads. It's also called hydroplaning, so the tires had to be equipped with proper features to avoid it.
You get the highest safety and stability with N5000 Platinum on wet roads, as these tires are equipped with wide grooves spread across the treads. They serve a great role in dispensing the water, along with horizontal sipes that lead the water away on the sides.
Speed ratings
In terms of speed limits, these tires perform quite well. They even lean towards performance tires with their highest speed rating mark. In essence, the speed rating marks the speed limit tires can take without losing grip and stability.
Luckily, you'll have plenty of options with Nexen N5000 Platinum, since these tires come with three-speed ratings! First off, there's the "H" speed rating that specifies the maximum speed of 130mph. Next, you'll find the N5000 Platinum with a "V" speed rating, which means you can drive up to 149mph without any vibrations or sliding.
For the lovers of genuine performance driving, you can also count on a "W" speed rating – this gives you a higher speed limit up to 168mph.
Treadwear and durability
If the features we listed so far seem compelling, wait until you hear about the tread life! Now that we've mentioned the speed ratings, it's easier to explain the tread life differences. With the tires marked "H" and "V" for speed rating, you'll get at least 70,000 miles.
On the other hand, tires rated "W" for the speed limit will give you a bit shorter span of about 50,000 miles. It's still a long-lasting grand touring tire even for the performance variant, and if you mostly use your car for everyday purposes, that should give you about 5 years of usage.
Maintenance indicators
It always comes in handy to know the wear indicators of the tire, just in case the tread wears off so much that you need a replacement. It's an industry standard for tires to have the mark warning you about the final 2/32 inches of the tread.
You'll find this indicator among the treads, but there aren't any wear gauges in between, and that's what we didn't like. It can't be helped, since many tire manufacturers rely only on these industry-standard markings, unlike Continental which includes several gauges.
Traction performance
These tires are low-profile grand touring tires that offer quite a sporty performance in trims that come in higher speed ratings. However, let's now see how they cope with different road conditions in terms of traction:
Wet traction performance
You need a tire with a high grip on wet roads if you are going to buy all-weather tires. Truth being said, Nexen N5000 Platinum doesn't excel in wet conditions, but it still rates far beyond the average.
Braking distances are decent, while their best trait in terms of wet traction is the tread pattern. With wide tread grooves and the large additional sipe on the outer tread block, there's no chance of a water layer forming between the surface and the tire. There's no sliding or squealing even on wet roads, which gives you one additional dose of security.
Dry traction performance
Our team also tested Nexen N5000 Platinum tires on dry town roads and highways and we were impressed by the performance. The grip is solid on dry roads thanks to the continuous center rib which improves ground contact.
Moreover, dry cornering is also impressive due to the mentioned outer tread block construction. The reduced amount of sipes maximizes the grip and lets you take every corner with confidence. Going with a set of Nexen N5000 Platinum tires with a "W" speed rating will certainly give you the best high-performance driving sensation on dry roads.
Snow traction
Not everything can be perfect with grand touring tires and the same goes for Nexen N5000 Platinum and their snow performance. While it should get you rolling in the light snow without any particular sliding, they are just not safe for extreme winter conditions.
So, if you live in an area that gets two or three months of heavy snow throughout the year, you might want to consider choosing proper winter tires instead. Still, for everyday driving in areas where there are no extreme conditions, these M+S rated tires will serve you well, The compound is designed to be flexible in the winter to provide all-weather traction.
Off-road performance
Off-road driving is reserved for 4×4 trucks and SUVs, and this tire mostly fits mid-size sedans and larger passenger cars. So, they won't deliver a stellar off-road performance, and you shouldn't risk it leaving the road since the rocks might damage the tread pattern.
Driving off-road with these tires could just result in a torn tread compound, leading to poor wet traction.
Noise and comfort
As we reach the noise and comfort category, we had high expectations for these tires. It's mainly due to Nexen giving them a 10 out of 10 rating for driving comfort, so we just had to see that for ourselves.
Indeed, the driving comfort is splendid thanks to the uniform center rib that absorbs road cracks and uneven sections. However, the noise isolation isn't exactly at the level that the manufacturer promised. It's still quite good, but you can hear some road vibrations at higher speeds.
Competitors and alternatives
For the price range and the qualities that Nexen N5000 Platinum tires offer, it's hard to find a suitable replacement. There are still some tires that offer slightly better noise isolation and snow traction, but their price is also considerably higher.
Here are the main alternatives to these all-weather tires:
General Altimax RT43
Uniroyal Tiger Paw AS Touring
Price range
Looking at the price of these tires, it all depends on the size, speed rating, and loading capacity. You can find a single 16″ N5000 Platinum tire for around $120, while the 20″ tire costs around $250.
It's a good thing that these tires are often on rebates and discounts, so you can get them at a more convenient price.
Nexen N5000 Platinum warranty policies
As we reach the warranty policies, there are a few great offers that Nexen includes with these tires. First, there's the mileage warranty that varies depending on the speed rating that you opt-in for.
If you buy a set of N5000 Platinum tires with an "H" or "V" speed rating, you'll be looking at 70,000 miles under warranty. Consumers that value performance driving can go with tires with a "W" speed rating, but that gives you 55,000 miles under warranty.
Also, you get a free trial for the first 45 days or 500 miles passed, so you can test the tires yourself, along with 36 months of road assistance, in case of irreparable puncture occurs while being on the road.
Our take
From an expert point of view, Nexen N5000 Platinum tires get quite close to the genuine performance grand touring tires. If you don't know much about tires in general, these will make a perfect combination of an affordable price, precise handling at higher speeds, and all-weather traction.
So, don't hesitate to test Nexen's free trial period and see the qualities of N5000 Platinum tires for yourself!