BFGoodrich All-Terrain T/A KO2 review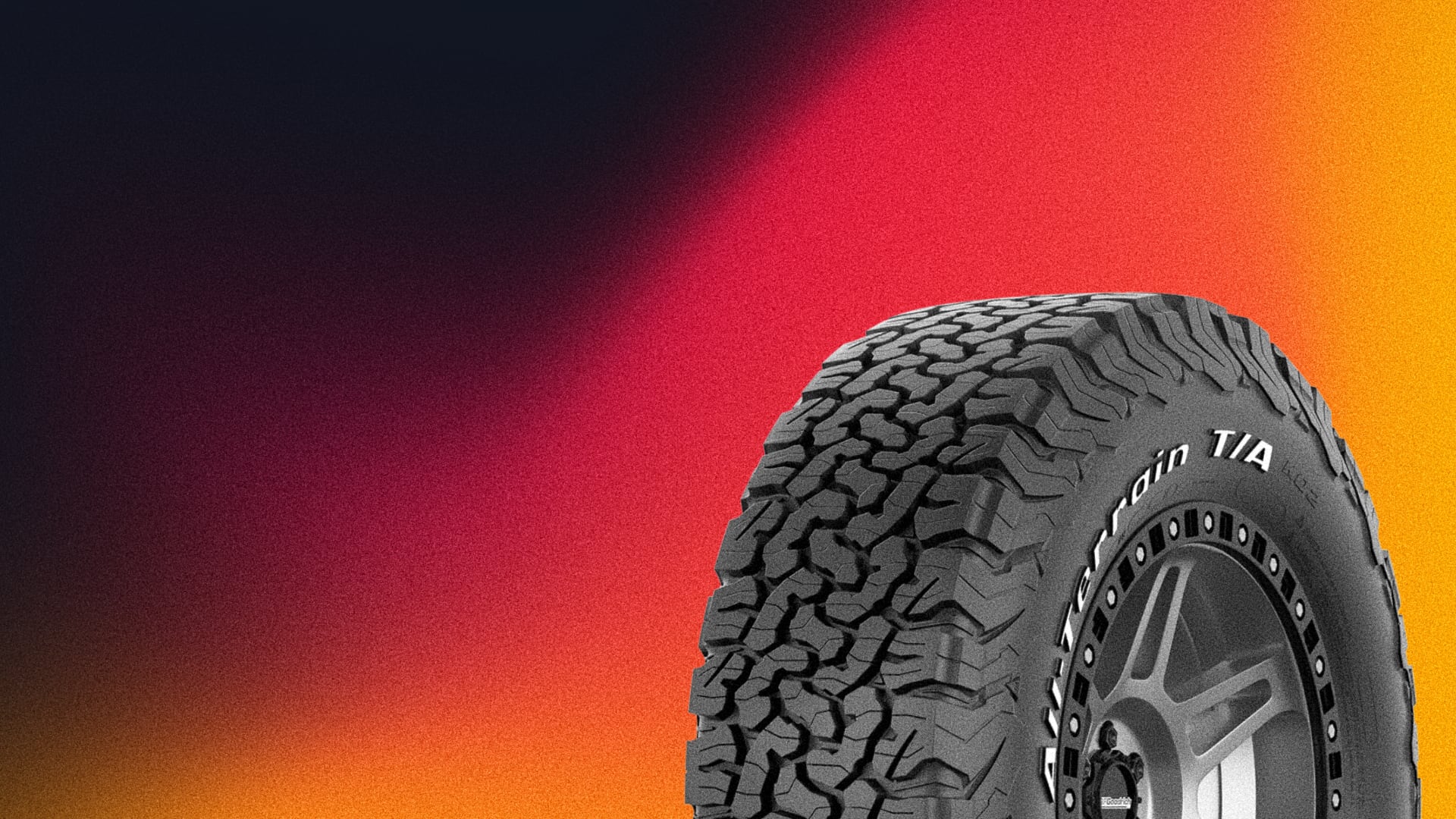 If you own an SUV or pickup track suitable for off-road driving, it gives you the chance to combine everyday drive with some exciting rocky-terrain action. To do this, you'll need a set of genuine all-terrain tires, and BFGoodrich T/A KO2 makes a great choice.
The first thing that comes to mind as you look for the best all-terrain tires is whether they offer a solid on-road to off-road traction ratio. If you are thinking of getting these as your top pick, join us as we dig deep into the T/A KO2 technologies, features, handling, and other traits in this BFGoodrich T/A KO2 review!
Recommended
BFGoodrich All-Terrain T/A KO2
The top-quality rubber material of BFGoodrich All-Terrain T/A KO2 tires is just robust enough to make off-road driving possible, while maintaining a great noise isolation for a heavy-duty truck and SUV tire.
REREV may receive a commission for purchases made through links on our site. Learn more.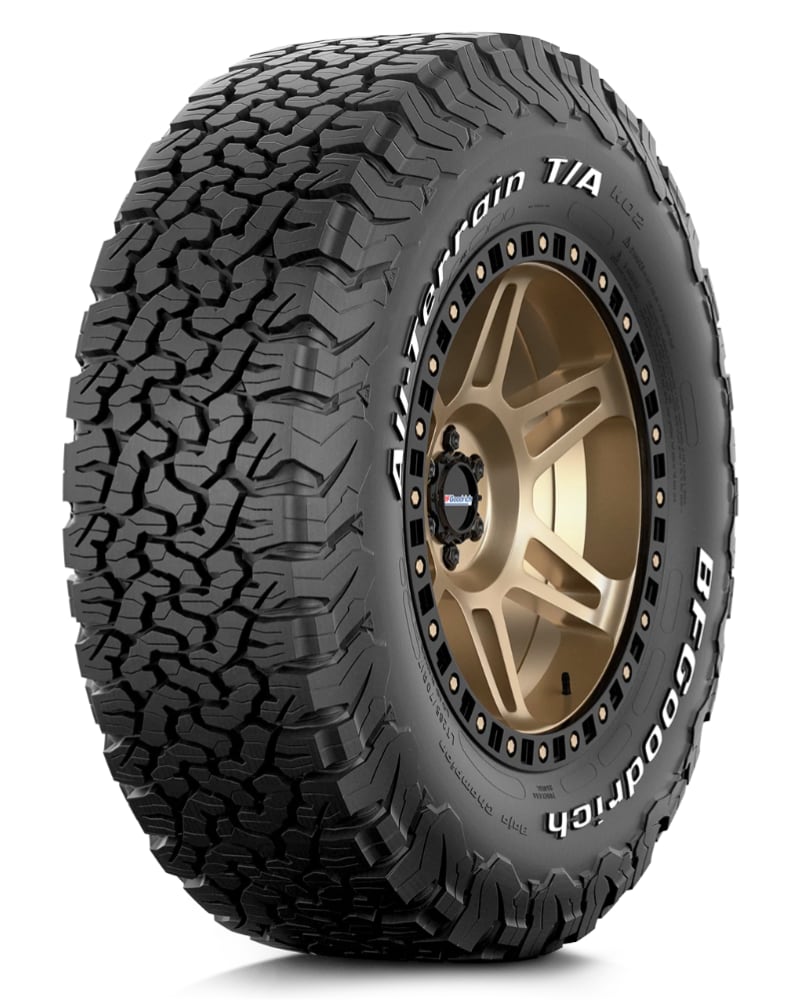 Why you can trust REREV's tire reviews: Our automotive expert researchers analyze tire specs, customer feedbacks and reviews from credible sources. This thorough analysis provides accurate information about tire performance, helping you make the best choice. Find out more about how we evaluate tires.
Key technologies
BFGoodrich has a long tradition of making superb all-terrain tires, and that's the first clue you can rely on to show you the true value hiding in each of their sets. These tires come as the second generation of the T/A KO tires that have already proven to be one of the best all-terrains.
Most importantly, BFGoodrich T/A KO2 comes with several improvements when compared to its predecessor. They have a reinforced sidewall zone with 20% thicker rubber than T/A KO tires had. These tires are also based on Baja T/A KR2 competition tires to give you a professional all-terrain drive. Here's a brief overview of the key technologies used in production:
Thick shoulder rubber that extends into sidewalls
Coreguard technology based on Baja KR2 tire
Tread sipes for increased traction
Longer-lasting tread formulation
What the original KO tires lacked is the latest Coreguard technology used to make the extended shoulders with deep sidewall zone support. This means better grip and higher stability as you take your off-roader into the rocky terrain.
Even with an open-differential vehicle, the tire just grips around the rocky surface and finds its way over any bump. Tread sipes are also added to help make these tires a little bit better in bad weather and mud.
You probably aren't looking into these because of their bad weather drive qualities, but why not get the ultimate blend with a single tire set? Not to mention their newest-generation tread formulation with thicker rubber that ensures even tread wear and helps the tires last 20% longer than the original T/A KO set!
Safety features
Driving safety isn't something that you should be bothered with while thinking about getting these tires. With the 3D locking tread sipes, they have a tight grip on the highway with a shorter braking distance which can sometimes be a crucial safety element.
Even if you get stuck in the rain while driving off-road, the 10% increased mud traction will get you out. Stone ejectors in the tread should do the job of making the grip surface free of small stones and mud. The zig-zag tread blocks with small voids replace the role of circumferential grooves that this tire doesn't have, and prevent any water and mud from sticking in the voids.
Speed ratings
If you are to opt-in for the KO2 tires with a higher loading capacity, you'll get to choose between the "Q" and "S" speed ratings. The latter will allow you to cruise the highway with an optimal speed of 112 mph. On the other hand, the speed rating "Q" ensures a cozy and stable ride up to a speed of 100mph.
However, it's probably not your intention to test the speed limits with these, but rather to mount them on your SUV or truck for some rocky mountain road drive. Regardless of the speed rating, this tire set will offer you equal driving comfort and handling on the highway as it does for off-road drive, which is a compelling combination for everyday driving.
Treadwear and durability
Before you get to decide if these tires are worth it, it's enough to compare the treadwear with the previous KO model and make your choice easier. You are probably thinking of the rocky terrain and gravel treadwear with this set, right?
If that's the case, you can rest assured since KO2 tires have a 50% longer tread life on gravel when compared to KO tires. The minimum estimated tread life gives you at least 50 thousand miles and that's just warranty-wise. So, you should really be able to enjoy these off-road tires for at least two or three years. Another important thing to have in mind is the thicker rubber material with narrow voids that evenly wear.
Thanks to this, the KO2 has already gained quite a fanbase among off-road enthusiasts, and they namely last for years without an issue.
Maintenance indicators
If you're into the raw statistics, then the maintenance indicators of BFGoodrich All-Terrain T/A KO2 tires state that a final 2/32 inches of treadwear should last about 4 thousand miles. Sadly, as this indicator is often shown embedded in the grooves, it seems that there's no visible wear indicator. That's all the more of a reason not to wait until the tire reaches its final 2/32 inches of wear.
The 440AA UTQG rating also goes in favor of these tires lasting about 40,000 miles to 50,000 miles. These indicators are not something that should get into your head to prevent you from enjoying the full potential of an off-road KO2 drive. You can feel free to drive through rocky roads without having to worry about shortening the life span of this tire set!
Traction performance
Now, even though you'll be interested in the off-road capacity and performance the most, it can't hurt to get a complete overview of how these tires perform:
Wet traction performance
Let's face it – there's always a chance of rain while off-roading in the fall or wintertime. As you are trying to reach your vacation cabin or simply having some off-road excitement, don't let the rain or mud stop you from filling out your intentions.
What's the best way to do it? Well, putting on the KO2 tires will get you on the right track. Their mud performance is not on par with the rocky terrain performance, but the key technologies prevent any possibility of getting stuck.
The 3D sipes allow aggressive traction in the mud, along with mud-phobic bars and the serrated shoulder design. As for the open road, you'll face no problems at all driving your pickup on these tires when it rains, and the braking distance is nearly identical to one in dry conditions.
Dry traction performance
What these tires perhaps lack for mud traction with narrow tread voids, they compensate for in dry conditions. It's a compromise that BFGoodrich took and you'll surely enjoy it if you wish to get a tire set suitable for everyday driving and off-road driving.
Because of the tread design, the road grip is outstanding and offers comfortable highway driving.
Off-road traction performance
And now, we finally reach the most exciting part of the KO2 tire review – off-road traction and performance! If you are looking for these, you'll be mainly interested in off-road driving and that's where these tires truly shine.
These tires simply fold over any obstacles and rocks as they air down, giving you the possibility to put even larger rocks behind you and keep on driving. It's no exaggeration to say that these tires are simply excellent for off-roading.
They are just one level below the competition-level off-road racing tires and it makes no wonder since they were based on such tires.
Snow performance
While mud can make you a slight problem with these tires, snow won't be an issue – KO2 tires are impressive on snow roads. They help you brake in a short distance and since the tread pattern is divided into so many smaller sections, there's not much space for snow to get stuck between the ridges.
As for the off-road snowy terrains, KO2 tires aren't as good as on dry rocky roads, but you'll still be able to avoid getting stuck.
Noise and comfort
The BFGoodrich All-Terrain T/A KO2 tires are made of thicker and tougher compounds when compared to soft off-road tires. You might instantly think that there's a bumpy road ahead, but we were quite surprised at how they handled the road.
There are just slight noises and the comfort is superb both on the highway and while off-roading. These are the absolute best among hard-compound off-road tires in terms of driving convenience and comfort. You can have a pleasant conversation without shouting while enjoying your favorite off-road terrains!
Competitors and alternatives
Truth being said, these tires combine so many impressive features that it might be hard to find suitable competitors considering the tread life, comfort, and off-road handling. Still, these are some of the main rivals to the KO2 tire set:
Goodyear Duratrac
Nitto Ridge Grapplers
Price range
The KO2 tires can vary in price drastically based on the size, starting from $200 to $600 per tire, with the price of around $200 for a 16-inch tire. The loading capacity and speed rating can also make a difference in price levels.
Overall, for a top-notch off-road tire set, it's not exactly the cheapest price tag, but it's definitely worth it due to their performance.
Warranty
The warranty provided by BFGoodrich includes a mileage warranty on 50,000 miles or a 60-day satisfaction guarantee. During this period, you can rely on a warranty in case of material deterioration.
You can even bring them back if you are not satisfied within the first two months and get a new set of tires in the equal price range!
Compatible cars
Among the SUVs and pickup trucks you might want to use the BFGoodrich All-Terrain T/A KO2 tires for, these are the common vehicles that suit them best:
Jeep Wrangler
Chevrolet Silverado
Dodge Ram
GMC Yukon
Honda CR-V
Mitsubishi Montero
Land Rover Discovery
Ford Expedition
Toyota Land Cruiser
Toyota 4Runner
Our take
Ultimately, if you are looking for a blend of superb all-terrain driving and a tire that provides comfortable highway drive, BFGoodrich All-Terrain T/A KO2 tires make an excellent option. You won't be bothered by driving noises and these tires have great traction even on a wet and snowy road.
So, if you are looking for a set of tires for perfect off-road performance and everyday compatibility, getting this set is a no-brainer.