BFGoodrich G-Force Comp-2 AS review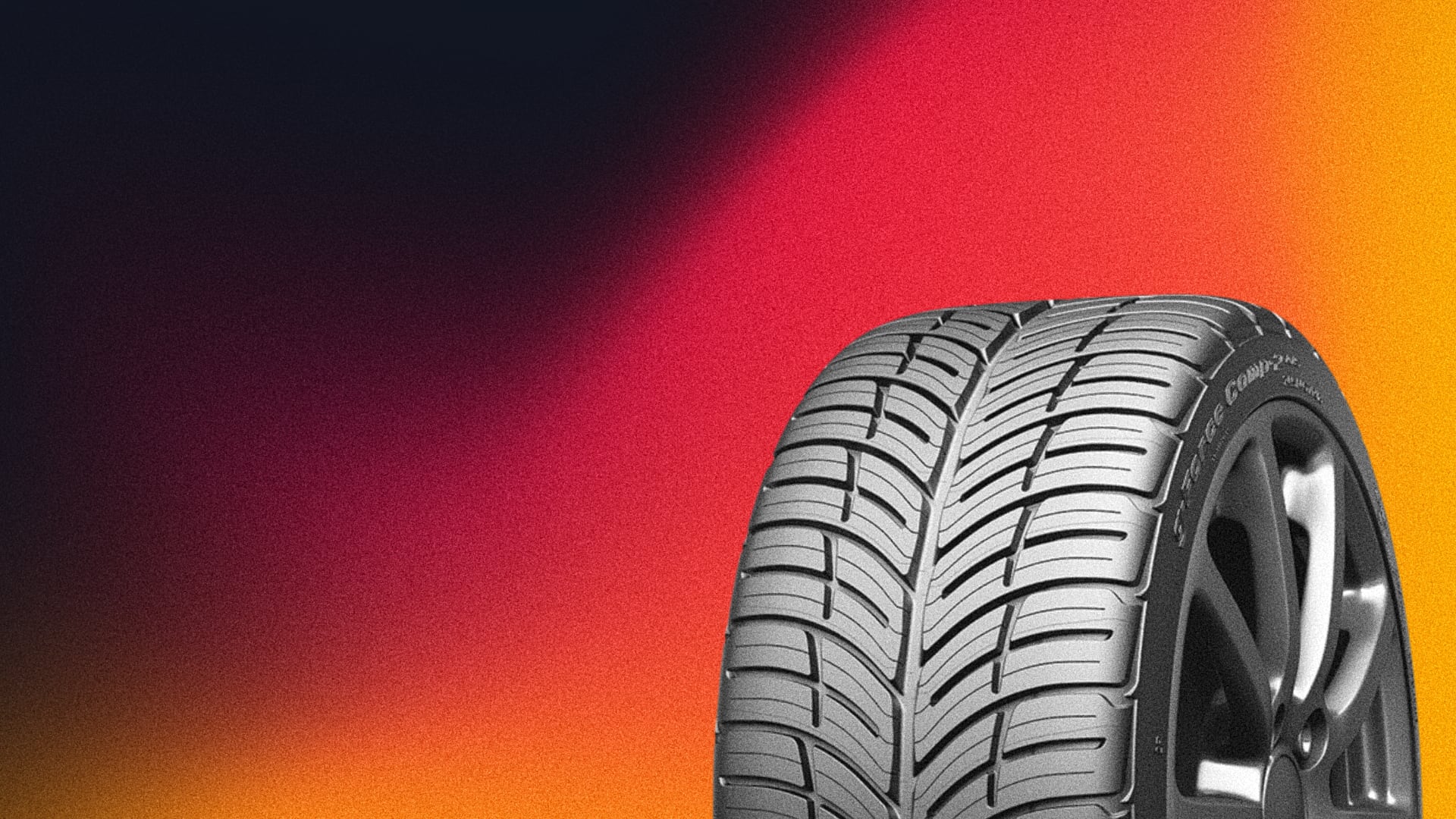 REREV may receive a commission for purchases made through links on our site. Learn more.
What if we told you that there's a tire set capable of delivering great all-season traction with a high-speed limit, and all that at an affordable price? The BFGoodrich G-Force Comp-2 all-season tires come as a successor of the old Super Sport tires by the same brand.
While the old tires behaved above average, the manufacturer wanted to make these tires better by giving you higher acceleration, shorter braking distances, and better traction. So, join us in this BFGoodrich G-Force Comp-2 review as we dig deeper into the features that make these tires great for sporty sedans and muscle cars!
Recommended
BFGoodrich G-Force Comp-2 AS
BFGoodrich made the G-Force Comp-2 A/S tire to rival budget-friendly solutions among all-season tires with a higher speed limit, and the best thing is – it does ti successfully with a convenient price and premium brand quality.
Purchases made through links on our site may earn us a commission.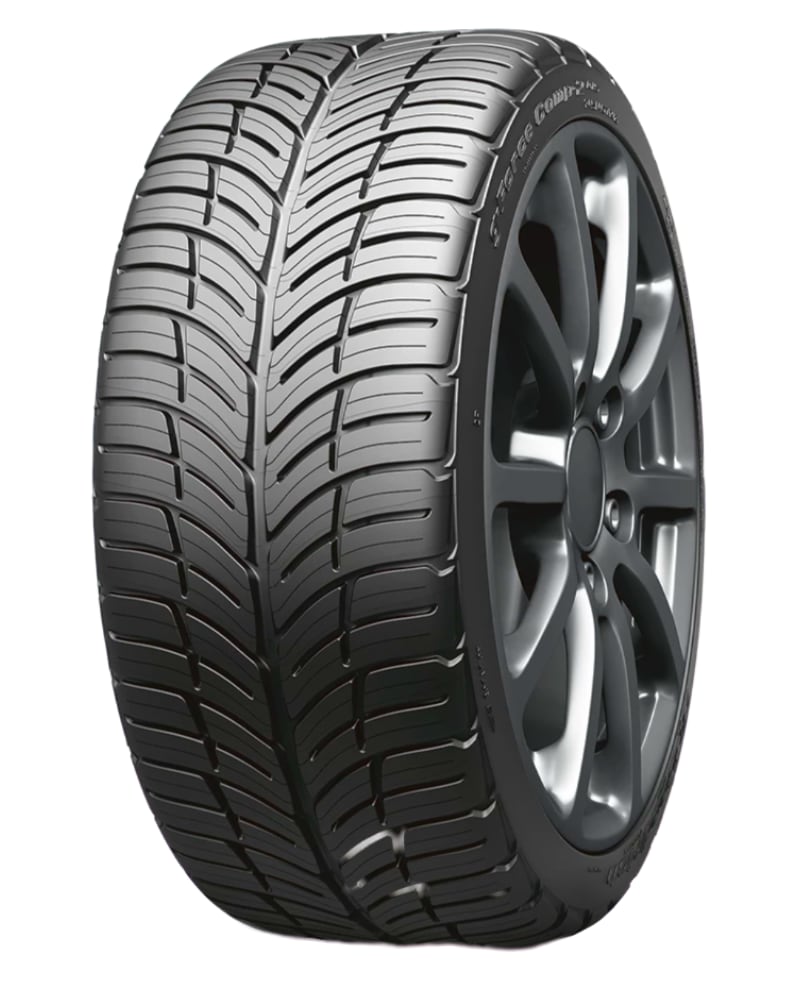 Key technologies
The tread pattern of these tires alone makes them unique, and you can see how BFGoodrich wanted to make them optimized for higher speeds and all-season traction. Here are some of the main features that the manufacturer utilized in tire production:
V-shaped tread grooves
Reinforced internal structure
Performance Racing Core system
G-Control sidewall inserts
It sounds like a lot to process, but we'll explain how these features add up to your overall driving performance. With the V-shaped tread grooves, BFGoodrich didn't only reduce the hydroplaning risk, but also managed to make a perfect balance between dry and wet traction.
You still get a great water dispensing system without losing on the ground contact patch surface that gives you optimal performance on dry roads. On the other hand, the internal structure of the tires is uniquely designed with two internal steel belts that are intertwined in nylon to give you that additional bit of support and stability at higher speeds.
The Performance Racing Core system brings additional cornering stability to the table, and the wide shoulder blocks add up to it in all weather conditions.
With the G-Control sidewall inserts, you'll get an extra boost for making swift turns as the tread blocks slightly spread on the sidewall of the tire as well.
Safety features
Of course, driving at high speeds also requires proper safety features, and BFGoodrich made sure to include quite a few. From V-shaped tread grooves that spread in different angled directions, to reinforced tread blocks for higher stability, these tires bring it all.
You won't have to worry about hydroplaning, which is when your vehicle loses ground grip under a layer of water on the road. Even wet cornering is impressive with these high-performance tires, and there's no sliding even as you tackle wet corners at higher speeds.
Speed ratings
If you are driving a performance coupe or sedan, you are probably aware of the concept of tire speed ratings. It's a mark that specifies the maximum speed limit that tires can reach without losing their safety properties or noise isolation.
So, these tires won't let you down in this category, as they can handle speeds up to 168mph thanks to their "W" speed rating.
That's why they can easily fit on muscle cars and sporty sedans, as there's just a single speed rating level above one of G-Force Comp-2 tires.
Treadwear and durability
Truth being said, the tread life of high-performance AS tires isn't as long as one of the regular all-season tires. So, you can't expect too much from G-Force Comp-2, but the tire still gives you considerable mileage for the category.
You should be able to get at least 45,000 miles out of these before having to replace them with a new set. According to the US Highway Administration, that's at least treble the mileage that an average US driver passes per year.
So, you can get a high-performance tire capable of great all-season traction, and make it last for 3 or 4 years with these beauties!
Maintenance indicators
Treadwear markings can tell you about the remaining tread life of the tire since BFGoodrich included a TWI indicator between the treads. As the tread blocks wear off, this mark might become aligned with the tread surface and you can see it by looking between the treads.
Once this happens, you should be alarmed that it's time to change G-Force Comp-2 tires with a new set, as you've reached the final 2/32″ of the tread. Not only is it the legal minimum, but it's also not safe to drive without having more tread. The traction would be reduced and you just wouldn't be able to get the same level of performance from these tires after hitting the mark.
Traction performance
It's crucial to measure the traction performance of tires like G-Force Comp-2 since these are high-performance tires after all. The manufacturer stated that they have slightly better traction than the closest competitors, so we were curious to investigate further.
Wet traction performance
Regardless of the unique tread design, these tires retain proper water dispensing systems for great traction on wet roads. Besides the V-shaped grooves, you'll also spot circumferential grooves on the sides.
These grooves are spread over the shoulder treads to give you additional water dispensing qualities. The hydroplaning resistance is also boosted with deep sipes in the tread blocks. Thanks to the wide shoulder footprint, you'll get more than a decent performance when making swift turns.
Dry traction performance
You can see the tire's low rolling resistance by doing takeoffs from the traffic light. These tires will behave simply amazing on dry roads, and the V-shaped tread pattern helps with the acceleration.
The sidewall inserts and wide shoulder blocks also aid in cornering and faster steering response overall. You won't face any tire squealing or sliding on dry roads, and the performance of these tires gets quite close to UHP summer tires. We were genuinely amazed by the handling precision and incredibly short braking distances on dry roads.
Snow traction performance
Now that we saw how these tires handle wet and dry roads, one important question remains – how do they handle light snow? These are all-season tires, after all, so you shouldn't settle for poor snow performance, especially for your rear-wheel-drive muscle car.
Amazingly enough, BFGoodrich G-Force Comp-2 tires have quite a bit of punch in terms of snow traction, having in mind that they are performance tires. You still can't drive at high speeds on icy roads, but the braking distance is one of the shortest in this tire category.
V-shaped tread grooves create biting edges that stabilize the grip of the tire even in case of light snow, but you should still be careful without pushing your luck in these weather conditions.
Off-road traction performance
In all honesty, these tires are horrible for off-roading, but that's not a surprise for high-performance tires. These aren't meant for SUVs and trucks capable of delivering decent off-road performance.
Also, the tread design is simply not aggressive enough to bite on rocks and sharp off-road terrains, so it gets easily damaged. This doesn't necessarily have to be a downside, though – if you are looking at these tires, chances are that you'll rarely ever leave the road.
Noise and comfort
The noise isolation level and comfort aren't as refined as you get with touring all-season tires. Still, most performance drivers will find it compelling, as you get complete contact and interaction with the road.
The car feels stiff with these tires mounted, but that's not something that you should be unfamiliar with as a driver of a performance model. Overall, the comfort isn't even near bad, but you should be aware that you won't be in for the most refined ride with G-Force Comp-2 tires.
Competitors and alternatives
The competition between high-performance tires is tough, and there's just a narrow line dividing the tires in terms of quality. So, here are some tires that make the main competition for the G-Force Comp-2 tires:
Michelin Pilot Super Sport
Continental Extremecontact DWS
Price range
The affordable price is yet another quality of these tires, as you can get a single 16″ tire for around $110. However, the price changes with the tire size and you'll be looking at around $230 for a single 20″ tire.
Nevertheless, you can count on rebates and discounts, so these tires make a great bargain for the price.
Warranty details
The G-Force Comp-2 tires include a great warranty deal that comes in handy in unwanted situations where your tire tread gets punctured. You can count on 45,000 miles tread wear warranty, along with the uniformity warranty given for the first year of use, or the first 2/32 ″of tread.
Finally, you can also lean on a workmanship and materials warranty that's got you covered for 6 years and include a free replacement during the first 2/32″ of the tread.
Compatible cars
The car profile that fits these tires the best is clear – you can either mount them on a sports coupe, sedan, or a muscle car. So, here's a list of just some of the vehicles that make a perfect combination with G-Force Comp-2 tires:
Audi S5
Audi RS6
BMW 328i
BMW 335i
Chevrolet Camaro RS
Chevrolet Camaro SS
Ford Mustang
Dodge Charger
Honda Accord
Hyundai Genesis Coupe
Lexus IS300
Mitsubishi Eclipse
Nissan 370 Z
Our take
As the time comes to sum it all up, we are confident in our verdict on G-Force Comp-2 tires. There's a visible and remarkable advance when compared to the old BFGoodrich Super Sport tires, and it's visible both in terms of handling and traction.
Short braking distances help improve your safety while driving, and your performance car will get a new set of boots that add up to its stiff composure to give you better contact with the road.
REREV may receive a commission for purchases made through links on our site. Learn more.