BFGoodrich Advantage T/A Sport LT review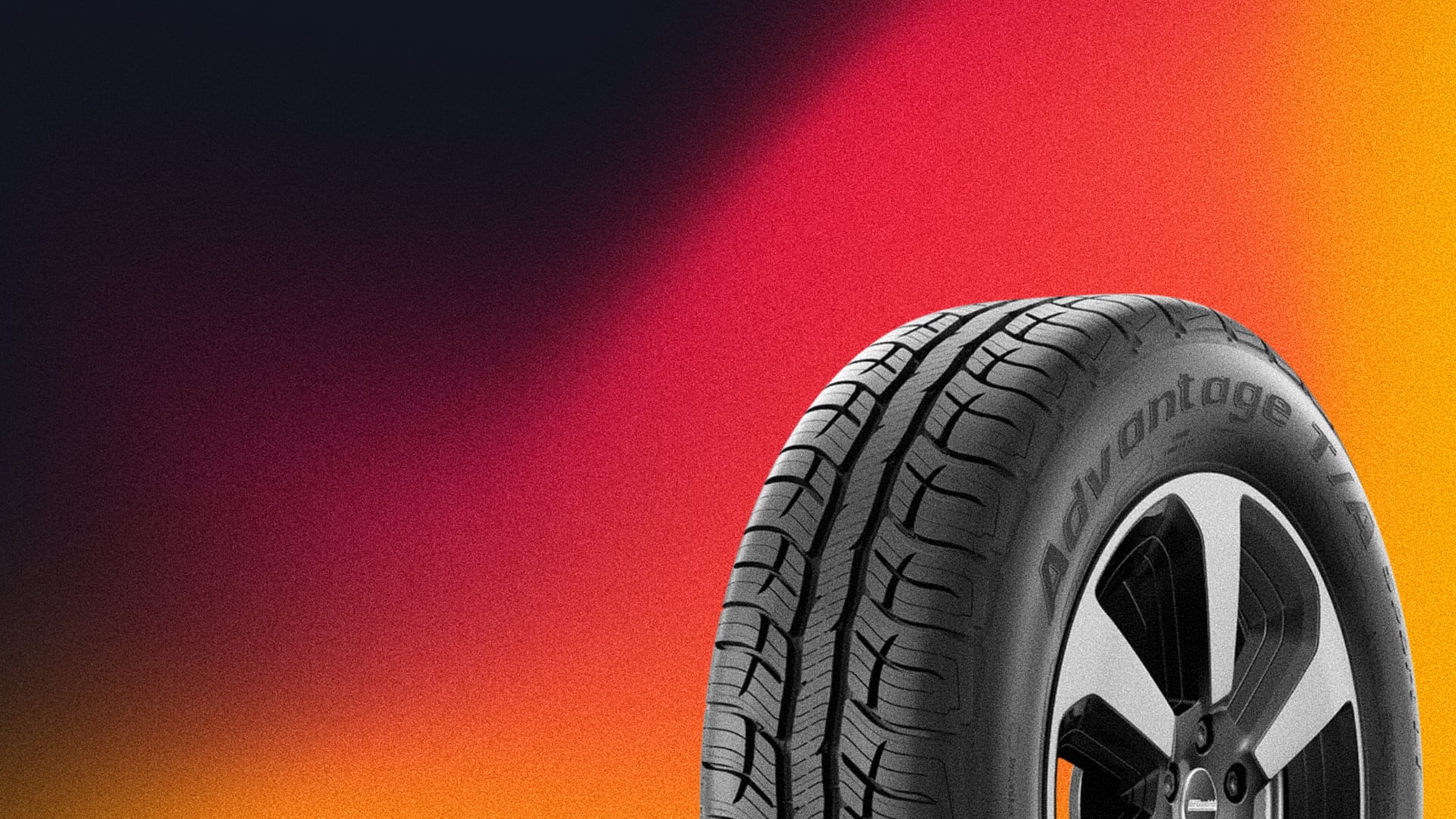 REREV may receive a commission for purchases made through links on our site. Learn more.
If you don't want to settle for low-quality all-season tires that aren't properly tested performance-wise, BFGoodrich offers a solution. For a moderate price for this tire rank, you'll get all-around sporty performance for your SUV or light truck.
Sounds too good to be true? Stand by for our BFGoodrich Advantage T/A Sport LT review, and we'll give you all the details so you won't have to do the digging yourself! We'll make sure to include a performance test, along with the main features that make these tires safe, and the driving sensation as refined as it gets.
Recommended
BFGoodrich Advantage T/A Sport LT
The Advantage T/A Sport LT tire from BFGoodrich is designed to withstand higher speed and sporty driving style while giving you a signature driving comfort that comes with the best touring tires made by the brand.
Purchases made through links on our site may earn us a commission.
Key technologies
You can tell that the manufacturer made all the efforts to make these tires great for all seasons by taking a look at the pattern. The center rib is unlike anything you'll see on products from tire brands that invest less in research and development.
These are the main features that make BFGoodrich tires one of the best options for your SUV or light truck:
Continuous center rib for dry traction
Aqua-Flume grooves technology
Wide shoulder blocks
Improved snow handling
BFGoodrich wanted to improve the all-season traction of these tires when compared with other tires from this category aimed at SUVs. First off the continuous center rib adds up to the dry weather performance, as you can barely see any voids in it.
Because of it, the entire rib leans on the road to give you the lowest rolling resistance possible. If you think that this reduces wet traction, wait until you hear about the Aqua-Flume grooves technology.
These cross-like grooves extend on the shoulder blocks to remove any excess water, along with two deep grooves that spread across the tire on the sides of the center rib. With wide reinforced shoulder blocks, all-season traction gets improved in the corners for turns.
The sipe design itself along with cross-like grooves act as a large biting edge that keeps the tire stable even while driving on light snow.
Safety features
Safety-wise, Advantage T/A Sport LT tires behave impressively stable in different driving conditions. Even if you happen to drive on extremely slippery roads, you should be able to maintain stability with Aqua-Flume grooves.
If the tire didn't have these channels, you would be in danger of losing the grip under a layer of water between the tire and the road. So, these make some of the safest all-season SUV tires on the market.
Speed ratings
From the name of the tire, you might conclude that it's a sporty option, but it mostly focuses on traction and driving comfort. However, BFGoodrich did include three different speed rating marks to give you the freedom of choice – "T", "H", and "V".
These designations specify the maximum speed you can drive without lowering the tire's safety features and stability. With Advantage T/A Sport tires with a "T" speed rating, you can drive up to 118mph without losing the grip. On the other hand, the "H" speed rating means you can drive safely up to 130mph, while the 'V" speed rating only exists for an 18″ trim of the tire and enables you to drive at higher speeds up to 149mph.
Treadwear and durability
What good would these tires be if they didn't last at least a few driving seasons? Tread life is one of the main concerns of tire buyers, and you can rest assured that these will get you going for quite a while.
You'll be able to get at least 65,000 miles out of these, and that gives you about 4 or even 5 years of driving on average. Wondering how can we tell that? Well, the official research of the National Highway Administration concluded that an average driver passes about 14,000 miles per year, so that adds up to the longevity equation.
Maintenance indicators
Looking at the wear indicators can tell you about the remaining tread life on your tires. You can find these indicators between the tire treads, and if you see the treads are aligned with them, that means you have only the final 2/32″ of tread left.
To ensure the highest traction performance from your tires, you must swap the for a new set before they get flat.
Traction performance
When it comes to traction performance, it goes without saying that touring all-season tires like these need to excel. With that in mind, we were curious about the manufacturer's statement that these tires give you 30% more snow traction, and 9% higher hydroplaning resistance, so we put the traction to the test:
Wet traction performance
The performance of BFGoodrich Advantage T/A Sport LT tires in the wet is on a level slightly above moderate. It doesn't give you the chance to drive at higher speeds when it rains, but it keeps you safe and prevents any hydroplaning from happening.
You'll have to be a bit careful when making turns, but other than that, you'll have a decent experience with these all-season tires. They don't rate near the top of the category, but you get what you pay for.
Dry traction performance
The dry performance is a bit better than the behavior of these tires on wet roads. Thanks to the uniform center rib, you'll have the highest possible grip that an all-season tire can give you in the summer.
Cornering is also improved due to large shoulder blocks, so you'll be able to enjoy a smooth ride with precise handling behind the wheel. The speed limit is as it is, but you shouldn't consider these tires as ultra-high performance tires.
Snow traction performance
As mentioned, BFGoodrich states that these tires give you 30% better snow handling, and the manufacturer turns out to be right on that one. You'll truly get an amazing handling precision even on snowy roads.
The cross-grooves and numerous sipes that act as biting edges give you more than enough traction to keep your SUV in the lane when it snows. What's more, the cornering and braking distances are much better when compared with other all-season tires in this price range, so these tires truly do offer impressive wet traction.
Off-road traction performance
Don't assume that these tires can handle off-road terrains just because they fit on SUVs and light trucks. Their tread blocks are simply not aggressive enough to cope with challenging rocks and holes.
The inner casing is equally sensitive since the technology used in tire production aims for improved traction on the road. So, as much as you can make a short detour from the road with these, don't force it with off-road terrains.
Noise and comfort
BFGoodrich used all the technology solutions to make the tread of these tires suitable for higher hydroplaning resistance and better snow traction. So, they might lack some noise isolation elements, but it's still far from a noisy ride.
On the other hand, you'll be able to enjoy a pleasant and comfortable ride with these, and road bumps won't trigger many vibrations that could reach the cabin. So, in terms of comfort and noise, these tires rate somewhere above the average for this tire category.
Competitors and alternatives
It all depends on your understanding of what a good all-season touring tire is when thinking about Advantage T/A Sport LT's rivals. While some tires may have better noise isolation and wet cornering traction, these seem quite impressive as the overall package.
So, here are a few worthy competitors to BFGoodrich Advantage T/A Sport LT tires:
Michelin Defender
Goodyear Assurance Weatherready
Price range
When considering the price range of these tires, you'll have to be aware of two things – tire size and speed rating. The price can vary between the tires of different sizes, so you'll be looking at an average price of around $120 for a single 16″ tire.
On the other hand, a single 20″ tire costs around $260, but you should still be on the lookout for the best rebates and discount deals to grab these at a more convenient price.
Warranty Details
As for the warranty package that BFGoodrich gives you with these tires, you can count on the treadwear warranty for up to 65,000 miles. Also, BFGoodrich offers a uniformity warranty during the first year of the tire use, or the first 2/32″ of the tread.
Also, you can make use of the workmanship and materials warranty that lasts for 6 years and gives you a free tire replacement during the first 2/32″ of wear.
Vehicles compatible with BFGoodrich Advantage T/A Sport LT
Since these all-season tires mainly fit SUVs and light trucks, here's a list of some of the vehicles that make a perfect fit:
Ford F-150
Ford Expedition
Land Rover Defender
Honda CR-V
Chevrolet Silverado
Chevrolet Tahoe
Toyota Land Cruiser
Toyota Tundra
Jeep Grand Cherokee
Mitsubishi Pajero
Nissan Frontier
Dodge Ram
Lexus GX470
Our take
In the end, you'll rarely find a better set of all-season tires that give you a comfortable driving experience and great snow traction for a better price. The BFGoodrich Advantage T/A Sport LT tires truly have something special that could make you go for them as your top pick.
They might not be the best in wet cornering, but they compensate for it with impressive snow traction and increased hydroplaning resistance which turns out to be more useful in the long run.
REREV may receive a commission for purchases made through links on our site. Learn more.