Pirelli Scorpion Verde AS review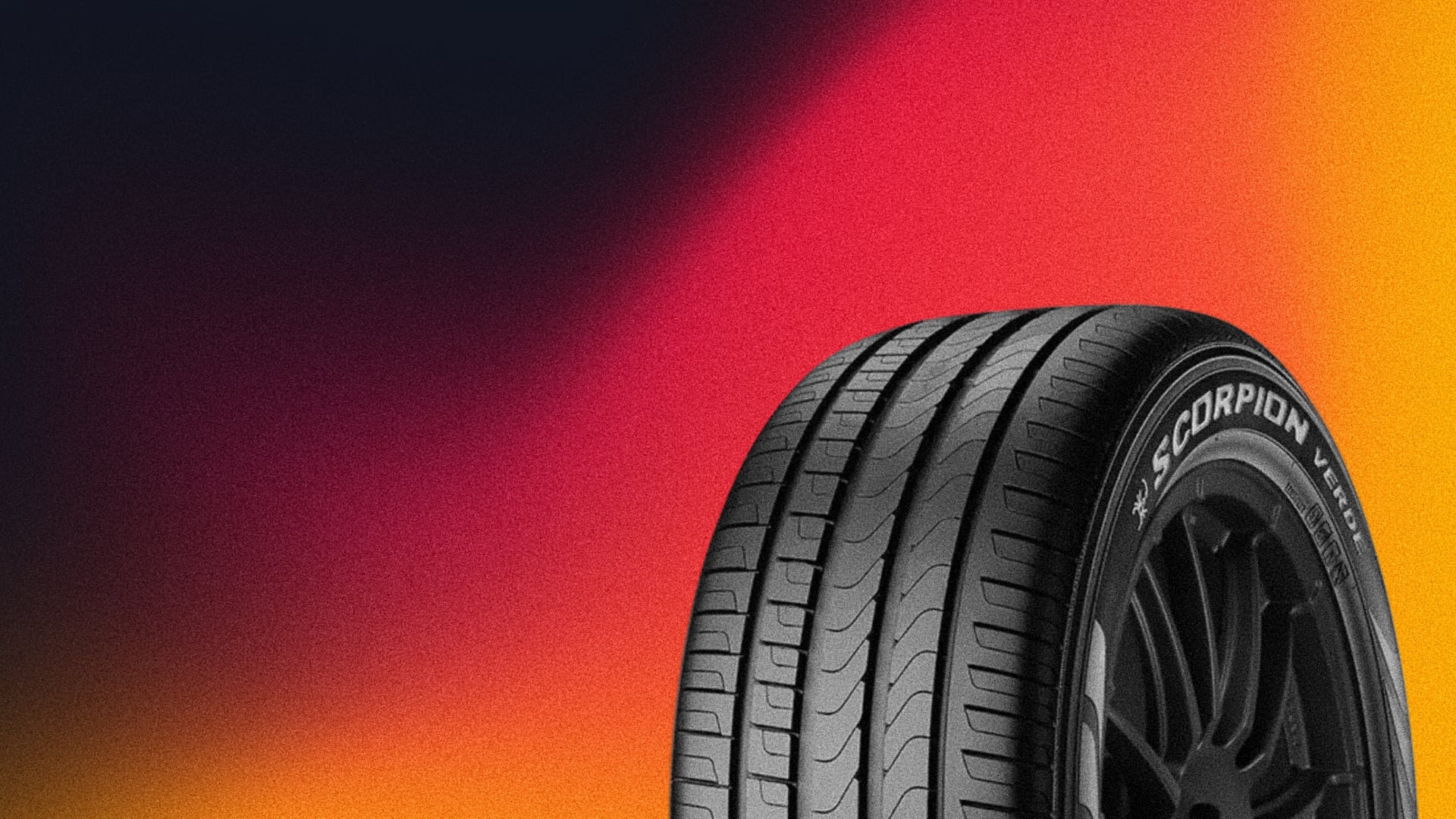 REREV may receive a commission for purchases made through links on our site. Learn more.
The Pirelli Scorpion Verde AS is an eco-friendly tire for small to midsize crossovers and sport utility vehicles. It is capable of handling light off-road duty. It incorporates low rolling resistance and reduced weight to enhance the fuel economy while reducing the CO2 emissions of your SUV.
The Scorpion Verde is built with Pirelli's PNCS or Pirelli Noise Canceling System. This technology utilizes a sound-absorbing device applied to the inside circumferential wall of the tire top significantly reduce road noise, allowing you to enjoy a quiet and comfortable trip.
What's more? The Pirelli Scorpion Verde AS tire also has a larger contact patch with four wide longitudinal grooves to offer better traction on wet and snow-covered roads. It is also equipped with many longitudinal siping with high-lateral sipe density to provide excellent all-season performance even on light snow.
Below are some of the features the Pirelli Scorpion Verde AS has to offer.
Recommended
Pirelli Scorpion Verde AS
The Scorpion Verde AS is Pirelli's flagship tire aimed at drivers of SUVs and light trucks that don't wish to spend too much, yet still get the unmatched quality that Pirelli tires can offer along with the run-flat feature in case of a sudden pressure loss.
Purchases made through links on our site may earn us a commission.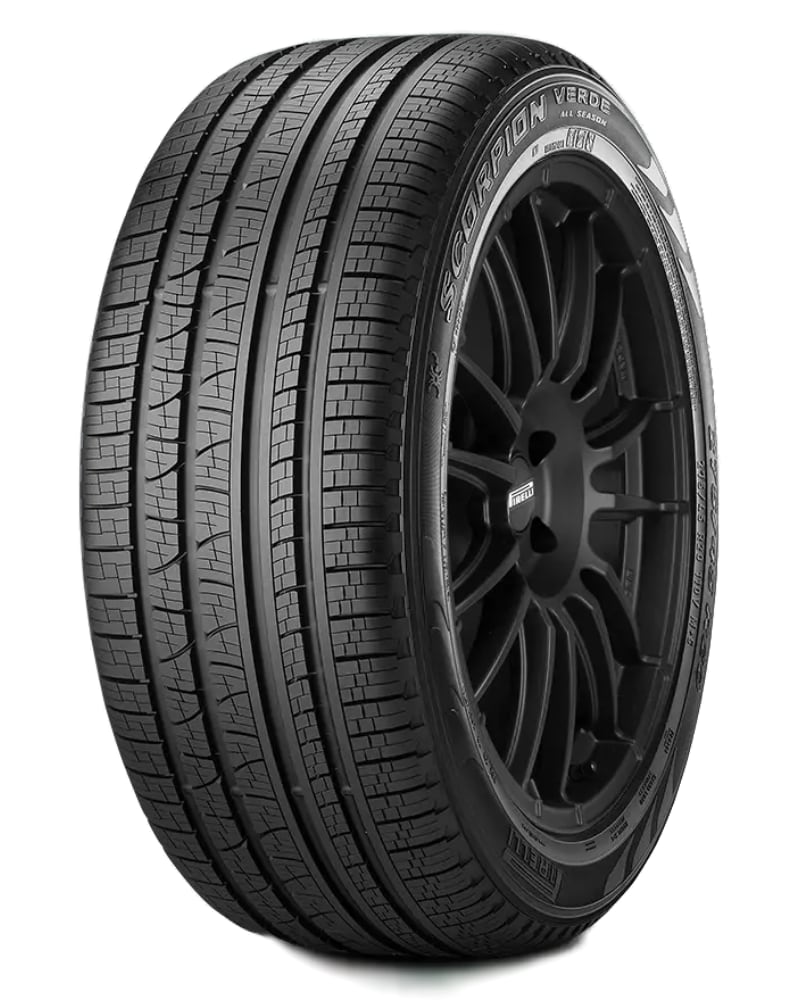 Key technologies
The Pirelli Scorpion Verde AS boasts new materials and a new structure guaranteeing steady performance throughout the tire's life, lower harmful emissions, noise reduction, running economy, shorter braking distances, and comfort. Its features include:
Seal Inside Technology: This technology allows you to drive on without losing air pressure, even after an external object has punctured the tire.
The Pirelli Noise Canceling System (PNCS): This technology reduces the noise inside the vehicle thanks to a sound-absorbing device applied to the inside circumferential wall of the tire, reducing noise by half.
Green performance: The 'verde' in the Pirelli Scorpion verde all season is an Italian word for green. This emphasizes that the tire is Pirelli's enhanced green performance, eco-friendly Crossover/SUV touring tire. With a combination of tire compound and tread, the tire is environmentally compatible and has reduced rolling resistance. The Low rolling resistance means less harmful CO2 emissions into the atmosphere. Additionally, it has a lighter weight and promotes vehicle fuel economy making fuel more affordable throughout the year.
Run flat: The Run flat is one unique technology of the Pirelli Scorpion verde all season. The Run flat is an impressive technology that helps the tires to keep going in the case of a rapid loss of inflation. It makes your car tire safer and more convenient since the reinforced sidewalls can endure the lack of air for a certain period while still operating correctly. If your tire has a Run-flat technology, it can take you a few miles ahead or buy you some time to pull over carefully in the event of a blowout.
Additionally, Scorpion Verde is made entirely of aromatic oil-free materials and lowers fuel consumption to 3.9% for city driving and 3.4% for mixed routes (city and motorway driving).
Safety features
Scorpion Verde combines ecological features with performance: improved braking, excellent traction on wet surfaces, and better handling. Its new materials integrate the latest technologies: nano-filler particles within the compounds, a polymer structure that helps the tire adapt to various road conditions, and hybrid fibers, which combine different materials to achieve diverse performance.
Scorpion Verde was developed to ensure improved safety on wet asphalt thanks to a tread pattern with four deep longitudinal grooves for increased water dispersion and innovative compounds designed to achieve more excellent traction on wet surfaces. Reinforced shoulders to optimize lateral grip on all asphalt conditions.
Speed ratings
The Pirelli Scorpion Verde AS has speed ratings of T, H and V. So you can get a maximum speed of 118mph, 130mph and 149mph respectively, depending on the type you purchase.
Treadwear and durability
The Pirelli Scorpion is built to last for an extended period, allowing drivers to enjoy these tires for up to 65,000 miles. As a confirmation, drivers attest that the tire wears excellently and still basks in its glory years after.
According to the US Federal Highway Administration, the average person drives 14,263 miles annually. That's roughly 1,200 miles per month per driver or about 39 miles per day. On average, you're looking at a tire lifetime of about 4-5 years.
Maintenance indicators
Pirelli tires have Tread Wear Indicators (TWI) at the base of the grooves, indicating a depth of 1.6mm, which is the legally accepted limit for tire use. If the tread leavel of your tires get to this level, at one point of the tread, the tire must be replaced, not only because its use is illegal but also because it no longer offers adequate safety guarantees.
Performance in the wet (resistance to aquaplaning) decreases in proportion to the thickness of the tread beyond the legal limit. We recommend you replace the tires when the tread is about 3mm for summer tires and 4mm for winter tires to ensure you remain within the safety margins.
Traction performance
The type of tire you need depends significantly on the weather and road conditions you drive. In some areas, a tire with excellent dry traction and sufficient wet traction will be appropriate for daily driving needs.
In other areas, you may need a tire designed for use in rain and light snow. While many of the same variables are evaluated in a wet traction test, the tread design is the critical variable of wet traction. Tread that boasts deep grooves channel water out from under the tire, thus providing excellent wet traction. These grooves keep a film of water from forming under the tires while you drive.
Water trapped between the tires and the road causes hydroplaning. When you choose a set of tires with good wet traction ratings, you stand a better chance of avoiding hydroplaning. The traction specification is listed beside the treadwear in letters such as AA, A, or B, with AA being the highest grade possible.
Dry traction performance
This might sound like an overstatement, but the Pirelli Scorpion Verde AS tires can stick like super glue on dry pavement. It has excellent handling as long as you remain judicious with your steering and throttle inputs. If you're planning on doing some off-road driving, these tires are what you need because they are equipped to handle light off-road trails without a hitch.
Wet traction performance
It's a mixed bag when you're driving in the wet. The Pirelli Scorpion Verde AS feels confident in the wet at slow to moderate speeds. But suppose you like driving at higher speeds on a wet highway. In that case, you better keep a firm grip on the wheel as the tires tend to temporarily break traction as you drive on rain-soaked pavement.
Snow traction performance
Traction and grip in the snow are pretty admirable with the Pirelli Scorpion Verde AS. However, suppose you plan to take your SUV on a skiing holiday. In that case, upgrading to a good set of snow tires is better since the Pirelli Scorpion Verde AS is not designed to tackle heavy snow.
Off-road traction performance
The Pirelli Scorpion Verde AS performs well in gravel traction but not so well in gravel handling. Also, it doesn't seem to struggle in mud. It performs excellently on grass and sand owing to its directional tread pattern.
Noise and comfort
An increase of just a few decibels represents a significant difference in noise levels. A slight difference of 3dB doubles the amount of noise the tire produces.
Often, the pass-by noise a car makes comes from the tires, and choosing a tire with a good noise rating can lower your driving impact on the surrounding environment. In this regard, the Pirelli Scorpion Verde AS tires curb acoustic emissions by one decibel, equal to a total reduction of 30% (feels like removing an entire lane from a three-lane motorway).
Since the Pirelli Scorpion Verde AS is a touring tire at the core, it is no surprise that it rolls quietly even when driven at high speed. The tires whisper at slow speeds and remain muffled even at higher rates. If you demand a comfortable and silent tire for your SUV, you don't need to look further than this.
Competitors and alternatives
The delivery of exceptional on-road and off-road performance puts Pirelli Scorpion Verde AS stand in-line with all the leading domestic and international brand tires like:
Goodyear Wrangler HP AW
Michelin Primacy 4
Bridgestone Dueler
Price range
Pirelli Scorpion Verde AS is a tubeless tire available in the 16-22 inches size range. With a price range of $168.31 – $463.76, the Scorpion Verde tire is an ideal fitment for cars like the Hyundai Creta, Audi Q3, Jaguar XF, Mercedes-Benz GLA-Class, and Hyundai Santa Fe. You could also get rebates and discounts, along with reasonable pricing.
Warranty
The Pirelli Scorpion Verde AS calls for a 50,000-mile warranty on H and V speed-rated tires or 60,000 miles on T speed-rated tires. There is also a first 2/32 inch of wear guarantee on the tire's uniformity.
Materials and workmanship are warranted for an unlimited period and call for the first year or first 2/32 inch of wear-free replacement. A prorated amount is given until the tire reaches its final 2/32-inch tread depth.
Our take
While you hear many people talk about how good Michelin or Continental SUV/Crossover all-season tires are, these Pirelli Scorpion tires are nearly as good.
They provide excellent handling and traction on various road surfaces, whether dry, wet, or snow-covered. The steering control and feel add to your confidence behind the wheel. They ride comfortably, and Pirelli backs them up with a 60,000-mile warranty.
The Pirelli Scorpion Verde AS is an excellent choice for your off-road SUV, Crossover, or light-duty truck. It provides you with the comfortable and quiet rides you deserve.
Where are Pirelli Scorpion Verde AS tires made?
Pirelli Scorpion Verde AS are tires that are made by a manufacturer from Italy. It comes in a total of 109 sizes, with 215/65 R16 being the smallest and 295/40 R21 being the largest.
How good are Pirelli Scorpion Verde AS tires?
Pirelli Scorpion Verde AS is an excellent tire because car owners can enjoy quiet rides even at higher speeds. Also, its excellent grip makes it stick to pavements, giving you control over hydroplaning.
How long do Pirelli Scorpion Verde AS tires last?
The PirelliScorpion Verde has a projected tread life of about 65,000 miles or about 4-5 years for an average driver.
What is the speed rating for Pirelli Scorpion Verde AS tires?
The Pirelli Scorpion Verde AS has a speed rating of T (118mph), H (130mph), and V (149mph), depending on the model you purchase.
Where to buy Pirelli Scorpion Verde AS tires?
You can buy the Pirelli Scorpion Verde AS from the manufacturer's official website or at your local automotive dealership.
What is the difference?: Pirelli Scorpion Verde AS vs AS plus 3
The Pirelli Scorpion AS plus 3 has a 3D siping technology, combined with innovative materials such as functionalized polymers, providing enhanced snow traction, excellent wet performance, and tranquil rides.u003cbru003eu003cbru003eThe Pirelli Scorpion Verde AS, on the other hand, doesn't perform as well as the Scorpion AS plus in snow, but it thrives in providing quiet rides to drivers.
Which is better?: Pirelli Scorpion Verde AS vs Michelin pilot sport 4
Based on driver reviews, the Michelin Pilot Sport 4 outshines the Pirelli Scorpion in aspects such as dry traction, corner stability, and light snow.u003cbru003eOn the other end of the spectrum, the Pirelli Scorpion shows strength in areas like ice traction, ride comfort, and steering response.
Which is better?: Pirelli Scorpion Verde AS vs Bridgestone dueler
The Pirelli Scorpion stands out better than the Bridgestone dueler in every aspect, like corner stability, dry traction, steering response, overall noise, overall comfort, etc.
Which is better?: Pirelli Scorpion Verde AS vs Continental ContisportContact 5
The Continental ContiSportContact 5 shows its strength against the Pirelli Scorpion 5 in qualities like corner stability, steering response, light, heavy snow, etc.u003cbru003eOn the other hand, the Pirelli Scorpion Verde AS finds comfort in its wear and overall noise.
REREV may receive a commission for purchases made through links on our site. Learn more.