Michelin Defender LTX M/S review
REREV may receive a commission for purchases made through links on our site. Learn more.
For those among you who own SUVs and trucks with the accent put on highway driving instead of off-road, the Michelin Defender LTX M/S makes a top choice. This tire is based on the old LTX tire, but with a tougher compound that provides better traction in all conditions.
If you're eager to learn more about these tires, our team has prepared an informative Michelin Defender LTX M/S review that will serve as your one-stop shop. Join us as we dive right into it, helping you determine if the Michelin Defender LTX M/S is the perfect new pair of boots for your truck or SUV!
Recommended
Michelin Defender LTX M/S
For drivers looking for a perfect blend of a highway tire with exceptional grip even in mud and snow, there's no better option than Michelin Defender LTX M/S.
Purchases made through links on our site may earn us a commission.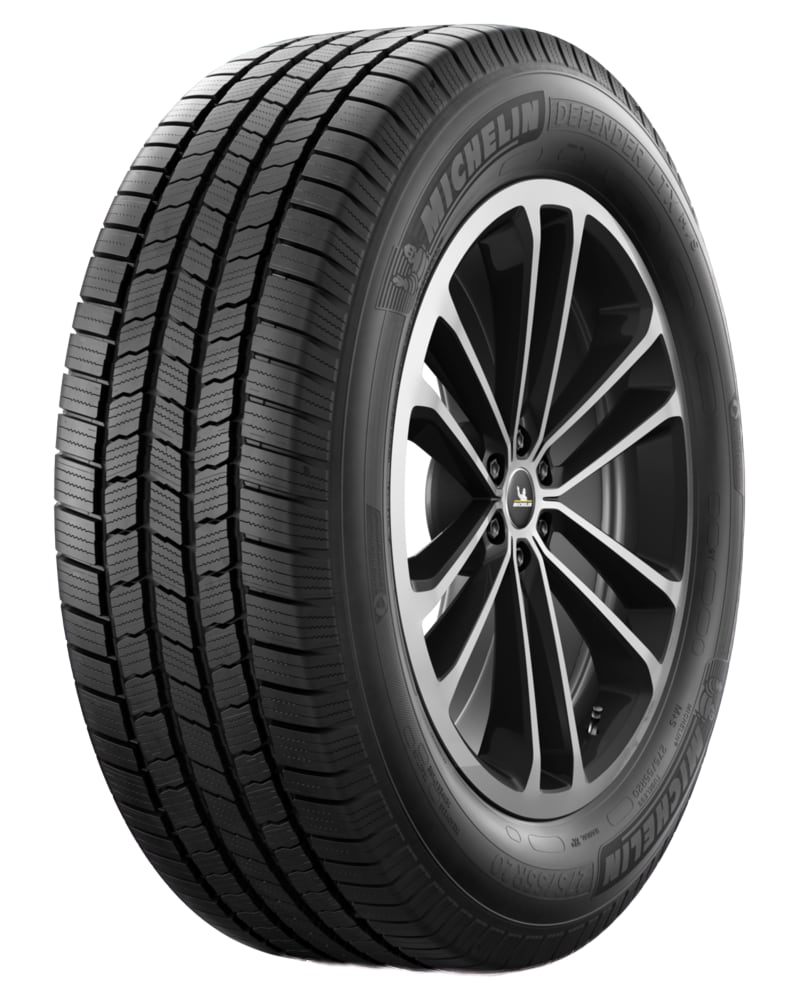 Key Features Of Michelin Defender LTX M/S
Now as we get into the top technologies and features, you'll want to know just two things upfront – the tread life and pattern. It is a Michelin tire, after all, so these beauties should last for a minimum of 70,000 miles as backed up by the warranty.
They also feature a plain-looking, yet extremely efficient zig-zag pattern with three sipes on each center tread block, and two on the side treads. What does this do for you as a driver, you might ask? Well, this pattern is responsible for extremely good wet and snow traction. It eliminates any leftover water and snow from the tires and gives you a secure and stable ride. Here's what else you should know about the main tire features:
The innovative "Evertread" compound
3D active sipes
Circumferential channels
Steel belts on the inside
Truth being said, the compound might be the biggest update when compared to the already-impressive predecessor tires. The Evertread compound makes the tires perform the same as they wear off, as back when they were brand new.
The new compound goes all the way to the end of the tread life cycle, giving you an improved grip and traction as it wears. The 3D active sipes are there on each tread block and they help you with light-snow traction by providing an additional ground grip.
So, what makes them special when compared to competitors? Like we stress out for the compound, the sipes themselves also go deep into the treads, all the way up to the final 2/32-inches. This means matching snow and wet traction with a new tire.
Just by looking at the tire, you'll notice the circumferential channels and shoulder voids that spread all around it. These act as water outlet channels and improve traction and braking power on a wet road. Finally, there are two steel belts inside the compound which should provide much higher stability while driving, and enhance the load capacity of these tires.
Safety Features
The Michelin Defender LTX M/S tires have the developer's signature "Intellisipe" technology. It means that there are safety sipes along each tread block and two large horizontal sipes on each shoulder tread block.
This maximizes the biting edges of the tire, making it grip to the surface and eliminating any chance of hydroplaning, which is when your car loses ground traction due to wet road. Open shoulders also help take out the water from the tire, so you'll never have to worry about losing control on wet and slippery terrains.
Speed Ratings
The speed rating is an important aspect of these tires since the Defender LTX M/S is primarily meant for an all-season highway and tarmac driving. It's simply an indicator of the speed your SUV or truck can develop on these tires mounted without losing handling traits.
Luckily, these come with three speed ratings – speed rating "R", speed rating "T" and speed rating "H". The first means you can drive up to the speed of 106mph, while a tire with the T speed mark means you can drive up to 118mph with complete control and safety.
Choosing this tire with an H speed rating means you can drive up to 130mph with no vibrations and sliding.
Treadwear And Durability Of Defender LTX M/S Tires
The estimated tread life of these tires is 70,000 miles, but drivers using them state you can get 100,000 miles out of them, placing them extremely high in this category. The tread life of regular Michelin LTX tires was also admirable, but they lacked the Evertread compound.
Because of this addition, the successor can get you going for at least 70,000 miles with slim to no changes in traction and performance. Now let's look at it from a different perspective – the Federal Highway Administration states that average SUV and truck drivers pass about 13,000 miles per year. That means you can rely on these beauties to take you far while lasting for at least 5 or 6 years!
Maintenance Indicators
Usually, different tire brands insert maintenance indicators as markings on the tire treads or within the grooves to show you when you need to change the flat tire. Unfortunately, Michelin only used the industry-standard mark visible as you reach the last 2/32 inches of tread.
As the tread blocks wear off, you'll see the marking and there's no point to wait for another mile at this point – your tires will sadly need replacement.
Traction Performance
To put it simply – a great dry-performing tire needs as much rubber on the road, while the wet pavement performance depends on treads, sipes, and channels. So, what did Michelin do? They choose to give you the best of both worlds with a square patch surface with circumferential grooves and a vast number of sipes to make it nearly identical in performance!
Wet Traction Performance
These Michelin tires perform splendidly in rainy conditions and on wet roads. They have large lateral grooves that work so well with circumferential channels in leading the water away from the tire surface.
Open shoulders extend towards the sidewall, so the water exits in multiple directions. Braking distance is without any doubt the best in its class, which is crucial for your safety while driving on wet roads. It is a highway tire, after all, so even in case of heavy rain, you'll be ready to go as far as you want to.
Dry Traction Performance
Steering and braking on a dry surface are at least an 8 out of 10 since the rubber footprint on the road has been increased when compared with other all-season tires. The tire is well-balanced also, so you'll gain fuel economy while driving at optimal speeds on a highway.
Dry traction is also improved with the MaxTouch feature which is the design of the tread patterns themselves. The gaps between them are so slight, that you'll get a sense of it being one large block of treads. It's great for both straight driving and cornering, as it reflects in higher driving stability.
Snow Traction Performance
These tires work great for light snow in combination with all-wheel drive SUVs and trucks, but that's all you'll get from them. These are not meant for severe weather conditions like heavy snow, and while you should be fine on the road, there's no point in driving them in deep off-road snow.
Again, these are not winter tires, so it's somewhat expected. On the upside, you'll get impressively short braking distance while driving on light snow, which is all you really need for highway driving.
Off-Road Defender LTX M/S Performance
Taking your truck for an off-road drive with these tires mounted will only get you far if you take a detour on sand and gravel terrains. It's just not designed to handle rocky roads very well, and while it is an M/S tire, it won't be as efficient in deep mud.
Don't worry though – it's nearly impossible to get stuck in light mud with Defender LTX on, and no tears should occur if you happen to drive on a gravel road, as long as there are no large rocks.
What About Noise And Comfort?
While driving on the highway, you won't feel any vibrations with these tires. Defender LTX tires are equipped with a tough casing, which reflects as you go over a bump, so you won't feel a noise.
Also, it's due to the Comfort Control technology that the tires are so quiet. Michelin uses a polyurethane foam solution which should cut the resonance up to 20%. If you are not into the statistics that much, it's a blend used by Michelin engineers to reduce any noises that reach the cabin even on a bumpy surface.
Competitors And Alternatives
Truth being said, these tires only have competitors in terms of the price tag. They are surely among the best picks when it comes to all-season performance and there are just a few real alternatives on the current market:
Continental Tarraincontact H/T
Bridgestone Alenza AS Ultra
Defender LTX Price Range
Michelin Defender LTX M/S tires come in sizes from 15″ to 22″, and the price tag varies accordingly. You can expect to pay around $165 for the 15″ tire, or somewhere in the range of $320 for a 22″ tire.
Still, the price shouldn't let you down on the idea to get these tires, since you can also find discounts and rebates to get them in an affordable range!
Warranty Details
These tires come with Michelin's warranty on the mileage that spreads all the way to 70,000 miles. So that's perhaps yet another reason to compare the prices in pursuit of the most convenient one, as these tires will give you great value and tread life for your buck.
You can also rely on Michelin's limited warranty on materials and workmanship defects which lasts for about 6 years from the purchase date.
Vehicles That Make A Perfect Fit WIth Defender LTX M/S
As we mentioned, these tires spread from 15″ to 22″ in size, so they fit a variety of SUVs, crossovers, and even trucks! If you are interested in some of the best fits in terms of vehicles that these tires can be mounted on, here's a short overview:
Chevrolet Tahoe
Chevrolet Suburban
GMC Yukon
Ford F-150
Ford Explorer
Mitsubishi Montero
Nissan Frontier
Toyota Land Cruiser
Toyota Sequoia
Jeep Wrangler
Honda CR-V
Dodge RAM
Dodge Durango
Our Take
It's been an interesting journey covering such a versatile SUV and truck tire like the Defender LTX M/S. The ultimate verdict is that this is one of the best all-season tires you can get for your SUV.
It has a long tread life, impressive comfort with a quiet ride for the category, as well as great wet traction. It may not be as good in off-road driving, but isn't that the one thing that all-season tires are allowed to lack? So, don't hesitate to get these tires and follow our lead on getting the best price!
REREV may receive a commission for purchases made through links on our site. Learn more.