Michelin Pilot Sport All-Season 4 review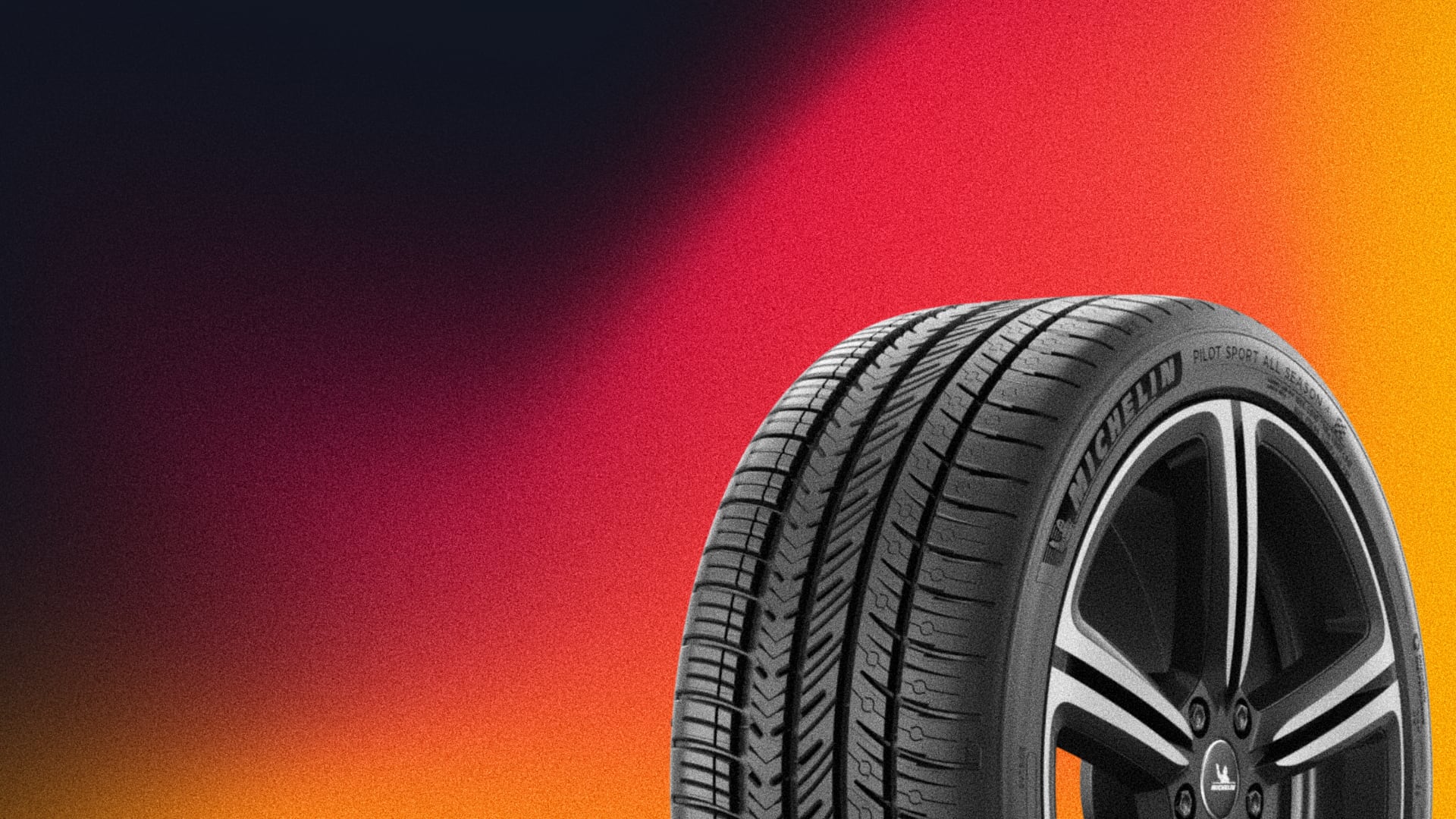 REREV may receive a commission for purchases made through links on our site. Learn more.
Every now and then, you'll find a valuable all-season tire pick, but rarely can you encounter high-performance tires for sport coupes and sedans that tackle any weather. If you end up searching for just that, our Michelin Pilot Sport All-Season 4 review will get you convinced!
It has the best braking distance in the class, accompanied by great handling even in corners, and nearly a dry road grip that's to be expected of a summer tire. And that's not even the core point – it's the all-season and wet road traction that makes them a true steal. Still not convinced? Give this guide a try and we'll get to the verdict again at the end of the road!
Recommended
Michelin Pilot Sport All-Season 4
For drivers of sporty coupes and high-performance rides, we recommend Michelin Pilot Sport All-Season 4 as one of the best tires in the game with impeccable handling characteristics and premium-level noise isolation.
Purchases made through links on our site may earn us a commission.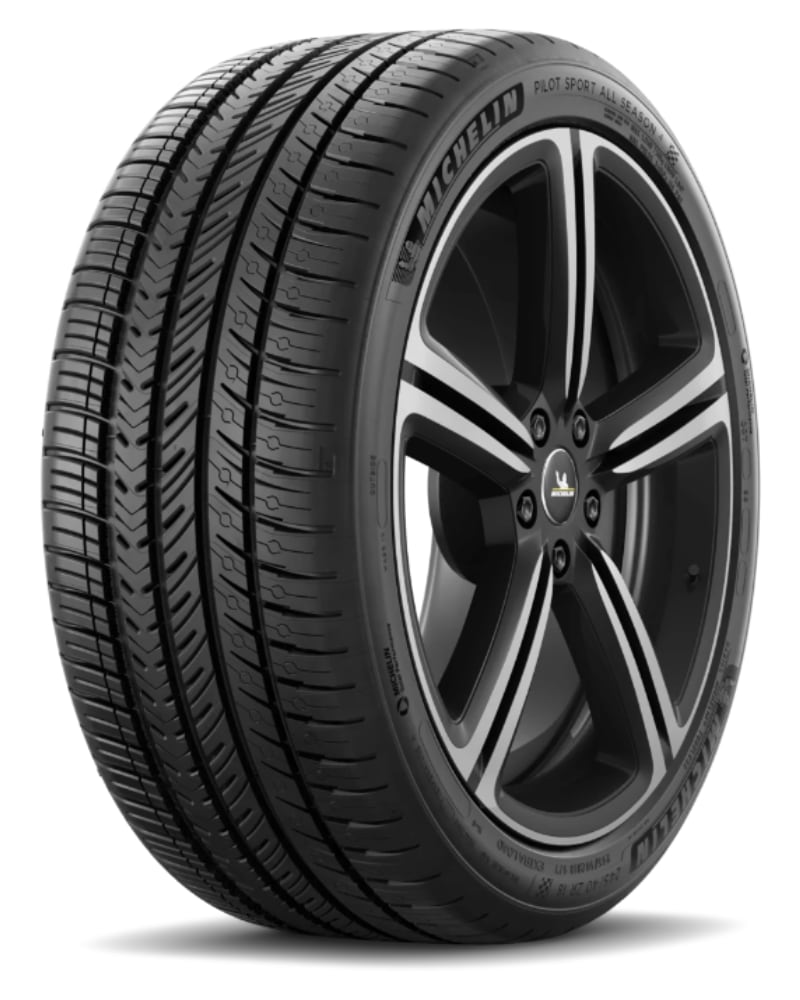 Key Technologies And Features Of Michelin Pilot Sport AS 4
First of all, the Michelin Pilot Sport AS 4 tires are made of Extreme Silica compound. This helps improve the wet traction and the compound also reduces road noises and vibrations, letting you enjoy a quiet performance drive.
That's just the tip of the iceberg, so here's a brief overview of the main tire features:
Reinforced shoulder blocks
Michelin Helio Technology
Variable sipes
Different outside and inside tread block designs
Just by looking at the tire, you'll see the reinforced outbound shoulder tread blocks that just scream better grip. They allow better driving stability, easier handling, and more efficient corner steering.
Other than the silica compound, the Helio technology material uses a special ingredient that makes the tires equally flexible in the wintertime – sunflower oil. As the manufacturer state, this helps them remain as pliable as all-season tires get on wet roads and lower temperatures.
You'll notice the unique sipes on the outer section of the tire that is used to provide better dry-weather cornering. As you take the turn, this part of the tire takes most of your car's load and acts as a summer tire for performance driving. On the other hand, the inside of the tire has open sipes and larger grooves which add up to the winter and wet traction.
It's a unique blend that you'll hardly ever going to see on another tire. The different outside and inside tread block design enables a superb combination – perfect wet traction with water outlets along with great dry weather performance you can use to make 0 to 60 launches!
Safety Features
Driving a sports car, you might want to have a single tire set for the whole year that will serve you well in terms of performance handling, but also wet traction. Michelin managed to provide that to consumers, and of course, the accent is also put on safety.
That's why the inner ribs are designed as traction ribs, as they have deeper voids between tread blocks, and the voids are also designed differently when compared to outside ribs. They serve as water outlet channels, and the circumferential groove on the inner rib is larger than those on the opposite side. Why is this important, you may ask? Well, it gives you diverse water outlets to stop a film of water from forming inside the tire, and making it lose traction. These channels and voids dispense the liquid away from the tire.
Crucial Aspect Of Proper Sport AS Tire-Speed Ratings
We understand your needs as well as the intention of the manufacturer to make these tires applicable for sporty driving. That's why we'll move on to the speed rating as a mark that tells you the maximum safe speed to drive at without handling issues or cabin vibrations.
It's, therefore, a good thing you can find these tires with different speed ratings suitable for your car. They come with a "V" speed rating, a "W" speed rating, and a "Y" speed rating. The first one mentioned will give you a pleasant sporty ride up to 149mph. On the other hand, the "W" speed rating goes one step further while letting you drive up to 168mph without any vibrations. Finally, if you are in opt-in for the "Y" rating, you can drive up to 186mph.
It's no wonder that Michelin states these tires are supercar-certified!
Treadwear And Durability
With these tires mounted, you should have no problem passing at least 45,000 miles and the warranty confirms you can enjoy carefree sports driving. Especially if you use them on your weekend sports coupe, these should last at least 5 years.
Even when mounted on your everyday ride, you should have a pleasant driving experience with an accent on performance and tight road grip in wet conditions for about 3 years. It's not the best tread life in the category, but it shouldn't be overlooked easily either.
Maintenance Indicators
If you are worried about maintenance, you can rest assured that the wear indicators are noticeable. Well, they aren't exactly innovative as you can only see the markings once your tires reach the final 2/32 inches of tread.
However, it's all according to the industry standard, and the estimated tread life won't leave you worrying about the wear marks for some time. The wear indicator is visible among the tread blocks once the tire reaches the final 2/32 tread inches.
Traction Performance
It's really to be expected of Michelin to have made some serious tech-related adjustments to the tread even with tires that seem plain at the first glance. Since the Pilot Sport All-Season 4 tires clearly have a unique design, let's take a look at how that reflects the traction.
Wet Traction Performance
We've already mentioned how well these perform on the wet road. The first thing we noticed is the different layout of the voids and circumferential grooves on the outside when compared to the inside.
While the outside is focused on bringing the best results performance-wise, the inside comes with larger voids and grooves. These act as water channels to remove all the trapped liquid and prevent hydroplaning.
The inner circumferential channel is larger than the outer channels, so it helps dispense the water more efficiently. Also, extreme silica compound improves wet traction along with the variable sipes we've mentioned to tackle the wet pavement.
Dry Traction
The cornering can be a clear indicator of how well these tires cope with the Michelin Pilot Sport 4S tires, which are exclusively designed for dry traction. Due to the reinforced shoulder treads and second row of outer tread grooves is made as a continuous block.
What does this do for dry traction? It raises the amount of rubber compound in contact with the road, which is especially important when steering the corners, so the AS 4 tires come quite close to 4S tires.
Snow Traction
In terms of snow traction, Michelin Pilot Sport All-Season 4 tires do more than just good. The biting edges are more concentrated on the inside with variable sipes that provide a better grip on snowy roads than the competitors.
Also, the inner tread compound with sunflower oil is said to maintain the tire flexible in the wintertime, so you can rely on this to make it more pliable in the snow. Of course, these are made for driving on asphalt, so the light snow traction will be impressive.
You can expect it to be more difficult on heavy snow, as the tires are not made for extreme winter conditions.
How Do They Handle Off-Road Driving?
Truth being said, these are not the best fit for off-road driving other than slight gravel. After all, even though some sizes might fit sporty SUVs, they are performance-oriented, so rocky terrain might cause tears and it would be hard on the balance and noise.
So, if you are looking for a tire that combines off-road driving with higher speeds, you should go for other SUV-compatible tires.
Noise And Comfort
Now, when it comes to noise and comfort, there's one important thing to realize – these tires accompany the hard feel of handling a performance car. They let you feel most of the bumps and get that connection with the road, which we believe is suitable for most performance car enthusiasts.
However, it's not the most comfortable tire set out there, and tires like Pirelli P Zero AS might be a better choice for this. Still, it's all up to the preference of the driver, as the comfort quality is far from bad, and the noises don't prevent you from having a chat with passengers either.
Competitors And Alternatives
It's a bit hard to find proper competition for these tires in terms of sporty performance and impressive wet traction. You can therefore turn to these alternatives and compare them with PIlot Sport All-Season 4 tires:
Continental Extremecontact DWS06 Plus
Pirelli P Zero All Season
Price Range
These tires range from 16″ to 22″ in size, and the average price you'll find for a single 16″ Pilot Sport AS 4 tire is $165. On the other hand, the price can vary between the speed ratings and sizes.
So, the 22″ single tire might cost you about $500, which can be a bit expensive. Still, with the performance, it provides for sportscars, and the rebates and discount coupons, you can get a fairly affordable price-to-quality ratio.
What About The Warranty?
With these tires, Michelin includes a 45,000 miles warranty on mileage, as well as a materials and workmanship warranty. The latter is included for a period of 6 years, or 30,000 miles.
Overall, the expected tread life and warranty give you at least a few years of carefree sports driving, and it's just what you need for your ride.
Compatible Cars
To give you the best perspective on the type of car that these tires suit, our team made a brief list of the most compatible models. Just by looking at these, you can tell that performance comes first, so you can rest assured if you own one of the following models:
BMW M340i
Chevrolet Corvette
Chevrolet Camaro
Ford Mustang
Porsche 911 Carrera
Audi S4
Honda S2000
Mercedes-Benz C43
Genesis G70
Our Take
In the end, these tires make a perfect compromise between performance driving and wet traction, making them an ideal candidate for sporty coupes and sedans. They also offer more than just solid tread life, so you can get a perfect all-season combination.
If you are looking for a set of tires that you won't have to replace all year long, these are surely among the few top bargains, and getting them at a discount price is a true steal!
REREV may receive a commission for purchases made through links on our site. Learn more.