Kumho Ecsta 4X II KU22 review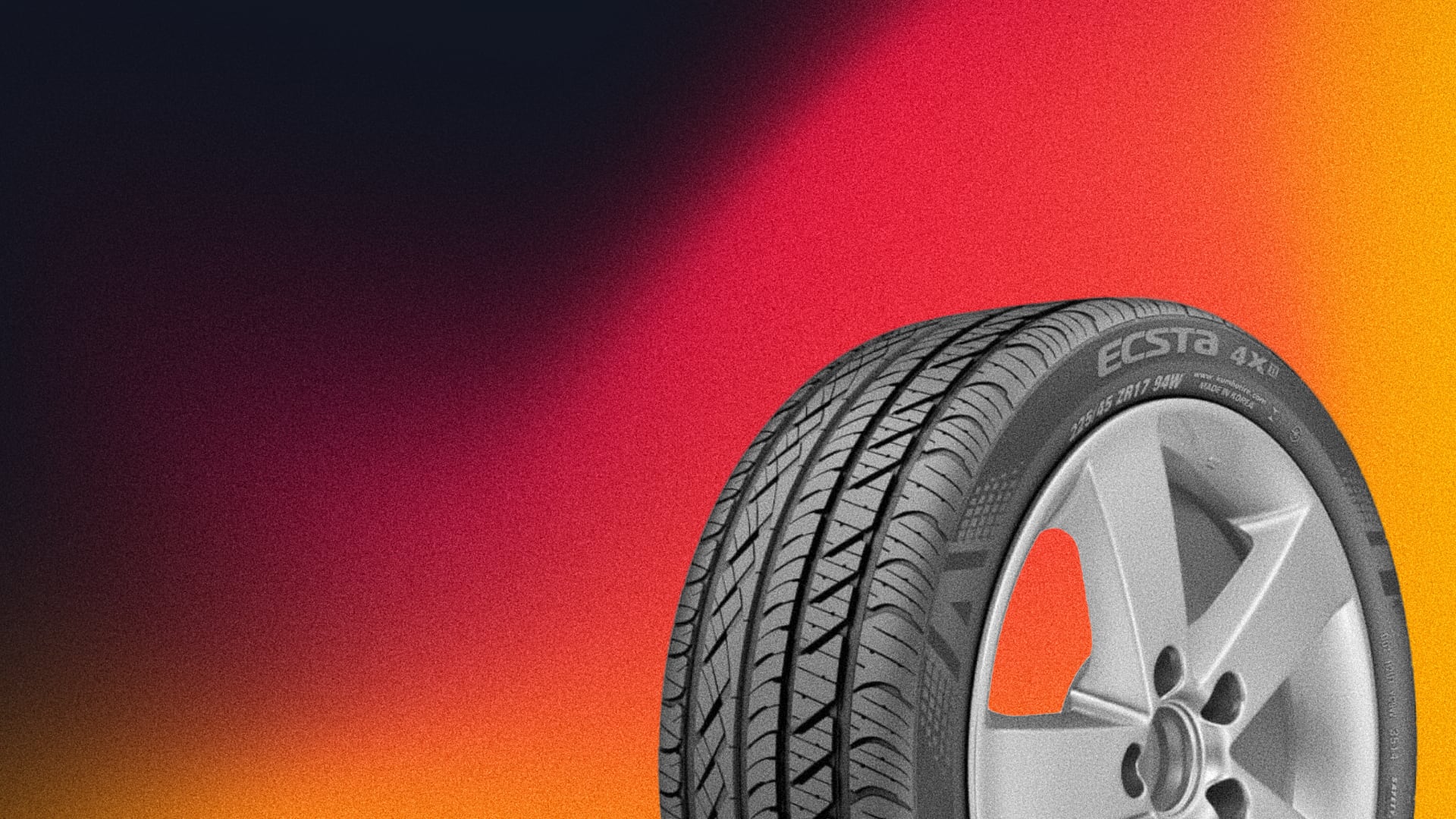 Sacrificing performance for all-season traction is now a thing of the past, and Kumho engineers confirmed it with the Kumho Ecsta 4X II KU22 tire. This tire set offers you ultra-high performance along with more than decent isolation and driving comfort.
What's more, it delivers a uniquely-engineered compound that acts impressively in all weather conditions, so you won't have to bother with a summer and winter set. In our Kumho Ecsta 4X II KU22 review, we'll guide you through the exceptional qualities of these tires, ensuring you can enjoy high-performance driving all year round. Say goodbye to the hassle of switching between summer and winter sets and join us as we explore the impressive capabilities of the Kumho Ecsta 4X II KU22.
Recommended
Kumho Ecsta 4X II KU22
If you thought that getting a high-performance tire with noise isolation and comfort properties of a premium touring tire is impossible, Kumho now offers a perfect combination of the two with the affordable Ecsta 4X II KU22.
REREV may receive a commission for purchases made through links on our site. Learn more.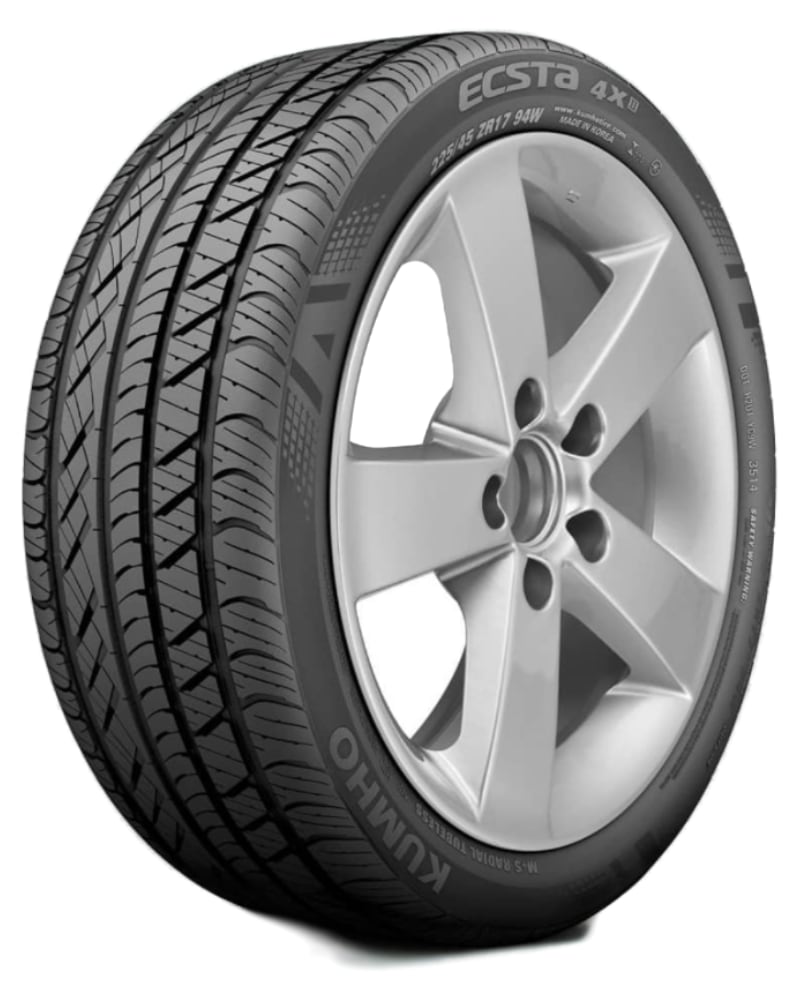 Why you can trust REREV's tire reviews: Our automotive expert researchers analyze tire specs, customer feedbacks and reviews from credible sources. This thorough analysis provides accurate information about tire performance, helping you make the best choice. Find out more about how we evaluate tires.
Key features and technologies
Besides the innovative tread compound, Kumho Ecsta 4X II KU22 tires are also equipped with several other innovative features. As these are all-season tires, you can benefit from the large tread footprint and wide shoulders that simply bite on the ground for great traction.
On top of that, these are the main features you can count on with these tires:
High Dispersion-Silica compound
Anti-Reversion agent
Tensile steel belts on the inside
Asymmetric tread design
Bear with us as we elaborate on the essence of each of these technologies, starting with the high-dispersion silica compound. The compound contains silica molecules that adjust the operating temperature of the rubber material, making it flexible in the winter, yet pliable in the summer.
The compound has the addition of an anti-reversion agent which ensures that there's no rubber deterioration during the hot summer days. It's also one of the performance elements of these tires since it optimizes the dry traction performance with maximized rubber grip on the surface.
Of course, although these are ultra-performance tires, their uniqueness lies in driving comfort as well. That's where the two tensile steel belts jump in, helping the tire to absorb road bumps, and to retain its sturdy from even over sharp road cracks.
The tread design is on a whole another level though, as you'll find three different zones spreading over asymmetric tread blocks.
Safety features
Since you are naturally going to use these tires while driving at higher speeds, it's logical to wonder about safety features. After all, you don't want to risk it with a set of tires that could trigger hydroplaning, which is when your car loses traction under a layer of water on the wet road.
Thankfully, Kumho engineers thought of everything and adjusted the asymmetric tread pattern accordingly. The outer tread block line has large tread blocks that give you performance and stability in cornering and swift turns, giving you better handling.
On the other hand, the center rib contains circumferential grooves and deep tread voids for wet traction, while the inner tread blocks are smaller with crossing grooves for better snow traction.
Speed ratings
If you are among the sports driving enthusiasts, you don't have to wonder if these tires will support higher speeds. Whether you're driving a sports sedan, coupe, muscle car, or even a high-performance SUV, the dual mark of speed rating handles it well.
You can choose a set of Kumho Ecsta 4X II KU22 tires with a "V" speed rating that supports a smooth and stable ride up to 149mph. On the other hand, if you want to push the limits, you can rest assured with a set of these tires with the "W" speed rating mark. It means you can drive up to 168mph without much vibrations and with utmost performance handling.
Treadwear and durability
Given the ultra-performance nature of these tires, an estimated tread life of 40,000 miles at minimum doesn't seem half bad. It's not the best one in the class, but it should give you at least 3 years of high-performance driving.
Thanks to the silica compound that adjusts the tire temperature in different weather conditions, the tread life wears evenly in the summer and the winter, so these tires will give you that few extra miles of tread life.
Kumho Ecsta 4X II tires are rated 420 AA for treadwear, which means they should last at least 4 times longer than a regular comparison test tire.
Maintenance indicators
It's a shame that Kumho didn't include more detailed wear indicator gauges with these tires. The wear indicators specify how much tread life you've got when the number among the tread grooves becomes fully visible.
With these tires, Kumho relied on the industry standard, which is a warning for the final 2/32 inches of tread. To avoid losing wet traction, you should replace the tires once this designation gets visible.
Traction performance
We've already discussed the performance of these tires regarding the maximum speed they can handle, but what about their traction performance? To get you on the right track, our team tested the tires in different conditions, so let's take a look:
Wet traction performance
Don't be misled to think these tires only handle dry roads for ultra-high performance since wet traction is superb in this class. Chances of hydroplaning are slim to none, even in heavy rains, and you can floor the throttle even on wet roads without losing grip and stability.
It's all thanks to the unique tread pattern and circumferential grooves that lead the water away. Also, deep grooves that spread across the outer and the inner rib lead the water away to the sides, while the center rib features a maximum rubber surface to offer immense stability even in rainy weather.
Dry traction performance
The driver's feedback on dry roads is exceptional with Kumho Ecsta 4X II tires mounted. One thing that especially impressed our team is the dry cornering responsiveness. You get superb steering in the corners due to the large and wide outer tread blocks.
Due to these wide blocks, the rubber surface on the road is maximized, which is crucial for the best possible grip on dry tarmac. All these tread blocks bite on the road to give you dry traction worthy of a tire in this category.
Snow traction performance
These tires don't give you the best possible snow performance, but they aren't meant for it either. Instead, you can rely on the cross grooves that spread on the ribs on both sides of the center rib for increased snow traction.
It should give you just enough performance not to get stuck in light snow, and to get proper handling and short braking distances on snowy roads. Still, anything more than that would just be asking too much of this tire.
Off-road traction performance
You shouldn't even consider taking your ride with Kumho Ecsta 4X II KU22 tires mounted for an off-road driving session. They are simply not made for that, so you'd be wasting your time and money since sharp rocks might damage the tread pattern, and lower your dry and wet traction.
It's still fine if you want to park your vehicle with a short detour from the main road, as the tires should handle slight sand and gravel.
Noise and comfort
One thing that might amaze you about these tires is the noise and driving comfort. You won't feel many noises and vibrations when driving with Ecsta 4X II tires on, thanks to the variable pitch tread blocks.
These are the distinctive tread patterns on each rib, including the sipes, grooves, and tread block dimensions. Because of this difference, the harmonic road noise is reduced to a minimum, and you can enjoy a nice, quiet ride even at higher speeds.
Competitors and alternatives
It's a bit difficult to find a performance-oriented tire capable of all-season traction and high speeds with utmost comfort like this set offers. Still, if you are eager to know about the main competitors to Kumho Ecsta 4X II KU22 tires, here are a few worthy alternatives:
Cooper Adventurer Tour
Falken ZIex ZE950
Price range
Discussing the price of these tires mostly depends on the size you need, since a starting price for one 16″ tire is about $90. Still, it's a good thing that there's not much of a difference, as a single 20″ tire costs about $150.
So, for a set of 4 Ecsta 4X II KU22 tires, you're looking at a price of about $400-$600, along with the additional mounting costs. It's not such a bad deal for a superb all-season ultra-performance tire set, is it?
Don't worry though, you can often see these on rebates and discounts to grab them for an even lower price!
Ecsta 4X II KU22 warranty
With these tires, you don't just get some of the best traction performance and driving comfort ratios – you also get a great deal on a warranty. The mileage warranty has you covered for the first 40,000 miles of tread life, while the uniformity warranty relates to the first 2/32″ of the tread.
You also have a free replacement of the first 25% of wear over the period of 6 years in case of an accident. The road hazard protection ensures that you get a new tire in case your Ecsta 4X II gets irreparably damaged or punctured by a road crack or bump.
Cars that make the best fit with Ecsta 4X II
Having in mind that these tires go well with sporty coupes and sedans with the aim of high-performance driving, these are some of the cars that make the best fit with Ecsta 4X II KU22 tires:
Chevrolet Camaro RS
BMW 335i
BMW M340i
Ford Mustang
Honda Civic Type R
Honda Accord
Lexus IS350
Lexus LS460
Mazda Mazdaspeed 6
Volkswagen Golf R
Audi S4
Our take
If you are concerned about the value that Kumho Ecsta 4X II KU22 tires bring to the table for the price, don't think twice about buying these. They make a perfect combination of high-speed performance, handling, and impressive driving comfort.
The bottom line is – Kumho truly managed to create an ultimate all-season performance tire with these to fit on the majority of sporty coupes and sedans.