Hankook Ventus V2 Concept2 review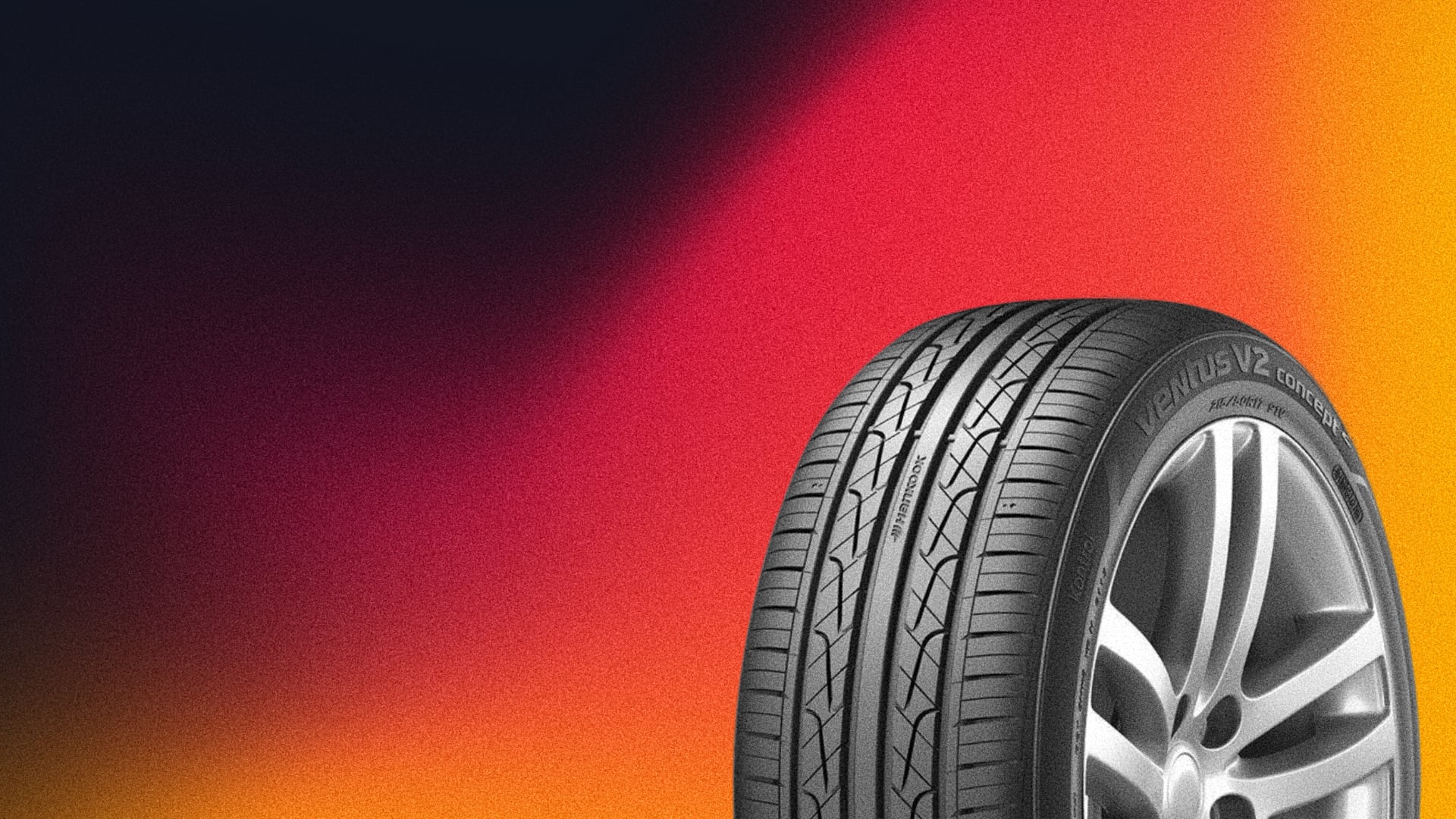 As a driver of a performance car, you might find it exhausting to swap the summer tires with a winter set once the colder weather starts. Perhaps the best solution is to find a quality set of all-season tires, but it can be difficult to find a tire with decent all-weather traction and a fair price range.
Well, that's not the case anymore, at least if you ask Hankook. The Korean tire giant has a surprise for you in-store, and we'll tell you all about it in this Hankook Ventus V2 Concept2 review! Join us as we elaborate on the tire's main features, performance, and durability since these might be the best new all-season boots for your sports coupe or sedan.
Recommended
Hankook Ventus V2 Concept2
Looking for an affordable set of ultra-high performance tires that deliver all-season traction, there's no better option than the Hankook Ventus V2 Concept 2 that handles speed up to 168 mph without losing on grip and cornering stability.
REREV may receive a commission for purchases made through links on our site. Learn more.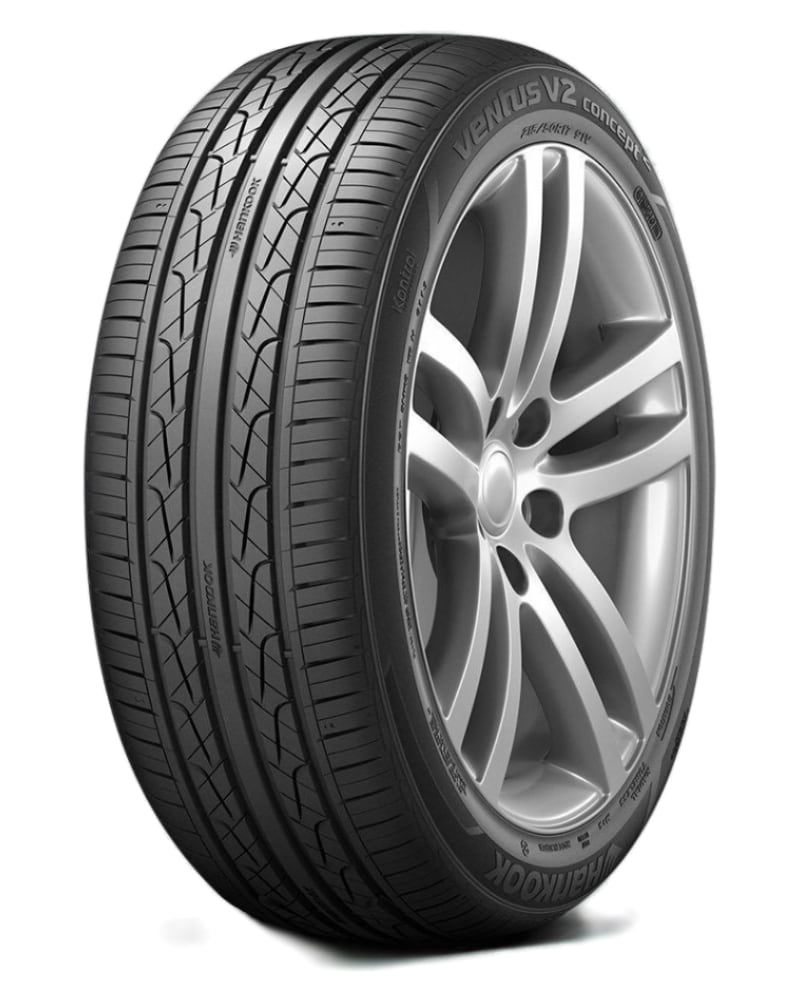 Why you can trust REREV's tire reviews: Our automotive expert researchers analyze tire specs, customer feedbacks and reviews from credible sources. This thorough analysis provides accurate information about tire performance, helping you make the best choice. Find out more about how we evaluate tires.
Key features and technologies
Hankook went far to make these tires stand out from the bunch, and you can tell that by just taking a look at the pattern. We've seen the manufacturer implement uniform center ribs in some of their all-terrain tires before but Ventus V2 tires are the first all-season tires from Hankook that utilize a continuous center tread pitch.
It gives you 100% grip on dry roads, and if you think that it reduces wet traction, you just need a bit of faith in Hankook's engineering team. These beauties allow spirited driving even on wet roads, as the continuous pitch is surrounded by two deep grooves placed close by for water evacuation.
Here are the rest of the features that make these tires unique:
VAI technology
Wide circumferential grooves
Carbon compound
3D multi-directional sipes
To ensure the even wear of these tires, Hankook even included the Visual Alignment Indicators through the VAI technology. You'll see the two parallel bars on the tires that should wear evenly, so you'll know that the tires need balancing if that's not the case.
For better traction on the wet, there are deep circumferential grooves between the pitches of tread, and the carbon compound does its job quite well in making these tires roll equally in the summer and the winter. It's due to the compound that the tires can maintain a sturdy structure on the hot summer days, without being too stiff in the winter.
Our team also felt the need to give Hankook an appraisal for the 3D sipes that give you all-season biting edges for a more stable ride.
Safety features
Let's be real for a second – if you have a tire that performs incredibly at high speeds in the summer, and slides on the road during the rainy days, there's no point considering it for an all-season set.
Hankook engineers were well aware of the hydroplaning resistance they needed to achieve to make these tires suitable for wet roads. So, they made a perfect compromise – the center pitch is a continuous tread for summer traction, while it's surrounded by wide circumferential grooves that lead the water away on wet roads. Also, the center tread blocks include both shallow and deep sipes that spread in different directions for improved biting edges that give you perfect stability on wet and snowy roads.
Speed ratings
While these tires aren't exactly ultra-high performance tires, they give you considerable steering and stability at high speeds. Hankook made sure to include enough speed limits for all the driver types.
If you are unfamiliar with it, speed rating determines the maximum speed you can drive without losing on the tire's safety features, stability, and noise isolation. It's therefore a good thing that Hankook made these tires with three different speed ratings – "H", "V", and "W".
While the "H" speed rating allows speed up to 130mph, and the "V" speed rating allows up to 149mph, the "W" speed rating reaches high-performance limits. It means that you can drive up to 168mph, so it suits sportscars as well. Still, there's just one 18″ Ventus V2 Concept 2 tire with this speed mark.
Treadwear and durability
Hankook didn't only think about the safety features and maximum speed these tires can take – these boots for your sporty car can push some serious mileage as well. In general, they should last for at least 45,000 miles when mounted.
In other words, these should give you at least 3 to 4 years of driving even if you use them on your everyday ride. The US Department of Transportation concluded that an average US driver passes about 14,000 miles annually, so these are quite durable for performance-oriented tires.
Maintenance indicators
Along with the alignment indicators, these tires also include treadwear indicators. These are small bars located between the tread blocks that become aligned with the treads as you reach the final 2/32″.
Still, we like to see some indicators in between, so you can track your tread life on a larger wear scale. While some manufacturers like Continental include these gauges, it's common for tire manufacturers in general to include just the industry-standard warning on the final 2/32″.
If you can see the mark, it's wise to swiftly switch the Ventus V2 Concept2 tires with a new set, to prevent losing traction.
Traction performance
After going through the basic features of these tires, we are excited to put the traction to the test. It's not so simple for tire manufacturers to create high-performing tires capable of equal all-season traction, so let's see how this set did on our test:
Wet traction performance
On a wet road, Hankook Ventus V2 Concept2 tires behave impressively, making the braking distances short, and the handling precise. You can truly count on the mentioned biting edges and deep grooves that spread across the tread blocks to do their job in dispensing water.
The best test for wet traction is to floor it at the traffic light when it rains responsibly and see how the tires do. Our team did just that and the tires didn't spin in place, while the takeoff was almost like on a dry surface.
Overall, the wet traction performance of Ventus V2 is just what you can expect out of a top-notch all-season tire.
Dry traction performance
In the dry traction test, these tires were just below the performance scale of regular summer tires. Thanks to the continuous center rib without any voids between the tread blocks, the dry grip is great.
The tires are capable of reaching top speeds on the highway and cornering is also on a remarkable level. With precise handling, you'll be able to get the performance you need out of these tires.
Snow traction performance
Driving with a set of Hankook Ventus V2 Concept2 tires over snowy roads can be more convenient than you think. You'll spot how each tread block comes with a set of sipes that spread in different directions.
There are also deep 3D sipes that create additional biting edges in the snow, so Ventus V2 tires can cope with light snow splendidly. However, they are not the best option for deep snow as you might experience some traction resistance.
If you live in an area that gets heavy snow every winter, you might need to switch these with a set of genuine winter tires.
Off-road traction performance
Although these tires proved to be quite impressive in terms of traction in different weather conditions, there's a limit to their performance. Off-roading is one thing that you can't count on, but that's not much of a surprise.
If you are expecting a tough and aggressive tread pattern capable of tackling demanding terrains, you won't find it with Ventus V2 tires. These are primarily made to deliver great on-road performance, so don't get your hopes too high regarding off-road traction.
Noise and comfort
Another area where these tires excel is the driving comfort and noise isolation. Thanks to Hankook's Noise Control Block, you'll feel fewer road vibrations and get a much quieter feeling in the cabin.
These blocks are located between the shoulder tread blocks and they keep them firmly in place over road bumps, therefore reducing the vibrations that can easily transfer to the cabin. Also, the tires are supported by the inner steel belts wrapped in nylon for proper support to give you a refined driving experience!
Competitors and alternatives
With the traction performance and driving comfort in mind, these tires don't have that many substitutes on the current market. Among the existing ones, here are some of their main rivals:
Bridgestone Turanza
Continental Extremecontact Sport
Hankook Ventus V2 Concept2 price range
The price of these tires differs based on the size, loading capacity, and speed rating. On average, you can expect to pay about $90 for a single 15″ Ventus V2 tire. When it comes to larger sizes, you'll be looking at the price of around $180 for a single 18″ tire.
It's also a good thing that you can count on frequent Hankook rebates and discounts to get these tires at a better price.
Warranty details
These tires come with a 45,000 miles treadwear warranty, which is just what you need for a set of all-season performance tires. On the other hand, Hankook also gives you a 30-day free trial, so you can decide if Ventus V2 Concept2 tires are the right choice for you.
On top of that, the warranty deal ends with a uniformity warranty that lasts during the first year of use, or the first 2/32 inches of wear.
Cars That Fit Hankook Ventus V2 Concept2 tires the best
To give you an idea of the type of cars that make the best combination with these tires, our team made a list of the best fits:
Audi A4
BMW 135i
BMW 328i
Chevrolet Malibu
Honda Accord
Mercedes-Benz C-Class
Subaru BRZ
Subaru Impreza
Toyota Corolla
Volvo S80
Infiniti G35
Our take
In the end, Hankook is well-known for its affordable tires that are capable of coping with products of tire manufacturers that cost much more. The same goes for Hankook Ventus V2 Concept2 tires that give you impressive all-around traction and driving comfort at a reasonable price range.
So, if you are still wondering whether these tires deserve your attention, you shouldn't think twice before making them your top-priority pick for the next all-season set.