Hankook Dynapro Mud Terrain review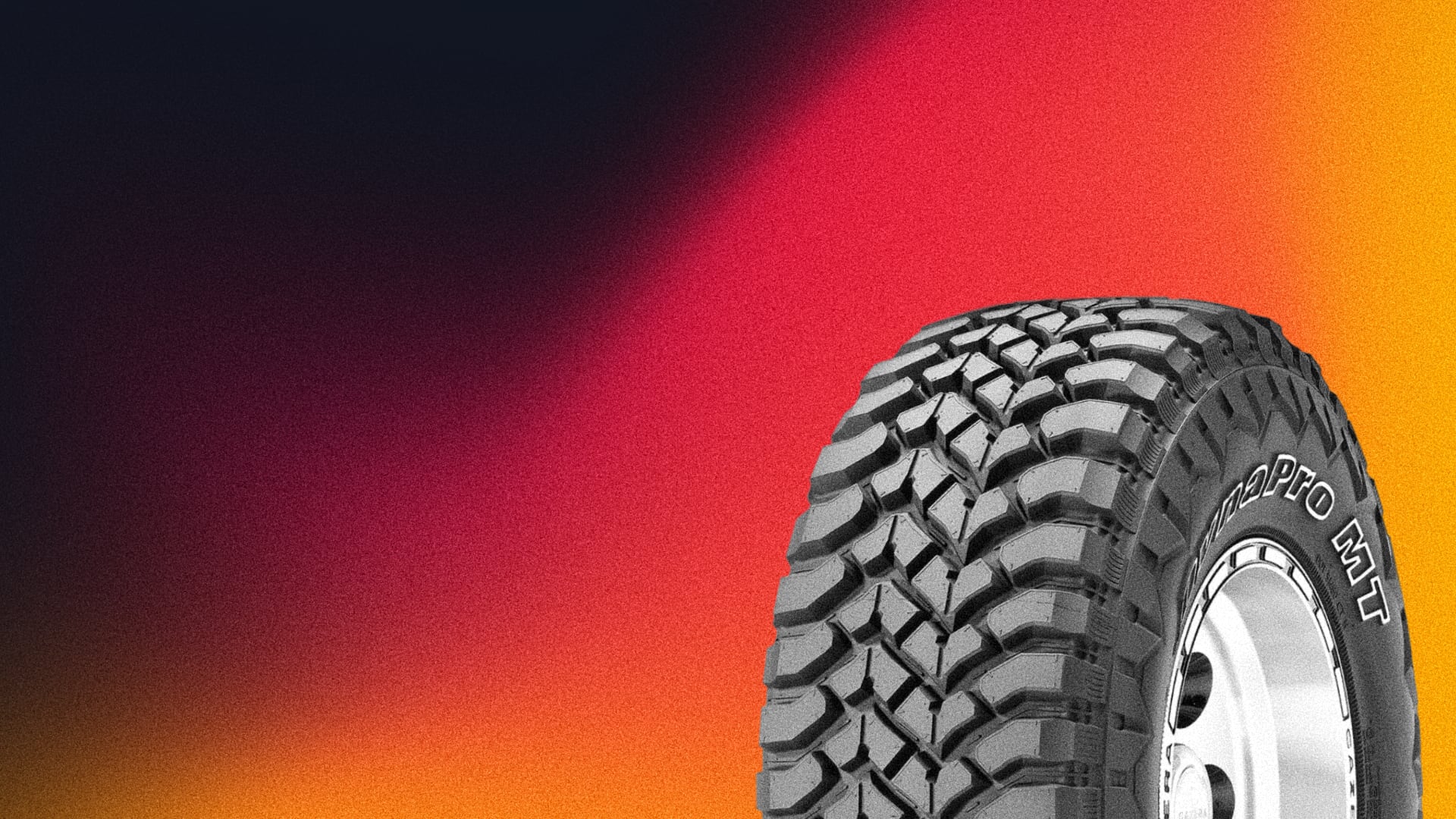 Among the providers of affordable touring and all-terrain tires, Hankook slowly made the name for itself, but we didn't expect to see it shine so bright with off-road tires. Still, they outdid themselves with the first dedicated MT tire, and we are here to give you the details.
Join us in this Hankook Dynapro Mud Terrain review to uncover the secrets that make this tire one of the best heavy-duty aggressive off-roading boots for your SUV! We'll deal with the tread life, safety, and overall performance details so that you don't have to bother. Also, we'll be passing the final judgment on whether these deserve to make it on your off-road tire shortlist, so stay tuned!
Recommended
Hankook Dynapro Mud Terrain
You won't find a better dedicated mud-terrain tire than the Hankook Dynapro Mud Terrain for the price range they come with. It features an aggressive tread for tackling even the harshest off-road terrains while staying pliable in mud or light snow.
Check Price
Purchases made through links on our site may earn us a commission.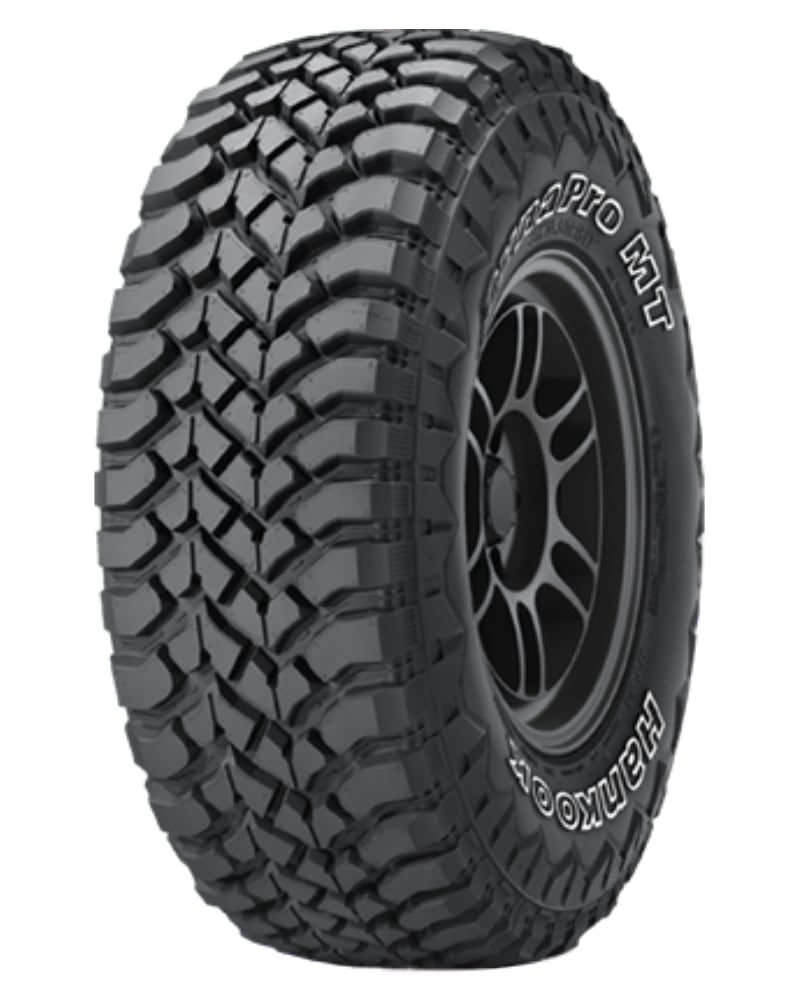 Key features and technologies
It's interesting to see how Hankook handled their dedicated mud terrain tire design since it doesn't look so efficient at first glance. However, the tread is full of surprises, as you'll be able to tell shortly after taking a look into the main features:
Large center rib with V-shaped tread blocks
Sidewall treads for additional off-road traction
Open shoulders for water outlet
Reinforced steel belts on the inside for maximum stability
By looking at the features, you can tell that Hankook wasn't joking around when designing these tires. Beyond their plain off-road tire looks, there lies a series of specifically-engineered technology solutions to tackle both off-roading and everyday drive like a charm.
Let's discuss the center rib first – it comes with large, V-shaped tread blocks that are quite close to each other. This places the accent of the tire's support on the center section, but that doesn't mean you won't get some additional support from the shoulders and sidewall.
The sidewall also comes with a series of treads that give you an all-around grip when off-roading. It also prevents the tire from being ripped or damaged from the sides. You'll be able to drive these on highways with great comfort even on rainy days, thanks to the open shoulder technology and the reinforced tread material.
Below the tread blocks, the tires have two steel belts reinforced with nylon, to give you that extra sturdiness and sense of stability on challenging terrains.
Safety features
Besides making the tread pattern of these tires aggressive for off-road driving, Hankook also focused on safety features as well. You can drive these mud-terrain tires on highways until you reach your off-roading site, so it's important to prevent hydroplaning on wet roads.
You'll see the great voids between the treads that help dispense the water from the tire, along with the open shoulders. These shoulders do a great job of leading the water and mud away from the tire's sides. It's all a part of the "self-cleaning" technology that Hankook utilized when designing these, and you can tell how it helps lead the water and mud away
Because of this, there's almost no chance that your vehicle will lose the ground grip under a layer of water on the road.
Speed ratings
These might be the tires with extreme off-road grip, but that doesn't mean you can't use them on public roads and highways. So, the speed rating might be important for you, as it tells gives you an idea of the maximum speed that Hankook Dynapro MT tires can take.
Hankook truly did think of everything when designing these, since they come with a "Q" speed rating mark. It means they can take speeds up to 100mph easily, without any road vibrations, noises, or lower grip.
Treadwear and durability
If you are wondering about the tread life you can expect from these tires, Hankook states it goes between 30,000 miles and 40,000 miles. It's what you can expect out of this tire category, and even slightly above average.
It should give you at least 2 to 3 years if you are using these tires on your everyday ride with an occasional ambition to tackle the off-road terrains. Still, if you are only using them for off-roading, with another set of tires for the winter, they should last for quite a bit.
Maintenance indicators
Hankook didn't include any additional wear indicators besides the industry-standard indicators that become visible as you reach the final 2/32 inches of the tread. Since these are mainly off-road tires, you must replace them as soon as this mark becomes visible.
It's not safe to drive in demanding terrains with the tread grooves becoming so recessed. You need proper traction in challenging off-road terrains, and it can only be achieved by keeping the tire's treads above 2/32 inches, or replacing the tire, should they go below.
Hankook Dynapro Mud Terrain traction performance
What kind of an off-road tire review would this be if we didn't put the Dynapro MT's traction performance to the test? Don't worry – not only did our team check the off-road performance of these tires, but it also evaluated the performance on dry, wet, and snow.
Wet traction performance
The aggressive tread design of these tires isn't exactly suited for roads with heavy rain loads, but it doesn't disappoint either. Sure, braking distances are longer than with all-season tires, but it's what you can expect out of these off-road tires.
However, you won't have to worry about hydroplaning as long as you don't step on the gas too much. The large and deep water channels benefit the ability of the tire to easily dispense the water while rolling.
Dry traction performance
In terms of dry traction, you can't expect big things out of this tire, like with the Dynapro AT2 for example. Even so, they do deliver considerable dry traction, since the huge center rib act as a continuous line of treads that grip the ground.
On top of it, large shoulder tread blocks add up to cornering and steering precision, so you can enjoy quite a fair share of handling on dry roads. The braking distance is also shorter when compared with wet traction, so they should serve you to reach your favorite off-road spot!
Snow traction performance
When it comes to snow traction, these tires can handle light snow, but they are not the best fit for heavier snow. Without sipes to create biting edges, it's hard to maintain your stability on slippery ice and snowy roads.
Still, the large voids between tread blocks should suffice for leading the snow away from the tire and creating some snow grip that suffices for public roads.
Noise and comfort
The reinforced tire casing helps make the Dynapro MT tires comfortable for highway driving, but the noise isolation isn't as good. However, you can't take it as a downside, since it's all due to the tread pattern.
If it wasn't so aggressive, the tires wouldn't cope with off-road terrains so well. So, the noise might get high when driving near the speed limit that the tires can take, but it's not something that affects your off-road experience so much.
Competitors and alternatives
The competition among off-road tires is high, but there are not that many options that rival Dynapro MT's off-road performance and price range. Here are a few worthy alternatives to Hankook Dynapro Mud Terrain tires:
Goodyear Wrangler Duratrac
Cooper STT Pro
Hankook Dynapro Mud Terrain price range
One thing that might affect your decision to get these tires or pass on the offer is their price range. It's a good thing that Hankook covered a wide range of sizes, and the price varies accordingly.
So, if you wish to get a set of 15″ Dynapro MT tires, you'll have to pay about 140 per tire. On the other hand, a single 22″ tire costs around $350. Still, you can use rebates and discounts to grab these off-road beauties for an even more convenient price.
Warranty details
These tires don't include a treadwear warranty, but that's not unique in the world of off-road tires. However, you can count on the uniformity warranty during the first year of use, or the first 2/32″ of the tread.
Also, you can get Hankook's exclusive 30-day trial to test the tires and see if they make a good fit for you and your SUV or light truck.
Best SUVs and trucks to put the Dyanpro MT tires on
Since these tires go well with SUVs and trucks capable of some serious off-road performance, these are the most compatible vehicles to pair them with:
Chevrolet Suburban
Chevrolet Silverado
Jeep Wrangler
Jeep Grand Cherokee
Ford F-150
Ford Bronco
Toyota Land Cruiser
Toyota 4Runner
Nissan Pathfinder
Dodge Ram
Our take
So, if you are on the lookout for an affordable set of tires that suffice for off-road driving, but also offer considerable comfort and grip on dry and wet roads, Dynapro MTs is the one to chase after.
They might not give you wet traction of all-terrain tires, or the off-road grip that's equal to the extreme off-roading tires, but you won't find a better blend of the two in MT tires!