Cooper Discoverer AT3 review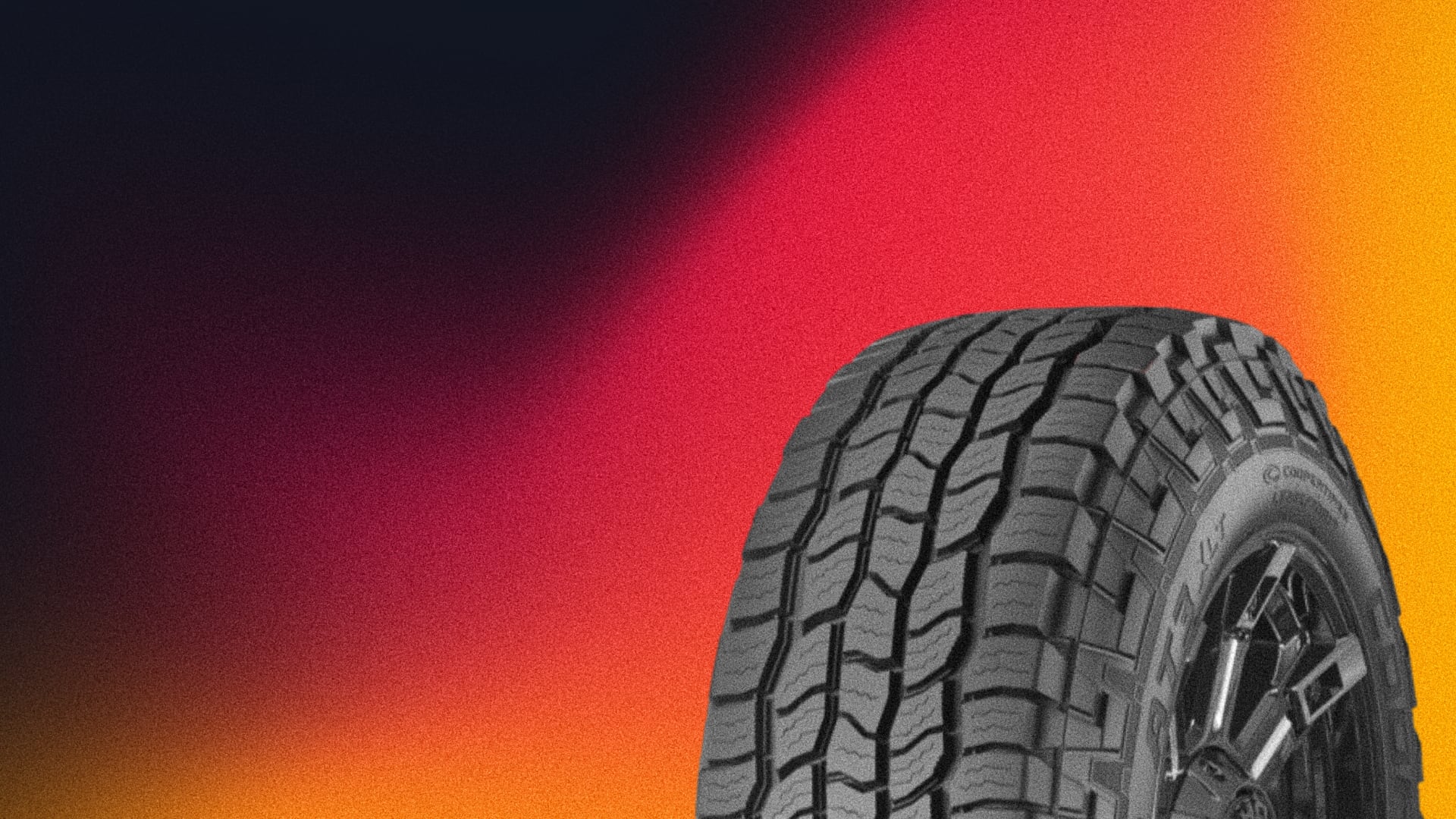 How much more are you willing to pay for a set of tires that will take you anywhere? The Cooper Discoverer AT3 has one heck of a price, but it also has one of the best off and on-road traction, which a tire set can give. Quiet and long-lasting, is it worth the amount?
Cooper Discoverer AT3 is a rugged all-terrain tire that can take you anywhere, even through thick ice. Many drivers attest to its suitability for any vehicle and climate.
To shed more light on its capabilities, our Cooper Discoverer AT3 review will provide an in-depth look at its performance across diverse conditions.
At the end of this review, you will see why the Discoverer AT3 is termed 'aggressive' both within and outside. Strap in while we take a tour of what Cooper is offering via the Discoverer AT3.
Recommended
Cooper Discoverer AT3
The rugged Discoverer AT3 tire by Cooper comes with an aggressive tread pattern to tackle demanding off-road terrains without losing much performance over dry and wet pavement and highways, making it a perfect compromise for drivers that spend half of their driving time on the road, and the other half in off-road adventures.
REREV may receive a commission for purchases made through links on our site. Learn more.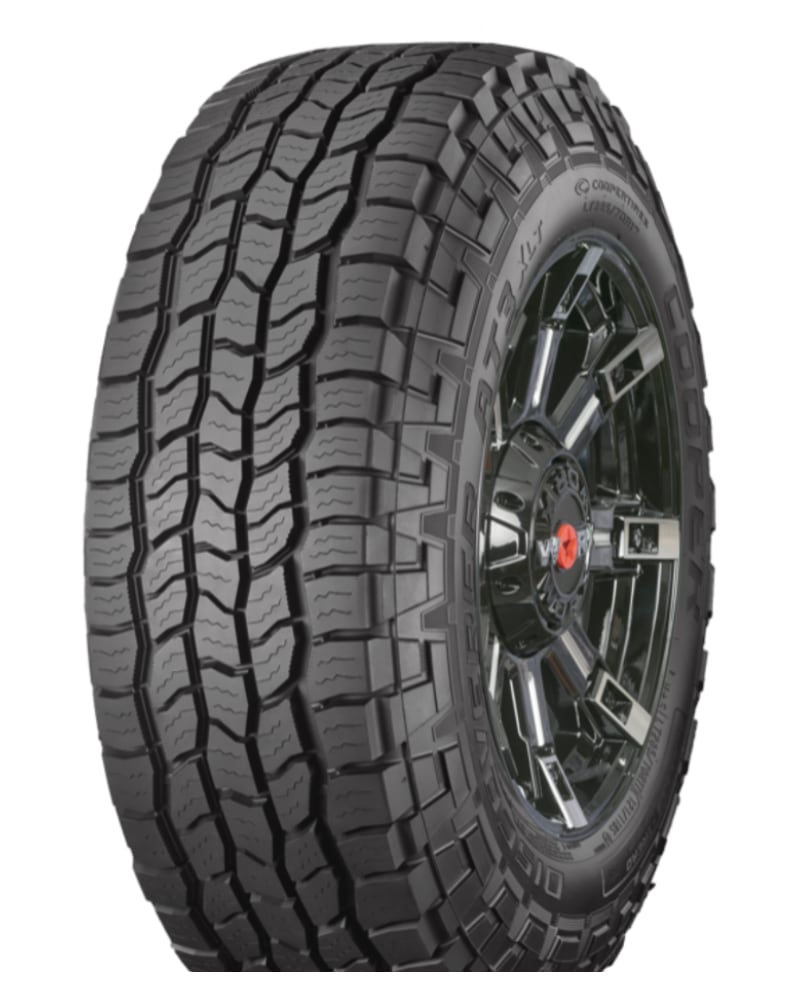 Why you can trust REREV's tire reviews: Our automotive expert researchers analyze tire specs, customer feedbacks and reviews from credible sources. This thorough analysis provides accurate information about tire performance, helping you make the best choice. Find out more about how we evaluate tires.
Key technologies
Drivers who use the Cooper Discoverer AT3 appreciate its performance for many reasons. The reasons vary with the driver. Putting them all together shows many similarities because of the tire design. Let us take a look at the technologies Cooper uses for the design of the Discoverer AT3.
Aggressive shoulders
Five rib design
Special venting technology
Thick circumferential grooves
Zigzag sipes pattern
The aggressive shoulders not only make the tires look good. They also improve the tire's traction for rides on softer surfaces. Thick circumferential grooves combine with aggressive shoulders to perform excellently on the track.
The zigzag sipes on the tires significantly reduce road noise. These zigzag sipes provide more even tread wear. They also promote stability by removing pebbles and stones from the tread pattern during movement.
Cooper's unique venting technology for this model gives it a sophisticated appearance. Its actual function is to eliminate micro-vents in the tread area. With all these technologies in place, it is only expected that the Discoverer AT3 will be able to deliver.
Safety features
Cooper's considerations for safety are shown in the general design of the tire itself. The technology Cooper uses for the tread promotes even wear. And even wear implies less potential for accidents due to punctures and holes.
In addition, the tread life is quite long. As such, drivers use it without sweat over long journeys for as long as the mileage is covered. The assurance of being in control is particular due to the traction the Discoverer AT3 provides. Drivers feel more confident plying the road with tires that can take them over anything.
Maintenance indicators
After years of use, the tread wears to a point where the tire is no longer fit for use. Some countries regulate the treadwear to a safe 2/32 inch. This regulation aims to reduce the number of accidents on the road. Hence, when your tires reach the 2/32 inch benchmark, it is time for a change.
Cooper uses traditional treadwear indicators to tell when the Discoverer AT3 requires replacement. A traditional treadwear indicator is a design molded into the tread pattern. Workers measure the amount of treadwear by studying the depth the TWI pattern has reached in the tire.
Traction and performance
As an all-terrain tire, the Discoverer AT3 has no excuse to perform less than expected. Drivers who use Discoverer AT3 log no complaints about the general performance of Discoverer AT3. Let us look at its performance from these four terrains:
Dry traction performance
Almost all-terrain tires have good off-road traction but at the cost of excellent dry traction. Discoverer AT3 distinguishes itself as different. Driving with this tire on the road in the hottest summer is still very satisfying.
Off-road traction performance
Cooper's design for the Discoverer AT3 greatly favors off-road traction. The tire set can take you through any rough terrain without complaint. If you love hunting or scouting in the wild, Cooper's Discoverer AT3 is a definite option. Its response and handling are top-notch on uneven tracks and loose roads.
Even more interesting is the fact that the Discoverer AT3 keeps you going even in deep mud.
The reason for this rests chiefly in the technology Cooper uses for its tread. It is very stable and reliable even in unusual conditions. If you do not think this is an excellent reason to get it, then its self-cleaning mechanism should win you over. Thanks to its 17/32 inch tread depth and design, it can clean itself while the wheel is on the go—less cleaning stress for you.
Wet traction performance
Driving on moving and stagnant water is not a cause for concern with Cooper Discoverer AT3. Its five-rib design gives incredible hydroplaning resistance. It does this by evacuating water speedily before hydroplaning can set in. With this, you cannot lose control in the rain or storm. Furthermore, the silica-based tread compound the Discoverer AT3 is made of eliminates chances for slips while soaring through the rainy season. Hence, you can confide in it to keep you safe in bad weather.
Snow traction performance
For a tire set that is not winter-based, Discoverer AT3 has its chin high up above the snow. It performs better than all-season tires on snow. As a result, it is 'severe weather rated'. They carry a mountain snowflake as a symbol of their ability.
The generous siping Cooper built into the Discoverer AT3 makes it possible for you to treat it as a regular winter tire. The siping is responsible for its firm grip on light and deep snow. On the ice, Discoverer AT3 will hold its turf long enough for you to get out of troubled frozen waters. Still, its ice traction is one of the best among all-terrain tires. So, if you are caught in a blizzard, you can put faith in the Discoverer AT3 to pull you through.
Treadwear and durability
Cooper's Discoverer AT3 has a remarkable tread lifespan. The silica-based tread compound used in the tire design is a significant reason for this long tread life. The tread compound evens out wear which preserves the tire's integrity at different stages of its life. The sipes remove stones from the tire pattern to prevent punctures and holes. Such removal increases the durability of the tire set.
However, you should not expect the Discoverer AT3 to participate in increasing your vehicle's fuel efficiency. It somewhat reduces it. Some drivers attribute this to its weight.
Noise and comfort
Short journeys through busy metropolia are used to a level of noise. You may not even notice how loud your tire is. However, long journeys on silent highways make you listen more to your tire and how comfortable it feels.
Comfort on the Cooper Discoverer AT3 is on the high side. The tread design makes rides on the Discoverer AT3 very enjoyable. Cooper's unique zigzag sipes technology further contributes to the ease of driving. It reduces the noise of the tires to a whisper.
Speed rating
The speed rating of a tire tells the highest safe speed with which a tire set can move. Cooper's Discoverer AT3 has a T speed rating. A T-rating implies a tire set can move 130 miles per hour without cause for alarm.
Competitors and alternatives
Though Cooper's Discoverer AT3 is a good tire choice, other all-terrain tires can be used as a substitute. For a little more money or less, you can get these other brand models as alternatives:
Hankook DynaPro ATM RF10
Goodyear Wrangler AT SA
Pirelli Scorpion ATR
Avon AX7
Pirelli Scorpion All Terrain Plus
Yokohama G012 AT
At this point, we implore you to do comparative research to know what you want to get.
Price Range
Cooper is giving out the Discoverer AT3 for as low as $114. It is a bit expensive when compared with other models. However, the value it provides creates a balance for the high price.
Warranty
The Cooper Discoverer AT3 comes with a 55,000-mile tread life warranty. Also, there is a uniformity warranty for 2/32 inches of wear. Cooper's warranty on materials and workmanship on the Discoverer AT3 lasts five years. Within these five years, you also get a free tire replacement for the first 2/32 inch of wear.
Our take
There are a lot of all-terrain tires out there in the market. From what we have in this review of the Discoverer AT3, we can say that the tires are one of the best of their type. Its off-road traction, which puts it above others, can take you wherever you wish. It is also one of the few all-terrain tires with perfect snow and ice traction. Quiet, comfortable, and reliable, the Cooper Discoverer AT3 is a good fit for any car. Finally, its aggressive look is a perfect fit for trucks.
So, is it worth keeping a tire that looks aggressive and behaves aggressively?