Cooper Evolution M/T review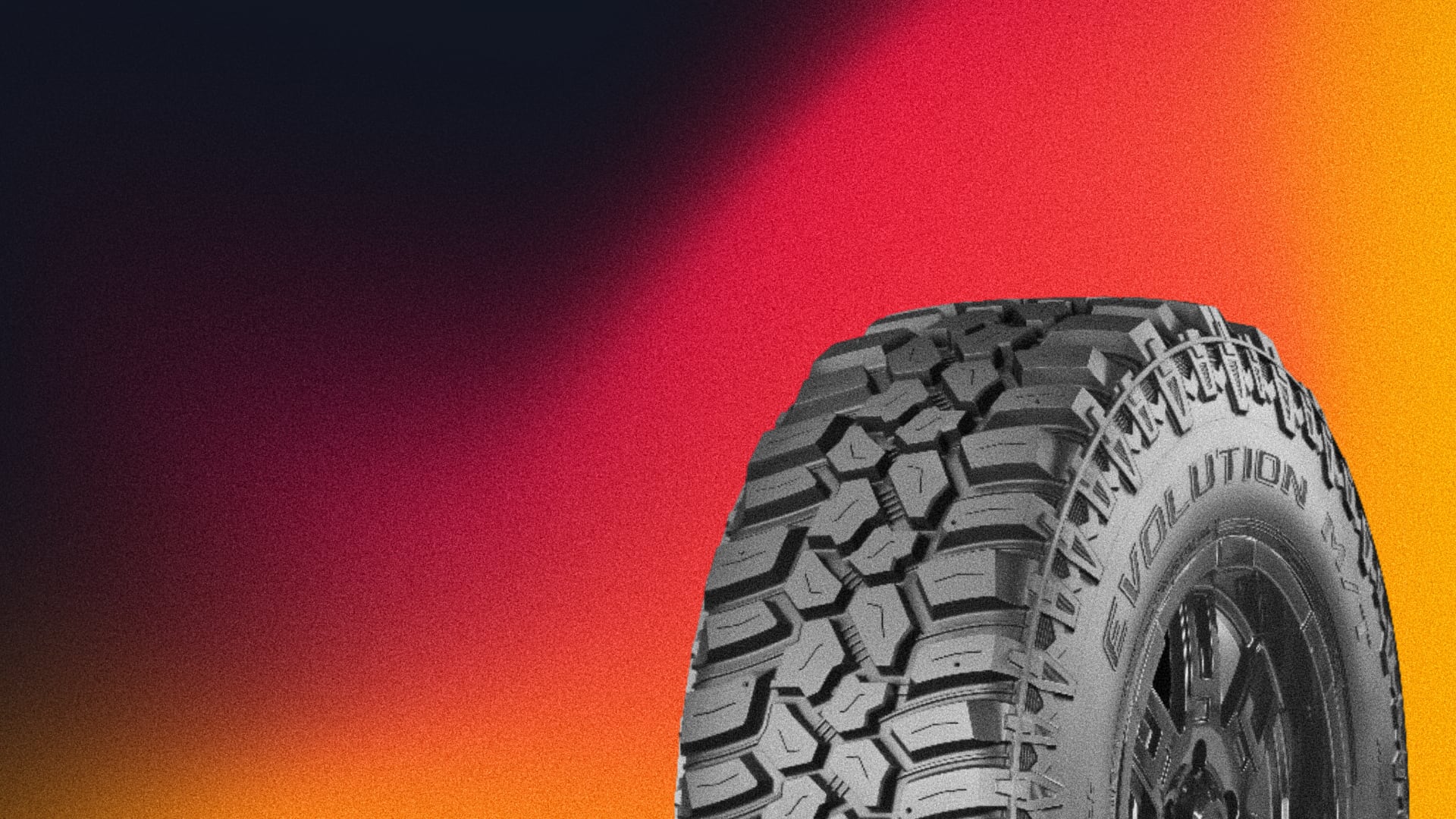 The Cooper Evolution M/T is a highly efficient all-season tire primarily designed for vehicles such as full-size SUVs, Pickup trucks, Jeeps, and other off-road vehicles. Built for off-road travels, the M/T in the name stands for Maximum Traction. The Cooper Evolution M/T has got you covered with promising features and qualities that aim to put your mind at ease once you try them out.
Offering just the required amount of traction, the Cooper Evolution M/T is built to overcome rugged terrains like jagged rocks, dense sand, loose dirt, and sticky mud tracks.
In our Cooper Evolution M/T review, we'll provide comprehensive insights to help you understand its strengths and capabilities. Below we review the different qualities of the Cooper Evolution M/T to see how it stands out.
Recommended
Cooper Evolution M/T
Cooper Evolution M/T is in its own league among SUV and truck tires capable of performing on the highway and on harsh rocky terrains. Cooper made it a rugged bulky tire for full-size SUVs and trucks that only need a set of these tires to venture into wilderness.
REREV may receive a commission for purchases made through links on our site. Learn more.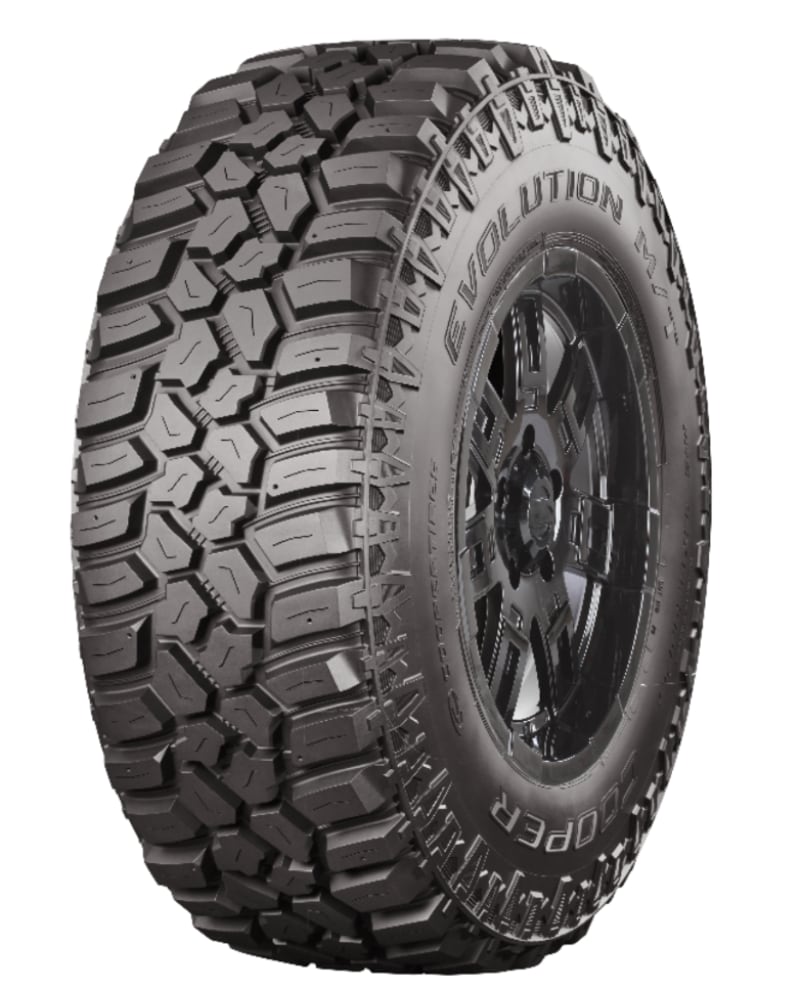 Why you can trust REREV's tire reviews: Our automotive expert researchers analyze tire specs, customer feedbacks and reviews from credible sources. This thorough analysis provides accurate information about tire performance, helping you make the best choice. Find out more about how we evaluate tires.
Key technologies
Firstly, let's start by integrating ourselves with what we are looking at here. Describing the Cooper Evolution M/T as "highly efficient" doesn't seem to compensate for the bundle of technology embedded in the tire. Expanding on its key technologies, we discover that the Cooper Evolution M/T uses features such as:
Earth diggers technology: Getting stuck in the mud is no fun at all, and continuously revving the engine while trying to get out would only help get you stuck even deeper. The Cooper Evolution M/T solves this by possessing large shoulder scoops and lugs that powerfully dig deeper into the dirt, sand, and mud to find traction and keep you on the move.
Mudslinger technology: It is easy to get stuck when your tires cannot get rid of the build-up of mud gradually accumulating as you drive through challenging terrains. You wouldn't have to experience this setback with the Mud Slingers Technology in the Cooper Evolution M/T. The tires possess large and wider trenches that easily let go of the accumulation of mud as you move through them.
Trial grip sidewalls: Just by the edges and uppermost parts of the Cooper Evolution, M/T sides are the Trail Grip Sidewalls that make use of climbers that grip onto stones and sticks to prevent the sides from rubbing and further burying you deep in the mud, causing damage to the tires.
Stone barrier technology: The Cooper Evolution M/T is also equipped with the Stone Barrier Technology, which prevents sharp and harmful rocks from accessing the base of the tire and causing damage. The technology also gets rid of pebbles or other objects that get lodged in the tires.
Safety features
Accidents occur from a wide range of vehicle malfunctions but let's not leave out one of the most common causes of car crashes and accidents, inefficient tires!
Imagine racing off-road, and your tires suddenly burst from impact with a sharp rock. The chances of; a collision, running off a cliff, or tipping over and somersaulting a record number of times skyrocket within that moment. This is very dangerous to drivers, and that's why the Cooper Evolution M/T comes with the Stone Barrier Technology that protects the tire from sharp rocks that will advertently puncture it.
Speed ratings
Tire speed ratings are a thing, and Yes, they vary from one tire to another. A tire's speed rating is the ideal speed it can handle before it becomes unstable or uncomfortable. They are ranked in a not-so-alphabetical order from A1 to Y, with A1 possessing the least speed rating of 3 mph and Y with the highest of 186 mph.
The Cooper evolution M/T, unlike other tires with different speed ratings, possesses a singular Q speed rating which means that it can conveniently handle speeds of up to 100 mph. This means that you can top a speed of 100 mph even on muddy terrain, and the Cooper Evolution M/T would still maintain a steady grip on the surface.
Treadwear and durability
Why else are we choosy about which tires we use if not for what they are made of and how long they will last. The hassle of always opting for new tires after a short period takes a terrible swing at our budgets, and no one likes the sound of that.
However, it would interest you to know that the Cooper Evolution M/T uses a Durable Thread Technology that can withstand different wear and tear over a long period. Also, the tire has proven to be durable in the long run offering well over 60,000 miles making it one of the best picks compared to tires in its class.
Maintenance indicators
Well, you can't go on using the same tires forever, and that's why tire manufacturers put tread wear indicators on their tires, so you know when you need to replace them. Now, tread wear indicators vary for different tire types and functions.
The Cooper Evolution M/T is available in different sizes ranging from 15 to 20 inches in wheel diameter, and all come with Tread Wear Indicators with a minimum tread depth of 2/32-inch. You do not have to use your tires until they reach the exact 2/32-inch mark. As soon as you notice awkward behavior from your tires, it would be best if you had them checked or replaced to avoid mishaps. However, you wouldn't have to worry much as the Cooper Evolution M/T has long-lasting thread technology.
Traction performance
Tire traction is the performance rate of a tire on a given road condition. It is important to note that all tires do not have the same traction on a given road condition. Here we discover how the Cooper Evolution M/T performs in different road conditions.
Wet traction performance
We all know it can be quite dangerous to drive on wet and slippery roads due to the poor grip some tires have on wet roads. The Cooper Evolution M/T gives you more than a chance to achieve this feat without difficulty or fear of hydroplaning. The large trenches on the tire threads and the sipes allow for the passage of water out of the tire base and prevent hydroplaning.
Dry traction performance
Although the Cooper Evolution M/T is not your regular on-road tire, it delivers quality grip on dry roads that rival most tires in its class. This offering is not usually available on other pro-mud tires. Still, unlike the others, the Cooper Evolution M/T offers almost as much as pro-asphalt tires with comfortable handling, grip, and stability.
Snow traction performance
Snow can be very dangerous to drive on when using a tire with little or no studs. This is not the case with the Cooper Evolution M/T, as it is well studded with large lugs that can easily make their way through the snow. Just like mud, snow can accumulate on the tires and limit movements, but with the Cooper Evolution M/T's Mud Slinger Technology, the snow also gets the sling.
Off-road traction performance
This is yet the best part of the Cooper Evolution M/T traction performance. The tire was built to excel off the beaten track. The tread pattern on the Evolution M/T boasts aggressiveness and high capability. With its large shoulder scoops, the Cooper Evolution M/T cannot be held hostage by any off-road condition as it easily digs into the earth to find traction and power you out of any problematic spot. Its Mud Slinger, Earth Digger, Trail Grip Sidewalls, and Stone Barrier technologies work together to ensure you never remain at a spot longer than you should.
Noise and comfort
Although the Cooper Evolution M/T doesn't quite stand out in the noise department, it still offers a considerable amount of comfort for passenger. The tire helps to reduce and mitigates irregular vibrations that are commonly felt on treacherous terrains. The Cooper Evolution M/T was built to trample and tread on challenging road conditions, and with such a task, you can't blame the tire for being a tad too noisy.
Competitors and alternative
The Cooper Evolution M/T is a premium off-road tire, and you might have to look hard to find a worthy rival. An excellent example of a Cooper Evolution M/T rival is the BFGoodrich Mud-Terrain T/A KM3. Note that they both have equallly impressive off-roading capabilities with technologies that further enhance their performance. However, they have differences with varying Tread Wear, design, and specifications.
Price range
The Cooper Evolution M/T comes in different sizes ranging from 15-inch to 20-inch tires. The size range also affects the price range, which goes for anywhere between $180 to $344. Compared with close rivals, the Cooper Evolution M/T stands out as the most preferred, offering quality for way less money than its rivals.
Warranty
Cooper offers a wide range of Standard Limited Warranties for the Evolution M/T. To be eligible for the warranties, one must be the original purchaser of the Cooper tires. The warranties include;
45-Day Test Drive: Customers eligible for the warranties can return their Cooper Evolution M/T tires after a 45-day test drive if they discover an offset and replace them or get their cash back.
Tread Wear Protection: Warranties are also offered for tread wear protection which applies if the tire does not cover the speculated mileage indicated by the company and wears past the indicators.
Standard Coverage: You get a free tire replacement if your Cooper Evolution becomes faulty before the first 2/32-inch mark. If it exceeds the first 2/32-inch mark, the customer will be required to pay a replacement charge which will be determined by multiplying the current selling price of the tire by the original tread depth worn from the tire.
Our take
Judging from the general features provided and the studies carried out on the Cooper Evolution M/T, we've been able to single it out as an excellent option for your off-roading escapades. It is priced lower than rivals that offer the same qualities. You also get to lose nothing as you can easily cash in on the warranties offered if it doesn't meet up to your standards. However, we can convincingly attest to the high-quality performance offered by the Cooper Evolution M/T. Like many others who have used the tire, you should thoroughly enjoy it.