Bridgestone Ecopia EP422 Plus review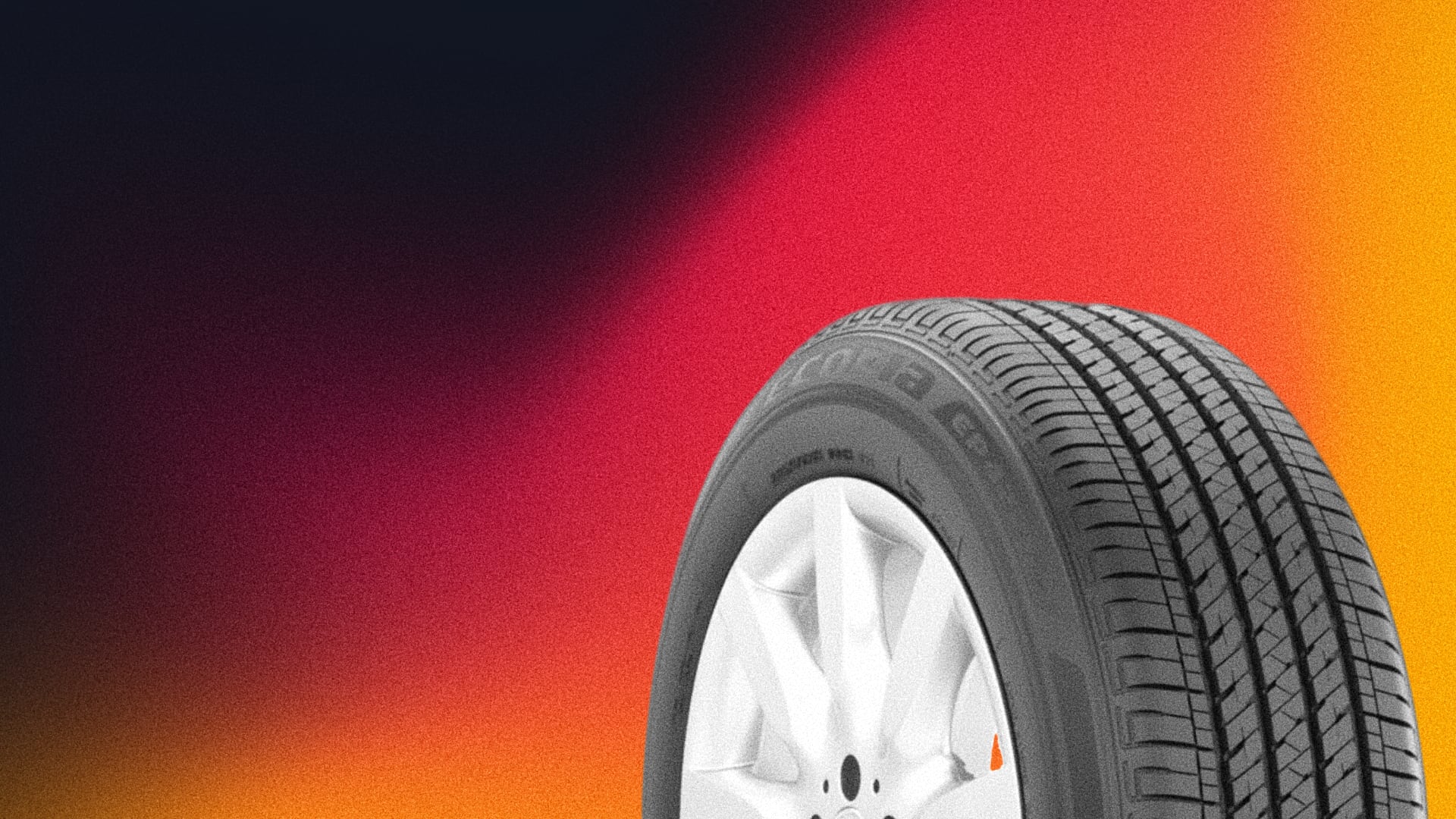 REREV may receive a commission for purchases made through links on our site. Learn more.
Being one of the premium tire brands, Bridgestone never fails to deliver the best price-to-quality ratio, and the Ecopia EP422 Plus tire proves it. It's a premium all-season touring tire with visible advancements when compared to its predecessor, the Ecopia EP422.
So, what's new with this recent redesign? Well, Bridgestone utilized the NanoPro tread technology and fuel-saver sidewall compound to give you better rolling resistance. As a result, the tire should provide you with about 20 miles more per tank.
The tire also comes with a 70,000-mile limited treadwear warranty, and this Bridgestone Ecopia EP422 Plus review will tell you about the rest of its superb features.
Recommended
Bridgestone Ecopia EP422 Plus
Looking for a set of refined and long-lasting all-season touring tires, you won't get a better deal than Bridgestone Ecopia EP422 Plus. It's a tire based on the previous EP422 tire, only improved for a smoother ride and a few thousand miles more.
Purchases made through links on our site may earn us a commission.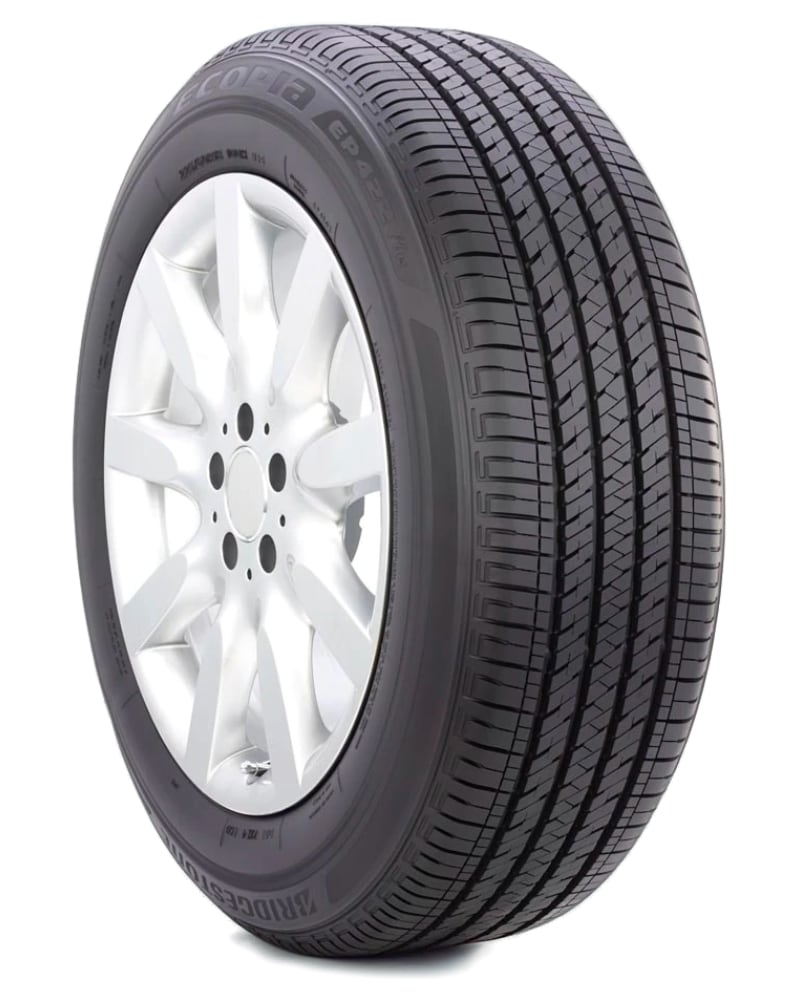 Key technologies
The Bridgestone Ecopia EP422 Plus comes with several unique features that make it stand out from the rest of all-season touring tires. These technologies include the NanoPro-Tech tread compound and a fuel-saver sidewall.
NanoPro-Tech compound: Bridgestone optimized the fuel efficiency of this tire by utilizing the NanoPro compound technology which is said to reduce rolling resistance by an additional 20% when compared to the previous model. It uses a reverse-symmetric tread design and even tire footprint to give you a smooth driving experience with a well-distributed load capacity.
Fuel-saver sidewall: Even the sidewall of the Ecopia EP422 Plus tire is designed to maximize fuel efficiency. It provides you with an optimized grip when cornering, while notched shoulders add up to the centered driving feel and rounded-up footprint for optimizing fuel economy and road grip.
Safety features
Any all-season touring tire needs to have sturdy construction with high grip and safety features for refined driving even in bad weather. The Ecopia EP422 Plus has it all since Bridgestone engineers equipped it with four circumferential grooves spreading throughout the tread.
Each groove helps evacuate trapped water that could otherwise create a slippery surface on a rainy day. This is especially important for avoiding hydroplaning – the loss of tire grip under a layer of water accumulated on the pavement.
To top it up, Bridgestone also added a series of biting edges in form of sipping visible on each independent tread block. Inside the tire, the construction consists of two sturdy nylon-wrapped steel belts that generate higher driving stability, making the tire immensely safe for driving in all weather conditions.
Speed ratings
Understanding the speed ratings of a tire gives you an idea of how fast you can drive with the tire still having optimized grip and driving safety. You can find the speed rating mark as the final letter in the sidewall mark. The tire number starts with the tire width and ends up with a speed rating letter. For instance, the Ecopia EP422 Plus sidewall marking 205/50R16 87V represents a V-speed rating.
The V-speed rating means you can safely drive with Ecopia EP422 Plus tires up to 149 mph. Ecopia EP422 Plus tires also come in trims with a T-speed rating and an H-speed rating. This means you can drive with such tires up to 118 mph and 130 mph, respectively.
Treadwear and durability
These tires are built to last, and the estimated tread life of 70,000 miles proves it. We got you, the mileage can truly vary from tire to tire even if it's the same model, but the government statistics don't lie. These tires earned their Uniform Tire Quality Grade (UTQG) based on testing conducted on government grounds.
There, the Ecopia EP422 Plus was tested against a government control tire and proved to last up to 6 times longer. Thus, it earned UTQG ratings from 540 AA to 640 AA, which is more than decent. For comparison purposes, the higher-estimated treadwear grade a tire can get is UTQG 820.
These ratings are officially submitted to the National Highway Traffic Safety Administration (NHTSA) as a reliable way to test tire durability. On top of the grades, Ecopia EP422 Plus has an even patch footprint, making it distribute the load more efficiently and last a few miles longer on the road than competitors.
Maintenance indicators
Tire manufacturers set treadwear indicators (TWIs) to help drivers understand when a tire should be replaced. The same refers to Ecopia EP422 Plus, as Bridgestone utilized treadwear indicators in the tire circumference.
If you notice that the indicators are flat with the tread surface, it means your tires have reached the final 2/32 inches of tread. It's the lowest tread depth legally allowed in the US, so make sure to change your tires as soon as this mark gets visible.
You can also inspect the tread depth yourself using a penny coin. Placing it between the tread blocks upside-down will help you determine the depth. If you can Lincoln's head completely, it means the tire tread is below the final 2/32 inches and should be replaced.
Wet traction performance
In terms of performance on wet pavement, Ecopia EP422 Plus holds its ground well. Thanks to the wide circumferential grooves and added deep grooves between the tread blocks, water easily escapes from the tire tread.
On top of that, the tire is well-equipped with biting edges and the risk of hydroplaning is as low as it can be. Of course, this doesn't mean you should drive full-speed in the rain, but you won't have any traction issues on a rainy day either. Driving experience on a highway will be almost the same as if the road was completely dry, and you won't lose on the refined driving feel.
Dry traction performance
Although the Ecopia EP422 Plus is an all-season tire, it leans toward a summer tire with maximized tread footprint. That is, for as much as it's possible, considering the deep grooves between the blocks necessary to provide a decent wet grip.
It's still enough to equip your sporty sedan, crossover, or van with a set of tires capable of delivering a solid performance on a dry road. Grabbing a set of V-rated Ecopia EP422 Plus tires will be enough to handle flooring the throttle on a highway within the legal limit without any loss of traction.
Notched shoulders and optimized sidewall help deliver great cornering response as well. This isn't a performance-level tire by any means, but it combines decent speed capability and refined driving quite well.
Snow traction performance
Well, we finally reach one section where the Ecopia EP422 Plus doesn't excel – snow traction. Note that we aren't saying you can't drive a car with these tires mounted in light snow conditions, since you can. You can also park your car and park out without much disturbance.
However, these simply aren't meant to handle deep snow, so if your parking spot isn't previously cleaner, you might struggle to park the car. Overall, deep siping allows some biting edges that aid in snow grip, so these tires are perfectly safe to drive over highways or city roads when it snows.
Off-road traction performance
The Ecopia EP422 Plus is a highway tire designed for capable and refined driving in all weather conditions. However, it doesn't even fit SUVs and light trucks, so, naturally, it doesn't handle off-road driving well. Even its SUV and light truck-based counterpart, the Bridgestone Alenza AS Ultra doesn't handle off-road driving so well.
So, you should go for an all-terrain or a dedicated off-road tire instead if you plan on leaving the road. On that note, it's possible to take a slight detour on your road to a vacation site and park your car in slight gravel with these tires. It's just that they aren't meant to be for genuine off-road driving over rocky surfaces, as they lack the aggressive tread patch.
Noise and comfort
Bridgestone Ecopia EP422 Plus is a tire that handles long highway driving so well, that it results in a refined and comfy sensation behind the wheel. You and your family won't have to deal with road vibrations thanks to an evently-distributed tread patch that grips the road with reinforced inner structure stability.
So, you won't even notice going over a road bump and will be able to enjoy a smooth drive in the cabin. These are, after all, premium all-season touring tires. Thanks to the NanoPro tech and maximized footprint, these tires are perfect for tackling longer road trips.
Competitors and alternatives
Some tires can rival the Ecopia EP422 Plus in terms of all-season touring performance and refined driving experience. Here are some of the main examples below:
Goodyear Assurance Fuel Max
Michelin Energy Saver A/S
Price range
For a premium all-season touring tire, Ecopia EP422 Plus is a rather cost-efficient tire. It starts at around $120 per tire and goes up to $220 for higher-size trims. The price depends on the tire size as these range from 15″ to 18″.
The price is also determined by the speed rating and UTQG based on different trims. Still, you can find discounts and rebates to grab these beauties at an even more convenient price.
Warranty
One of the best things about these tires is that Bridgestone gives you a 70,000-mile limited warranty, so you can rest assured that it's a good buy. Also, the brand offers a 30-day free trial upon which you can change the tires for another Bridgestone set or get a refund if they don't meet your expectations.
There's also the workmanship and materials warranty which gives you the chance to get a replacement during the initial 3 years of use in case a material defect occurs.
Our take
As to be expected from Bridgestone, Ecopia EP422 Plus tires stay faithful to the brand's promised quality. They are one of the best affordable options for all-season touring tires that give you year-round traction performance, great cornering, and lasting tread life.
It's a complete package for those that wish to equip their sedans, coupes, crossovers, or minivans with a quality set of tires. These not only deliver quality-wise but also increase fuel efficiency with the new technologies used.
Where are Bridgestone Ecopia EP422 Plus tires made?
The Bridgestone Ecopia EP422 Plus tires are made in Bridgestone's facilities in Japan, the US, Belgium, and other plants under the brand.
How good are Bridgestone Ecopia EP422 Plus tires?
Bridgestone Ecopia EP422 Plus tires are great in terms of quality when compared to other all-season touring tires.
How long do these tires last?
These tires last at least 70,000 miles, but the mileage might differ based on your driving style and the type of roads you frequently drive on. They are mainly meant for highway driving.
What is the speed rating of Ecopia EP422 Plus tires?
Ecopia EP422 Plus tires come in three-speed ratings – T, H, and V. It means you can drive at speeds of 118 mph, 130 mph, and 149 mph, respectively.
Where to buy Bridgestone Ecopia EP422 Plus tires?
You can buy Bridgestone Ecopia EP422 Plus tires in official Bridgestone dealerships, retailer shops, and online stores, and using rebates can score you a better price.
Which is better – Bridgestone Ecopia EP422 vs Michelin Defender?
The Ecopia EP422 Plus tire handles great against a more expensive Michelin Defender opponent, even though Michelin's tires scored slightly better in terms of traction performance and steering.
Which is better – Bridgestone Ecopia EP422 Plus vs Michelin Energy Saver A/S?
Bridgestone Ecopia EP422 Plus delivers the same level of refined driving and overall performance as Michelin Energy Saver A/S with just a slight difference in test results.
Which is better – Bridgestone Ecopia EP422 Plus vs Goodyear Assurance fuel max?
Bridgestone Ecopia EP422 Plus delivers a more refined ride, and better traction on wet roads, and is more fuel-efficient than Goodyear Assurance fuel max tires.
REREV may receive a commission for purchases made through links on our site. Learn more.