Waterless car wash — all you need to know
Discover a revolutionary method to clean your car without water waste.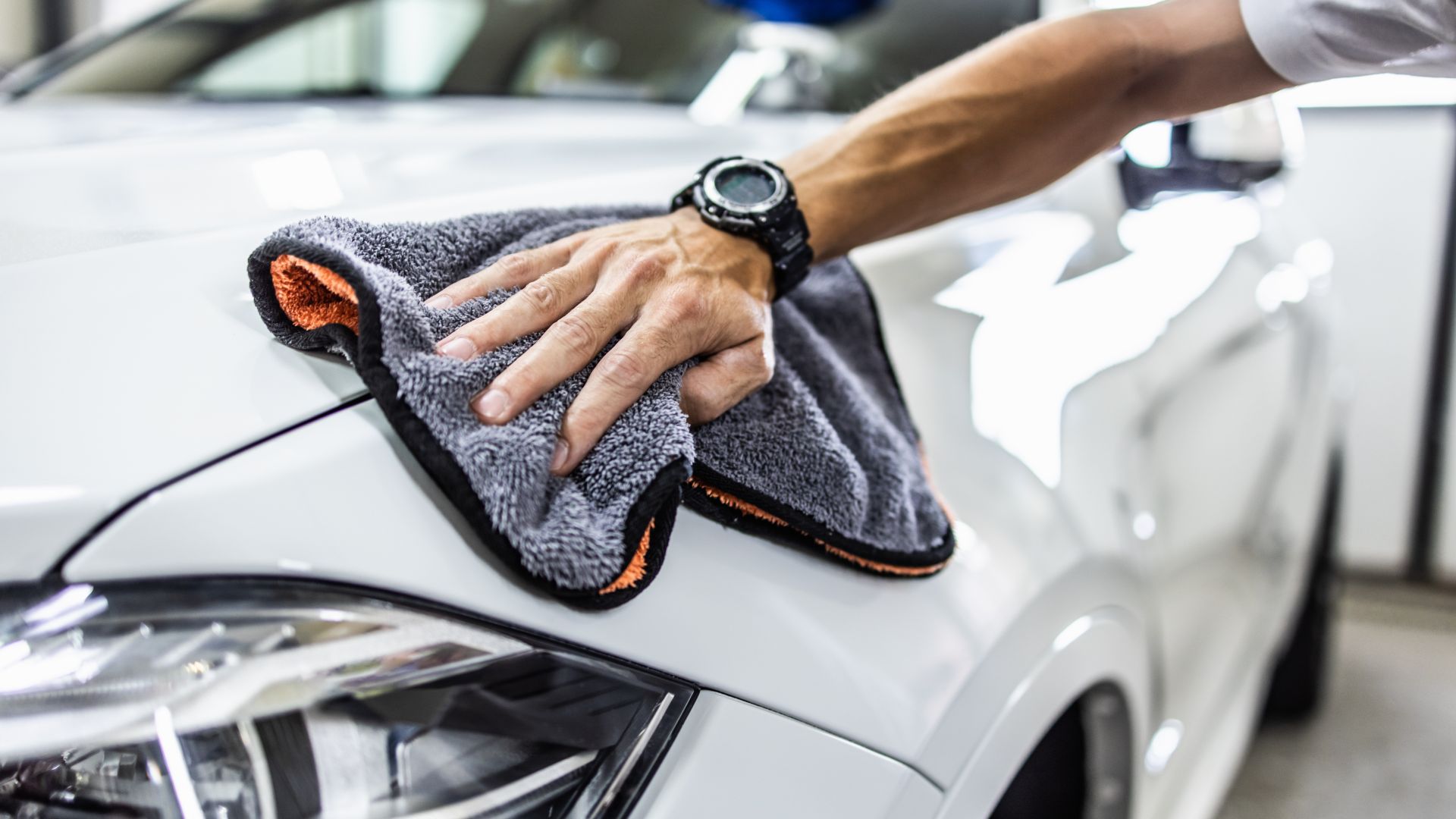 Only some people have the time or inclination to wash their cars regularly, and repeated automatic car wash trips can quickly add to expenses.
Furthermore, many trips through a car wash can cause your vehicle to lose wax and cause swirl marks in the paint. If your automobile has only a light layer of dirt or dust, a waterless car wash may be the most convenient option to clean it quickly.
Waterless car wash products are pre-mixed spray solutions designed to clean your vehicle without using a hose and bucket. They usually come in a portable spray bottle, ideal for keeping in the garage or trunk for quick touch-ups and car cleaning.
All you have to do is spray the waterless car wash solution on the unclean spots of the car and wipe it clean (preferably with a clean microfiber towel). Better still, do the entire vehicle at once for a thorough job.
Why is it necessary to wash your car frequently?
Cars, due to a variety of damaging reasons, ultimately acquire the dreadful matte appearance over time. That's why drivers often ask themselves – how often should you wash your car? Well, it depends on a couple of factors.
First and foremost, there is dust. Dust constantly settles on your automobile panels no matter where you live. Dust not only makes your automobile appear unclean and unattractive, but its tiny particles may be exceedingly corrosive and destructive to the paint, causing micro-scratches that are difficult to remove afterward.
In addition to the never-ending dust, there's dirt, which is far worse because it's simply dirty matter. Dirt particles will wreak havoc on your automobile's paint, necessitating a trip to the car wash.
When you combine toxins from polluted rain with unrelenting UV rays from the sun, you have a surefire way to see your shiny paint fade away. Road grime stuck to cars is difficult to remove once it solidifies on the surface.
Can waterless car wash be a good alternative to regular washing?
Just as there are dry shampoos for folks who don't have time for a long shower, there are now waterless car wash products that take the hassle out of cleaning your car and making it look pristine.
A waterless wash is an actual answer, and many high-quality products in the market do an outstanding job of eliminating the need for those bothersome vehicle wash trips.
The best part is that you can access it from the convenience of your garage or from the curb, whichever is most convenient and time-saving for you.
How do you use waterless car wash?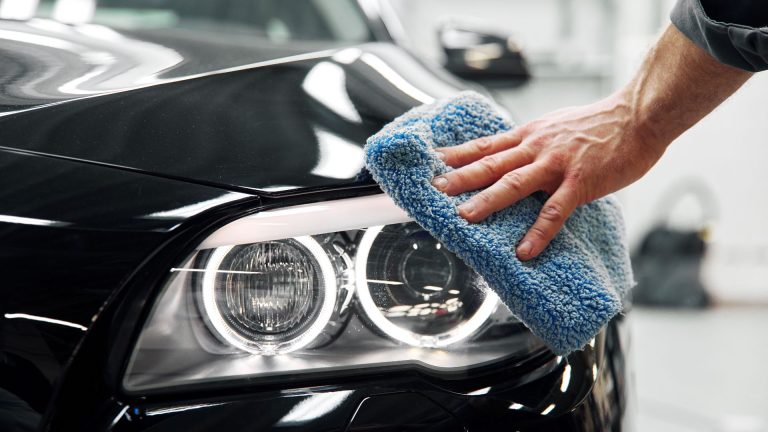 A waterless car wash is a high-lubricity pre-mixed spray detailer used to heavily saturate a panel before wiping away any dirt or road grime to a dry shine. Waterless washes should only be performed on vehicles with minor dirt buildup, and they're a quick way to clean your car in between washes.
Wiping anything on your vehicle risks causing scratches. On the other hand, the greatest waterless car washes are designed to be gentle and leave a smooth surface. Nonetheless, we don't recommend utilizing a waterless car wash product if you want it to revive a faded rustbucket instantly. Waterless car washes work best on newer vehicles that have been washed, waxed, and serviced regularly.
Avoid using waterless wash products in direct sunlight on a heated surface, just as you would when washing with a hose and bucket. Apply the waterless car wash spray evenly using a spray bottle.
Fold your microfiber towel (always use microfiber towels) and wipe slowly. Gently turn the towel as you go so you're constantly applying a fresh, dry piece of the towel to your car's finish and not grinding the grime you just cleaned off back onto the paint's surface.
Avoid swirling and sweeping motions with your arm for the greatest waterless vehicle wash possible; it's more challenging to keep a dry, clean piece of your towel on the surface when you travel back and forth or in circles.
When you apply the waterless car wash product smoothly and softly, your entire vehicle (or at least a portion) will appear to have just returned from the auto dealer shop. Here's a step-by-step approach:
Fold your towel so that there are eight useable sides.
Starting at the top of the vehicle (the cleanest section), liberally spray a panel with your waterless wash. The panel size determines how large an area you can spray and wipe dry before it dries itself. In general, half the roof or half the hood is a good size part.
Wipe lightly in one direction. There is no need to exert heavy pressure, and doing so may result in micro scratches. If you wipe in a circular motion, you're wiping the filth you removed back over the region you cleaned. It's unproductive.
Pay attention to the cleanliness of the towel as you wipe. When one side of the towel becomes dirt, switch to a clean side. Remember that you have eight sides and maybe some extra towels.
Wipe the section fully dry before moving on to the next.
Is waterless wash good for cars?
A waterless wash is suitable for your vehicle. It is good and encouraged, as it is better than traditional or automatic washing in various ways. Even with paint-preserving techniques like a ceramic coat, there are some disadvantages of ceramic coating that you should consider first. The same goes for a waterless car wash.
However, as with any new emergent technology, there will be early adopters, while those sceptical of the advancements will wait to see how the market reacts.
Advantages of waterless car wash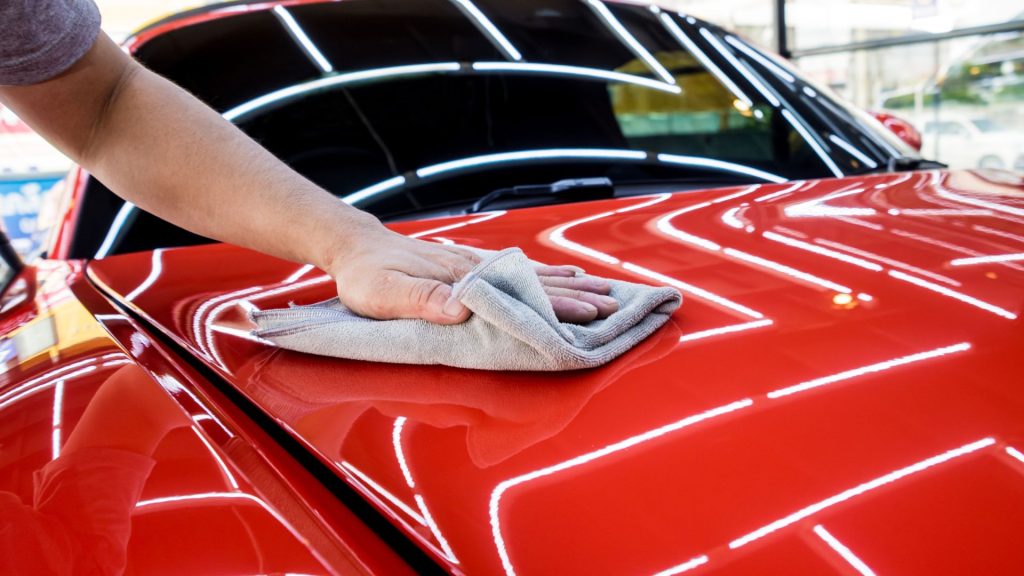 So, what are some of the advantages of using a waterless car wash? There are a few distinctions between traditional water-based car cleaning and waterless car washing, and some of them are truly notable advantages:
Time and space flexibility
This is to say, you can wash your automobile with a waterless car wash product at any time and anywhere. You won't have to locate a time in your schedule or stand in line at self-service car washes.
You can do it on a Monday evening in front of your house or during a pleasant Saturday morning coffee break.
Saves water
This is the most apparent benefit because waterless wash products require no water. A regular car wash will waste 40-60 gallons of water in one pass, which is entirely needless and not very environmentally friendly.
An eco-friendly waterless car wash product is an alternative that saves water and serves to maintain the paint in the future.
Use fewer car wash kits and tools
As you know, preparing for a car wash at home takes significant time and tools, as you would require soap, sponges or gloves, two buckets, a hose, drying equipment, and so on. That's a lot for such a simple process. All you need for a waterless car wash is the waterless wash spray solution and a couple of microfiber cloths.
Save money in the Long Run
Whether you go to a professional car wash or prefer to wash at a self-wash facility, you will still have to dig into your pockets for the necessary funds.
However, you need to pay once for the spray when using a waterless car wash solution. You can clean your car numerous times with just one bottle while also adding protection.
Long-lasting shine and protection
Another advantage of foregoing traditional car washing in favor of waterless car washing is that waterless car wash chemicals provide a glow that lasts for quite sometime after the care procedure.
This cannot be said of traditional vehicle washing, where you wash your car one day, and it is all dusty the next.
Aside from that, standard car cleaning leaves those irritating water stains, which, as innocent as they appear, are rather bothersome. If you use a waterless vehicle wash spray and wax treatments, you'll also obtain a protective coating that will shield your paint from any outside harmful factors like road grime and dirt, as well as air and water toxins.
Your car's paint remains intact
This is likely what many car owners are most concerned about when considering switching from regular car washing to waterless car cleaning – that the product would damage the paint. This could hardly be further from the truth, as experienced users have already discovered.
While some subpar waterless car wash options may be available, sticking to high-quality products and relying on other car owners' reviews as your guide, you can locate a top-notch waterless car wash option.
Our take
Waterless car wash products are one of the most divisive issues in the detailing community. Some vehicle enthusiasts (and product makers) will convince you to believe they are safe to use, and others will not touch them, fearing they will quickly scratch your paint.
If you utilize a waterless car wash properly, it will not harm your paint. Safe use includes judging the car's dirty, cycling many towels, and applying slight pressure/scrubbing. These products should be used for touch-ups and dust removal, not on moderately unclean autos.
Do waterless car washes scratch?
Waterless washes necessitate a dry, high-quality microfibre cloth, as a coarse material may cause scratching. If you don't swap to a new cloth every time you clean your automobile, you can rub surface debris into the paintwork over and over.u003cbru003eu003cbru003eUsing a waterless wash on a dirty surface will smear the dirt and cause severe scratches. Improper materials and techniques could harm your paint.
When should you use a waterless car wash?
A waterless car wash is a high-lubricity pre-mixed spray detailer used to heavily saturate a panel before wiping away any dirt or road grime to a dry shine. Waterless washes should only be performed on vehicles with minor dirt buildup, and they're a quick way to clean your car in between washes.
Can you use waterless car wash on dirty cars?
Waterless car wash chemicals are intended for quick touch-ups and dust removal rather than cleaning a dirty automobile.u003cbru003eu003cbru003eHence, we recommend utilizing a waterless car wash product only if you want it to revive a faded rustbucket instantly. Waterless car washes work best on newer vehicles that have been washed, waxed, and serviced regularly