Mold in the car — causes and how to remove it
Learn about the hidden dangers of mold in your car and how to protect yourself.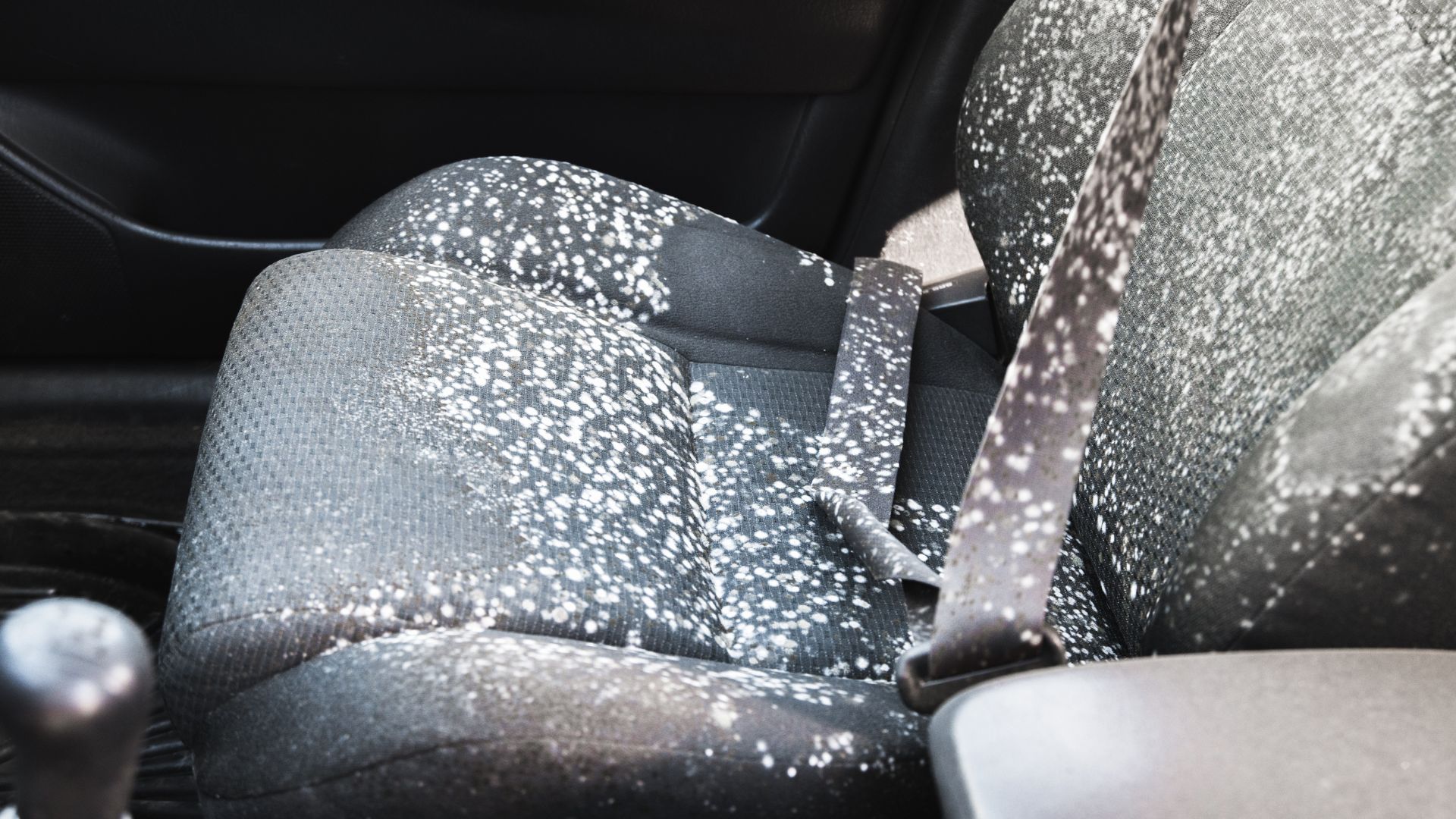 One of the worst things that could happen to your car's interior is mold forming in your car. You'll notice its specific smell every time you enter the cabin, and it makes it more difficult to enjoy your ride. So, if you find mold in the car, you'll need to look for a quick fix to remove it once and for all.
Luckily, there are a few methods you can use to remove mold and the bad scent it leaves behind. You first need to locate the source, and this guide should help with the process. We'll go over some of the best ways to make your car's interior shine and smell nice again.
Is it normal for mold to form inside a car?
Yes, it's completely normal for mold to appear in your car's interior, and it has nothing to do with the age or condition of your car. Mold forms in dark and damp places, and it's often a result of moisture entering your cabin somewhere.
Mold has to start spreading from somewhere, and car interior surfaces like carpets, seats, roof interiors or even air vents can be a perfect habitat for mold. The worst thing is – if it infects your car's interior, it will likely keep spreading and ruin your driving experience for good.
As mentioned, it forms in places where there's no light and if there are slightly wet conditions, it's a perfect environment for it to spread. Here are some of the possible reasons for mold forming in your car:
You've got a broken window or door seal
You left windows open in the rain
You left a sunroof open in the rain
You parked your car in a damp garage
Clogged air conditioning channels and vents
Some of the most common places you'll find mold is A/C vents. If you notice that your A/C smells like vinegar or any other bad smell for that matter, you should check the vents. Since it's dark and damp inside them, chances are that that's where the mold has formed.
You should also check the vehicle's carpets, seats, the area below the glovebox, and every other inaccessible area. Look behind and under the seats as well to locate the source of the smell, so you can start applying cleaning methods.
Best ways of dealing with mold inside your car
If mold and bacteria form in your car, it's not only inconvenient, but it's also dangerous for your health. You'll always be exposed while you are driving, so it's important to remove mold right away as it appears. Don't let this problem ruin your driving for good, and use the following methods of removing mold from your car swiftly and efficiently:
Apply an A/C cleaner
Air out your car and vacuum it in a sunny spot
Spray and brush the interior with a cleaner
Change the cabin air filter
Use a steam cleaner
Before starting to deal with the mold, you should first locate it inside your car. Make sure to inspect the carpet thoroughly, as well as A/C vents and other damp places including your cargo space. Once you find the location where the mold is forming, it's not enough to simply clean that spot, but all surrounding areas as well.
Clean the A/C vents
If you notice the smell of mold when you turn on the air conditioning, chances are that it's in your A/C vents. It's a more common thing than you think, and the worst thing is – the smell circulates through the vehicle as you turn on climate control.
When set on the recirculation mode, the A/C will just keep moving the smell and possibly even mold spores through the system. You can use one of the A/C cleaners for this purpose and use it to remove the mold for good.
It's enough to simply spray the solution into the intake opening at the bottom of your windshield. Once you do this, the cleaner will pass through your vents and remove the mold and bacteria. So, it's best to set your blower on the top speed setting and roll down your windows to let the car air out. If possible, it's best to leave the car air out overnight so the smell of the cleaning agent and mold disappear for good.
Air out and vacuum your car
If you've been parking your car in a dark and damp garage, that can easily be the reason why there's mold forming inside. So, if the mold isn't in your A/C vents, the best way to start removing it is by taking out the surface layer and spores.
You can do this by simply vacuuming the car carefully, and at the same time airing it out. Make sure to find a sunny spot and roll down all the windows and open all the doors. Removing all the water is crucial, so if there's been a recent rain, letting your car completely dry can help kill the mold.
After carefully vacuuming your car, it's time to let the interior dry completely and air it out for as long as possible. Afterward, you'll be ready to make a final blow by applying an interior cleaner.
Use car cabin cleaners
There are several effective cleaners you can use for your car's interior to remove mold. The first one includes a simple mix of salt and water, but it's not the best option for your seats. So, you can use things like distilled white vinegar and chemical cleaners in a spray bottle.
White vinegar successfully removes fungus, so it's one of the best ways to kill mold. Make sure to spray the cleaning solution or white vinegar all over the infected areas. Using a brush is also a good idea to completely remove the mold.
Finally, once all this is finished, you can vacuum the interior once again. Your brushing might cause some mold spores to get out in the air or reach adjacent surfaces, so vacuuming your cabin again can help prevent re-growth.
Change the cabin air filter
Sadly, if mold was present in your A/C system, it could have easily gotten into the cabin air filter. So, every time you think you are getting fresh outside air when the A/C is on, you are spraying mold spores through the filter.
The good thing is – it's easy and cheap to replace the cabin air filter, and you can do it yourself. Doing so will help you once again receive fresh air in the cabin and get rid of mold spores in the air.
Use a steam cleaner
Steam cleaners effectively help remove mold, and it's one of the fastest ways you can get rid of fungus spores. Dry steam cleaning removes the liquid from spores and it removes them along the way, just like drying the car exposed to the sun.
It also doesn't include any chemicals, so it's a non-toxic way of removing mold and bacteria from your car's interior. You can also adjust the heat produced by the steam cleaner to effectively remove mold regardless of the size of the infected surface.
Our take
Mold in the car is one of the most inconvenient things that could happen. It removes all the joy from everyday driving, and you'll just wait to reach your destination to get out of the car. On top of that, mold spores can also cause health problems, so it's important to remove them as soon as possible.
In that light, this guide will hopefully give you all the steps you need to take for complete mold removal. Make sure your car's interior is dry and clean afterward, and don't open your windows or sunroof when it's raining to prevent mold re-growth.
How do you get rid of mold in a car?
You can get rid of mold in your car by applying a steam cleaner, or A/C cleaner, brushing the surfaces and vacuuming your vehicle to remove mold spores.
Why is mold growing inside my car?
Mold is growing in your car probably because of wet surfaces in the interior, or a bad seal that caused raindrops to enter the cabin.
Can you get sick from car mold?
Yes, you can get sick from car mold and that's why it's important to remove it right away. Not all mold species are dangerous for your health, but you shouldn't take any chances if mold appears in your car.
Does sunlight kill mold in the car?
Yes, sunlight kills mold in the car as the wet surfaces dry, but it takes days of exposing your car to sunlight to remove the mold.