How to stop a windshield crack from spreading — best methods
Prevent the spread of a windshield crack with these helpful methods.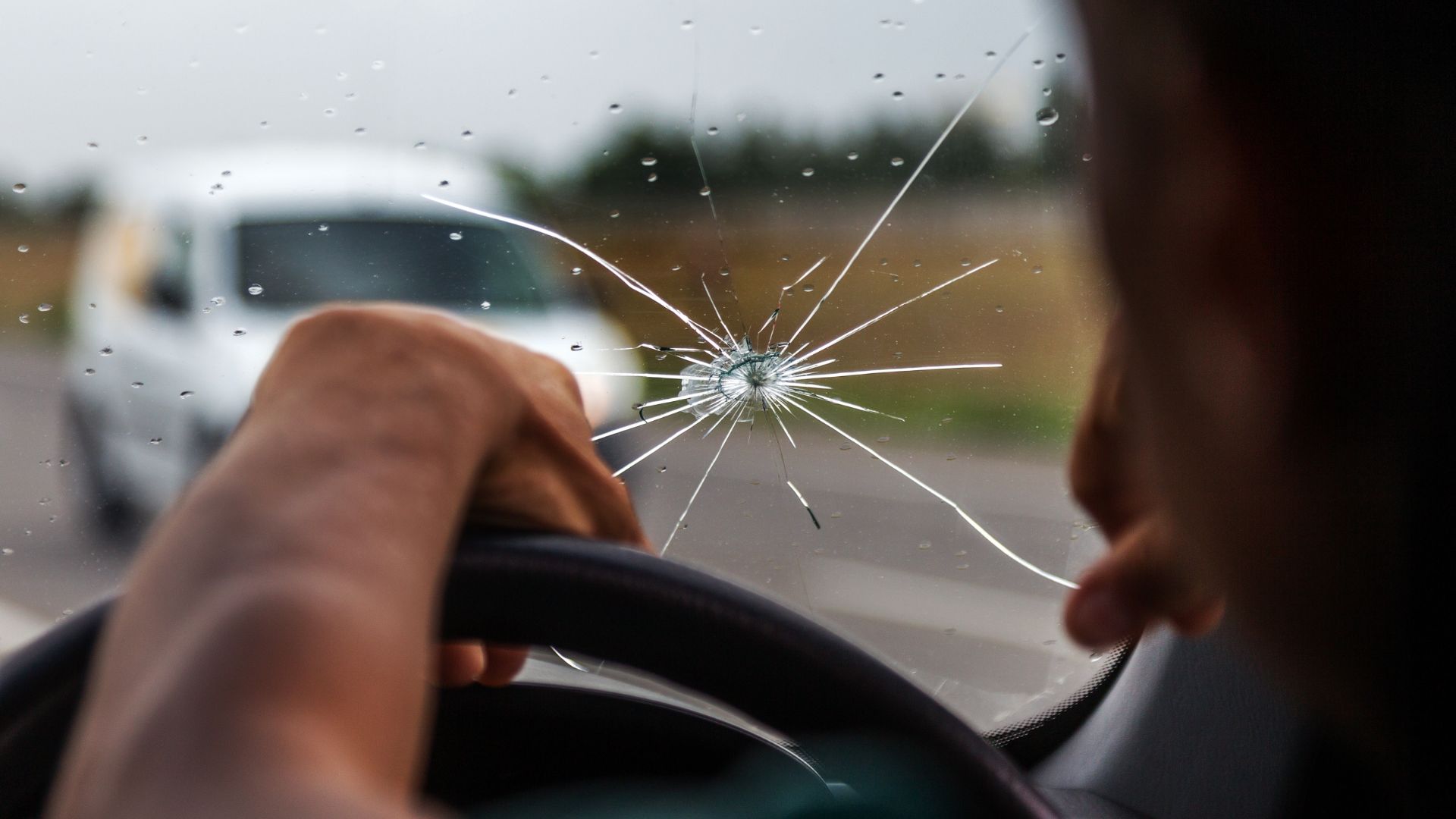 No one plans to get their windshield cracked, and it might take a few days before you can get a professional auto glass technician to fix it.
However, you can't just let the crack sit there when you are aware of the possibility that it might grow more significant, possibly beyond repair. Eventually, this might lead to a total windshield repair if the crack spreads significantly.
Since most of us have no choice but to drive our vehicles practically every day to work, eateries, malls, etc., keeping the crack from spreading while planning on a professional repair is necessary.
We provide detailed information on preventing a windshield crack from spreading and answer related questions.
How do I stop a cracked windshield from spreading?
You can use several methods to slow down or stop the spread of a windshield crack. These methods include;
Seal the crack with super glue
You can apply superglue to your cracked windshield; however, this isn't an ideal solution to the problem, but it'll keep the glass together for a while. Follow these simple steps to get the work done:
Firstly, clean off all debris and dirt around and within the crack. You can achieve this using a glass cleaner, alcohol-based cleaner, or soap and water.
Apply a small quantity of superglue to the cracked area. Spread the glue evenly over the crack by using the tip of the dropper.
With a lint-free cloth or alcohol wipe, gently wipe off any excess glue from the glass. Be sure to use minimal pressure to prevent the crack from worsening.
We want to stress that getting a professional auto glass repair might be difficult once you use this method. Removing superglue from a glass crack can be challenging or even unachievable. Therefore, you should bear this in mind before trying this tip.
Apply nail polish on the crack
As with super glue, you can apply clear nail polish as a temporary fix to prevent a windshield crack from worsening. It can be challenging to remove nail polish once used like super glue. If you are in an emergency and can't get professional help, you could try out this tip; however, this should be your last resort.
Avoid sudden temperature changes
Since glass expands in heat and contracts in the cold, directing a heating vent at your cracked windshield may cause the crack to spread rapidly. This leaves you no choice but complete windshield replacement. To avoid this, it would be best to park your vehicle in the shade whenever possible and avoid using a window defroster until you successfully replace the chip.
Operate your vehicle with caution
A windshield crack can spread rapidly if you drive too quickly over speed bumps, whip around corners, or slam your car doors too hard. These actions can cause substantial vibrations that could trigger rapid spreading on a cracked windshield. Until you can get a professional windshield repair, you should be gentle with your vehicle to prevent existing cracks from escalating.
Schedule a repair or replacement
Having a professional do the job is the best fix to a cracked windshield; it is quick and affordable and saves you from the trouble of working with glue. It's an excellent choice to repair your windshield where possible; however, a repair might become impossible if the crack spreads more than three inches. Therefore, you must act fast to avoid expensive replacements.
Do I repair or replace a cracked windshield?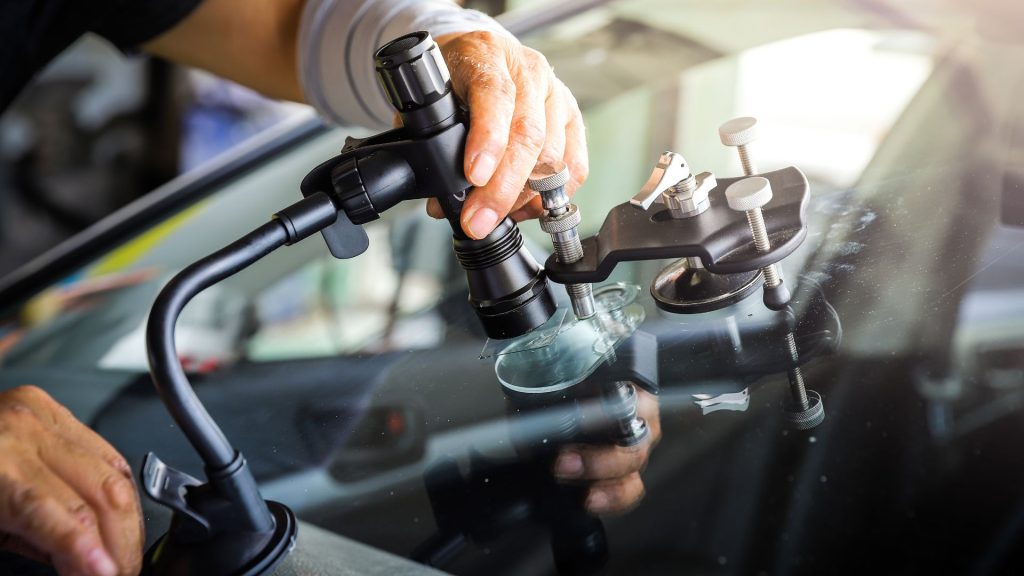 Knowing when to either repair or replace a cracked windshield is essential. You wouldn't want to be replacing an entire windshield when an affordable repair would have solved the problem. Conversely, you should avoid trying to salvage a windshield beyond repair. Below, we will give some insights about what actions to take in certain conditions;
When to repair a cracked windshield
You can consider repairing a cracked windshield if the damage is minor (under 2 inches) and shallow (under 3/8 of an inch). Although you might be able to repair damages up to 3 inches in diameter; however, this depends on the shape and type of the crack.
It would be best if you also considered the depth of the damage when thinking about repairing a cracked windshield. Remember that a vehicle's windshield has a plastic coating with two layers – the outer and the inner. If the crack only penetrates a single layer, there's a possibility you might be able to repair it.
In certain situations, the position of the crack plays a role in determining if it can be repaired or not. You can fix damages in the windshield's middle (away from the driver's side).
When to replace a cracked windshield
There are certain circumstances when a windshield replacement is the best option. Suppose a truck's hauling bowling ball causes the crack; you might need a new windshield. Generally, you might need a windshield replacement if:
The glass is tempered
As we explained earlier, most windshields have layered glass with a plastic layer in the middle called "laminated glass." Laminated glasses, instead of shattering, tend to hold their broken pieces together. On the contrary, rear and side windows are often tempered glass, which breaks into small pieces when damaged, unlike laminated glass. Since it breaks in this manner, replacement is the only authentic fix.
There are too many cracks
As a general guideline, if your windshield suffers three or more cracks, you'll likely need to replace it. After taking a certain level of damage, the windshield loses its ability to sustain further impacts. Not only does it affect your visibility, but it may also cause water leaks into the car's passenger side and all over the dashboard.
The crack is in a bad spot
Cracks on the driver's side of the windshield usually require a total replacement, and this is because repairs often leave some residual markings. Also, damages spanning from one edge to another weaken the windshield's structural integrity and usually point to a replacement. Even with a dusty windshield from the inside, it's possible to find the best ways to clean the inside windshield, but when it comes to a crack – it may severely affect your visibility.
The crack is too deep
You should call for a replacement if a crack penetrates a laminated windshield's internal and external layers. Even if the damage only penetrates the outer layer, it can expose the plastic layer inside, causing discoloration if left for too long.
What are the drawbacks of a cracked windshiel?
Many car owners drive cracked windshields without knowing its downside. It would help if you prioritized repairing cracked windshields whenever it occurs. Below are a few reasons why driving with a cracked windshield is dangerous:
A cracked windshield makes accidents more hazardous. Since your windshield further provides stability to your vehicle, its roof might likely cave in if you get into a rollover accident with a cracked windshield. This increases the chance of severe injuries or fatalities.
A broken windshield can be distracting, and this is because the glass reflects light rays into your eyes, which could distract or obscure your vision and lead to accidents. This explains why the police would fine you for driving with a split windshield.
A cracked windshield is unappealing. Whether you intend to sell your vehicle or not, you want it to look great. Replacing a cracked windshield shows you feel good about the car you drive.
Can I repair my cracked windshield with a DIY repair kit?
If you feel confident enough to repair a windshield, you can purchase a repair kit and get the job done. Many of these kits include the same kinds of materials professionals use. However, every kit is different; their expertise is the most significant benefit of using a professional.
To an inexperienced eye, a cracked windshield might seem like a straightforward repair. However, driving with a windshield that is repaired instead of replaced is unsafe and could lead to fatal consequences.
If the DIY kit fails or the repair attempt proves futile, there is no turning back – you should do it right at the first attempt. For this reason, you must entrust the job to the hands of a trained professional auto glass technician.
Our take
A broken windshield glass doesn't only look less appealing but can be even dangerous in the case of an accident. It is essential to know when a repair could work and when it would be unsafe to try and salvage the situation.
As a DIYer, it could be possible to fix your windshield as this may seem like a straightforward auto repair. However, you should aim to get it right on the first attempt because restoring it to a functional state could be impossible if the repair job fails.
Will superglue stop a windshield crack from spreading?
Yes, superglue can stop a windshield crack from spreading; however, this isn't the best option. We still recommend you get a professional fix.
Why is my windshield crack spreading so fast?
Windshield cracks spread fast due to temperature fluctuations. To prevent this, try your best to keep your windshield from extreme temperatures.
Will nail polish stop a windshield crack?
Yes, clear nail polish can stop a windshield crack from spreading. Like superglue, this isn't ideal, and a professional repair remains the best option.
How fast does a windshield crack spread?
A crack will first spread on a microscopic level in a day, but the marked difference becomes evident within a few days.