Mastercraft SRT Touring review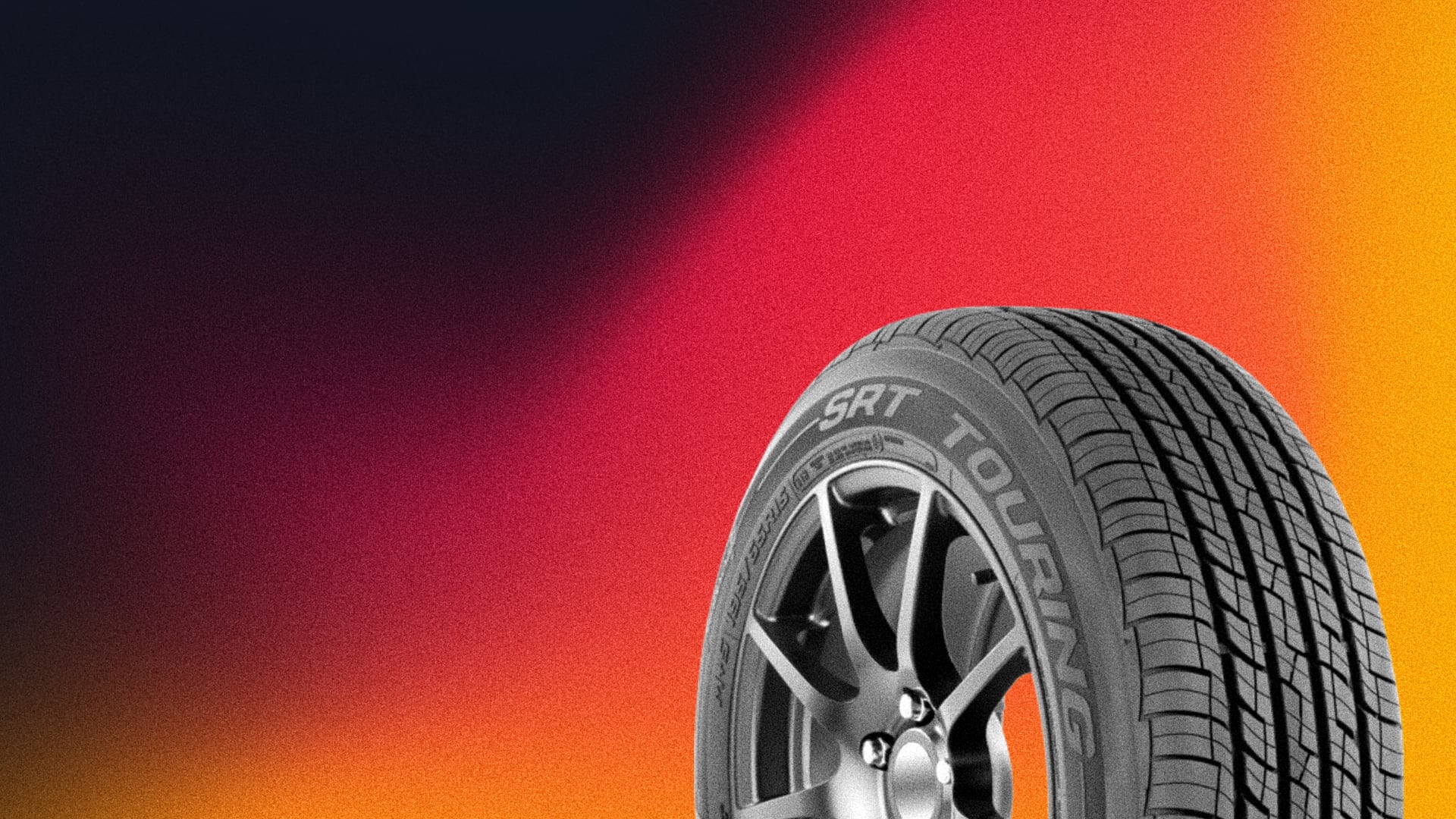 The Mastercraft SRT Touring is designed to give reliable all-season traction and smooth, comfortable rides. Created for drivers of sedans, coupes, minivans, and smaller crossovers, the SRT Touring is also economically priced to fit almost any budget.
The SRT touring has tread patterns with 20% more lateral grooves around the tire from the previous generation, enhancing wet traction and performance on light snow-covered road surfaces.
Mastercraft has focused a lot of attention on reducing outside road noise by utilizing a newly developed tread pitch sequence that addresses this area. That's not all. This article gives detailed information on the Mastercraft SRT touring tire and answers related questions.
Recommended
Mastercraft SRT Touring
Mastercraft made the SRT Touring a tire with an impressive price-to-quality ratio with all-season traction and great noise isolation for a tire in this price range.
REREV may receive a commission for purchases made through links on our site. Learn more.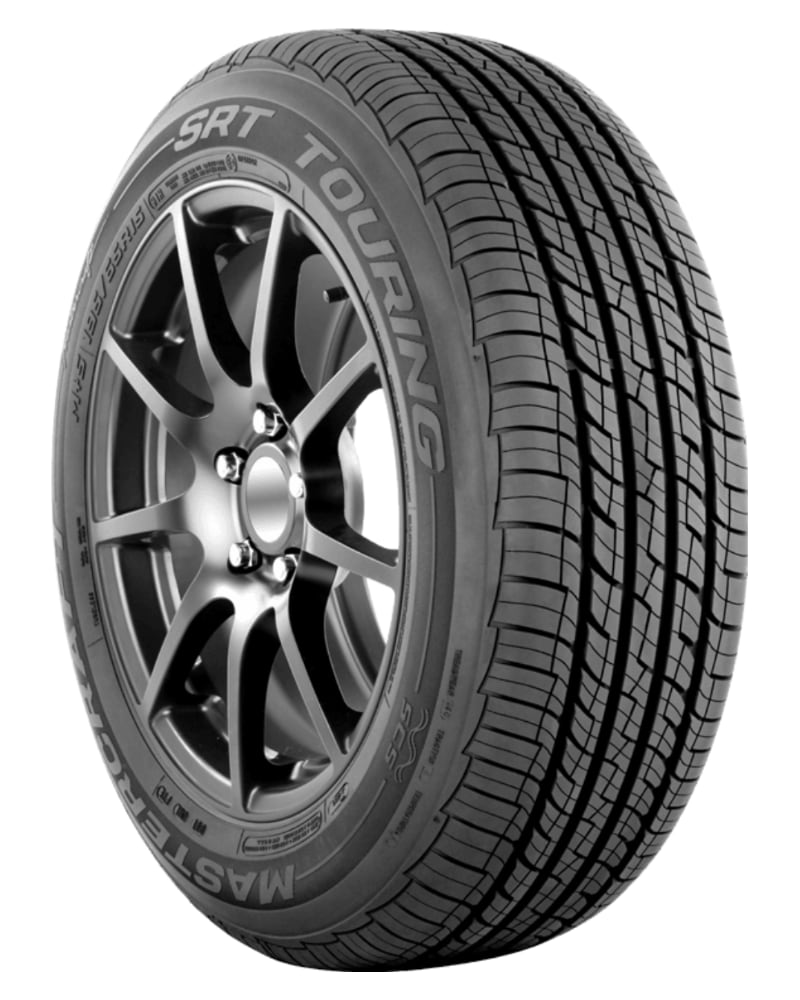 Why you can trust REREV's tire reviews: Our automotive expert researchers analyze tire specs, customer feedbacks and reviews from credible sources. This thorough analysis provides accurate information about tire performance, helping you make the best choice. Find out more about how we evaluate tires.
Key technologies
MasterCraft enhances the performance of the SRT touring tire with five key features. These features are discussed below.
5-rib tread pattern: The Mastercraft SRT touring tires has an advanced 5-rib tread pattern with 20% more lateral grooves around the tire's circumference. This helps increase traction when driving in wet conditions and on snow.
Pitch sequence: Mastercraft utilizes its newly developed pitch sequence and advanced tread pattern layout in the SRT touring tires. This feature provides you with lower in-vehicle noise.
Well-designed circumferential grooves: Another striking feature in the Mastercraft SRT touring is its four wide circumferential grooves that remove water from the tread footprint. This feature allows the tire to resist hydroplaning by maintaining a sturdy rubber-to-road contact.
Modern tread compound: To crown it up, the SRT touring features a modern tread compound and profiles to ensure the tire wears evenly and lasts for years.
Safety features
When a car slides uncontrollably on a wet road, also known as hydroplaning, this can result in a deadly crash, and Mastercraft knows this. The Mastercraft SRT touring tire is built with an advanced 5-rib pattern, with 20% larger lateral grooves around the circumference to help dispense water from the tire through the contact patch, thus preventing hydroplaning.
Speed ratings
The speed rating for most Mastercraft SRT touring tires is S and T, which means the tires can cover speeds of up to 112-118 MPH. This speed range should be sufficient for the average passenger vehicle.
Treadwear and durability
Mastercraft's SRT touring offers drivers year-round traction and performance and an up to 65,000-mile limited tread life warranty, owing to its modern tread compound. This ensures that the tread wears evenly, enhancing its longevity.
Maintenance indicators
In many tires, the maintenance or wear indicator helps drivers know their tires' condition, allowing drivers to keep up with tire maintenance. These narrow rubber bars sit in the circumferential grooves, which the driver can use to monitor tread depth.
This indicator is crucial for safety – without appropriate depth, the tire won't have good hydroplaning resistance in wet environments and almost no traction on snow, which could be hazardous.
Unfortunately, the SRT touring tire does not seem to have a tread wear indicator. However, you do not have to panic. With the following vital indicators, you can be sure your Mastercraft SRT touring is still in good shape;
Tread depth: Assessing the tire's tread depth will help you check for traction. You can achieve this by placing a penny in between the tread. If you can see the top of President Lincoln's head, it might be time to replace tires.
Tire pressure: You can utilize the tire pressure check to determine if your tires are adequately inflated; you can achieve this by using a pressure gauge. Take off the valve stem cap and put the gauge head into the steam valve. Wait for hissing, remove the gauge, and read the pressure. You should fill it up if the result is lower than your vehicle's recommended pressure.
Tire age and condition: You should always inspect your tires for any signs of cuts, bumps, punctures, or cracks. If you notice any damage, let a professional check it out. Also, keep an eye on your tire's age. If it has exceeded its estimated mileage, you need to change them.
You can find information about your tire's age on its sidewalls. You will find a four-digit number that indicates the week and the year your tires were manufactured. If, for instance, the tire has a 4422, it means the 44th week of 2022.
Traction performance
Tires require sufficient traction for optimal performance in various conditions. The importance of traction can be noticed in wet conditions because it prevents the vehicle from sliding uncontrollably. Below, we discuss how the Mastercraft SRT performs under different conditions.
Dry traction
The Mastercraft SRT touring tire feels light when it comes to steering and doesn't have sporty handling like other performance tires. However, the tires possess dry traction that is great for compact cars and full-size sedans as long as you don't push them to the limit.
Don't forget these aren't performance tires; they are touring tires, so it would be safe not to expect too much from them. On the bright side, they have good straight-line traction and proper cornering, even at high speed on the dry road.
Wet traction
The SRT provides good stability in wet conditions but could slip and skid when you push to the limits. There is less reliance on driving these tires at high speed, but they grip and corner well at an average speed.
In contrast, if you are careful enough in heavy rain by not pushing these tires to the extreme, they will offer good traction and brake.
Nonetheless, these tires should offer good traction and handling when mounted on vehicles that don't require high tire performance.
Snow traction
Although the SRT touring is marketed as an all-season tire, it's more like a summer tire than an all-season tire. The tire occasionally skids and slips on light snow and gets worse on icy roads. The SRT would perform well in winter but not in snow.
Suppose you live in an area with light snow; buying a touring all-season tire with good snow traction is better. We recommend you purchase dedicated winter tires for an environment with heavy snow.
Noise and comfort
When buying touring tires, you generally look for tires that provide comfortable and solid rides. The Mastercraft SRT generates minimal noise at average speeds on asphalt roads. You can notice this sound suppression through the pitch sequence in the tread pattern.
You can hear noticeable noise from the Mastercraft SRT when driving at high speeds. The noise levels are not very loud, which would bother the driver and passengers. However, suppose you are conscious of noise. In that case, other touring tire brands are undoubtedly quieter but more expensive.
The SRT touring tires offer a smooth straight-line ride, regardless of how fast you drive. Also, they are comfortable going over small bumps; however, the impact from something bigger may travel up to the driver.
Competitors and alternatives
Other products offer almost the same things as the Mastercraft SRT touring tires. A good competitor and alternative to the Mastercraft SRT touring is the Stratus AS, which offers all-season traction, and quiet, comfortable rides.
Price range
You can find the SRT touring tire in various sizes between 14 and 18 inches, typically for passenger vehicles, with a price range of $144.99-$153.96. The SRT tires are suitable for most types of passenger cars; however, they wouldn't be such a proper fit for SUVs, crossovers, or other load-bearing vehicles.
Warranty
Mastercraft offers a free-of-charge replacement for unserviceable tires resulting from an eligible adjustable condition in the first 2/32" (1.6mm) tread wear. However, you will need to pay for a tire replacement once the tread is more than 2/32 inches (1.6mm) worn.
The Mastercraft Tire company has a 45-Day test drive warranty. Suppose you are dissatisfied with the tire you've purchased for any reason other than the conditions listed in their "What Isn't Covered" section. In that case, you may return the tires within 45 days of purchase to your original dealer for a free-of-charge Mastercraft brand replacement.
Ensure you ask about the Bridgestone Mastercraft SRT touring warranty before purchasing. Also, read the Mastercraft full warranty book for more details.
Our take
The SRT provides excellent dry traction and handling, with more than adequate braking and acceleration. Although you can't compare the Mastercraft SRT with tire models like the Pirelli Cinturato P7 All Season Plus, it performs well for a second-tier brand.
However, especially in extreme winter conditions, you may see issues with traction on ice and hard-pack, indicating a lack of grip and bite of a typical winter tire. This is a shared problem that afflicts most every all-season tire to a degree.
The more significant issue we've found is a bit of extra road noise, especially at highway speeds. We've heard this from several drivers of this model.
Where are Mastercraft SRT touring tires made?
Mastercraft tires are manufactured across different facilities in the US, including Texarkana, Tupelo, and Findlay.
How good are Mastercraft SRT touring tires?
All in all, Mastercraft has a decent tire in the SRT touring. Notwithstanding the extra bit of noise, it has more upsides. This is exceptionally true when you consider the economic costs of this model over tires from the more prominent name brands.
How long do Mastercraft SRT touring tires last?
Mastercraft's SRT touring is an all-season touring tire that offers drivers year-round traction and performance and an up to 65,000-mile limited tread life warranty.
What is the speed rating of Mastercraft SRT touring tires?
The Mastercraft SRT touring has a speed rating of T (118mph), H (130mph), and V (149mph), depending on the model you purchase.
Where to buy Mastercraft SRT touring tires?
You can purchase the Mastercraft SRT touring from reputable online stores. You can also purchase it through Mastercraft's website Alternatively, you could walk into your favorite automotive dealership to make your purchase.  However, don't forget to ask your dealership about the product warranty and other terms.
What is the difference?: Mastercraft SRT touring vs Stratus AS
The Mastercraft SRT touring comes with a 65,000-mile limited tread life warranty. In contrast, the Mastercraft Stratus AS has a shorter (but still excellent) 50,000-mile limited tread life warranty.