Kumho Solus TA11 review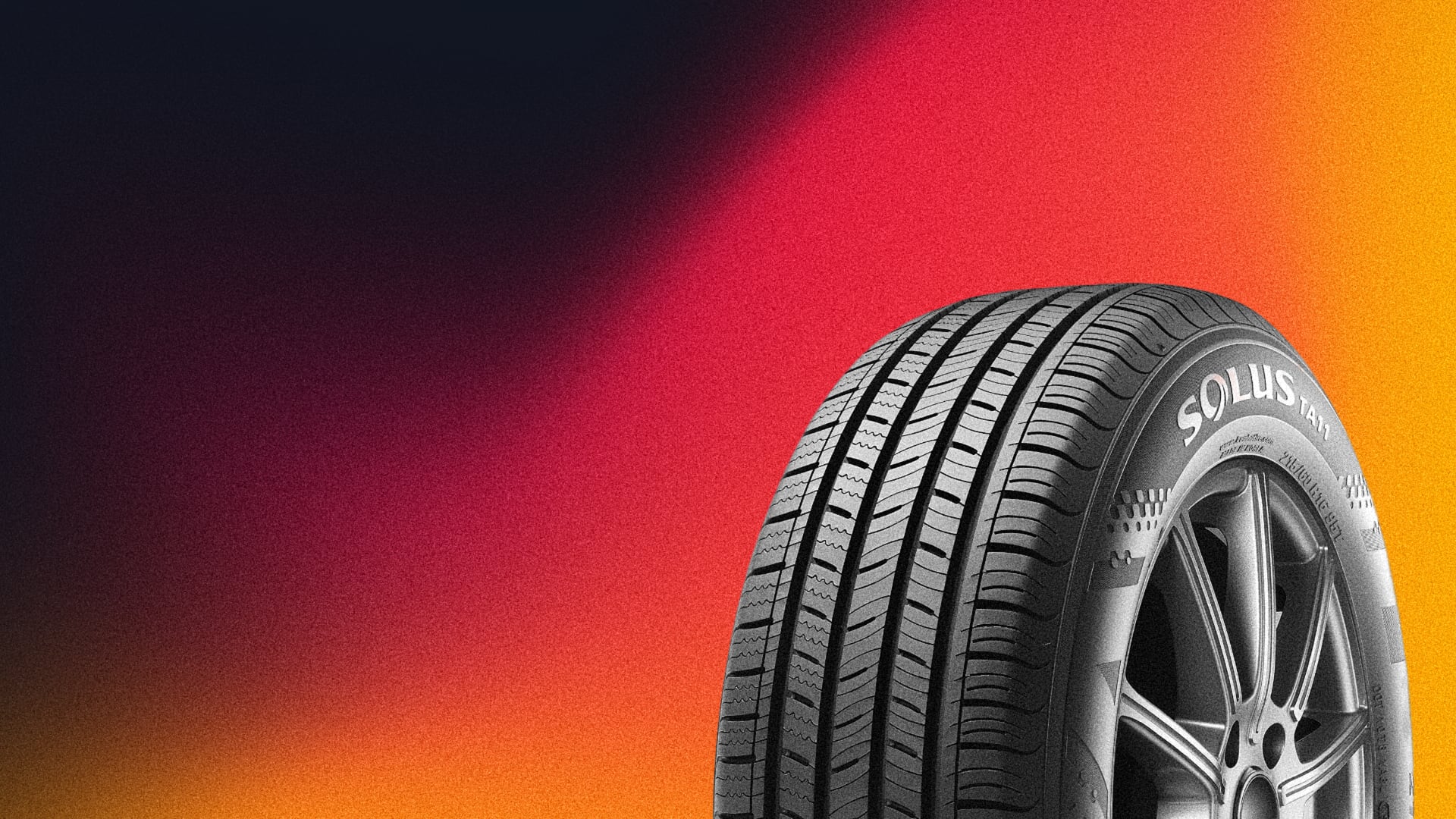 The Kumho Solus TA11 is a quality touring all-season tire developed for drivers of sedans and subcompacts, as well as crossover vehicles and vans. It is an ideal tire perfect for drivers seeking comfort and reliability. This tire is also budget friendly and has lasting value.
The Solus TA11 is made to provide traction on all terrains and in all seasons. It has a dual silicone compound that allows heat dissipation around the carcass and the treads. Heat dissipation enables the tire to perform better in all road conditions while giving you better fuel efficiency in the long run.
Recommended
Kumho Solus TA11
Kumho Solus TA11 delivers the best features focused around the thin line between driving comfort and confident grip all-year long in a tire that's in an affordable price range.
REREV may receive a commission for purchases made through links on our site. Learn more.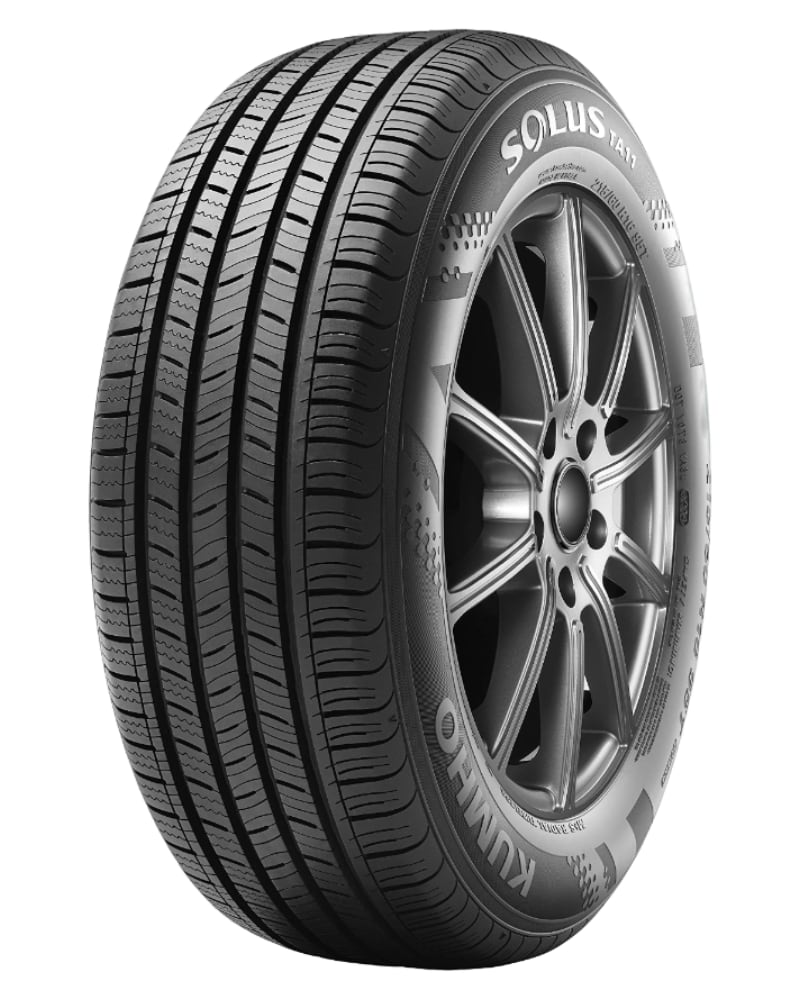 Why you can trust REREV's tire reviews: Our automotive expert researchers analyze tire specs, customer feedbacks and reviews from credible sources. This thorough analysis provides accurate information about tire performance, helping you make the best choice. Find out more about how we evaluate tires.
Key technologies
The Kumho Solus TA11 has proprietary and unique features to improve tread wear and deliver above-average performance. Highlighting some of the features of the Kumho Solus TA11, we have;
Deep circumferential grooves: The Kumho Solus TA11 has four deep circumferential grooves and notched shoulders to deliver solid traction on wet roads. The notch shoulders and circumferential grooves highly reduce the risk of hydroplaning and provide reliable traction on wet roads.
Silicone carbon tread compound: The Solus TA11 is engineered with a dual silicone carbon tread compound molded into a symmetric tread pattern. This technology keeps the tire's treadwear longer and increases fuel efficiency. It also provides additional grip on wet, dry, or snow-covered road surfaces. It reduces noise and vibration while delivering all-weather traction.
ESCOT Casing Technology: This technology optimizes sidewall cord tension distribution to promote steering response and tread life. It enables ride comfort as it softens the drive over potholes and other rough surface imperfections.
Integrated zig-zag zag sipes: Kumho's integrated zig-zag sipes create tiny gripping edges to increase traction in wet and snowy conditions.
Safety features
When a vehicle slides uncontrollably on wet roads, it could result in a deadly crash, and Kumho is aware of this. This is why the Kumho Solus TA11 is designed to check mishaps with the possession of notched shoulders that allow for the free flow of water and provide the needed traction on all road surfaces.
The circumferential grooves ensure driver safety by managing water flow beneath the tire. It regulates hydroplaning by removing water to ensure the tire has unhindered contact with the road surface. The Kumho Solus TA11 has a formidable internal structure that comprises twin steel belts reinforced with spirally wrapped nylon belt edge layers to deliver high-speed stability.
Speed ratings
A tire's speed rating indicates the maximum speed it can safely maintain over time. All tires have different speed ratings depending on the optimal speed they can function at.
Exceeding the speed rating of a tire can put you at risk of crashing. The Kumho Solus TA11 has T-rated tires that can function properly up to 118mph. The speed rating is identified on the tire's sidewall.
Treadwear and durability
A tire's treadwear determines how well it grips and how long it lasts. Treadwear is an essential factor in deciding how good a tire is. The Kumho Solus TA11 delivers excellent treadwear.
Its internal structure includes twin shell belts wrapped with nylon to engage an even and long wear. The Solus TA11 offers up to 50,000 to 75,000 miles of road coverage. However, it is dependent on the tire's speed rating.
Maintenance indicators
In several tires, the Treadwear Indicators (TWI) help drivers to know the condition of their tires. This allows them to keep up with tire maintenance.
The Solus TA11 does not have any unfamiliar maintenance indicators; instead, it relies on industry-standard TWIs. These are rubber bars that sit in the grooves of the tire but protrude 2/32 inches from the bottom.
Once the tread is only 2/32 inches deep, it will get flushed with the TWIs. If this happens, it is recommended that you replace the tires to prevent the risk of hydroplaning in wet conditions.
Traction performance
The Kumho Solus TA11 is an excellent all-season tire for several cars. It brings out improvement and adequate stability on every terrain. Its traction performance on wet, dry, and snowy road conditions makes it an ideal option for drivers in diverse climatic conditions.
The type of tire you need greatly depends on the weather and road conditions you drive. We will explain how the Kumho Solus TA11 takes traction in wet, dry, and snowy weather conditions.
Wet traction
Driving in the rain can be pretty risky because a tire's footing can get compromised due to poor traction on wet surfaces. The Kumho Solus TA11 features an asymmetric tread pattern that offers high traction in rainy conditions. It consists of four wide circumferential grooves and notched shoulders that help dissipate water and prevent hydroplaning.
Dry traction
Kumho equipped the Solus TA11 with an all-season carbon compound that provides high levels of traction and grip in warm conditions. This gives the tire a good cornering grip with solid acceleration, braking, and traction.
Snow traction
The snow braking of the Kumho Solus TA11 has been significantly improved compared to other models in its category. However, it is not as effective as a winter tire. The circumferential grooves provide an adequate mechanical grip that improves steering on snow-covered roads.
Noise and comfort
Kumho Solus TA11 significantly improves quality due to the use of jointless bead bundles that absorb bumps and vibrations. It also features a specially designed tread pattern that minimizes tread noise and vibration.
With over 100 miles of drive, the Solus TA11 will remain quiet, but you can hear the tires growl at high speeds, although it is never loud or intrusive enough to cover the engine noise. The Kumho Solus TA11 perfectly irons imperfections with ease and gives drivers a genuinely good riding experience.
Competitors and alternatives.
The Kumho Solus TA11 is an excellent tire for drivers looking for an all-season tire that can provide outstanding performance. It comes in at a lower price than many top competitor tires. Some other tire options meet the standard of the Solus TA11 and are also ideal for drivers. The Continental True Contact and General Altimax RT43 offer incredible traction, handling, comfort, and impressive mileage.
Price range
The Kumho tires come in various sizes ranging from 12 to 18 inches. The smaller sizes usually range from approximately $52 – $68. At the same time, the most demanded larger sizes, like 18 inches, sell for around $100.
The cost of the tires put them at a lower level of the price spectrum compared to other tires in the category. Fortunately, you can find occasional discount prices, rebates, coupons, and special offers on the Solus TA11.
Warranty
Kumho offers many warranties for its tires, and the Solus TA11 is inclusive. Securities offered for the Kumho Solus TA11 include the following;
Standard limited warranty
A purchaser of the Kumho Solus TA11 is eligible for this warranty if the tire becomes unserviceable due to material defects within the first 2/32 inches of original usable tread or the first 12 months from the date of purchase. The tire uniformity is guaranteed for 12 months or the first 2/32 inches of wear.
All Kumho trucks and passenger tires are covered for a maximum of 72 months from the date of purchase. Craft and materials are warranted for six years, and includes free tire replacement during the first year of 2/32 inches of wear.
Kumho provides road hazard coverage on eligible Kumho brand replacement tires. If the tire becomes irreparably damaged due to a road hazard condition, the tire will be replaced free of charge within 12 months from the date of the purchase and the first 2/32 inches of the original tread.
Our take
The Kumho Solus TA11 is an ideal tire for drivers looking for a basic all-season tire that comes in at a lower price than many leading competitor tires. The tire sports a lower price than several tire models, which makes it a good choice for budget-conscious drivers. The Solus TA11 offers excellent traction and performance in all road conditions. Its tread life shows positive signs early, making it a durable and long-lasting tire for drivers.
Where are Kumho Solus TA11 tires made?
Kumho Solus TA11 tires are made in the Kumho manufacturing facility in South Korea
How good are Kumho Solus TA11 tires?
These excellent all-season tires display remarkable traction on wet, dry, and snowy road surfaces. They are also budget-friendly and possess longer tread life.
How long do Kumho Solus TA11 tires last?
Kumho Solus TA11 tires last up to 75,000-mile coverage. This guarantees a longer service life.
What is the speed rating of the Kumho Solus TA11 tires?
The Solus TA11 has T-rated tires that can function efficiently up to 118 mph.
Where do you buy Kumho Solus TA11 tires?
You can purchase the Kumho Solus TA11 tires through various online tire retailers or the company's website.
What is the difference?: Kumho Solus TA11 vs. TA31
The Kumho Solus TA11 emphasizes traction performance, while the Solus TA31 emphasizes quiet comfort.
Which is better?: Kumho Solus TA11 vs. Hankook Optimo H724
The Solus TA11 offers a more extended tread wear warranty of 75,000 miles than the Optimo H724, which offers 50,000 miles.
Which is better?: Kumho Solus TA11 vs. General Altimax RT43
The General Altimax RT43 offers higher levels of traction, especially in wintery conditions, while the Solus TA11 offers average traction in such weather conditions. 
Continental Contiprocontact vs. Kumho Solus TA11
The Solus TA11 has better traction performance and ride comfort than the Continental Contiprocontact.