Kumho Road Venture A/T 51 review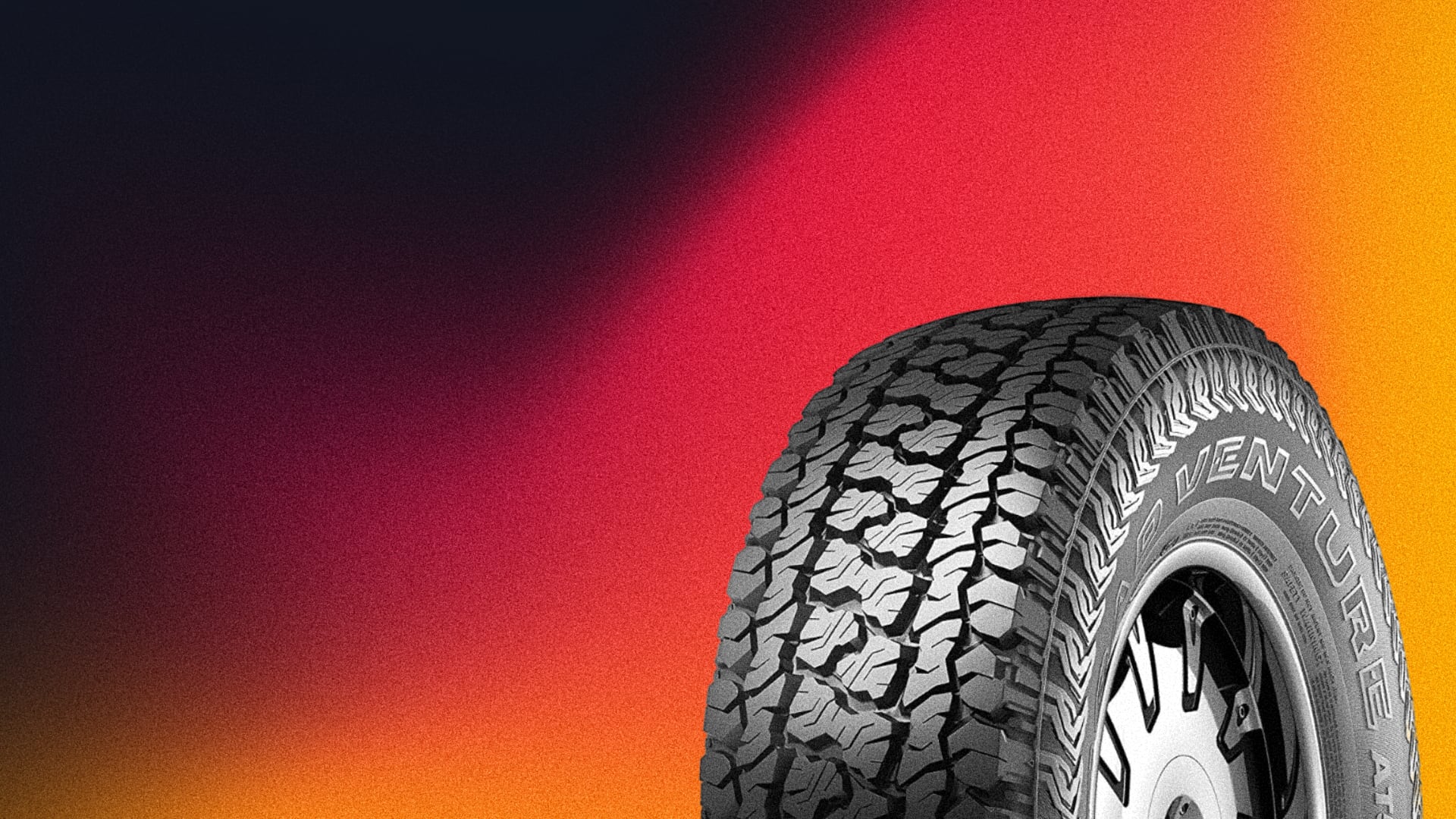 If you own a truck or an SUV that you enjoy taking for some off-road fun every once in a while, it can be troublesome to maintain the performance on the highway and city roads. Well, Kumho made have just found the perfect solution, and we'll present it to you in this complete Kumho Road Venture A/T 51 review!
As the manufacturer states, these tires are a perfect fit for drivers that spend 30% of their time off-roading, and 70% driving on the road. So, stay tuned if you are looking for a great new tire set that lets you enjoy off-road action with your daily vehicle!
Recommended
Kumho Road Venture A/T 51
Kumho found the way to provide a perfect tire for both the SUV owners that enjoy taking their ride out to off-road terrains, and a highway-friendly tire with perfect everyday application.
REREV may receive a commission for purchases made through links on our site. Learn more.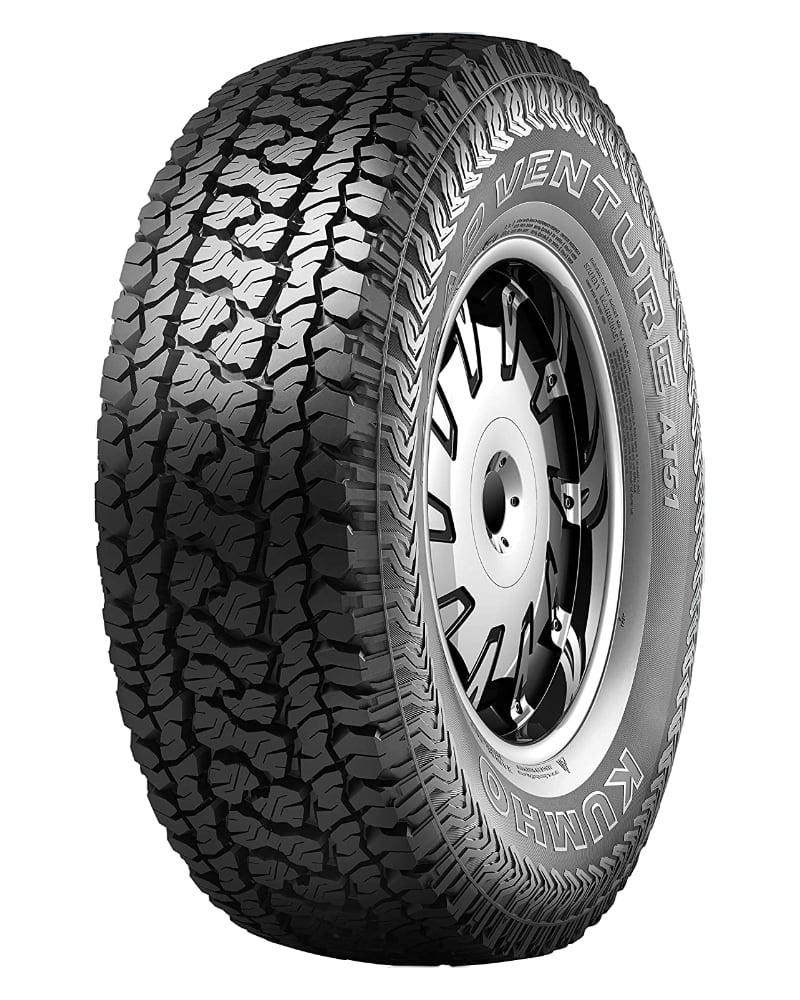 Why you can trust REREV's tire reviews: Our automotive expert researchers analyze tire specs, customer feedbacks and reviews from credible sources. This thorough analysis provides accurate information about tire performance, helping you make the best choice. Find out more about how we evaluate tires.
Key features and technologies
To get one thing straight from the very start – these tires are a perfect blend for your everyday use and some off-roading, and they aren't suitable for hardcore off-road action alone.
However, the solid tread compound manages to tackle both sharp rocky terrains or soft gravel and dirt roads with equal efficiency. On top of that, Kumho Road Venture A/T 51 tires can serve you well in all weather conditions. Here's a brief overview of the features you can expect out of these:
Variable pitch treads
Deep grooves for wet and snow traction
Dual silicone material
3-Peak Mountain Snowflake Rating
So, if you take a first look at these, you'll instantly wonder – what's the catch with this unique tread design? Well, Kumho thought on everything with these tires really, so the variable pitch treads give you a smooth and comfy ride as the different tread block sizes reduce harmonic noises.
You'll also notice that the center ribs have two connected blocks for bringing more rubber surfaces to the ground. Because of this, you'll have impressive stability with these Kumho tires, so you'll barely ever feel any bumps!
Extremely deep grooves and voids between the treads are there just for two reasons – your safety and wet traction. These simply never slide even in wintertime conditions, as the water and snow are removed from the tire instantly through these grooves.
That's also where the dual silicone material steps in since it ensures that the tire remains flexible in the winter, and prevents it from overheating in the summer. It all goes in favor of the statement that Kumho Road Venture A/T 51's are suitable for year-long driving aside from off-roading.
Safety features
One of the most important features of any tire is traction, as it also affects your safety behind the wheel. If you hear your tires squealing and sliding all over the place, your stability can be endangered and the vehicle could lose the ground grip, especially on wet roads.
Well, to avoid any chance of the water layer forming between the tires and the ground, Kumho included a few clever safety solutions. First, you can count on the deep grooves and tread voids to instantly lead the water away from the tire.
Remember those double tread blocks on the center rib we mentioned? It also improves your stability on wet and snowy roads, since the water can't reach the center of the tire. Finally, the tread voids extend towards the sidewall of the tire, so you won't lose your grip and stability when making the turns either.
Speed ratings
Having in mind the versatile nature of these tires, it's important to know the speed ratings. Speed rating indicates the speed you can drive without experiencing noises, vibrations, or sliding.
It's not crucial for off-roading, but you'll also be driving these on the highways a lot, so it's a good thing that there's a triple-speed rating included – "Q", "R", and "T".
Buying a set of Kumho Road Venture A/T 51 tires with a "Q" speed rating means you can drive up to 100mph with complete comfort and stability. The "R" speed rating gives you a bit more freedom of driving at higher speeds, up to 106mph.
Finally, if you are going to be driving on highways a lot more than off-road terrains, you should opt-in for the "T" speed rating on tires to support speeds up to 118mph.
Treadwear and durability
In our opinion, it's a great combination to have a set of tires with an equal off-road and on-road grip, as well as being able to use them all season long. However, that brings yet another important question to the table – how long can they last?
Kumho made it clear that you can rely on these beauties to pass at least 55,000 miles. So, even if you are using your SUV or truck as a daily ride, you'll be able to get at least 3 or 4 years of tread life out of these.
There's no mistake on the durability side, though – Road Venture A/T 51's are incredibly sturdy, and not even sharp rocky terrains can damage their treads.
Maintenance indicators
Did you ever spot those tiny little indicator bars among the treads of your tire? These are called wear indicators, and Kumho included an industry-standard bar that displays the mark for the last 2/32 inches of treadwear.
It's safety-related, as it gives you an idea of when you need to replace the tires before they become flat. However, as you'll be also using these for off-roading, it's always best to replace the tires when they reach the last 2/32-inch mark to avoid having poor traction on slippery off-road terrains and mud.
Traction performance
To give you the right perspective of how these tires perform in different terrains and conditions, we tested their traction and the results were surprisingly good, to say the least:
Wet traction performance
The traction performance of these tires on wet and slippery off-road terrains, as well as on wet roads is impressive. You won't have to worry about losing the grip at any point, even when flooring the gas throttle on the traffic light in rainy conditions.
Deep grooves that even extend towards the sidewall help eliminate any water from the tire at an impressive rate. There's no sliding or hydroplaning potential, so you can drive at optimal speeds on the highway, as well as enjoy some off-road fun on slippery terrains.
Dry traction performance
The mentioned dual silica compound proves itself quite reliable in dry weather conditions. Even on the hottest of summer days, the tires don't overheat and the driving stability is great thanks to the design of the center rib.
Moreover, you'll be able to enjoy a comfortable ride at all times, so the dry tarmac driving experience isn't sacrificed for improved off-road traction!
Snow traction performance
Now comes the fun part – the Kumho Road Venture A/T 51 tire set gives you some serious snow traction performance. And while you shouldn't risk earning a ticket for doing some stunts on your local parking lot, you can find an isolated off-road terrain for some serious snow drifts!
After all, these tires are rated with the 3-Peak Mountain Snowflake symbol. It means they are perfectly suitable for driving under extreme winter conditions and deep snow. Indeed, we only faced slight trouble on the test while trying to park out in reverse from a parking space in deep snow.
However, there's nearly no chance of getting stuck with these, making them a superb all-terrain tire set capable of tackling extreme winter conditions!
Off-road traction performance
Of course, off-road traction is one of the main points of interest regarding these tires. They are not like your regular dedicated off-road tires but offer splendid all-terrain traction for their class.
Although they are not meant for driving on large and sharp rocks, you can occasionally put them to the test and see that the treads aren't that easily damaged. You'll get even better results on the sand, gravel, and slippery off-road terrains.
With a compelling off-road performance, Kumho Road Venture A/T 51 presents a genuine treat for those in pursuit of an all-in-one tire set.
Noise and comfort
In terms of noise and driving comfort, the Road Venture A/T 51 tires can offer more than you might expect. Let's be honest – you can't expect to get the most refined ride out of tires oriented on off-road driving.
However, Kumho made these with the variable pitch technology that reduces harmonic road sounds which results in more than convenient highway driving. They are not as harsh as other off-road tires on the market, although some noises can appear at higher speeds.
Still, these tires are not made for performance driving in the first place, so you'll be pleased with the level of noise reduction of these AT tires.
Competitors and alternatives
Truth being said, these tires don't have many alternatives in their price range, given the splendid traction performance and durability that they offer. Kumho wanted to make these the best all-terrain tires in the affordable price range, and we find that they did a great job.
On that note, here are some of the alternatives to these all-around tires for off-roading:
BFGoodrich A/T KO2
Yokohama Geolandar G015
Price range
Perhaps one of your favorite things about these tires is going to be their affordable price. You can find a set of 16″ Kumho Road Venture A/T 51's for about $110, while a set of 20″ tires could cost you up to $250 per tire.
Still, for the performance and durability that comes along, it's a convenient price range, especially since you can find rebates and discounts on the total price for a set!
Warranty
Kumho isn't joking around with your patience and satisfaction as a consumer, so you'll have plenty of warranty options to tag along with these tires. First off, there's a mileage warranty set for 55,000 miles.
Next, you can lean on the uniformity warranty on the first 2/32″ of treadwear. You'll also have the manufacturer's road hazard warranty throughout your first year of using the tires, or the first 2/32 inches of treadwear, whichever occurs first.
Vehicles compatible with Road Venture A/T 51 Tires
These Kumho all-terrain tires are compatible with various SUVs and trucks, and the best thing is that they come in sizes from 16″ to 20″. So, here's s brief list of some of the vehicles that make the best fit with these tires:
Mitsubishi Pajero
Land Rover Defender
Acura MDX
Dodge RAM
Nissan Pathfinder
Nissan Frontier
Suzuki Grand Vitara
Toyota 4Runner
Toyota Land Cruiser
Chevrolet Tahoe
Chevrolet Silverado
Hyundai Santa Fe
Jeep Grand Cherokee
Our take
Ultimately, these tires make the best price-to-quality ratio for off-road enthusiasts that still need some everyday traction for city roads and highways. They are tough, durable, and handle wet or snowy weather with ease.
You won't make a mistake by choosing these over more expensive off-road tires, and hopefully, you can use our guide as your lead!