Falken Ziex ZE950 AS review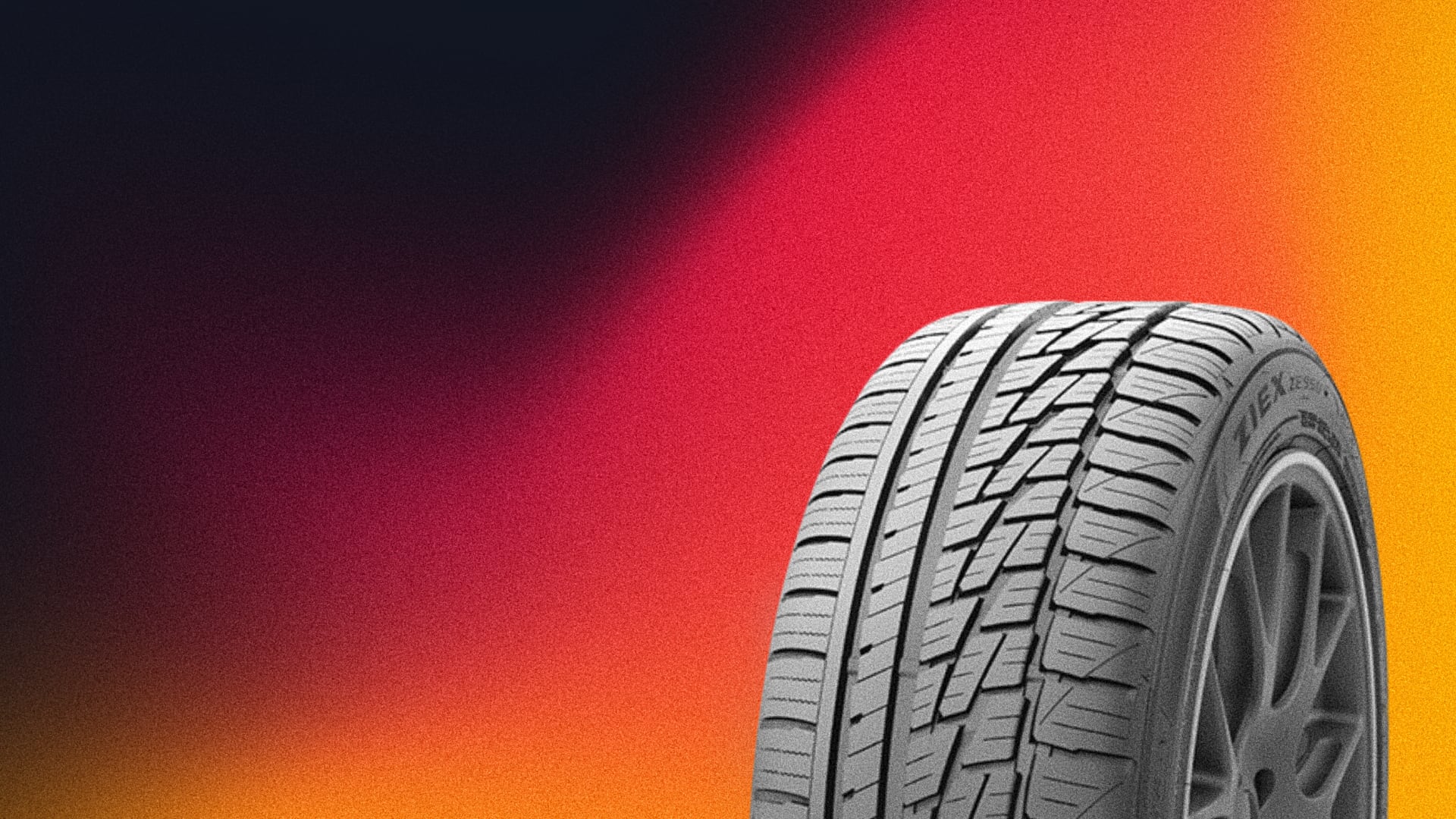 The Falken Ziex ZE950 is an all-season tire that incorporates the latest in technology and design to provide an excellent tire choice for drivers of sedans, crossover vehicles, and sports cars. Fallen is a chief in combining the advantages of a touring tire with the traction of a high-performance tire. Falken is clearly a leader in high-performance tire technology, and they have a long history of offering high-value and high-quality products.
The Falken Ziex ZE950 is one of the best tires in Falkens' lineup. It's designed to enhance mileage and comfort. It has advanced braking and handling for better ride performance. The Falken Ziex ZE950 is considered a hybrid touring high-performance tire since it's sporty, comfortable, and has long wear characteristics. It is equipped with an asymmetric tread design; the unique feature in the treads is known as the wide-angled tread slot. The wide-angled tread slot gives the Ziex ZE950 a more hardcore and sporty look, and it diverts road elements to the center of the tire to provide a better grip. The Falken Ziex ZE950 comes in a wide range of tire sizes from 15 to 20 inches. If you're worried you wouldn't get a suitable fit for your vehicle, you definitely will. In this review article, we will delve into the stats of the Falken Ziex ZE950.
Recommended
Falken Ziex ZE950 AS
The Falken Ziex ZE950 AS is a full-fledged sports driving tire that features impeccable cornering precision and handling characteristics on wet and dry roads.
Check Price
Purchases made through links on our site may earn us a commission.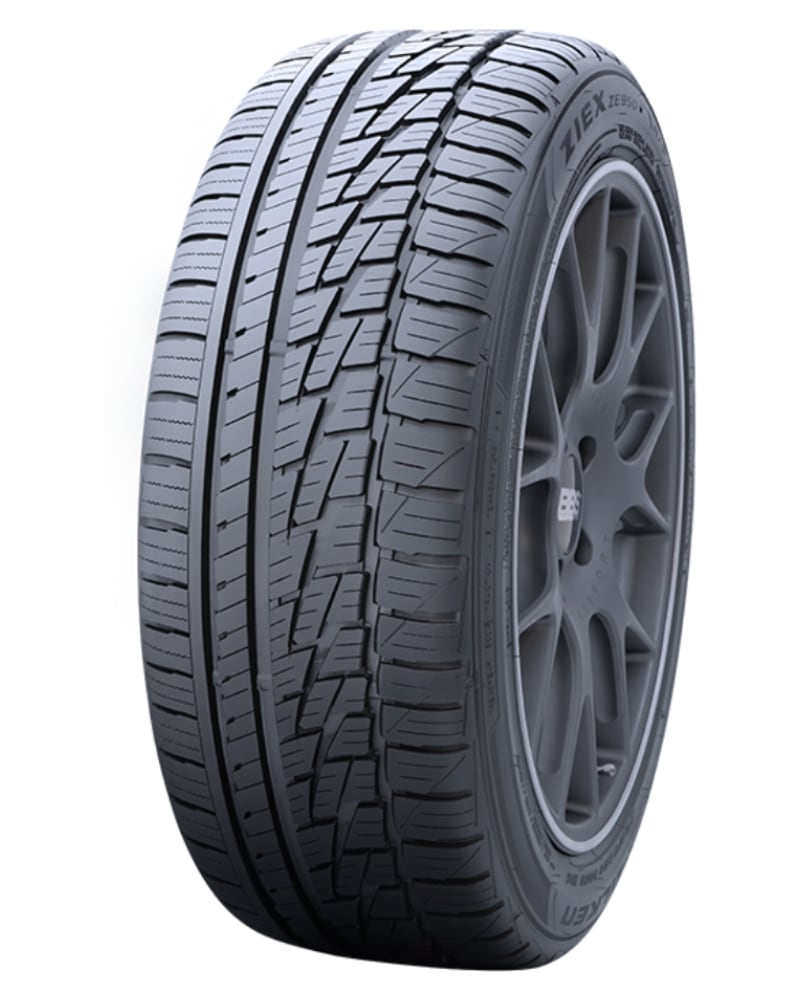 Falken Ziex ZE950 key technologies
The Ziex ZE950 is equipped with world-class technological features that enhance its performance and handling and aid a smoother and more comfortable ride. Some of the highlighted features of the Falken Ziex ZE950 include;
Canyon Sipe Technology: The Canyon Sipe Technology makes the Falken Ziex ZE950 faster and lets it brake accurately with even tread wear. It adds more hitting surfaces to the Ziex ZE950 for improved traction, stability, and control on all kinds of surfaces.
Falken's Dynamic Range Technology: Falken's dynamic range technology collaborated with a complete silica tread compound to make the tire's rubber remain pliable at low temperatures; this rubber is also heat resistant. The dynamic range technology increases optimal grip and traction in wet, dry, and snowy conditions. During dry conditions, as the tire's rubber heats up, the chemical bonds remain strong, allowing exceptional tread wear and dry handling.
Wide-Angled Tread Slot: The wide-angled tread slot provides an additional snow grip by letting snow be packed to the center of the tire. This wide-angled tread slot is located on the outside tread. It's also responsible for improving traction in snow.
Wide Circumferential Grooves: The wide circumferential grooves help channel water away from the face of the tread. This reduces the chance of hydroplaning and delivers better handling when roads are covered with water or slush.
Falken Ziex ZE950 safety features
Falken designed the Ziex ZE950 with efficient, top-notch safety features that guarantee you feel safe and comfortable while driving. The Ziex ZE950 sculptured groove wall provides a better grip and traction in snow conditions, and it eliminates rain groove wander and creates a safer driving experience. The inside of the Falken Ziex ZE950 is laid with two steel belts with a polyester cord body that adds strength and stability. The interlocking grooves of the Canyon Sipes Technology create biting edges when driving over light snow and improve stability on dry surfaces. The Sipes optimize the tread block while giving them stiffness for better handling on wet and dry roads, reducing the risk of hydroplaning.
Falken Ziex ZE950 speed rating
We can't overemphasize how essential it is to know the speed rating of your tires. Tires cease to perform correctly when you exceed their speed rating, which could also endanger your life. All tires have different speed ratings that reflect the maximum speed they can function at. The Falken Ziex ZE950 has H, V, and W-rated tires. The H-rated tires can operate efficiently at 130 mph, V-rated at 149 mph, and W-rated at 168 mph. These speed ratings can be found on the side walls of the tires.
Falken Ziex ZE950 treadwear and durability
Having longer-lasting tires that wear slowly is a great joy for most drivers. It's crucial to purchase tires that have improved tread wear that guarantees that they can go the extra mile. The durability of a tire is an important feature when shopping for tires. The Falken Ziex ZE950 offers an incredible tread wear life that leaves us wondering how wonderful it is. It lasts up to 6 years of use regardless of how many miles you put on the tire. The Ziex ZE950 has 4500 to 6000 miles of tread life.
Falken Ziex ZE950 maintenance indicators
The Falken Ziex ZE950 has an extended tread life with its incredible 45,000-mile treadwear warranty. This makes it one of the longest-lasting tires for off-road performance. It is equipped with tread wear indicators that provide you with clues to help maximize the tread life. When the Ziex ZE950 tread wears down to the wear bars of 2/32 inches of tread depth, you should immediately replace it. Without replacement, it will deteriorate in performance in wet, dry, and snow conditions because of the lack of traction
Falken Ziex ZE950 traction performance
The Falken Ziex ZE950 is a great all-season tire that delivers excellent traction in several road conditions. It sustains a steady grip on several road conditions while displaying remarkable handling. It also provides you with the flexibility to drive off-road while giving you a smooth and comfortable ride experience. Here are some traction performances that make the Falken Ziex ZE950 an impressive tire.
Dry traction
The Falken Ziex ZE950 gives you the confidence to speed up ahead and execute quick cornering or maneuvers without worrying about losing traction. It offers relentless levels of traction and grip on dry surfaces. The braking of your vehicle will be improved while using the Ziex ZE950. Putting an aggressive acceleration in the tire does not react to a lot of slip, and the braking distances remain significantly short. The Falken Ziex ZE950 enhances the sports feel of your vehicle.
Wet traction
The Falken Ziex ZE950 performs wonderfully on wet and slippery roads. The traction and grip levels of the Ziex ZE950 are well above average, guaranteeing your confidence while driving on wet roads. The Ziex ZE950 tread design works efficiently to ensure the tire has excellent hydroplaning resistance. The wide-angled tread slots and sculptured grooves work together to maintain high levels of grip and traction on wet roads, and this phenomenon feels terrific.
Snow traction
The Ziex ZE950 has excellent performance in lower temperatures or light snow conditions. It has an efficient grip and traction while driving through the snow. The Falken Ziex ZE950 is well-equipped to handle icy roads. Generally, winter conditions aren't favorable to all-season tires, so it's recommended you purchase winter tires if you live in an area with harsh winter conditions. This is because they boast more performance needed to go through icy roads.
Falken Ziex ZE950 comfort and noise
The Falken Ziex ZE950 is pretty efficient at noise cancellation at moderate speeds. Its unique tread patterns contribute massively to reducing noise levels while providing you with comfort. The Ziex ZE950 offers long-distance comfort, which is incredible for a touring tire. The comfort levels on the highway are exceptional and significantly boost your confidence while driving. The Ziex ZE950 manages to sort out the tightness of the suspension of your vehicle while giving you a smoother and luxurious driving experience.
Falken Ziex ZE950 competitors and alternatives
The Falken Ziex ZE950 comes with a longer-lasting tread life warranty than most high-performance tire models. It can go through dry, wet, and snow conditions and deliver better handling comfort and noise cancellation. The Ziex ZE950 is built for performance and pleasure on any terrain and season. However, there are some tires that offer similar technological features as the Ziex ZE950, and they provide a safe and comfortable driving experience for you. Some of these tires include; Continental ExtremeContact DWS06, Michelin Primacy HP Zero Pressure, Kleber Dynaxer HP4, Hankook Ventus Prime 4, and a few others.
Falken Ziex ZE950 price range
The Falken brand is a wise choice for drivers looking for a cheaper alternative to a high-performance tire. The Falke. Ziex ZE950 sits at an affordable price and offers an extended tread life. If your budget isn't flexible enough to purchase a costly high-performance-oriented tire, then the Ziex ZE950 is an excellent option for you. The price range of the Ziex ZE950 goes as low as $100 to $300 and above. This price makes it a better value product compared to its competitors.
Falken Ziex ZE950 warranty
The Falken Ziex ZE950 includes a 65,000-mile tread warranty on H and V-rated speed tire models and a 45,000-mile warranty on W-rated models. The primary security on the Falken Ziex ZE950 is the Limited Warranty. This warranty covers radial passenger cars and light trucks, and it's effective only for tires that have been made within six years of production date.
Our take
The Falken Ziex ZE950 manages to perform across a variety of conditions while applying an adequate grip and traction. It is a high-performance tire capable of conquering any terrain while providing you with comfort and confidence.