As one of the oldest tire brands in the world, BFGoodrich keeps delivering great value for the price. The brand focuses on passenger car touring tires and SUV tires, and it even made some advancements in the performance tire category.
Since the brand is now owned by Michelin, the big question remains – are BFGoodrich tires still good? If you want to see the value of their tires first-hand without having to test them yourself, you've come to the right place. Our BFGoodrich tires review will give you all the details on their tire models, price, and tire technology!
Overview of BFGoodrich tires and a short history
BFGoodrich was founded in 1870 and it was one of the first American tire brands. It also developed the first US-made radial tire that provided better traction and all-around performance reinforced by cord plies. Over the years, the company achieved great success in all the tire categories, and even the first plane to fly over the Atlantic was equipped with their tires.
Of course, the primary tire category of the brand was passenger tire production. However, BFGoodrich engineers didn't want to limit their production to just one tire tier. That's why they also expanded to SUV and truck tire production, as well as some racing competition tires.
It resulted in great success in the Baja California race and the Paris-Dakar Rally championship. BFGoodrich was also the first brand in the US to produce a commercial car tire. Their partnership with the Ford Motor Company cleared all the doubts behind the brand being the largest tire production chain in the US.
BFGoodrich supplied Ford vehicles from the very beginning, equipping the first car to ever cross the US from east to west. Recently, the company was purchased by Michelin in 1990, but its production innovations always remained faithful to the brand.
Key takeaways
BFGoodrich tires are among the best in the field, but what makes them so good? Our team decided to give you a brief list of their key features, just in case you're in a hurry, so let's see their benefits:
The tradition of reliable tires – BFGoodrich never focused primarily on high performance, but rather on the build quality and durability. Their all-season touring tires are known for lasting a few miles more than average, and the same goes for highway SUV tires and all-weather tires.
Focus on technology – Another area where BFGoodrich excels is technology advancement. Their engineers conduct thorough tire tread research to give you the best performance for the purpose. A perfect instance is the CoreGuard technology that reinforces the tread on the tire sidewall. Because of this, you'll have fewer worries about tears and punctures over challenging terrains.
Flexible tire compound – BFGoodrich offers a wide range of all-season tires that can endure wet roads and harsh winter conditions. To equip you with the best winter traction, the brand relies on its UltiGrip technology. It boosts the cold weather traction due to the high residue of silica in the compound. It makes the tire flexible in the winter, without making it any less pliable on hot summer days!
Where are BFGoodrich tires made?
BFGoodrich tires are made in the US, Canada, and China. One of the largest domestic production plants for the US market is in Tuscaloosa, Alabama. It's nice to know that the brand still keeps most of its production in the US, even after being purchased by Michelin.
The Tuscaloosa factory recently celebrated the production of over 500 million tires in this facility alone. The impressive result is followed by their other large production plants in Wooburn, Indiana, and Opelika, Alabama.
Who makes BFGoodrich tires?
BFGoodrich tires are made by the brand itself, and by Michelin North America. Interestingly enough, BFGoodrich still retains a good portion of its autonomy within the larger French tire brand. So, you can be sure of the good old American tire quality with these.
Most of the tire production and development remain in the US, while Michelin mostly brings technology solutions to the table.
Are BFGoodrich tires good?
BFGoodrich tires are some of the best commercial tires on the market. Their long tradition and history of making high-quality SUVs and passenger tires are now intertwined with Michelin's innovations. The result is an impressive range of top-notch tires that come with a significantly lower price tag than its main brand.
Some BFGoodrich all-season touring tires also come with the longest tread life in the category, and that also speaks in favor of their quality.
Best BFGoodrich tires by car type
Advantage Control
Passenger All-Season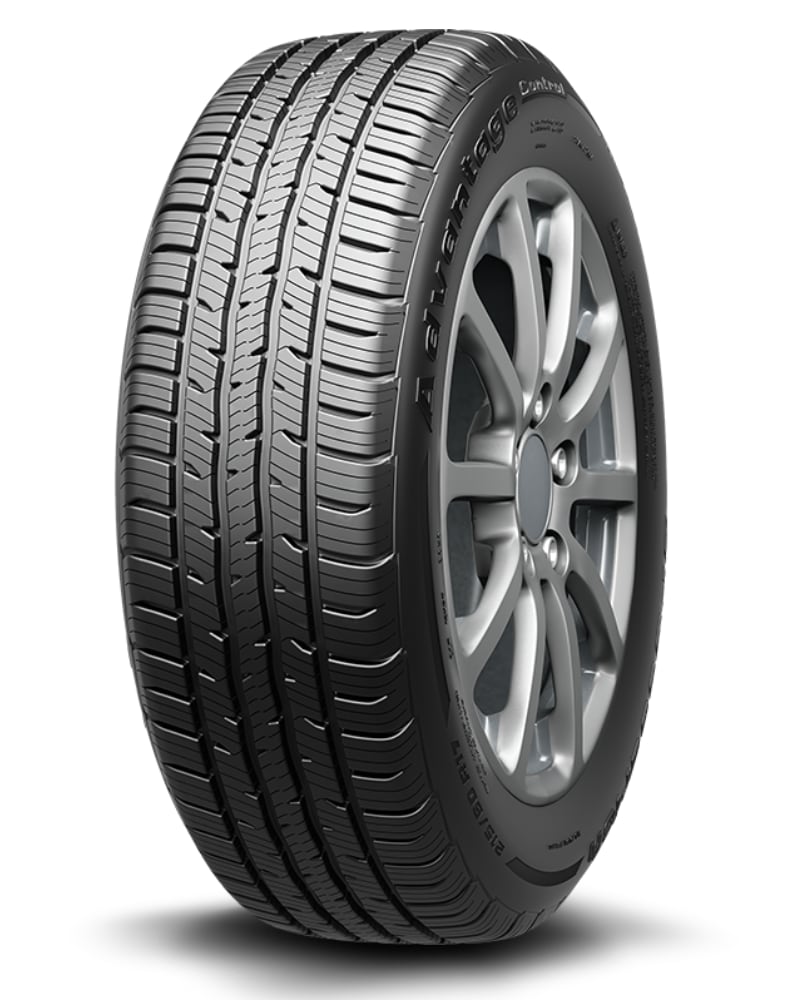 Treadwear
Traction
Temperature
G-Force Comp-2 AS 
HIgh-Performance All-Season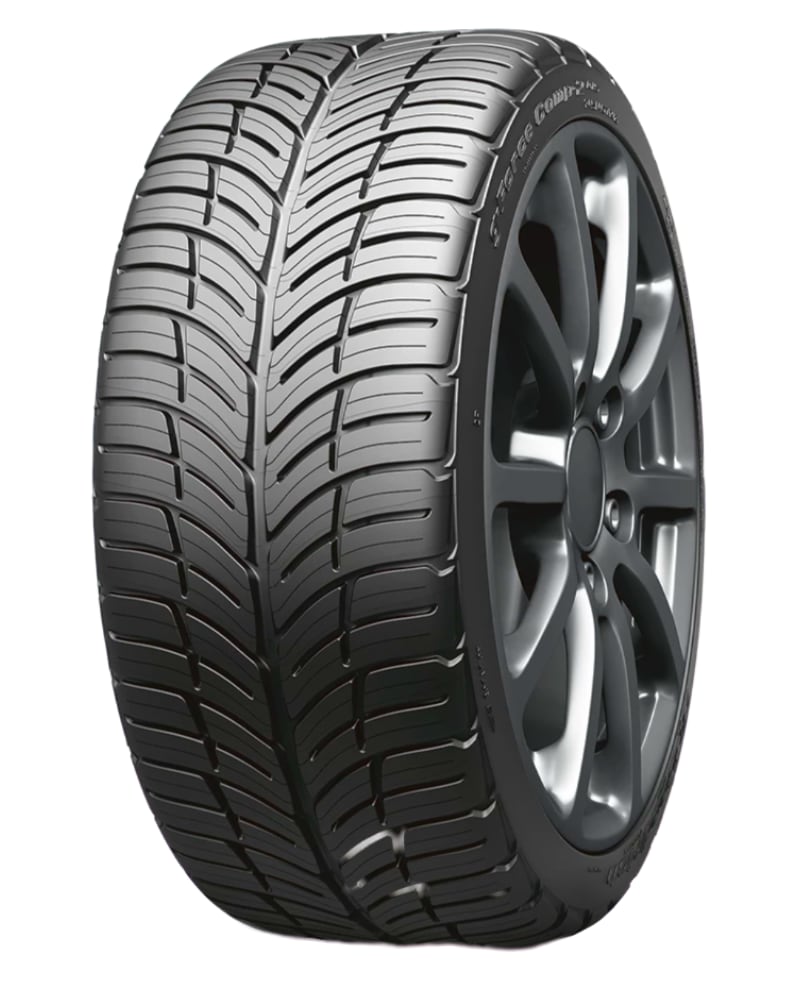 Treadwear
Traction
Temperature
Advantage T/A Sport LT
Light Truck/SUV All-Season
Treadwear
Traction
Temperature
All-Terrain T/A KO2
Light Truck/SUV All-Terrain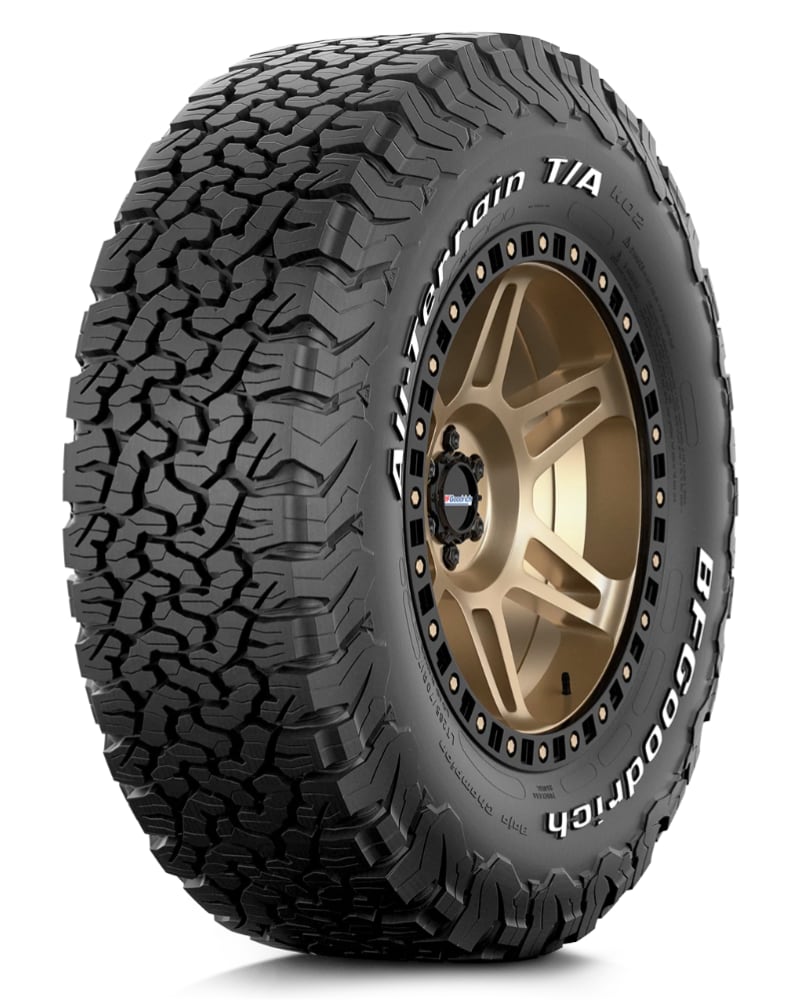 Treadwear
Traction
Temperature
Trail Terrain T/A
Off-Road All-Terrain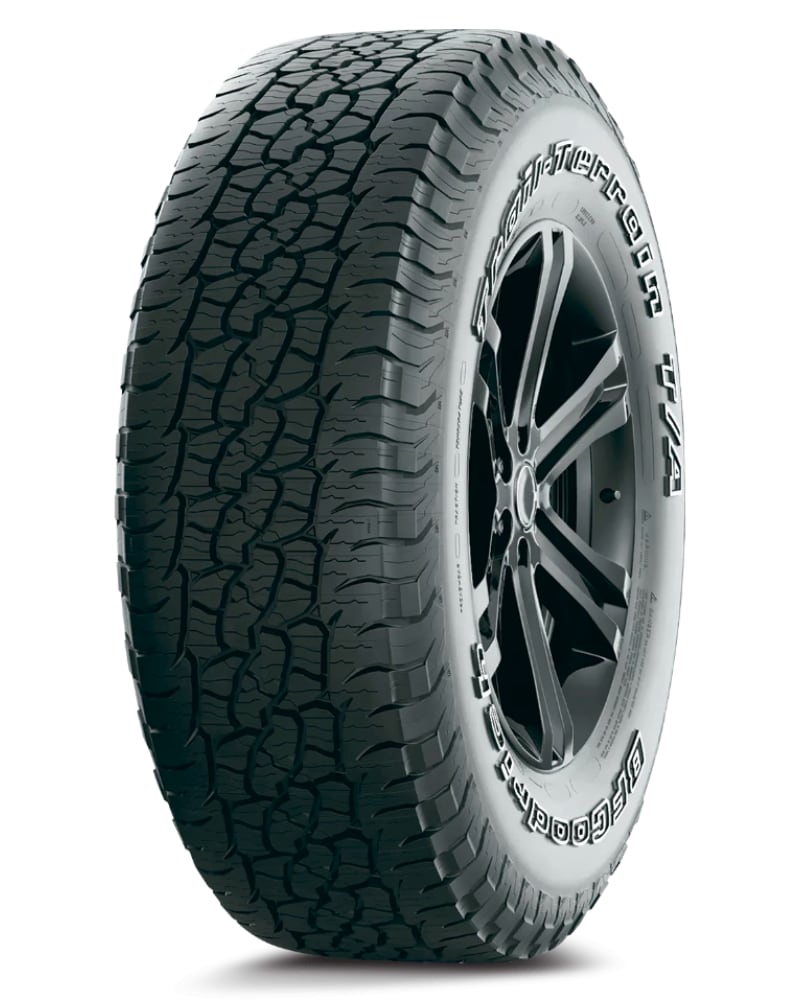 Treadwear
Traction
Temperature
Mud-Terrain T/A KM3
Light Truck/SUV/CUV Mud-Terrain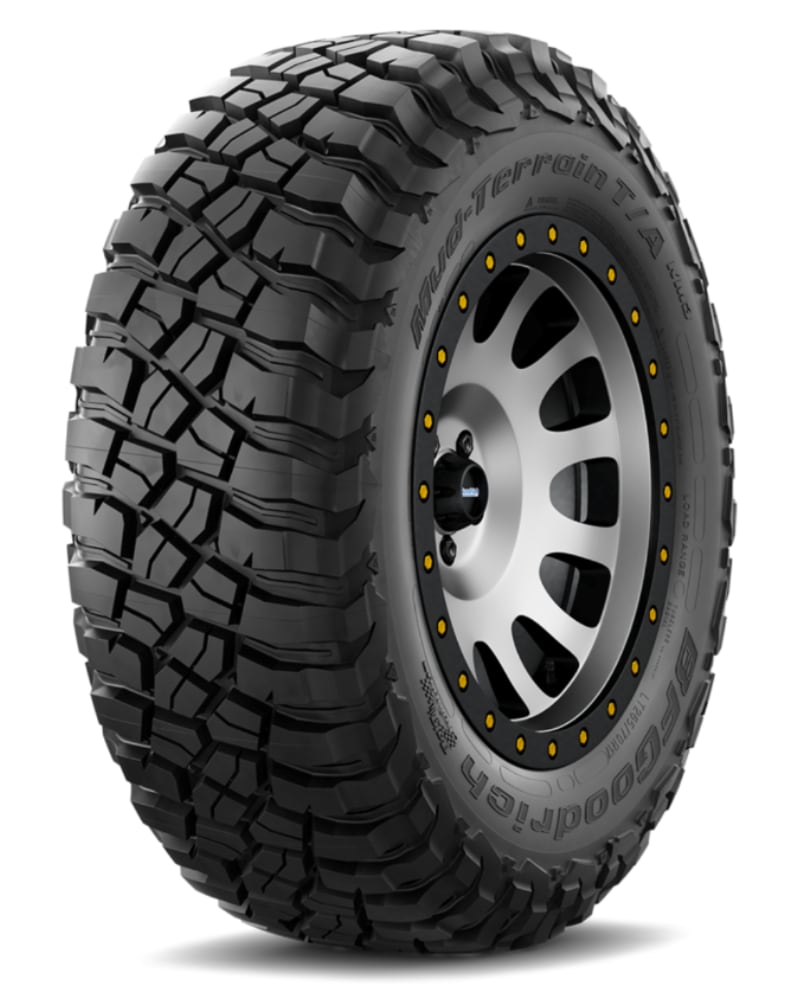 Treadwear
Traction
Temperature
Cost of BFGoodrich tires
BFGoodrich tires cost from $105 to $560 depending on the size and trim. However, their passenger all-season tires and SUV touring tires are rather affordable when compared to the competition. On the other hand, you can find their off-road tires like the All-Terrain T/A KO2 tires for the price of $500 for a single 22″ tire.
You can find a single Advantage Control all-season tire for as little as $110. So, you can get impressive tire quality at quite an affordable price with BFGoodrich touring tires.
Why choose BFGoodrich tires?
As you can see, BFGoodrich tires combine some of the most important factors for drivers – quality, performance, and a good price. However, there are other factors that you should consider that could lead you to try these tires:
Great Warranty Packages: BFGoodrich gives out its standard limited warranty with all the tire models. It includes a treadwear warranty that goes up to 80,000 miles for touring models. Also, the manufacturer gives you a materials and workmanship warranty that lasts for 6 years upon the tire's purchase. So, along with the high durability and reliable materials, these tires also are completely backed up by warranty deals.
Pioneers Of The Tire Industry: As one of the longest-lasting tire manufacturers out there, BFGoodrich relies on its experience and expertise in tire production. It can be seen every step of the way, especially with their high-performance passenger tires. Brand's engineers utilize the Performance Racing Core tech that brings innovation from the racetrack straight into passenger tires. With stiff sidewalls and reinforced contact patches, you get faster turns and better cornering stability.
Research And Development: BFGoodrich opened its first research and development center back in 1948. The Brecksville facility set the foundation of the brand's research and technological advancement that they still apply in tire design. You can count that months of research are behind each new tire that comes out of BFGoodrich factories.
Our take
Finally, it all comes down to what you get for the price when summing up the value of BFGoodrich tires. These make some of the best options on the market as they represent joint efforts of the brand's tradition and Michelin's technological improvements.
So, if you don't want to pay top dollar for Michelin tires, BFGoodrich makes a perfect substitution. Consider all the key points of our BFGoodrich tires review and you'll make the decision to try these for your everyday ride a whole lot easier!
How long do BFGoodrich tires last?
BFGoodrich tires usually last for about 5 years before they need to be replaced. In terms of tread wear, you should get from 40,000 miles with high-performance tires, to 80,000 miles with touring tires of the brand.
What tire sizes does BFGoodrich offer?
BFGoodrich offers tire sizes ranging from 14″ for passenger models like Advantage Control, to 22″ trims for tires like the All-Terrain T/A KO2.
What brands are comparable to BFGoodrich?
Tire brands like Firestone, Goodyear, and Uniroyal are comparable with BFGoodrich and represent some of its main competitors.
Are BFGoodrich tires the best tires out there?
BFGoodrich tires aren't the best tires you can find, but their quality is quite close to Michelin, considering the difference in price and the affordable tire range they fit in.