Toyo Proxes Sport A/S review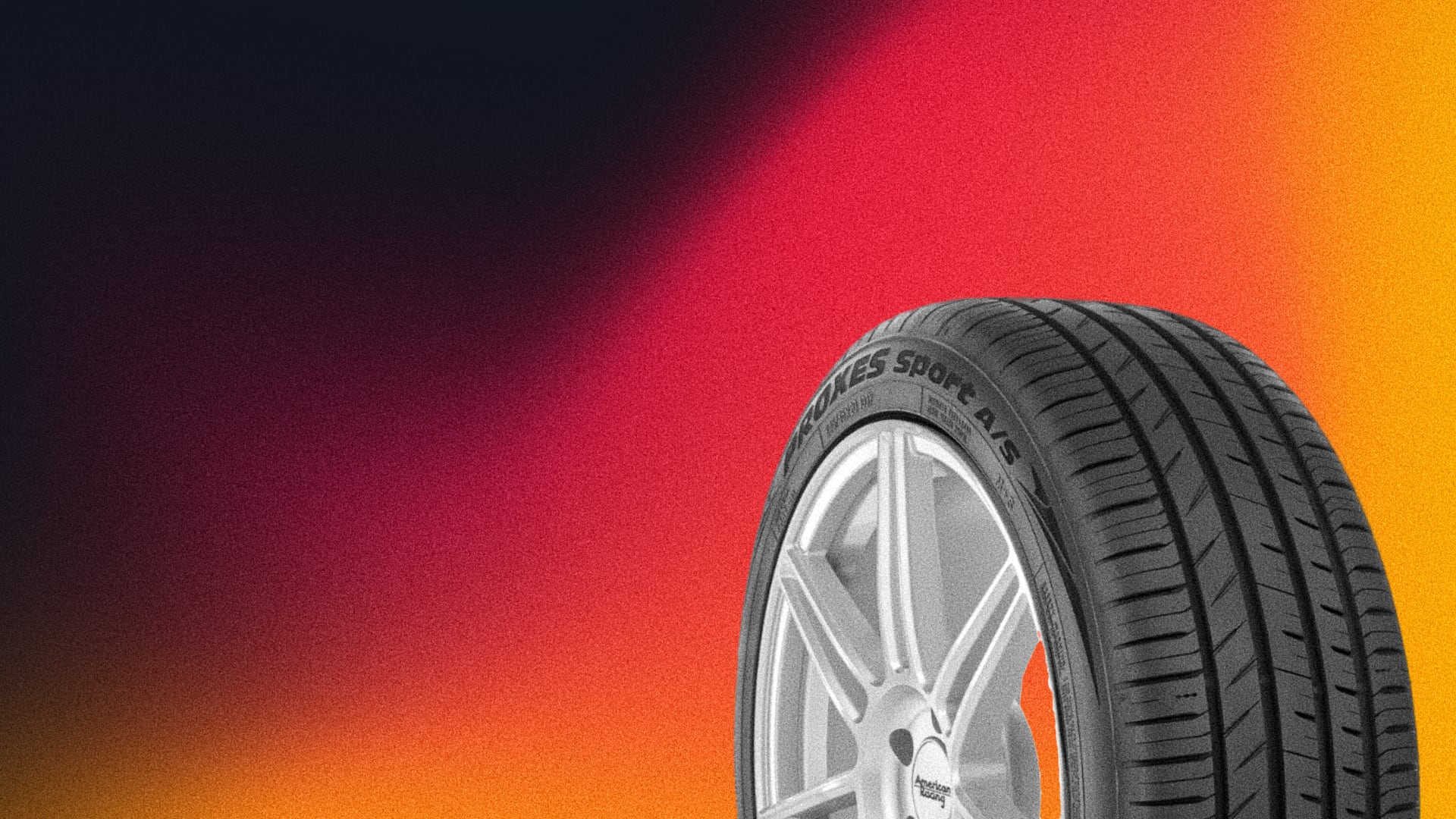 The Toyo Proxes Sport A/S is an all-season ultra high-performance tire that delivers incredible wet and dry braking. Toyo Tyre and Rubber is a company founded and headquartered in Japan. They manufacture quality tires and rubbers and are mainly focused on delivering a fantastic driving experience while offering durability and year-round traction. The Toyo Proxes Sport A/S is an asymmetric and non-directional tire that is performance-oriented and offers groundbreaking features that make it a great touring tire. You will enjoy a delightful sports experience with the Proxes Sport A/S. It boasts excellent handling, a quieter ride, improved tread life, and better fuel economy. It also possesses acceleration traction for an all-season compound with excellent hydroplaning resistance. The Toyo Proxes Sport A/S has lots of strengths which makes it a viable option and makes it stand out from the crowd of competitors. It has 89 SKUs ready to fit 16-22 inch rim diameters. The widths range from 205 to 325 mm with profiles of 25-55 series. Are you hoping to get the Proxes Sport A/S for your coupe or sedan? Find out what are some qualities of the tire that will impress in our Toyo Proxes Sport A/S review.
Recommended
Toyo Proxes Sport A/S
With a confident all-weather grip, Toyo Proxes Sport A/S makes the best bargain among high-performance all-season tires that fit sports cars perfectly without the need to switch from summer to winter tires or the other way around.
REREV may receive a commission for purchases made through links on our site. Learn more.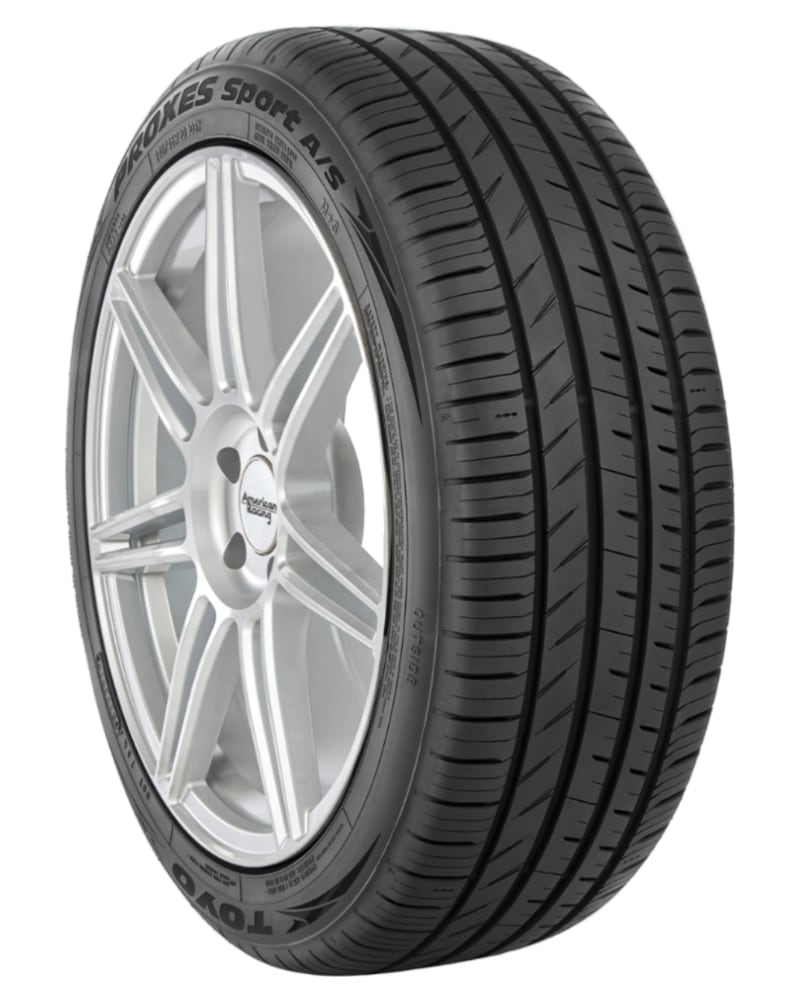 Why you can trust REREV's tire reviews: Our automotive expert researchers analyze tire specs, customer feedbacks and reviews from credible sources. This thorough analysis provides accurate information about tire performance, helping you make the best choice. Find out more about how we evaluate tires.
Toyo Proxes Sport A/S key technologies
The Toyo Proxes Sport A/S can deliver impeccable performance due to the state-of-the-art technologies that have been equipped in it, making it conquer all terrain and improve tear wear. Here are some technical features that have been employed by the Proxes Sport A/S.
Dynamic Taper Design: The Dynamic taper design grips the road surface for fantastic handling and traction. It increases the reliability of the grip and the steering response. This Taper design creates more even contact pressure while breaking with additional stability while cornering. It improves tread block stiffness and works against block deformation during cornering, and enhances wet and dry braking.
Specialized Silica Compound: The specialized silica compound is developed with Nano Balance Technology. It enables the Proxes Sport A/S to deliver excellent wet and dry braking and provides well-enhanced traction in wet conditions.
Improved Rib Design: The improved rib design equipped in the Toyo Proxes Sport A/S creates a more even contact pressure for improved braking and handling and delivers firm grip and stability during cornering. The five-rib design provides a more uniform distribution of pressure in the contact area, which increases the tire's stability during maneuvering.
Multi-Wave Sipes: The multi-wave sipes feature minimizes irregular wear for a quiet ride throughout the tread life of the Proxes Sport A/S. The sipes in the central section of the tread are designed to increase the reliability of the grip and steering response and as well improve wet and dry performance. The wave-shaped lamellas of the multi-wave sipes prevent uneven tread wear during the Proxes Sport A/S treat life.
Toyo Proxes Sport A/S safety features
The Toyo Proxes Sport A/S provides safety features that ensure you have a comfortable ride. The Proxes Sport A/S has alignment wear indicators that promote even wear. The inside tread is designed to handle water while driving in rainy conditions. The angled grooves along the tread help evacuate moisture from the tire contact patch. It improves hydro planning resistance and stability on dry surfaces. The rim protector of the Proxes Sport A/S helps guard against curb rash on wheels and ensures a smoother ride.
Toyo Proxes Sport A/S speed rating
The Toyo Proxes Sport A/S comprises various speed ratings indicating how long it can run. You must know your tire's speed rating to ensure you do not exceed it and endanger your life. The Proxes Sport A/S can reduce its performance rate when exceeding its speed rating. Adhering to the speed rating will have the tire working at its best, and you will experience reliable high-speed stability. The Toyo Proxes Sport A/S has V, W, Y, and (Y)-rated tires. The V-rated has a maximum speed of 149 mph, W-rated at 168 mph, Y-rated at 186 mph, and (Y)-rated at 195 mph.
Toyo Proxes Sport A/S tread wear and durability
When purchasing tires, it's vital to opt for tires that have improved tread wear and can get to the extra mile. The Toyo Proxes A/S comes with quality industry-standard Tread Wear Indicators, which are essential in monitoring how much tread is left on your tire. The tread wear indicators sit precisely 2/32-inch higher than the bottom of the groove. When the tread bar is flushed with the tread, it means your tires are losing their footprint, which provides the grip and traction the tires need. When you notice this, your tire should be replaced immediately. Tokyo puts a lot of importance on durability, which is why they implemented Alignment Wear Indicators that can show if your tire wears irregularly. These alignment wear indicators are crucial in the performance of your vehicle.
Toyo Proxes Sport A/S maintenance indicators
Maintenance Indicators are signs that help point out when your tire requires a repair or replacement. Toyo employed conventional tread wear indicators that let you know if you need to replace your tires, especially if the tread depth wears past the estimate of 2/32 inches. There are rarely complaints made by owners of the Toyo Proxes Sport A/S on accelerated tread wear because they are delighted with the durability.
Toyo Proxes Sport A/S maintenance traction performance
The Toyo Proxes Sport A/S is an excellent all-season tire that sustains a steady grip on different road conditions and, at the same time, offers outstanding handling that indicates it has an excellent traction performance. Here are some traction performances that make the Proxes Sport A/T incredible.
Dry traction
The Proxes Sport A/S tire inspires confidence. It is eager to change direction and react nicely to drivers' input despite the softer sidewall than the stock summers. Its inner tread blocks are optimized for braking and acceleration, while the outer tread block is optimized for maneuvering or cornering. The Toyo Proxes Sport A/S can provide an ample grip and lay down the power under a heavy acceleration load. It lets you enter corners at pretty high speeds without losing grip, and then you can accelerate out of the curve hard without losing traction.
Wet traction
The Toyo Proxes Sport A/S consists of water-control features that improve hydroplaning resistance, and it's paired with a Nano Balance Technology to deliver a fantastic wet road performance. The Proxes Sport tires are rigid at the corners, and during heavy or light rainfall, it helps you gain more traction. The Nano Balance Technology is a massive improvement over its predecessors and will most likely be featured in future Toyo tire models.
Snow traction
The Proxes Sport A/S has additional sipping on the outer shoulder blocks, which creates more biting edges for a firmer grip on the show. However, It's essential to get winter tires if you reside in an area with harsh winter conditions. Nothing is compared to the acceleration, braking, and cornering of a true winter tire in winter conditions.
Toyo Proxes Sport A/S noise and comfort
It's pretty pleasing that the Proxes A/S tires are much quieter for a performance-oriented tire. Tokyo opted for the best innovative technology that dampens noise and leads to a more comfortable ride. The Proxes A/S has two different tread patterns. The size 285 Proxes Sport A/S models have an extra rib running around the center of the tire, and the tread was designed to center vehicle weight on the center ribs and three intermediate ribs when driving at highway speeds. The Toyo Proxes Sport A/S is smooth over road bumps due to the unique design of the contact patch.
Toyo Proxes Sport A/S competitors and alternatives
The Toyo Proxes Sport A/S is an ultra-high performance tire that boasts more efficiency than other performance-oriented tires. It's an all-season tire designed to improve the performance of sports cars, sedans, and coupes. It provides maximum handling capabilities while providing luxury comfort. There are some tires that prove their efficiency almost as much as that of the Proxes Sport A/S. They offer similar features that aid drivers' convenience. Examples include; Michelin Pilot Sport All-Season 4, Continental DWS06, Vredestein Ultrac Satin, Michelin Primacy HP Zero Pressure, and Goodyear Efficient Grip Performance.
Toyo Proxes Sport A/S price range
The Proxes Sport A/S is cheaper than most well-known performance-oriented tires, and it outlasts them well. This is an advantage over its competitors and alternatives. It has a price range from $150 to $200. You can get 4-set dedicated tires and move from 2000 to 2500 miles.
Toyo Proxes Sport A/S warranty
Toyo has a significant "No Regrets." 45-day trial or 500-mile and a 50,000-mile warranty to keep you feeling confident. It offers unique security for its tires, so you don't have to bother about getting a new replacement from somewhere else.
The Toyo Proxes Sport A/S is eligible for this warranty if its tread is worn out by 25% or less within five years from the date you purchased the tire. Toyo will replace it free of charge. If you cannot provide a copy of the purchase receipt, the manufacture date will be used to determine the warranty period, and you'll be responsible for paying taxes and other additional costs.
Our take
The Toyo Proxes Sport A/S is one of the most accomplished ultra-high-performance all-season tires. It has enough grip and traction for any road condition. The extra tread life and affordable price make it a great tire.